Oregon is one of the most beautiful states in the country. Tucked up in the Pacific Northwest, there are several scenic Oregon national parks worth visiting, and they are surprisingly diverse in their offerings.
Crater Lake is surely the most famous of the Oregon national parks, but there are a few other special spots that are worthy of being your next vacation destination.
From towering dunes along the coast to ancient fossils in the eastern badlands to historic parks preserving relics of famed explorers, here are five Oregon national parks you should add to your family's Oregon bucket list.
How Many National Parks Are in Oregon?
Oregon is home to one national park, two national monuments, and a couple national historic parks. There are also four national trails that have sites within the state as well as a national recreation area. Each has something unique and interesting to offer visitors.
Explore more of the state! Here are our favorite things to do in Oregon with kids.
5 Great Oregon National Parks, Monuments, Sites, and More!
Crater Lake National Park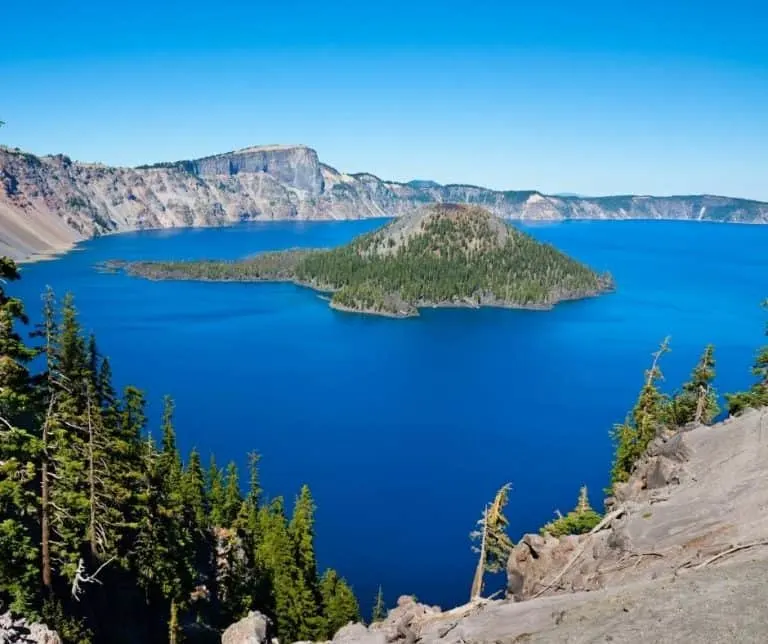 Crater Lake National Park is a true natural wonder. The lake is a shade of blue that simply doesn't exist anywhere else in nature. It is so deep and marvelous that words can't properly describe it.
How was Crate Lake formed?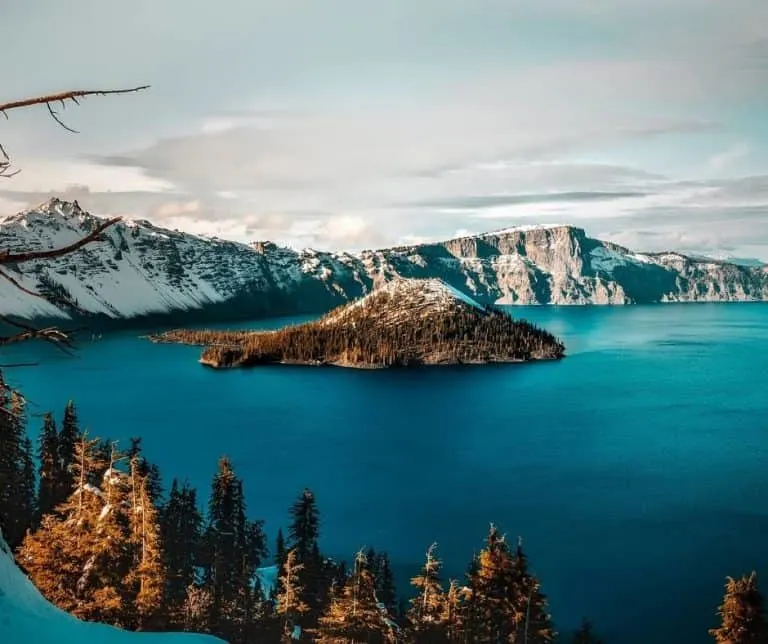 About 7700 years ago, Mt Mazama, which was once Oregon's tallest mountain at 12,000 feet, experienced a massive eruption. The mountain collapsed in on itself, creating a caldera.
After many years of rain and snow, the crater started to form a lake. The only way water reaches Crater Lake is through precipitation and the only way it exits is through ground seepage or evaporation, resulting in some of the purest, bluest water on the planet.
There was a cinder cone in the lake that erupted during the filling of the lake, which created Wizard Island, the lake's only island.
When to Visit Crater Lake and What to Do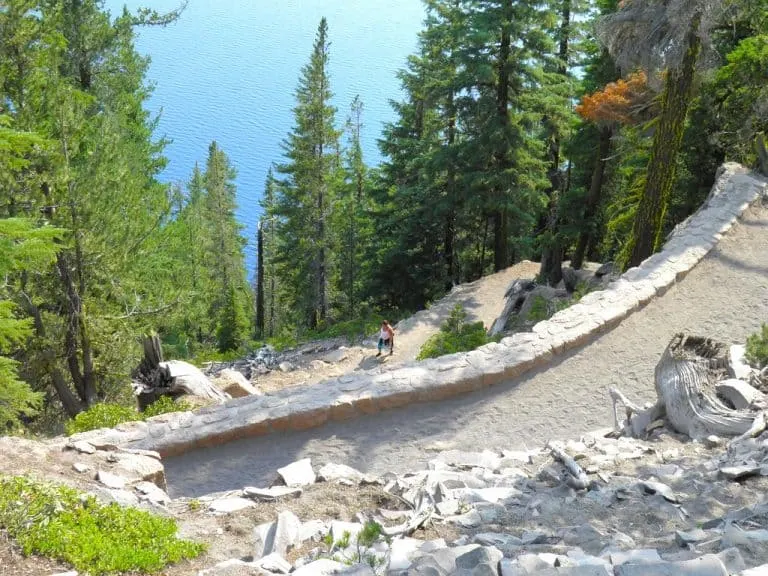 While Crater Lake National Park is open year round, most people tend to visit in the summer when all the park's roads, including Rim Drive which circumnavigates the lake, are open. Along Rim Drive there are plenty of overlooks (30!) and several hikes to enjoy.
The lake shore is extremely steep (Crater Lake is not just a clever name) and there is only one place where you can legally access the shore. The Cleetwood Cove Trail drops 700 feet in just over a mile, via a series of switchbacks.
It is steep and sometimes dusty, but the opportunity to touch the water (and swim if you want to brave the frigid waters) is well worth it.
As you can imagine, the trip back up is challenging, but we had a five year old in our group who completed it with ease. Just bring plenty of water, take breaks often, and hold your little ones' hands.
Cleetwood Cove is also the place where you catch boat tours. Boat tours are very popular and should be booked in advance. There are two-hour tours which cruise the lake as well as tours that stop at Wizard Island where you can hike and swim.
Note: Boat tours were cancelled in 2022 due to Covid-19.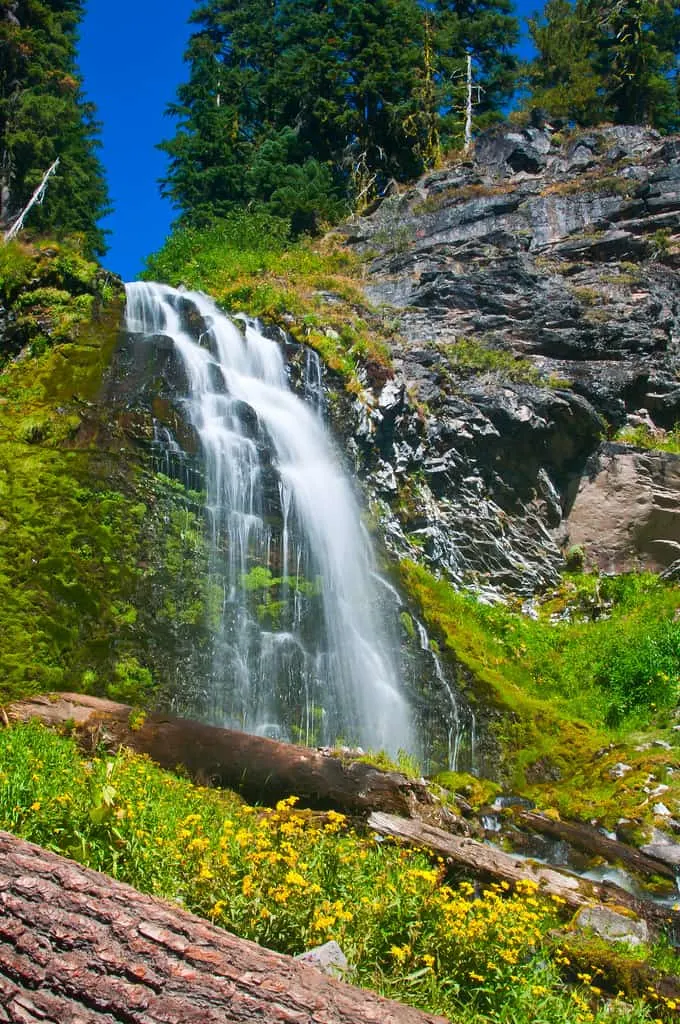 Plaikni Falls Trail is another nice hike for families. This 2.2-mile hike ventures through the forest and then along a wildflower -rimmed creek where butterflies flutter around a nice waterfall. There is a gradual elevation gain of 200 feet, but it is not very noticeable.
If you are seeking out 360-degree views, including a complete view of Crater Lake, head up the Watchman Peak Trail. It gains 415 feet in elevation over 0.8 miles and the views are worth the climb.
Crater Lake has something to offer in all seasons. One of our favorite things to do in Crater Lake in winter is go snowshoeing. Every Saturday and Sunday, you can join park rangers for a free snowshoe trek (Thanksgiving through May.) Children must be at least eight to participate.
Here is a guide to visiting Crater Lake National Park.
Where to Stay When Visiting Crater Lake National Park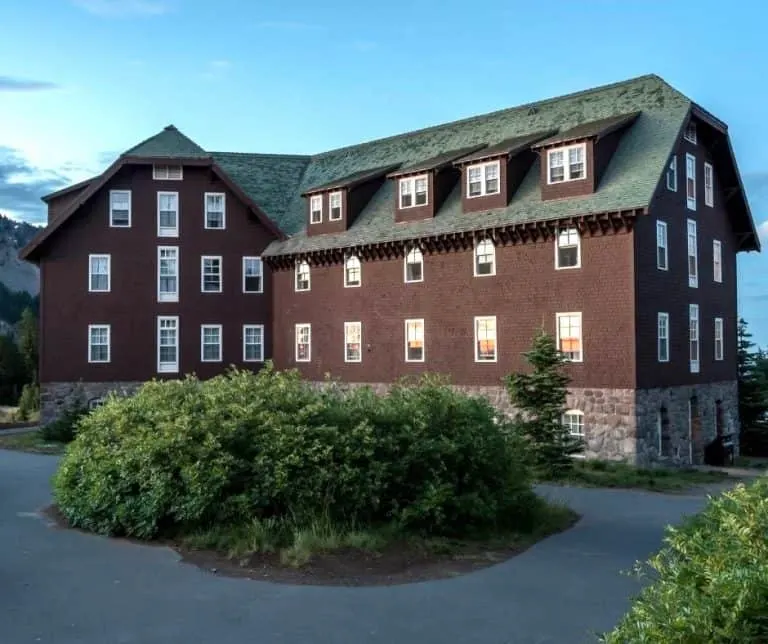 Crater Lake Lodge sits right on the rim of the lake. In summer, you can enjoy the view from an Adirondack chair on the deck, and in fall it is extra cozy to curl up by the huge fireplace with a good book in the grand lobby.
The lodge dining room is fantastic, and while elegant, it's not stuffy. Kids are encouraged guests. Since the park is remote, reservations fill up quickly, especially in the summer; so book early.
If staying in the lodge is not for you, the Cabins at Mazama Village are situated below the rim, but note that the only lake view accommodation is the lodge. Bear in mind that both the lodge and cabins are rustic; you won't find TV, air conditioning or land lines.
Both Crater Lake Lodge and Cabins at Mazama Village are open mid-May through mid-October and reservations open 365 days in advance.
If you are looking for a nice option outside of the park, I recommend Crater Lake Resort which has RV sites, tent spots, creekside glamping, and cabins.
If a hotel or inn is more you speed, you can find one here. As a Booking.com affiliate, Trekaroo is thrilled to offer its readers the lowest rates.
Oregon Dunes National Recreation Area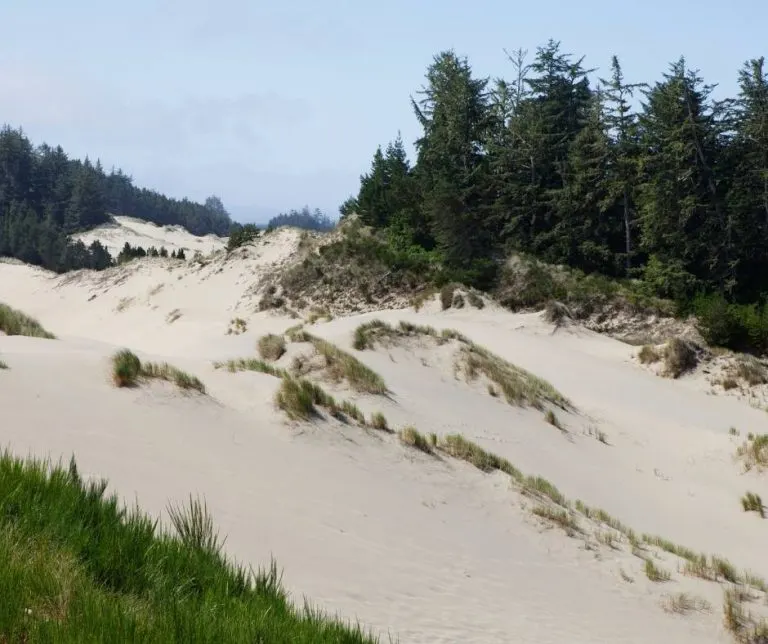 Directly along Oregon's stretch of coastal Highway 101 lies the Oregon Dunes National Recreation Area (NRA) which is home to miles of sandy hills awaiting exploration! The dunes stretch for 40 miles, from Coos Bay to Florence. This is a lesser known NRA, but it is certainly worth of your attention!
The largest of these dunes are about 10 miles south of Reedsport near the town of Lakeside in Eel Creek Campground. Off road vehicles are not allowed along this stretch of "seafront Sahara". There are picnic tables and restrooms, so be sure to pack a lunch.
It's possible to make a longer loop by following the trail from the campground to the beach and back (2.5 miles). Take your time, climbing up and down the dunes along the way.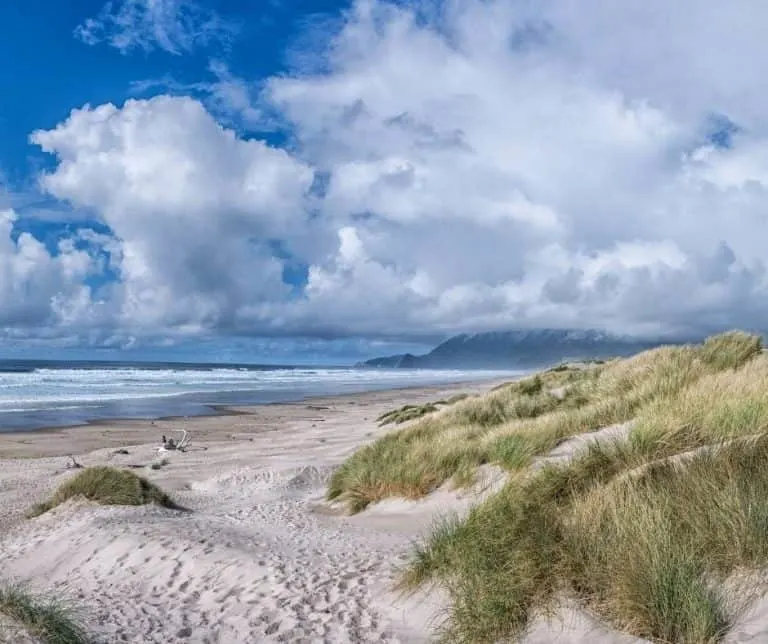 Some people take snow boards or snow sledding discs and slide down the dunes. Families can also rent sand boards (like snowboards) or sand sleds nearby in the town of Florence at the Sand Master Park.
These rentals are $10- 25 per day, and are a great activity for families with older kids, especially if they like skateboarding or snowboarding. They can be used wherever you like!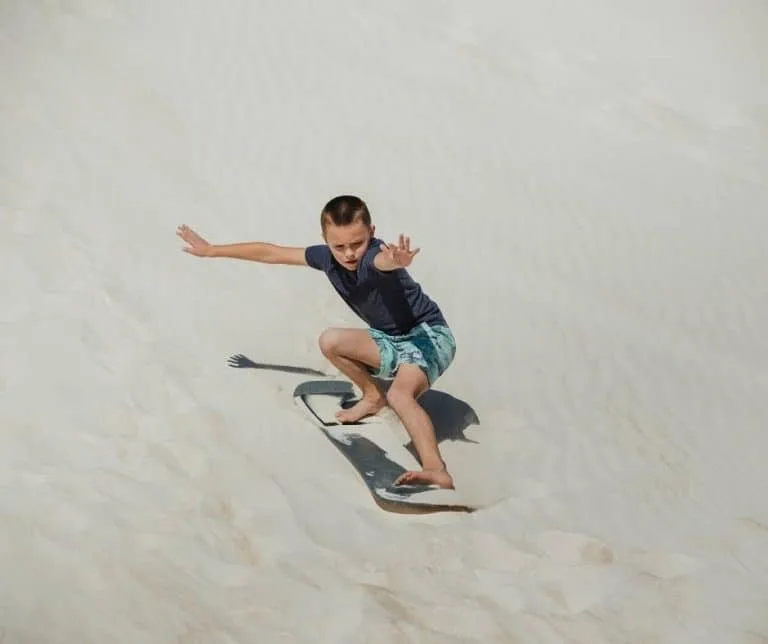 Another fun hike is Tahkenitch Creek, located about nine miles north of Reedsport. Due to the expanse of the Oregon Dunes NRA, this area is still within its limits. It is well marked along Highway 101 and at one point, the trail crosses a creek that kids might enjoy swimming in.
The hike is two miles round trip to the ocean, and the best part of this hike is finding dozens and dozens of sand dollars!
About three miles east of Reedsport is Dean Creek Elk Viewing Area. It is right along the highway and well worth the stop to see if there are any elk around. There is telescope viewer for spotting the elk.
Where to Stay When Visiting Oregon Dunes NRA
If you like to camp, Eel Creek Campground is a great place to call home base. If you are looking for more traditional lodging, we like the Best Western Pier Point Inn in Florence, Oregon. It isn't far from the sea lion caves (which are worth a visit) and has an indoor pool which will surely make the kids happy.
Oregon Caves National Monument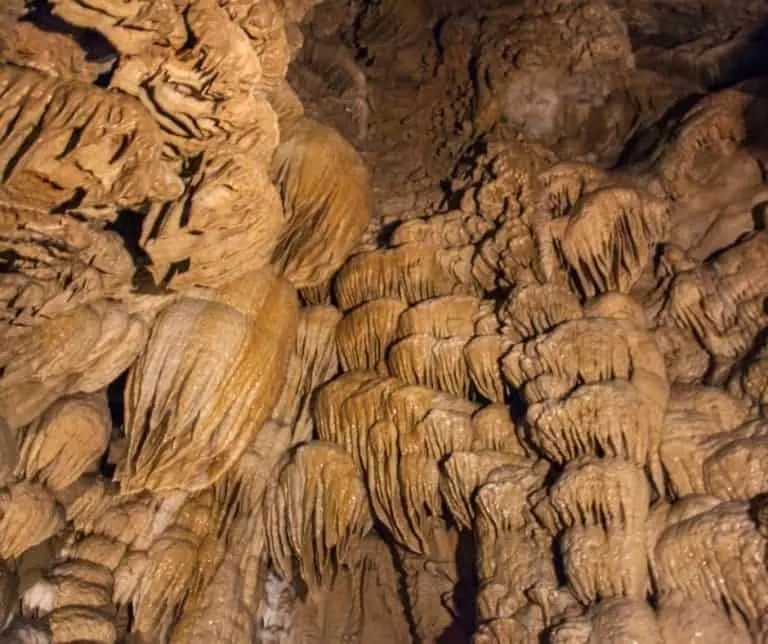 Nestled in the Siskiyou Mountains of Southern Oregon in between Medford and the coast you will find Oregon Caves National Monument, aka "the marble halls of Oregon". The caves were discovered in 1874 and have been protected with national nonument status since 1909.
The caves are definitely the main attraction, but there are also some hiking trails as well as a historic chateau that is known as one of the great lodges of the national park system. It has a fine dining restaurant as well as a 1930's-style coffee shop.
Note: The Chateau at Oregon Caves is closed in 2022 for repairs and rehabilitation.
There are several different cave tour options, the most popular being the Discovery Cave Tour. The tour is 90 minutes, and the cave temperature is approximately 45 degrees, so dress warmly- even in summer! Close-toed shoes are required and they don't allow large purses, backpacks, walking sticks, or tripods, so leave those in the car.
Keep in mind that kids MUST be at least 42″ to take the tour for their safety. Don't forget to ask for a Junior Ranger booklet before you take the tour.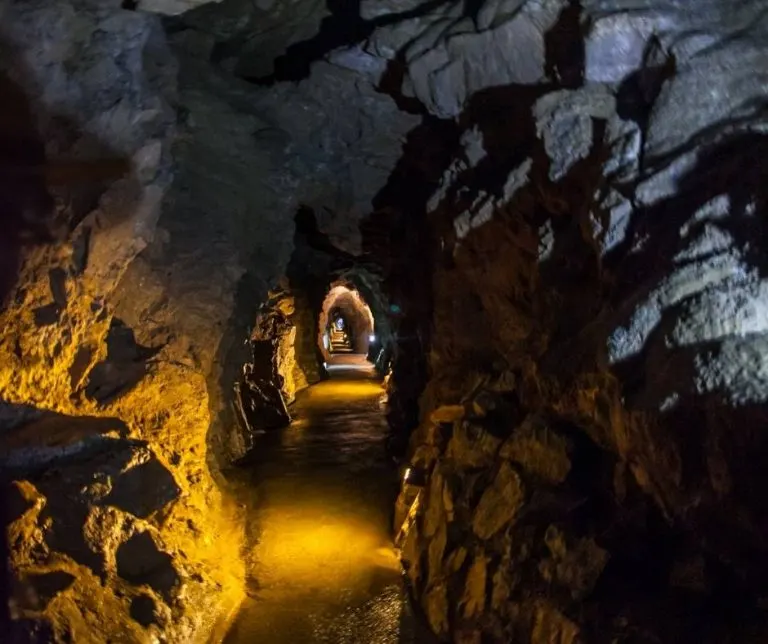 The tour, which explores nearly a mile of the extensive cave system, is very interesting and questions are encouraged. Kids will love climbing all the stairs, ducking in the narrow sections, and spotting bats! This portion of the cave is lighted, but at several points guides turn off the lights to give visitors a feel of how dark it actually is inside the cave.
The monument is a seasonal attraction. Tours are offered spring, summer, and fall, from 9 am to as late as 6 pm.
Hiking trails vary in difficulty. Highlights include the one-mile Old Growth Loop Trail and the 3.3-mile Big Tree Loop which includes the biggest Douglas fir in Oregon.
Where to Stay When Visiting Oregon Caves National Monument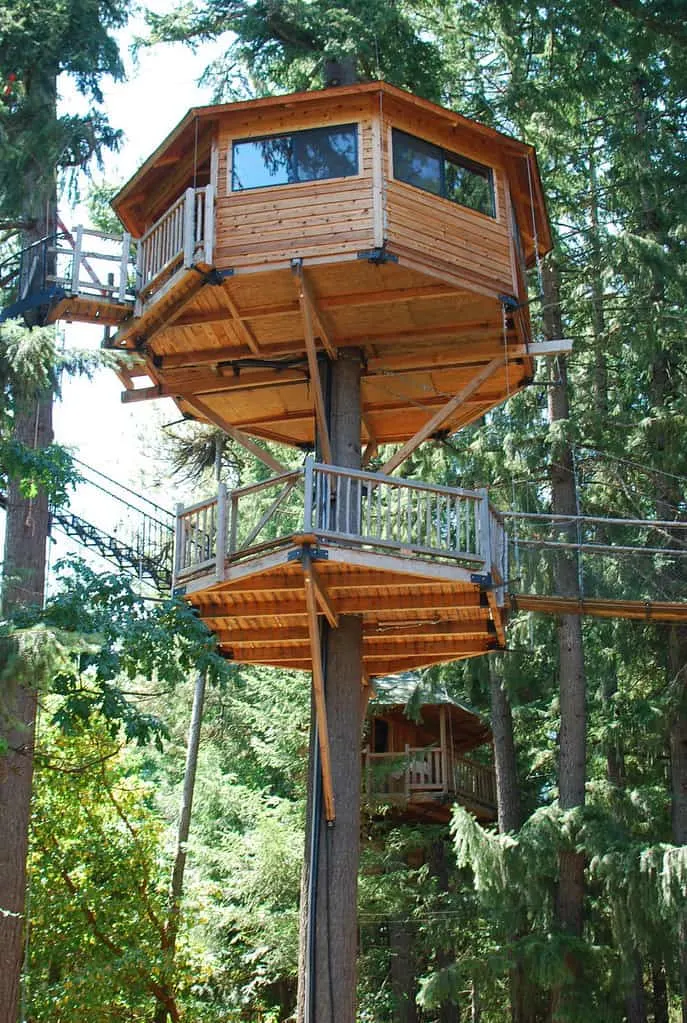 Out 'N About Treehouse Treesort in nearby Cave Junction is a fun place to stay while visiting the caves. Guests have their pick of one of 15 tree houses, elevated yurts, cabins, and tree 'gazebos' in which to spend the night.
Each one is different, offering different views, different features, and different amenities, or as they say, "amenitrees". There is also zip lining and horseback riding available.
Lewis and Clark National Historic Park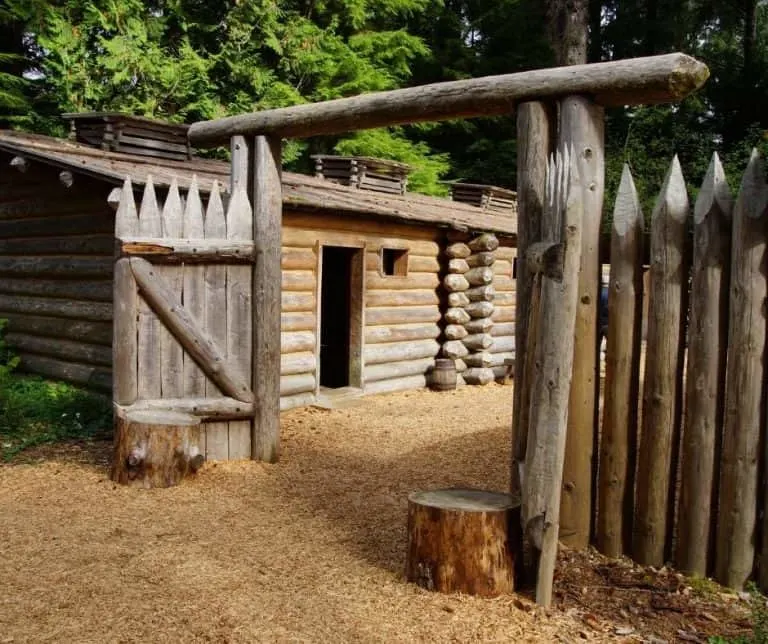 Lewis and Clark National Historic Park was established in 2004 and operates in cooperation with a couple different Oregon and Washington State Parks to manage the area near the mouth of the Columbia River where Lewis and Clark ended their journey to the Pacific Ocean back in 1805.
Fort Clatsop in Astoria is the primary attraction within the park. It was the winter camp of Lewis and Clark and the Corps of Discovery from December, 1805 to March, 1806. A replica of the original fort has been built and is open for exploration to get a glimpse of how the Corps of Discovery lived for that winter.
Read about more great things to do in Astoria, Oregon.
Fort Clatsop was named after the Native Americans Lewis and Clark befriended in the area. There is also an Interpretive Center that older kids will really enjoy.
Have your kids pick up their free Junior Ranger packets while you pay your park fee at the visitor center, then head outside and start your work. The packet focuses on one of Clark's jobs—cataloging plants and wildlife.
Fort Clatsop hosts different live ranger programs in the summer, where rangers walk around in buckskins and show off how flintlock guns were shot and candles were made.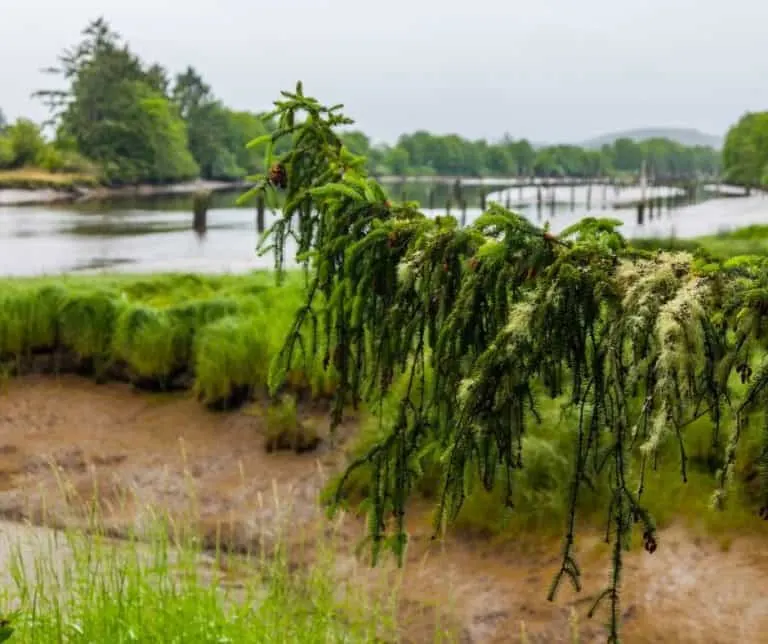 This park is also along the Fort to Sea Trail, which was originally blazed by the Corps of Discovery so they could hunt, gather, and trade with the neighboring Tillamook, Chinook, and Clatsop Indians. It is 6.5 miles long, but you can make this out-and-back hike as long or as short as you would like.
Fort Clatsop gets about 70 inches of rain per year, so check the weather before you go and bring rain gear if there is rain in the forecast.
Another great experience is to join a guided kayak paddle on the Lewis and Clark River out of Netul Landing during the summer moths. These tours must be reserved in advance and are open to ages 13 and older. Tours run Thursday through Sunday from late June through early September and reservations open 30 days in advance.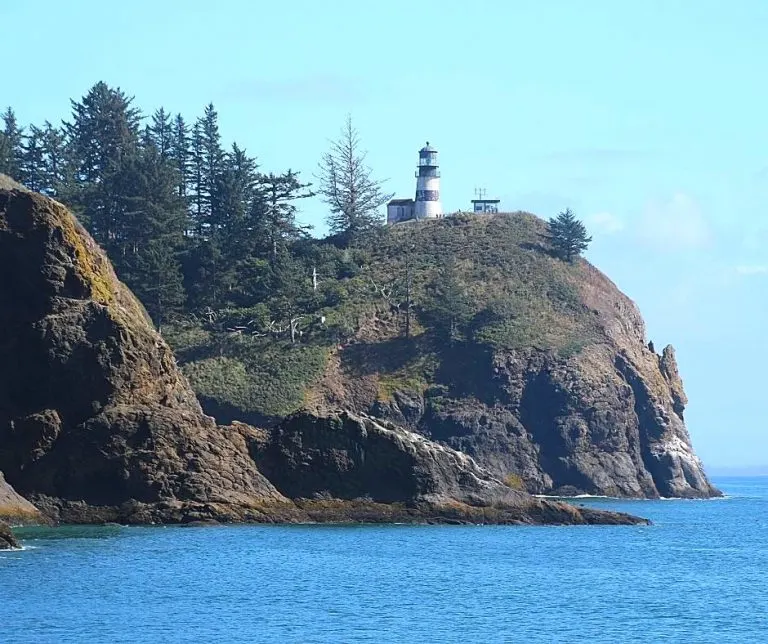 Cape Disappointment State Park is located just across the Astoria-Megler Bridge in Washington. It is home to the Lewis and Clark Interpretive Center, as well as two lighthouses- North Head Lighthouse and Cape Disappointment Lighthouse. You can also enjoy amazing views of the mouth of the Columbia River and the churning sea at the base of its cliff.
The Interpretive Center provides a great explanation of the Corps of Discovery's journey across the US in search of the Pacific Ocean. Displays explain how they managed, who they relied on, what difficulties they faced, what discoveries they made, and where they camped.
Other associated state parks include Ecola State Park in Oregon where the Corps visited Tillamook villages and saw a beached whale, Fort Stevens State Park at the mouth of the Columbia River, and Fort Columbia Historical State Park in Washington which was a military installation used for coastal defense in the 1800s and the first half of the 20th century.
Where to Stay When Visiting Lewis and Clark National Historic Park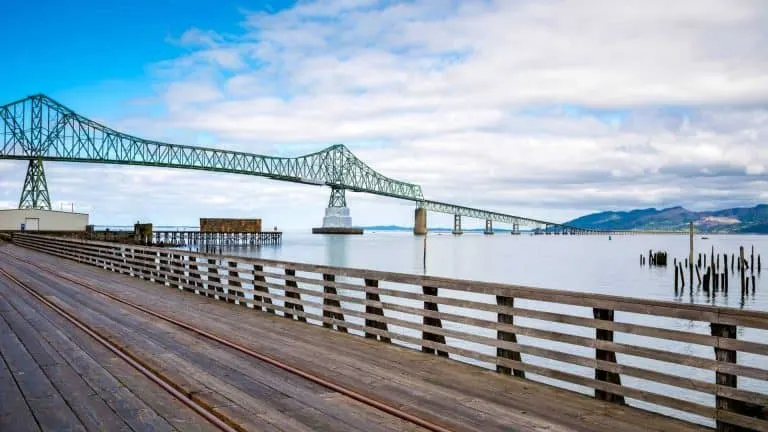 Astoria is the most convenient town to call home base when visiting this Oregon national park. The Holiday Inn Express & Suites Astoria is a half mile from downtown. You can walk or borrow a bike from the hotel and explore. It is also right on the trolley line and the Riverwalk.
John Day Fossil Beds National Monument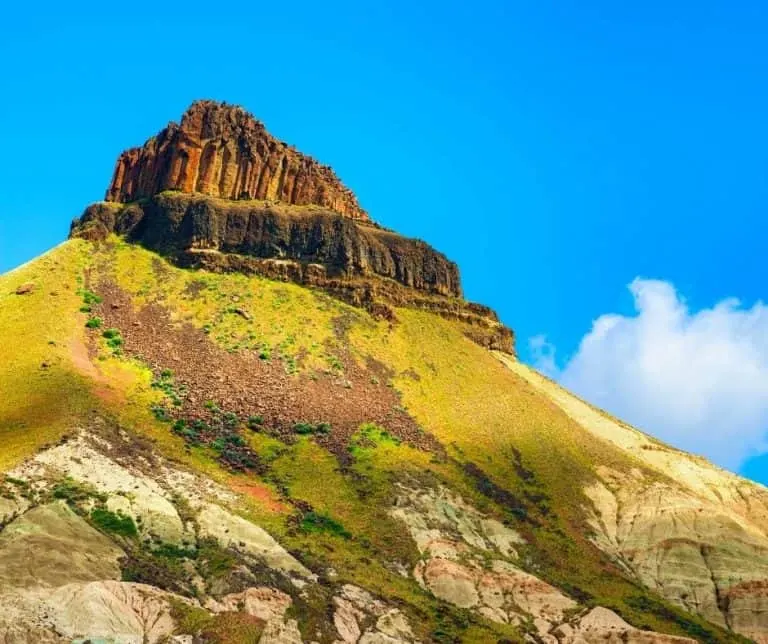 Eastern Oregon offers much in the way of outdoor exploration for families, but the John Day Fossil Beds National Monument is often overlooked. There are three units that make up this national monument that are 1-2 hours apart from one another, but the Thomas Condon Paleontology Center and main displays are at the Sheep Rock Unit near Kimberly, Oregon.
The Thomas Condon Paleontology Center has huge dioramas with sound effects depicting the area millions of years ago. It houses a fossil gallery, paleontology lab, and shows a park film. There is also a big room with art projects and hands-on displays for kids. This park has both a Junior Ranger and a Junior Paleontologist program.
There are several short hikes and overlooks in the area. The 1.3-mile Island in Time Trail makes its way through the the blue green badlands of the area and has exhibits and fossil replicas to enjoy along the trail.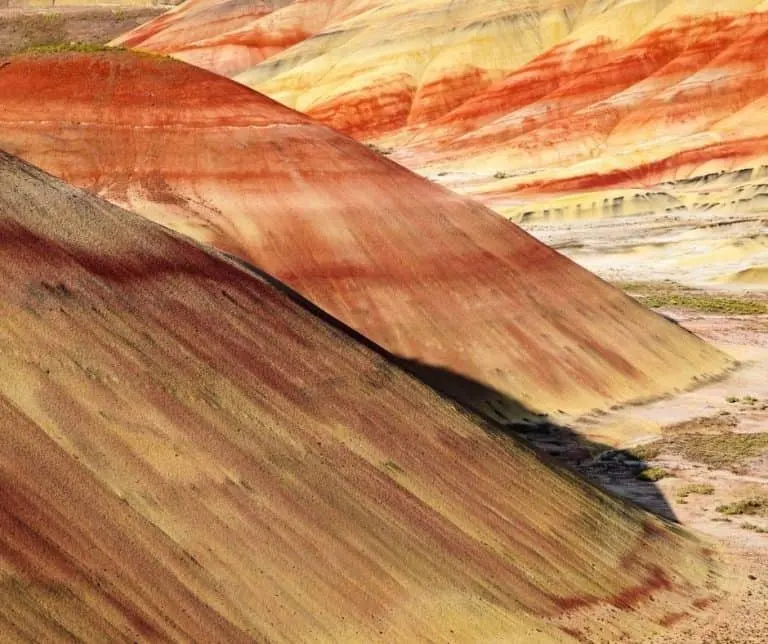 In the Painted Hills unit there are a few different short trails that featured lovely views of the Painted Hills. The Clarno unit is the best place to go to see plant fossils embedded in the boulders.
Where to Stay When Visiting John Day Fossil Beds National Monument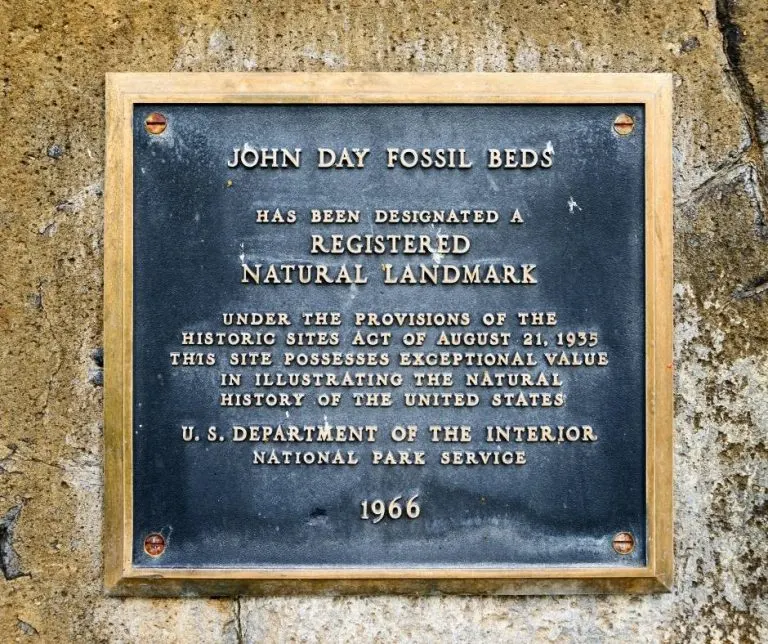 Lodging is few and far between in this rural part of eastern Oregon. The Best Western in John Day is well rated and has both an indoor pool and free breakfast. While there is no camping within the park boundaries, there are several campgrounds in the area as well as dispersed camping options. Check the park website for details.