Located just a few hours from major cities like Chicago, Milwaukee, and Madison, Lake Geneva in Wisconsin makes for the perfect easy family vacation. The resort town offers plenty of family fun, whether you prefer hanging out with animals on a safari or watching them perform. If you love being on the water, Geneva Lake's calling your name. If you love food, Lake Geneva offers a wide variety of food to keep you satisfied. Read on to find out the top things to do with kids in Lake Geneva.
Things to Do
Get on the water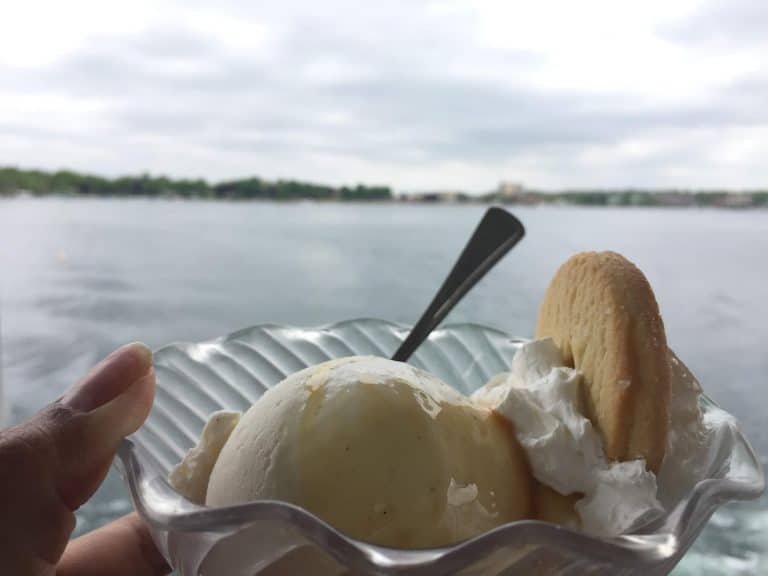 One of the best ways of getting accustomed to the area is to get on Geneva Lake. The Lake Geneva Cruise Line offers a few kid-friendly ways to explore, but their Ice Cream Social should be on the top of your list. Who can resist ice cream, after all? While you are enjoying your ice cream sundae, you can admire and learn about the beautiful estates that line the lake shore.
Walk along the lake path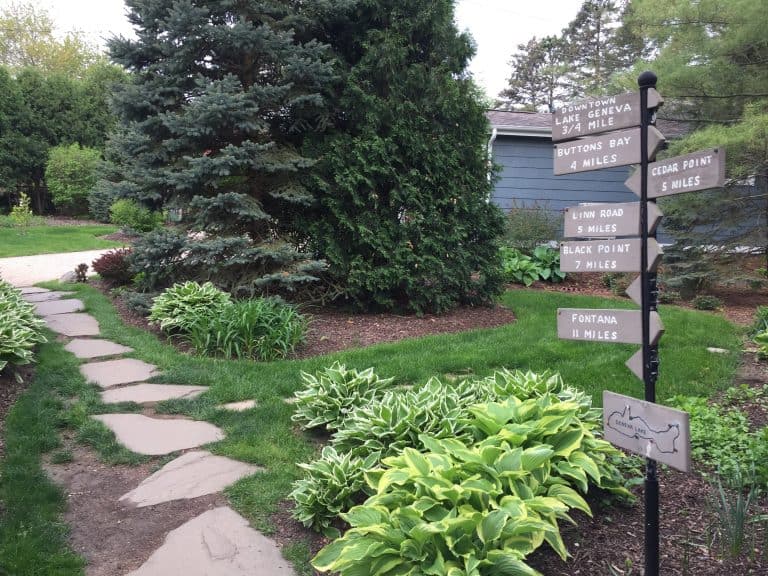 Now that you've scoped out the estates the boat tour, you can get close up views of those drool-worthy homes by walking through the historic Shore Path along Geneva Lake. The entire path is more than 20 miles so pick a portion and explore! The easiest way to get to the path is from right behind the library. Plus you can peep the library's cool architecture from Frank Lloyd Wright protégé, James R. Dresser.
Beach time
Looking for some fun in the sun? Riviera Beach is the place to be! Located close to downtown on Geneva Lake, the beach is the perfect way for you to catch some rays or watch the boats pass by. They also offer concessions and water rentals.
Wild animal fun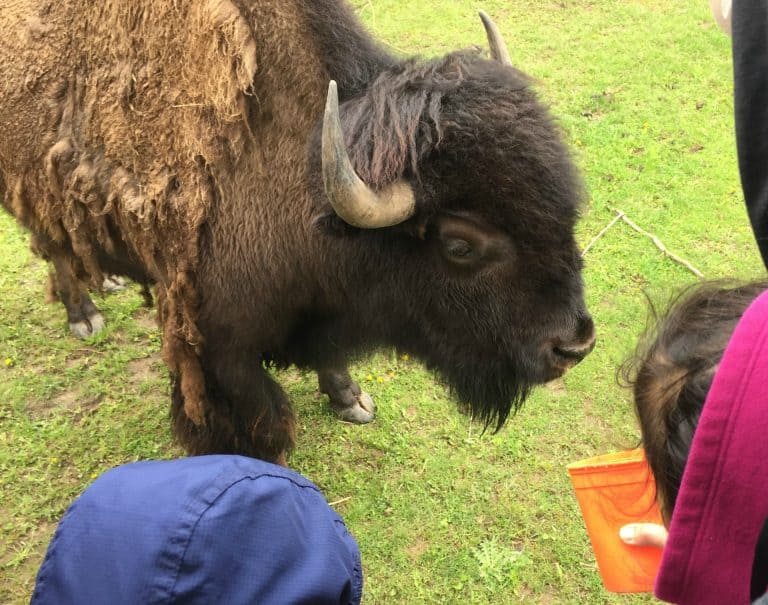 A safari in Lake Geneva? You bet! Take a guided one-hour tour aboard a wagon at Safari Lake Geneva and learn a little bit about the 50 animals including American bison, ostrich, domestic yak, camels, miniature donkey, antelopes that roam freely on their 800-acre savanna. The wagon stops every few minutes so you'll have plenty of feeding opportunities. Afterward, spend time visiting the animals (including babies!) in the boma.
Believe in magic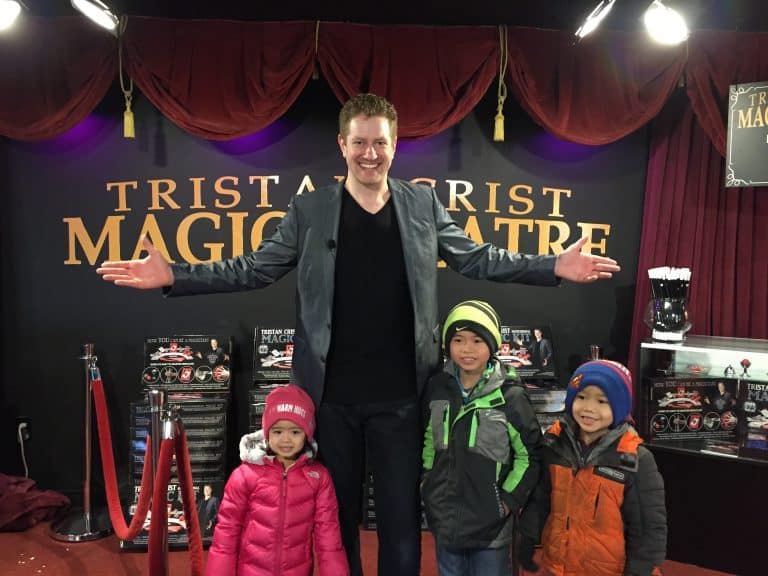 As the world's smallest magic venue, the Tristan Crist Magic Theatre provides an intimate magic experience that will make you believe in magic again. The kids and (adults) were mesmerized from start to finish at the Tristan Crist Magic Theatre. Expect to be wowed with classic magic acts like cutting a lady in half, card tricks, and levitation. Hang back after the show for a picture with Tristan and an autograph.
Watch horses dance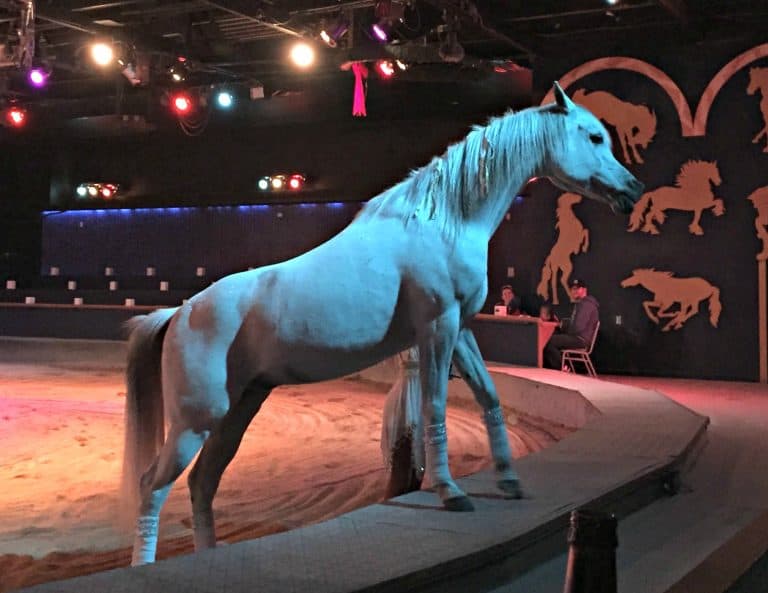 Initially created from one person's vision and their love for horses, The Dancing Horses Theatre combines artistry, acrobatics, and horse training for an entertaining performance for the family. Bur wait, they offer more than horses! Take in a bird show that features Echo the Singing Parrot from America's Got Talent. They also offer behind-the-scenes tours to get up close and personal with their horses.
Learn about Geneva Lake's history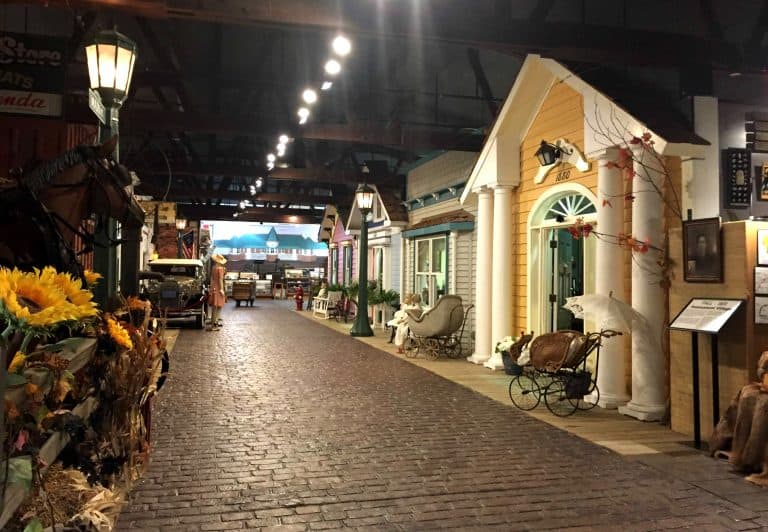 At the Geneva Lake Museum, visitors are able to take a stroll through the brick-lined streets of Geneva Lake's Main Street during the late 19th and early 20th century. Walk into a classroom as it was back in the days, sit in a fire engine, or compare kitchens with and without electricity. The museum is well thought out and most of the artifacts are authentic. The kids are kept busy with an I-Spy worksheet. It was a genius way to keep the kids busy and entertained, while learning more about the history.
Work on your golf skills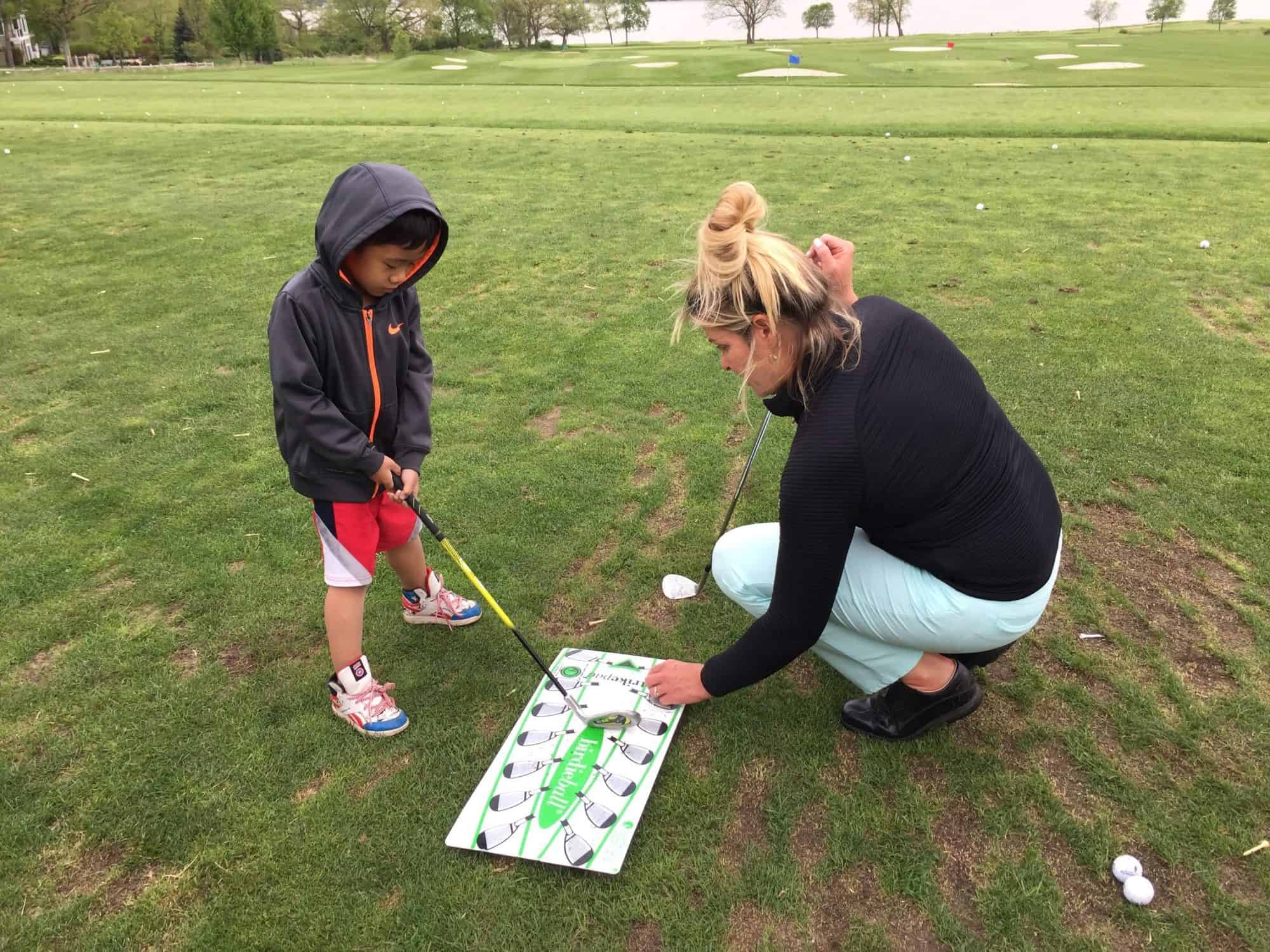 Fore! Want to watch the kids work on their golf skills, while you relax and have a drink? Just five minutes away from downtown Lake Geneva, the Geneva National Resort & Club offers a drop-in clinic on Fridays where kids ages 5-12 can sharpen their golf skills, or learn the basics. Their instructor, Heidi, makes the entire experience fun and exciting.
Places to Eat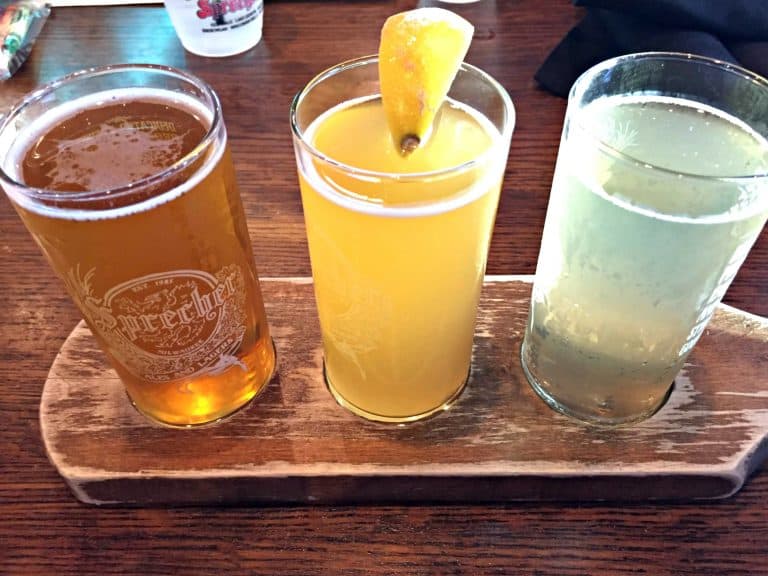 If there's one thing you can count on, it's never going hungry in Lake Geneva. They have plenty of family-friendly options to fill your belly.
Sprecher's Restaurant & Bar
On our last two visits to Lake Geneva, we stopped by and ate at Sprecher's. We can always count on good food here like cheese curds, Bavarian pretzels, and fish fry. They are known for their hand-crafted soda drinks (orange or cream soda, please!) and variety of brews. If you can't decide, try a beer flight. Psst. Kid's soda drinks are FREE!
Popeyes on Lake Geneva
We mostly frequent this hot spot because we always can count on good food here. At Popeyes on Lake Geneva, start with chicken nachos with wonton chips or the crab rangoon appetizer. Try their rotisserie chicken roasted on their very own outdoor rotisserie. Their shrimp bisque is quite tasty as well. But seriously, everything you try will be good! It gets busy, but with over 600 seats, waiting is never too long.
Oakfire
The recently renovated Oakfire restaurant boasts outstanding lakefront views of Geneva Lake. But the real star here is their Neapolitan-style Pizza. My little crew loved their Mickey Mouse pizzas while I devoured the Margherita di Bufala pizza. Everything else was pretty tasty, and we would definitely come back.
Simple Cafe Lake Geneva
Breakfast or brunch at Simple Cafe is the best way to start the day. The bright atmosphere is enough to pick you up, but it's the food that will keep you coming back. Sourcing from local farmers and producers, Simple Cafe also offers healthy, organic options with a twist on originals. Try the Croque Madame!
Avant Bicycle & Cafe
Love coffee? How about coffee and a bicycle shop? Skip the franchise coffee shops and trying something local. I was happy to have found Avant Bicycle & Cafe in downtown Lake Geneva. Such a neat place to sit down and relax, especially after a run or bike ride! My coconut latte was just heavenly.
Next Door Pub & Pizzeria
We love ordering room service on vacation, but the next best thing is having pizza delivered to our room. Next Door Pub & Pizzeria has become our favorite go-to pizza delivery in Lake Geneva. We love their large cheese pizza along with their gigantic pretzel with 3 different sauces.
Places to Stay
The Villas at Grand Geneva Resort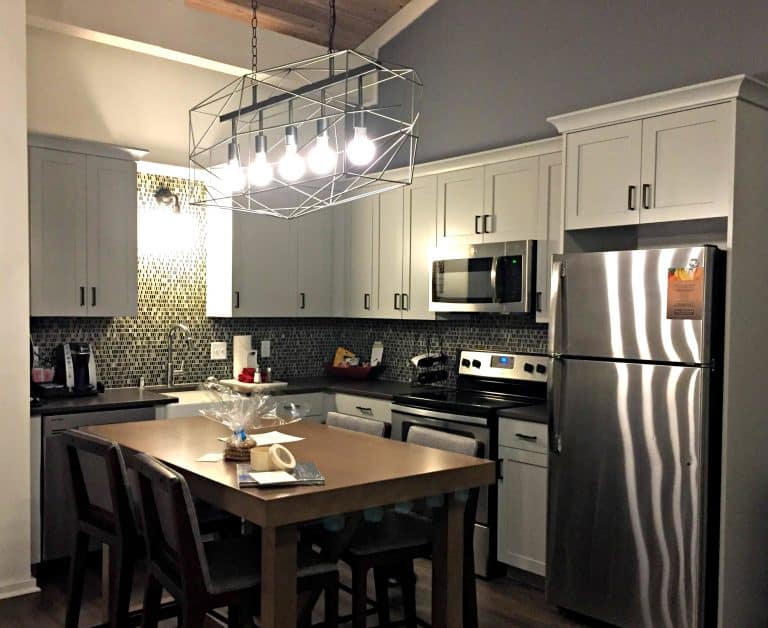 For a home away from home, look no further than a stay at The Villas at Grand Geneva Resort. It was everything our family wanted — a gorgeous, spacious two-story townhome with two bedrooms, two bathrooms, and a living room. Plus, it had a fully stocked kitchen with full-size appliances, a fireplace, and a laundry. Absolutely perfect! Since we stayed on the Grand Geneva's property we could also take advantage of their amenities including Timber Ridge Lodge & Waterpark, spa, and fitness center.
The Cove of Lake Geneva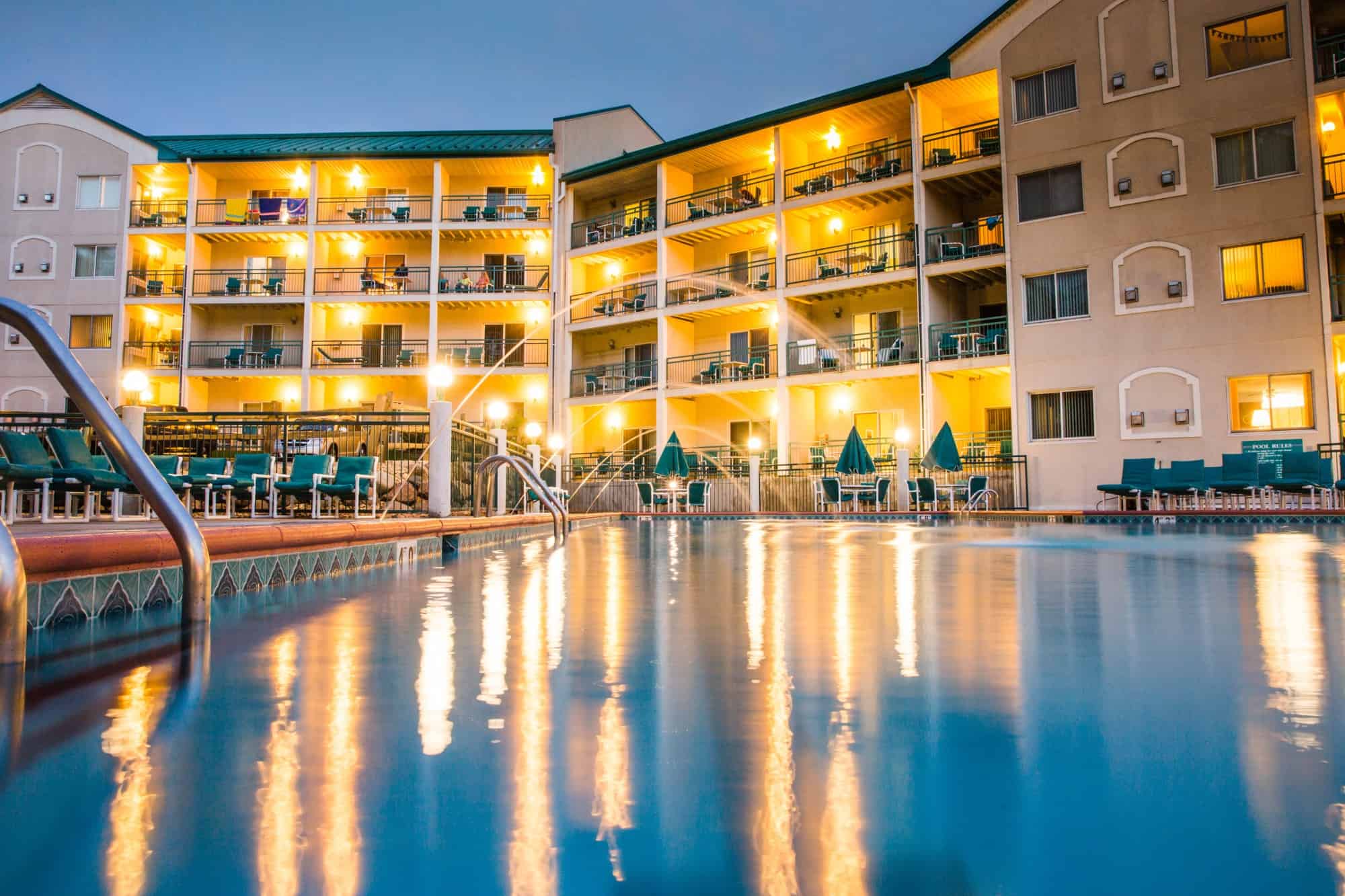 Photo by: Paloma Resort Properties
We loved staying at The Cove of Lake Geneva. Located a short walk away from downtown, the lake, the beach, lakeshore path, restaurants, and museums, the all-suite hotel's slogan "center of it all" couldn't be truer. Besides its fabulous location, the rooms are spacious and nicely appointed with a kitchenette perfect for whipping up meals. Plus, who can resist their large pool? In the warmer months, their outdoor pool area is open along with the kiddie area.
The Abbey Resort & Spa
Located on the other side of Geneva Lake, The Abbey Resort & Spa is normally our go-to resorts in the area. One of the best things about the resort is the number of family-friendly activities they offer. From watching movies at their small theater and splashing away at their indoor or outdoor pool to roasting s'mores at the bonfire and creating crafts, your family will always have something to do. Plus, when the weather's nice you can take a short walk to Fontana Beach.
All photos by Cheryl Eugenio unless otherwise noted. Lead image by Flickr/Atramos.
Disclosure: A big thanks to Visit Lake Geneva and their partners for hosting us. I was not required to express a particular point of view. All opinions are my own.