Photo courtesy of Central Oregon Visitors Association
With diverse landscapes and varied climates, how do you pack for a family road trip through Oregon? A visit to this state requires families to pack everything from bathing suits to rain coats, flip-flops to hiking boots, and backpacks to beach buckets. Yet somehow I managed to pack it all up, squeeze the luggage and 3 kids in to the SUV, and venture west on a road trip through Oregon.
We opted for the roads less traveled, along 2-way highways that dissect the state. From eastern Oregon, we meandered through pristine farmlands and sage covered hills; then climbed windy roads over central Oregon's Cascade Range, then descended to the rugged coast. Each section of the state offered something new: new history, new landscapes, new family-friendly activities. The only consistency we encountered while driving Oregon's roads was the age old question from the kiddos, "are we there yet?"
Eastern Oregon: Journey Through Time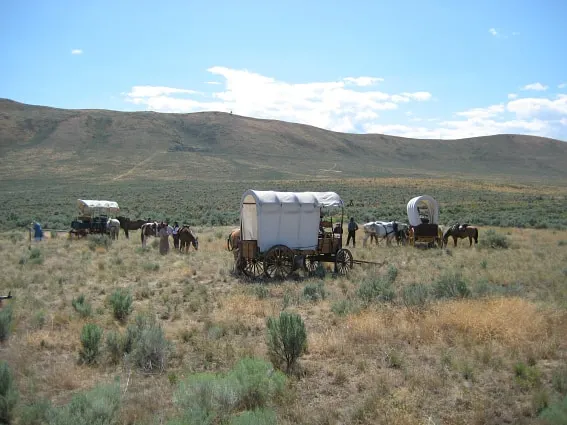 Pioneers and covered wagons greeted us in Eastern Oregon, and left me scrambling through luggage in search of sunscreen and cameras. If it weren't for the pavement under our tires, I could have convinced my kids that we had just driven through a time warp. In reality, we happened to come upon a living history pioneer demonstration as offered by the National Historic Oregon Trail Interpretive Center.
Highway signs appropriately designated our route as the "Journey through Time Scenic Byway," since all along this byway, a historical tale could be told. We witnessed the story of pioneers from the surviving Oregon Trail wagon wheel ruts. We witnessed the story of fortunes made while lodging at the iconic Geiser Grand Hotel, a Gold Rush-era hotel. We witnessed a story of prehistoric mammals from fossil records at the John Day Fossil Beds National Monument.
The kids sat wide-eyed as history came alive while the miles ticked by along the "Journey through Time." I wondered, "if only we could find a 'Journey through Math and Spelling,' the kids would be right on track to return to school that fall." If your kids love history as much as mine, be sure to check out these kid-friendly historical sites in eastern Oregon:
Need a place to stay along the Journey through Time in Eastern Oregon?
Central Oregon: High Desert Recreation Paradise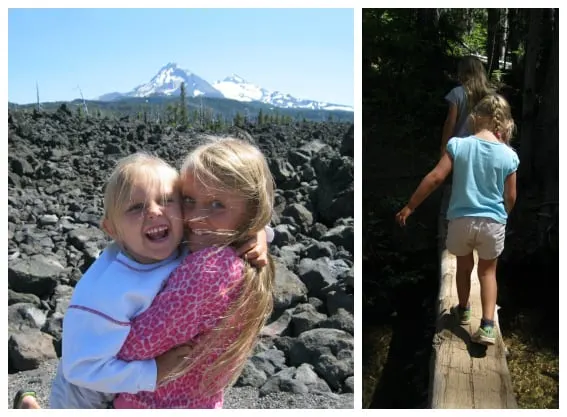 High desert and snow-capped mountains greeted us in central Oregon, and left me scrambling through luggage for hiking boots and water bottles. After miles of being cooped up in the car, the kids were eager to stretch their legs in the pristine beauty of central Oregon. But first, we opted for a glimpse in to the high desert's history, culture, and natural environment at the aptly named High Desert Museum. This kid-friendly museum preserves and celebrates central Oregon's high desert with its living history exhibits, and wildlife demonstrations. The kids departed the museum determined to spot raptors in the sky, trout in the waterways, and porcupines along the trail.
Think of any verb for outdoor recreation, and central Oregon has it; hiking, biking, rafting, fishing, climbing; horse-back riding, skiing, even spelunking! To top it off, central Oregon boasts over 300 days of sunshine! With trails galore and magnificent views of the Cascade Range, we embraced the outdoors. We biked along paved paths in Sisters. We hiked to waterfalls in the Deschutes National Forest, and then meandered through lava fields at the Dee Wright Observatory. We even witnessed plenty of raptors and trout during our outdoor recreation excursions. However, the porcupines seemed to keep their distance. If your family thrives in the outdoors like my family, be sure to check out these kid-friendly nature-loving central Oregon sites:
Need a place to stay in Central Oregon's high desert recreation paradise?
Coastal Oregon: Free Family Fun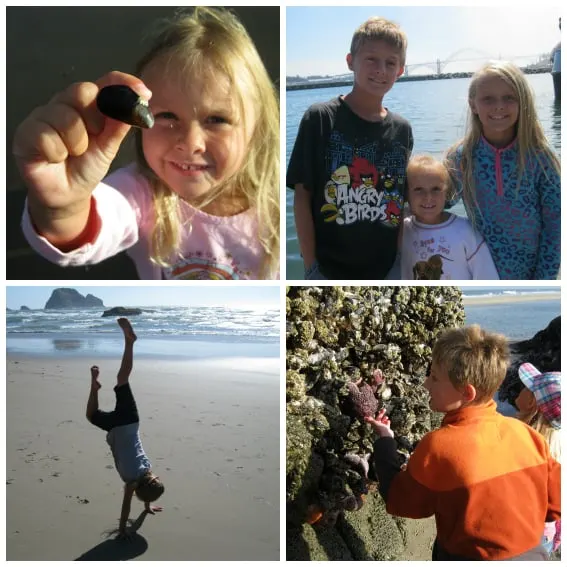 Cool ocean breezes and spouting whales greeted us in coastal Oregon, and left me scrambling through luggage for warm jackets and binoculars. My family discovered that there was no admission fee required for family amusement on the central Oregon coast. Low tides and curiosity were the only requirements to entertain kids as exposed rocks yielded colorful sea stars, anemones, and urchins.
When the kids didn't have their hands buried in tide pools, we hiked to waterfalls, picnicked, and played on the beach. We dove in to the coastal culture head first, even harvesting our own mussels, and fishing for crabs. Crabbing tip – don't name your crab "Clarence" before you cook it up for supper. Our days were full of family fun and our wallets still full of cash as we discovered that the best family activities along the coast were actually free. If free, family, and fun are three of your favorite words, check out these no-admission-required kid-friendly central Oregon coast activities:
Need a place to stay along Oregon's coast?
Be sure to share your favorite kid-friendly road trip sites with other Trekaroo families!
Disclaimer: Special thanks to Travel Oregon for assisting with my itinerary and lodging arrangements in Oregon. As always, the opinions expressed in this review are my own.
---
Travel with kids to: CA |CO | DC| FL | HI | IL |MA | NC | NJ | NY | OR| PA| TN | TX | UT | VA | WA