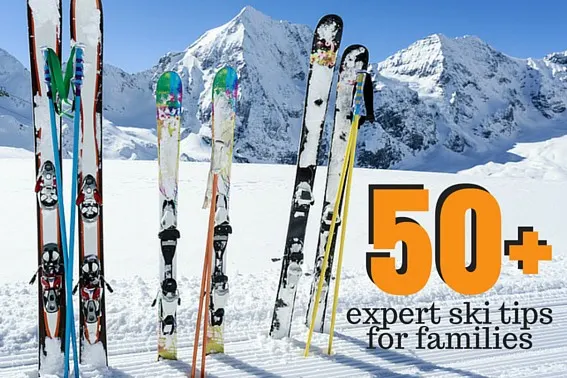 Photo by: Bigstock/Gorilla
As part of our November #ReadytoSki week, Trekaroo and leading ski experts got together for a fun Facebook chat. We answered reader questions on every aspect of planning and enjoying a family ski vacation. If you missed it, I've rounded up the best questions and answers in an easy-to-read format in several categories! Check out these ski tips from experts in family travel.
Tips for Skiing on a Budget
Smaller mountains will offer better lift ticket prices, but may be more DIY than large resorts.
Head off the beaten path: ski resorts located more than a few hours' drive from the nearest major airport will have better deals and lower crowds.
Ski resorts sometime merge: do your research and check if your resort has recently acquired another. The pro: more terrain. The con: usually a lift ticket price hike.
Wear hydration packs with water to save money on fountain drinks or bottled drinks. Be sure the hose of each pack is insulated!
Stash snacks such as granola bars or even candy bars in kids' pockets to ward off a snack stop.
Rent a vacation home instead of booking a hotel room in popular ski villages. You may have to transport yourselves back and forth from the mountain, but you'll save on lodging costs…and get your own kitchen and laundry.
Hit Happy Hour after your ski day. Many ski village restaurants offer apres ski discounts from 4-5 pm. Kids can usually make a meal of the appetizer menu.
Skiing a full week? Consider a season pass!
Check to see if your resort offers a kids ski free deal. Over 20 major resorts now offer this feature for families skiing three days or more.
Putting the kids in lessons? A private lesson may be more affordable! Private lessons usually allow up to 5-6 family members in one lesson, usually making them less money than booking 2-3 group lessons. Plus, you'll learn faster and get front-of-line access!
Pack ski day lunches in a backpack, and store it in a day lodge locker. The cost of the locker rental will be far less than the cost of a family meal on the slopes. Don't forget a thermos of hot chocolate! Note: smaller ski resorts are usually more 'sack lunch friendly'.
Wax and tune your own skis and boards instead of paying for this service in a ski resort or ski village! Here's how!
Look for lodging and lift ticket packages at less well-known resorts. For example, Stay and Play packages are available at ski areas without slopeside lodging, including Boise, McCall, Sandpoint, Lava Hot Springs, Donnelly and others in Idaho.
Look for free or discounted lift tickets for the beginner lifts. Many resorts, including Idaho's Brundage, offer free skiing for beginners to encourage people to try the sport.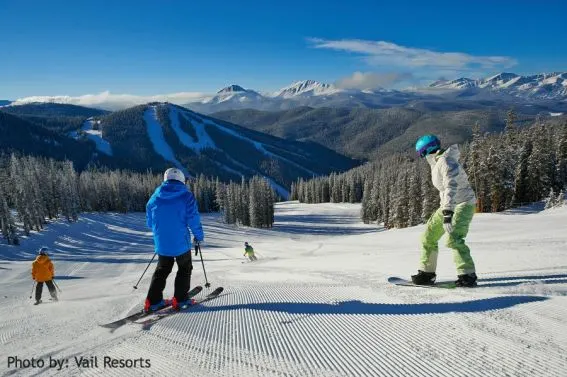 All About Ski Lessons
To achieve progression, a family should plan on spending at least three consecutive days in lessons.
Check out Mom and Me or Dad and Me lesson packages that allow parents to shadow kids. This helps mom and dad support their kids' progress.
Look for terrain-based learning at major ski resorts. This new approach to lessons helps kids gain confidence faster. Favorite resorts with the program: Smugglers Notch, VT and Sierra at Tahoe, CA.
Expert-sourced: The Burton Snowboard Academy at Northstar CA offers one of the top programs for young boarders.
Live close to a ski resort? Consider season-long lessons. Smaller ski resorts offer the best deals, such as Jiminy Peak's Mountain Adventure, a six-week program.
Take advantage of 5th or 6th grade lesson and ski deals, honored at many US resorts. Example: Idaho's 5th and 6th grade passport program.
Arrive at lessons as early as allowed to avoid a long wait to check in. Remember to let kids take off layers if waiting indoors for the rest of the group!
Rent skis and boots the night before lessons begin, if possible. You'll be glad you have one less thing to do!
Consider half-day lessons for uncertain kids and beginners. If they're loving it, most resorts will allow you to extend their lesson at lunch time.
Don't be afraid to pull kids out of lessons if they're unhappy. In the long run, they'll enjoy the sport more if they are not forced.
Don't prolong the drop-off period. Ensure kids have what they need, then wave goodbye (and hit the slopes yourself). Staying too long only clutters the area and makes most kids more anxious.
Start with skiing, not snowboarding: Skiing is generally easier to learn for kids under the age of 6. The strength, motion, and balance requirements of skiing just seem to fit their physical development better at that age range.
Keep in mind that some group lesson prices DO include a lift ticket, but most private lesson do not. At Deer Valley, Utah, for instance, kids' group lessons do come with a ticket to the slopes.
For moms who want to learn: consider women's only lessons for a supportive, fun environment. Find them via Women's Edge at Aspen or Her Turn at Vail.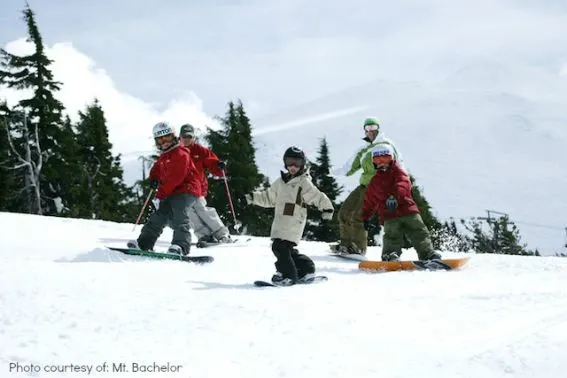 Advice for Off the Slopes
Remember that tubing tickets are usually not included in lift ticket pricing. If you don't want to pay to sled, ask a local for directions to the nearest community hill!
Family-focused ski resorts, such as Keystone Mountain in Colorado, offer programming for kids off the slopes. Check out the daily events at Keystone's Kidtopia for an idea of what's offered.
Don't forget about ice skating! Most ski village rinks are free, provided you bring your own skates. Don't own a pair? Rentals are usually under $10.
Look for a resort with indoor activities, like Smuggler's Notch's FunZone or Silver Mountain's Silver Rapids waterpark.
Try a snowshoeing adventure! The national forest service offers free snowshoe tours at many resorts and sno-parks across the country. In fact, tours depart directly from the parking area at Mt. Bachelor Ski Area in Central Oregon.
Get a cross-country ski pass and hit the trails. Many major ski resorts offer groomed nordic trails, which are less expensive and less crowded than the downhill slopes. Take the whole family for a day on the trails…pack hot cocoa for the warming hut!
Look for evening activities that are kid-friendly, such as Aspen-Snowmass' Ullr Nights, which feature snow sculptures and marshmallow roasting.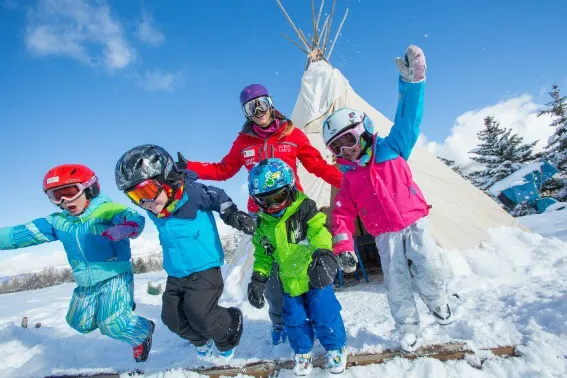 Ski Wear and Gear Tips & Recommendations
Don't have ski wear? Rent from GetOutfitted.com instead of buying a one-time purchase.
Ski pants with suspenders or a bib can usually be stretched out to two seasons on growing kids.
Obermeyer sells pants and jackets that grow with your kid.
Expert sourced: top ski sock brands include Smartwool, Darn Tough Vermont, and Dahlgren.
Always wear a ski helmet. Usually they can be rented for free if your kids are in lessons.
Layer, layer, layer! Start with a wool base layer for each family member, then add layers as needed.
Waterproof gloves and pants with Nikwax.
No one wants to wait in ski rental lines after arrival at the resort. Use a service that delivers ski rentals to your door. They'll size boots and skis for you in your rental home, condo, or hotel room.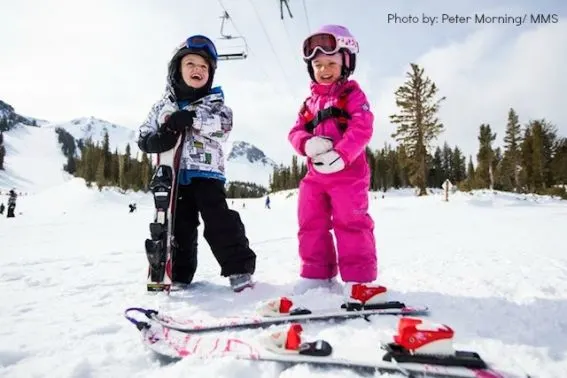 Troubleshooting and Other Expert Advice
Pack hand warmers in everyone's pockets to ward off frozen fingers. Place them in boots to keep toes warm as well.
Check for 'rainy day' clauses when purchasing lift tickets (sometimes, you can get a refund if you return to the lift sales office before 10 am).
Purchase flex tickets that allow you to ski two out of three days (or four out of five). That way, you can take a day off in case of inclement weather.
Remember that cell phone reception may not be possible on the slopes. Plus, cold weather shortens battery life. Consider family walkie-talkies or designate a meeting spot on the hill.
Look for ski school programs that equip each child with a GPS tracking device for safety. Example: Big White Ski Resort in BC has this feature.
Don't be afraid to call it a day early if the weather is terrible. The hot tub is calling!
Always pack snow chains, a blanket, extra bottled water, a collapsible shovel, and a flashlight in your car if driving to a ski resort.
Goggles fogging up? Use an anti-fog agent to keep your vision clear.
Want to beat the rush to the slopes? Consider a First Tracks ticket! The experience is amazing!
Enter to Win a Family Ski Getaway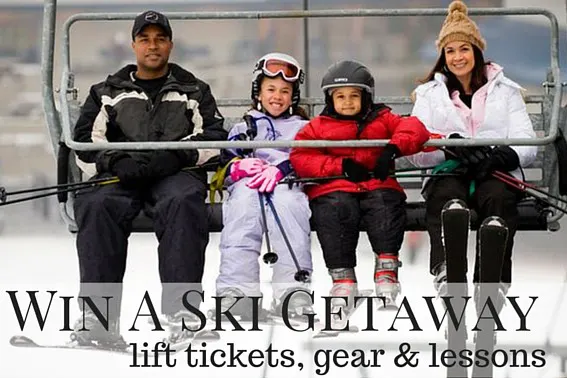 Want to win lift tickets? Enter to win rentals, lessons, & lift tickets with SkiPA through January 31, 2016.