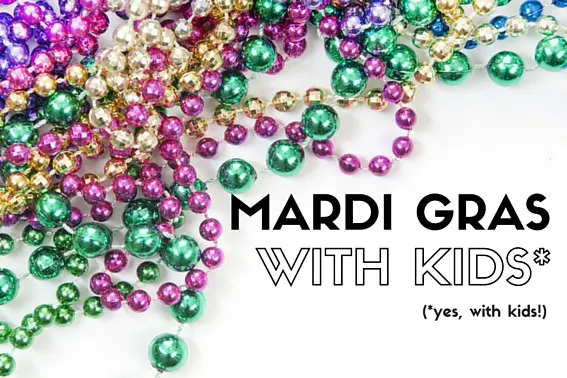 Photo by Bigstock/CherylCasey
The folklore-like stories connected to it are legendary. Mardi Gras, or Fat Tuesday, is the last day of the Carnival season. One last opportunity for Christians to let loose before they must settle down into a pattern of fasting and penitence that is the season of Lent.
It is colorful. It is loud. It is a raucous good time and despite what you've heard, it is also family-friendly! New Orleans' Uptown neighborhood and many of the parade routes in the city's suburbs are packed with families picnicking and vying for prime spots to scoop up "throws," trinkets tossed to spectators. Many locals even have Mardi Gras ladders designed for the event. Typically consisting of a seat bolted to the top of a 6-foot ladder, these viewing perches for the young ones must be placed back from the street and, to keep them steady, an adult should stand on the back. You can buy a seat at just about any hardware store in the area. The largest family-friendly event is Family Gras. Hosted in nearby Metairie, the celebration includes free outdoor concerts and parades rolling next to the festivities.
Can I get a shout of, "Laissez les bons temps rouler!!?" (Let the good times roll!)
Learn more about Mardi Gras
Much of what you'll see during Mardi Gras comes from centuries old traditions. Whether you decide to attend the events or not, here are two great places to bone up on Mardi Gras' rich history:
Mardi Gras World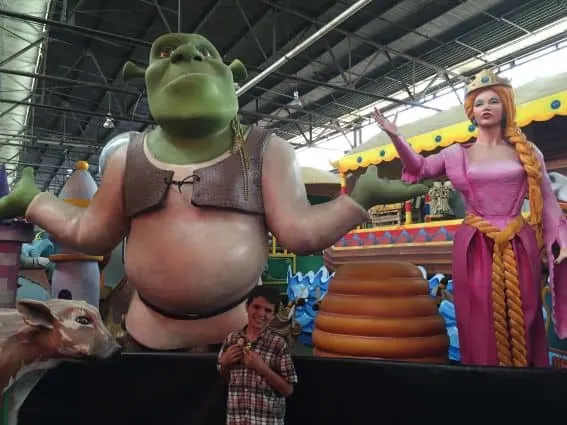 Photo by Kristine Dworkin
It's astonishing to think that up to 60 parades are held in the greater New Orleans area during Carnival season. A tour of Mardi Gras World gives visitors a behind-the-scenes look at one of the massive warehouses where a great deal of the planning and magic-making begins. If you're lucky, you may even see artists at work designing and building parts of these spectacular floats. The work they do is not just for Mardi Gras but also 40 other events throughout the year — and they build them from the ground up.
Visitors kick off their tour with a short history lesson on Mardi Gras as well as an opportunity to try on some colorful costumes and sample King Cake, a ring shaped or oval cake covered with sugar toppings in the traditional Mardi Gras colors of purple, green and gold. Inside each cake is a plastic baby! The "lucky" person who receives the slice of cake with the baby is asked to continue the festivities by having the next King Cake party.
Krewes, organizations who host the parades and whose members ride the floats, have been relying on Mardi Gras World to design and construct stunning floats that align with their themes since 1947. The work done at Mardi Gras World is evident before visitors even enter the showroom. Familiar faces like Shrek, Thing 1 and Thing 2 from "The Cat in the Hat," and Flick from "A Bug's Life" lined the walkway to the lobby, delighting my kids at the sight of them. As you travel deeper in the showroom, super heroes, historical figures, animals, and other colorful figures peer out of the pathways. The level of detail that goes into them is incredible. I half expected a Trojan warrior I spotted to step down off his pedestal and the Rock 'Em Sock 'Em Robots behind him to go at each other.
At the end of the tour our group was allowed to linger in the showroom studios. A few fully assembled floats were parked in the area; getting close to them was a great opportunity to really take in the size of these floats and the artistry of that goes into constructing them.
Have you visited Mardi Gras World? Please share your scoop!
Louisiana State Museum
Photo by Kristine Dworkin
To get a nice companion to Mardi Gras World, visit the Presbytere. Part of the Louisiana State Museum, it is home to an exhibit that focuses on the history, traditions, and customs of the event. There's even an area where you can board a float and watch a typical parade street scene cast on a video in front of you, thereby virtually experiencing the perspective a Krewe member may have when riding it. Peruse an elaborate collection of artifacts and memorabilia, including exquisite costumes worn by famous Krewes such as the Zulu Social Aid and Pleasure Club.
One thing that I personally admire about New Orleanians is their sense of humor, which was definitely on display in the exhibit detailing the Blue Tarp Fashions. After Hurricane Katrina there were lots of blue tarps accessible so some clever folks came together to organize Blue Tarp Fashion Shows and even incorporated the tarps in their parade floats as a form of protest and even as fundraisers. This exhibit also gives a terrific overview of how celebrations go down in the more rural areas of Louisiana with many rituals that can be traced back to the village festivals of 12th-century Europe.
The New Orleans area is rich with history. Check out these Kid-Friendly Museums.
Tips for Experiencing Mardi Gras as a Family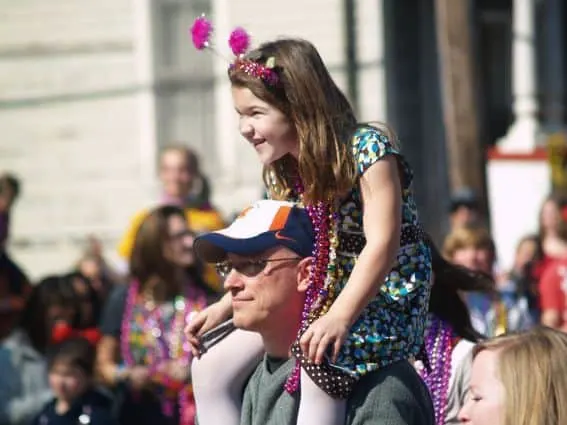 Photo by Jay Combe /New Orleans CVB
Come in costume: Give into the festive mood by getting silly! This a great opportunity to wear a favorite Halloween costume again or simply don a mask. Consider going with a family theme, it could provide an easy way to keep track of each other in a crowd.
Pack comfortable clothing and layers: While the weather is often warm during the day, it cools off for the night parades.
Issue a large bag to each child: The bounty of trinkets float riders will toss along the parade routes will need to be stowed somewhere!
Practice your catching skills: There will be lots of loot on the streets at the end of a parade. It is considered bad luck to pick it up, even those tempting beads. Be ready to catch those trinkets coming at you!
Be Prepared for Crowds: Mardi Gras draws throngs of celebratory attendees so be prepared and be sure that your family has a strategy for staying together and getting back together should you get separated.
Disclosure: Thank you to Mardi Gras World and the New Orleans Convention Visitors Bureau for hosting my family. Although my family received complimentary admission tickets to Mardi Gras World and the Presbytere, I was not asked to express any particular opinion. My thoughts are my own.