There is so much more to Finland than a 24-hour cruise stopover in Helsinki! Finland is a country of rich history and great natural beauty, and little Hämeenlinna, an hour's drive north of Helsinki, is a great place to experience a bit of what makes this Scandinavian country so lovely. I love Hämeenlinna because it is off the typical North American tourist's radar. I felt like our experience in this charming town gave my family a nice opportunity to experience an authentic slice of Finland. I encourage your family to visit Hämeenlinna and fall in love with its understated charm. Here are some of the region's highlights.
The main attraction in Hämeenlinna is the Häme Castle, a medieval royal castle that sits on picturesque Lake Vanajavesi, not far from the city center. It was originally built for the purpose of fortification during the 13th century and stood on the border zone between Sweden and Novrogorod, a region mainly made up of modern day Northern Russia today. Through the centuries, the castle served as a military base, residence for visiting Swedish royalty, and even a prison before it was turned into a museum in 1979. Guided tours with English-speaking guides are the best way to experience this historic fortress. My kids loved discovering hidden passages and let out a collective "eww" upon learning about chamber pots and life without indoor plumbing. I especially enjoyed learning the details about how the castle was painstakingly set up for royal residence yet was used on only a few occasions by actual royals.
After the tour, take time to enjoy the area surrounding the castle, which is quite lovely. My children had a great time playing with local Finnish children on the lakefront playground next door. We climbed trees, took a walk along the shore, and watched locals enjoy the beautiful weather by kayaking and paddleboarding on the water.
Aulanko
Located on the outskirts of Hämeenlinna, Aulanko is a resort and nature preserve that my family absolutely fell in love with. Originally used as large manorial retreat by a wealthy captain from Helsinki in the late 1800's, Aulanko is part modern hotel and part natural escape.
Featured in many Finnish films, the main building of the Spa Hotel Rantasipi Aulanko is both grand and iconic. The hotel features a full-service spa with sauna (this is Finland after all), several pools including an indoor pool with a waterslide, a small bowling alley, tennis courts, horseback riding, and one of the oldest golf courses in Finland. My kids particularly enjoyed the gym which had an indoor hockey rink, pedal go-karts, trampoline, badminton, and an indoor curling course which we couldn't get enough of.
Aulanko Park includes several hiking trails through the forest, a lake for swans (the national bird of Finland), and castle ruins which are now used as an outdoor theater. My family enjoyed climbing up the 322 steps of the preserve's granite observation tower, which afforded us expansive views of the lakes and forests in the region. Trails do connect the hotel with the park but the park is quite large so if you want to explore it all, I suggest driving from location to location.
Love the outdoors, Finland has more than 40 national parks but the closest one to Helsinki is Nuuksio National Park.
Finnish Design and Sweet Treats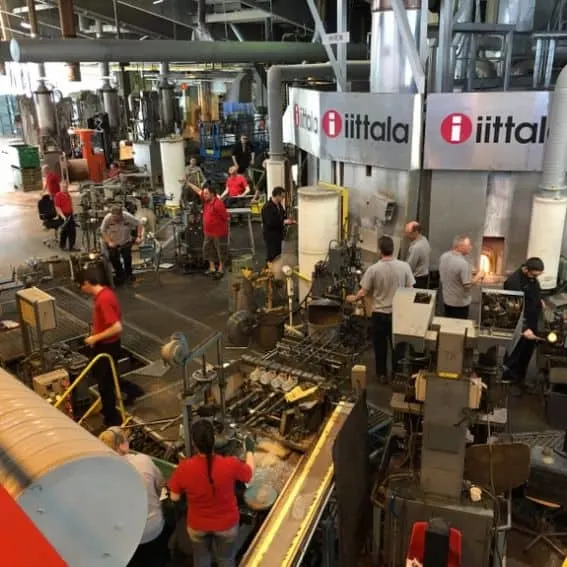 A quick 15 minute drive north of Hämeenlinna you will find the Iittala Design Factory and Museum. Iittala is an icon of Finnish design, specializing in hand-blown glassware. Guided tours of the museum and factory are available. Staff inside the museum are happy to walk you through the history of the company and its renowned master artists who created designs that became famous the world over. Alvar Aalto's iconic collection first gained popularity during the 1937 Paris World's Fair. It takes seven incredibly skilled craftsman working together to create one mouth-blown Aalto vase. Masterpiece indeed! I couldn't resist picking up a small piece from his collection at the Iittala Outlet Store located onsite. The kids had a great time playing on a playground in the courtyard while I shopped. The true highlight of our visit was heading inside the glass factory and watching incredible artisans hard at work. I could have watched the glass blowers for hours but the chocolate factory next door was calling the names of my children. We made sure to purchase our fair share of sweet treats before we left!
Good Eats in Hameenlinna
If you are looking to have a charming dinner in Hämeenlinna, Ravintola Piparkakkutalo is a nice option. Piparkakkutalo means "gingerbread house" in English, and this restaurant has the sort old-fashioned charm that a gingerbread house evokes. While white linens adorn the table tops, the atmosphere is still quite casual and welcoming to children, typical of nearly every place we visited in Finland. The children's menu mirrors the adult menu with classic items such as fish, meatballs and mashed potatoes, and steak strips and french fries offered. The adult menu is certainly more sophisticated and relies on seasonal ingredients to compliment classic flavors.
Restaurant Halla is another reliable option in Hämeenlinna. It has a cellar pub sort of feel and serves up a diverse salad bar which can be ordered as an entree or included with main dishes such as pasta, fish, schnitzel, and pizza. The children's menu includes the traditional Finnish mainstays of meatballs, fish, and steak strips and fries. Restaurant Halla will forever stand out in my mind as the place where my city kids were entertained by the "cowboy music," aka: American country music, playing in the background. That's right, we traveled all the way to Finland for my kids to discover Garth Brooks.
Plan your dream trip to Finland with our Ultimate Guide to Finland: 20+Things to Do in Finland and plan a dream trip to Finland. We've got tips on what to do, what to eat, and where to stay.
Disclosure: My family was hosted by Visit Finland for the purposes of covering this beautiful country on Trekaroo. The Finnish hospitality was wonderful but all opinions are my own.