We are reader-supported. When you buy through links on our site, we may earn an affiliate commission.
The stunning Blue Ridge Parkway in Virginia follows the ridge line of the Blue Ridge Mountains as it winds for almost 217 miles from Shenandoah National Park to the North Carolina border. Use this itinerary to experience your own scenic and spectacular Blue Ridge Parkway road trip this summer.
The 469-mile Blue Ridge Parkway through Virginia and North Carolina is one of the most visited areas in the U.S. National Parks System. There are lots of Blue Ridge Parkway hikes for your family too.
Blue Ridge Parkway Road Trip in Virgnia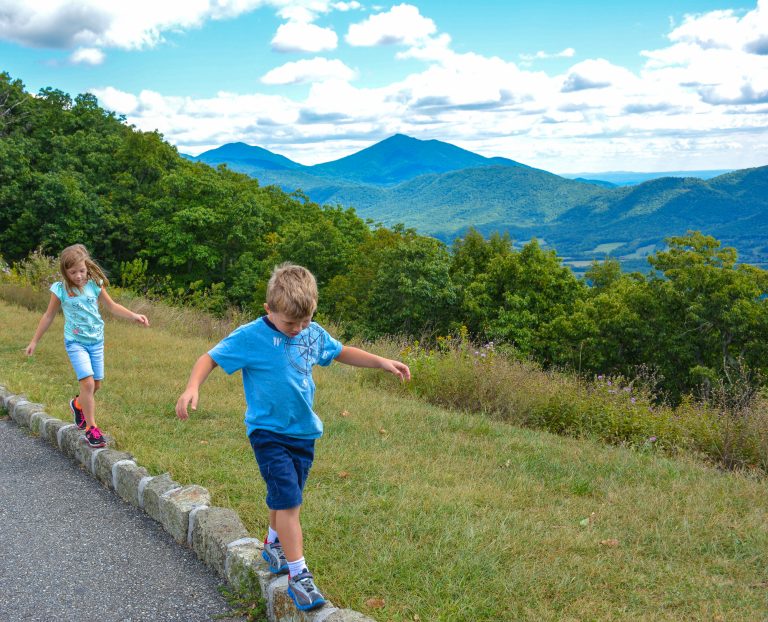 I love road trips, and driving the entire Blue Ridge Parkway Virginia sounds absolutely idyllic to me. However, in my recent travels around the region, I've learned that driving the parkway straight through would be a terrible mistake.
Why? Because there are so many fun places to stop just off the road to hike Blue Ridge Parkway trails. Not to mention that my kids would most certainly revolt if I attempted to drive over 200 miles at 45 MPH on windy roads with them in the backseat for an entire day.
Here's a guide for an unforgettable Blue Ridge Parkway road trip in Virginia with your family.
Looking for more places to visit in Virginia? From Mount Vernon to the Eastern Shore, here are Trekaroo's Top 10 Things to do in Virginia.
Pick up A Blue Ridge Parkway Map Before You Begin Your Road Trip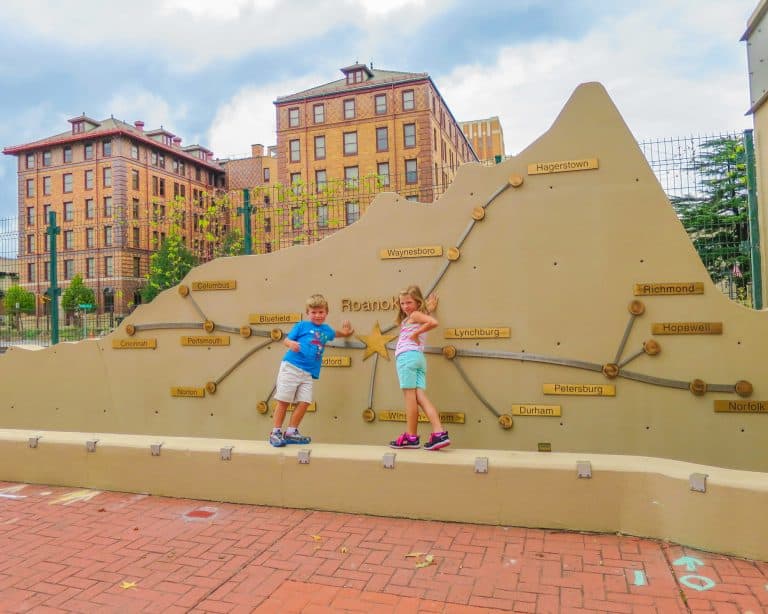 The Blue Ridge Parkway in Virginia is one of the few places that my loyal friend, Google Maps, has failed me. There is simply not enough cell phone service up in the mountains to rely on your iPhone to get you to where you want to go.
I highly recommend doing some research and developing a rough itinerary before heading out into the Blue Ridge Mountains. Pick up a map of the parkway at a visitor center along the way and use it to ensure for a safe and fun road trip.
Parents know that getting out of the car is absolutely essential when bringing the kids along on a road trip. My favorite places in the region are listed by mile post (MP) on the Blue Ridge Parkway Virginia from north to south so families can make a plan to get out of the car and explore on their Virginia road trip.
Coming from Shenandoah National Park's Skyline Drive? Check out Trekaroo's guide to Shenandoah National Park with Kids.
1. Wintergreen Resort – Approximately One Mile East of the Parkway at Mile Post 13.5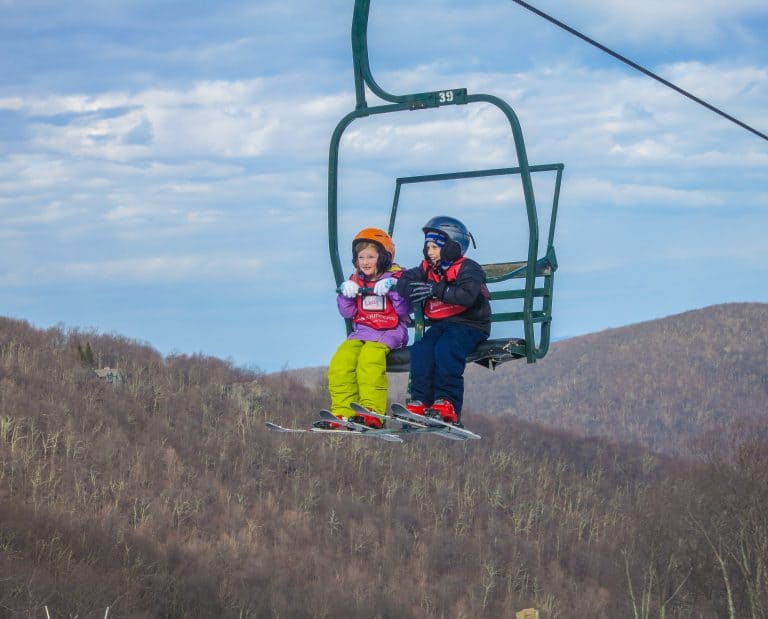 Wintergreen Resort is certainly one of the best places for a family vacation up in the Blue Ridge Mountains during any season. The views from the resort are some of the most spectacular in Virginia.
With restaurants, children's ski school, summer day camp programs, a nature center, and plenty of outdoor adventure activities to keep the teens busy, Wintergreen Resort is a place where everyone in the family can enjoy a relaxing vacation.
To top it all off, Wintergreen Resort is only minutes from the Blue Ridge Parkway in Virginia so it the perfect base as your family explores.
2. Crabtree Falls – 6 Miles East of Blue Ridge Parkway at Mile Post 27
Crabtree Falls is one of the most rewarding hikes for families that I have experienced in Virginia. The bottom of the falls is a short, 5-minute walk from the parking lot along a paved path.
For those that would like to spend more time exploring, a trail rises steeply alongside the falls. There are five major cascades dropping a total distance of 1,200 feet, making this the highest vertical-drop, cascading waterfall east of the Mississippi River.
3. Natural Bridge – 15 miles west of the Blue Ridge Parkway at Mile Post 61.6 or 63.7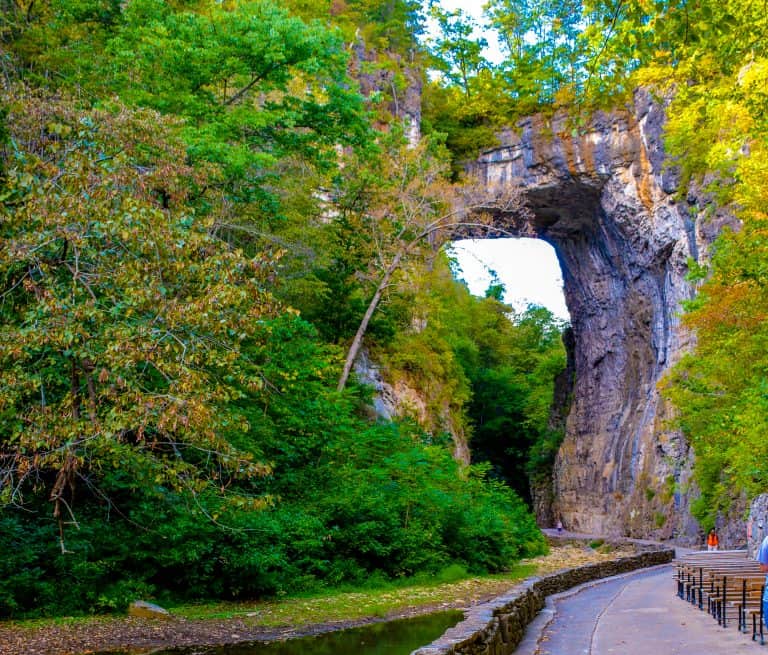 Virginia's Natural Bridge in the Shenandoah Valley is one of the United States oldest tourist destinations. It was popularized by it's first owner, Thomas Jefferson, who built a guest cabin on the property.It is even rumored that George Washington made a visit!
Natural Bridge has become a bit commercialized over the years, but considering its history and inherent natural beauty, it should still be on the itinerary of any family visiting the area. I hope that my kids remember their visit the same way that my husband remembers his first visit with his grandparents decades ago.
4. James River Visitor Center and Otter Creek – Mile Posts 56.0 – 63.7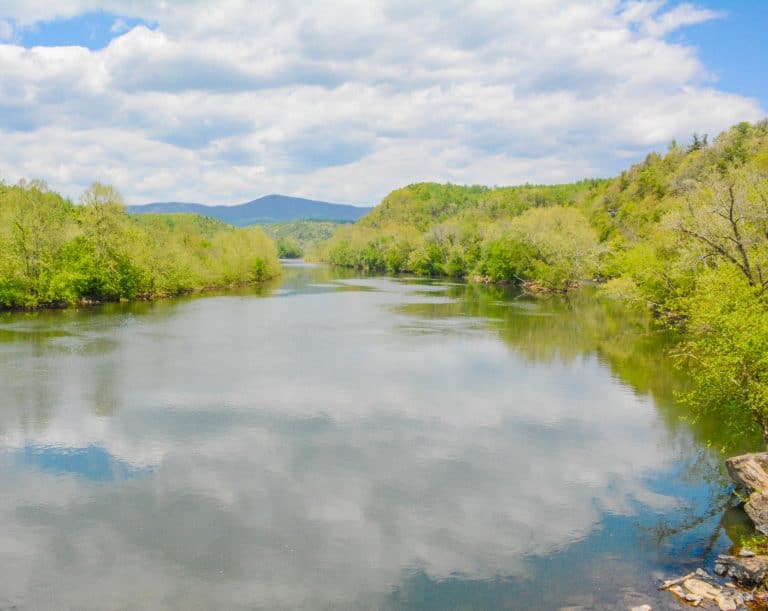 As your family continues your Blue Ridge Parkway road trip in Virginia, be sure to spend an hour or two exploring the Otter Creek area.
A 3.5-mile trail parallels the parkway and Otter Creek connects the Otter Creek Campground with the James River Visitor Center. The trail has several access points along the Parkway.
Behind the James River Visitor Center, there are tables for picnicking alongside the James River. There is also an entrance to an impressive pedestrian bridge running all the way across the river to an exhibit on canal locks on the southern shore.
5. Blue Ridge Parkway Road Trip Home Base: Lynchburg – 22 Miles East of the Parkway at Mile Post 63.7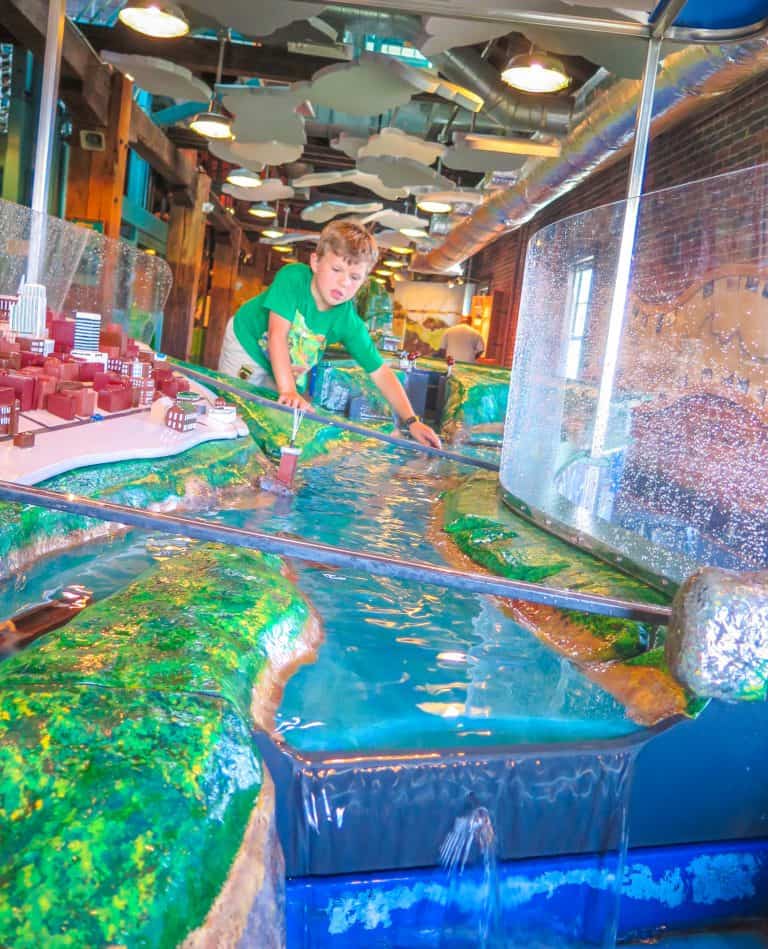 If you're not much of a camper, it's likely that you'll be looking for a home base to return to each night as you explore the Blue Ridge Parkway. Look no further than Lynchburg!
In comparison to nearby Roanoke, Lynchburg is a particularly great fit for families with younger children and history buffs.
Lynchburg is home to my favorite children's museum for kids 4-8, Amazement Square. Amazement Square features a four-story climbing structure with slides and tubes for the kids to climb around inside and get their wiggles out.
In addition to fun and games, there are some truly unique exhibits where kids can learn about the local canal system and Native Americans while they play.
Lynchburg is home to several family-friendly, locally-owned restaurants with children's menus. My favorite children's menu of the bunch can be found at The Depot Grille, conveniently located just across the street from Amazement Square. The whole family will love Lynchburg's green spaces, parks, and bike paths.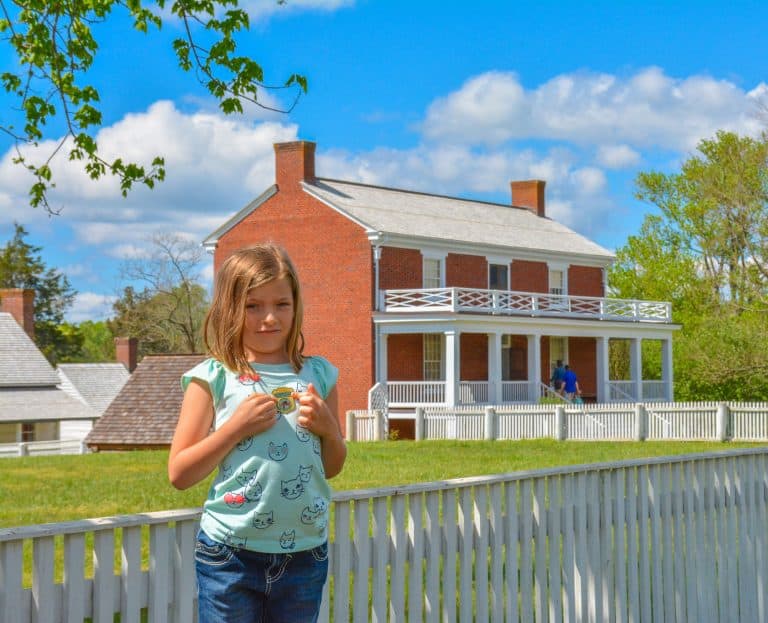 Lynchburg is the perfect place to dive into early 19th Century history and the Civil War. Appomattox Courthouse National Historical Park, the location where Robert E. Lee surrendered to General Grant, is only a 30-minute drive outside of town.
Thomas Jefferson's Poplar Forest, Jefferson's most accomplished work of architecture, is 30 minutes outside of Lynchburg in the opposite direction.
There's also plenty of history within walking distance of downtown Lynchburg. Highlights include the Point of Honor, a historic residence overlooking the city, and the Old City Cemetery.
Where to Stay in Lynchburg, Virginia
When my family spent a weekend in Lynchburg, we enjoyed staying at the Holiday Inn Lynchburg which is conveniently located downtown. It is within walking distance of several family-friendly restaurants and many of our favorite attractions.
What is better than being only a short walk from Altus Chocolate where it's possible to treat the kids to a cup of hot chocolate at almost any time of day?
6. Peaks of Otter- Mile Post 84 – 87 on the Blue Ridge Parkway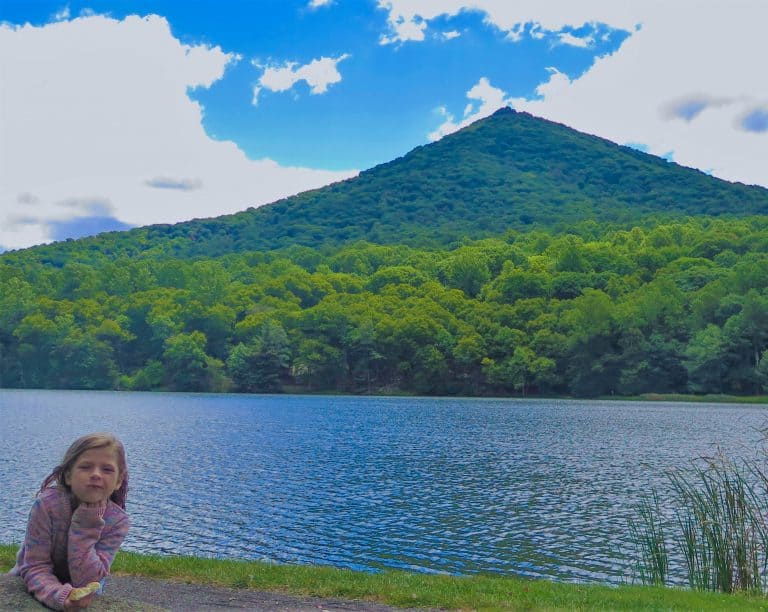 If your family is looking for lodging or even just a hearty lunch on the Blue Ridge Parkway in Virginia, the Peaks of Otter Lodge is your best bet. In season, there is both a dining room and quick service restaurant at the lodge.
The lodge sits on the edge of a small lake where we enjoyed picnicking with food purchased at the quick service restaurant.
Across the lake stands the imposing and distinctive Sharp Top Mountain. While hiking Sharp Top is quite the feat, there is a shuttle bus that takes visitors to a viewpoint within 1,500 feet of the top of the mountain.
There's plenty of hiking available, from a flat path around the lake to more strenuous full-day adventures. The Peaks of Otter Visitor Center is available to guide families towards appropriate hiking trails and provide maps in the summer and fall seasons.
7. Roanoke – 5 miles South of the Parkway at Mile Post 112.2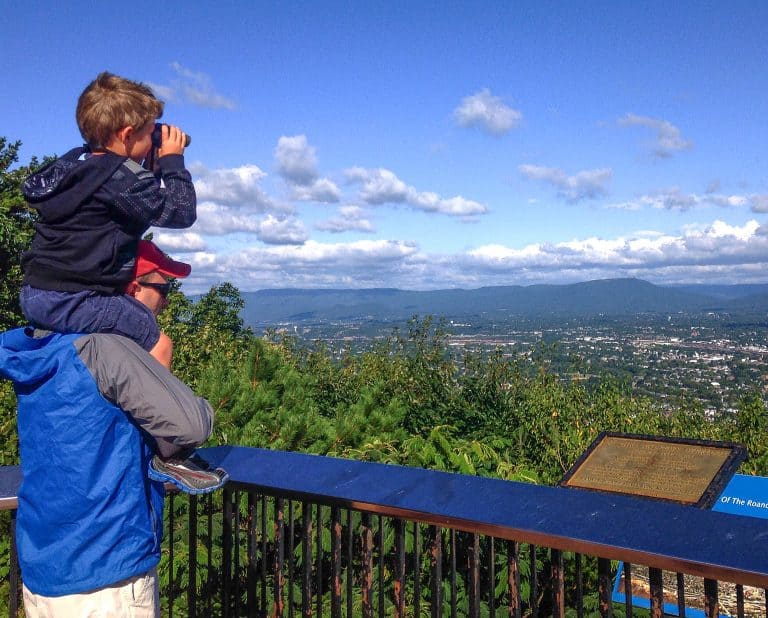 Roanoke is another great city to explore when driving the Blue Ridge Parkway Virginia, and it is by far the best place to spend a rainy afternoon in the region.
It's especially great to travel here with tweens and teens because it has a variety of indoor museums that cover a diverse array of interests from transportation to art.
All of downtown Roanoke's museums are within walking distance of its Historic City Market. In fact, there are several museums located adjacent to the market at the Center in the Square.
The Science Museum of Western Virginia, located at the top of the Center in the Square, has a pollinator garden looking out over the city of Roanoke. It contains exhibits ranging from the chemistry behind the illumination of the Mill Mountain Star to the workings of the human body.
Just downstairs from the science museum is the Roanoke Pinball Museum, which is sure to be a favorite for parents who spent their childhoods hanging out at the local arcade. It's the perfect place to bring back childhood memories all while bonding with your kids.
The shops and restaurants in Roanoke are another highlight for families visiting the region. Grab the largest slice of pizza you've ever seen at Benny Marconi's. Then head down the street to The Candy Store to spoil the kids rotten in a place that will bring you right back to your own childhood.
Where to Stay in Roanoke, Virginia
The Hotel Roanoke is the place to stay when visiting Roanoke. Its super convenient location is just across the railroad tracks from downtown.
However, if like us you're in town on the day of a big football game or conference, we've found the newly remodeled Hampton Inns in Southern and Southwestern Virginia to be a great option.
While the Hampton Inn Salem is a bit of a drive from downtown Roanoke, we loved its stylishly remodeled rooms and awesome complimentary breakfast. It is a great option for families driving the Blue Ridge Parkway, Virginia.
8. Booker T Washington National Monument – 20 Miles Southwest of the Blue RidgeParkway at Mile Post 121.4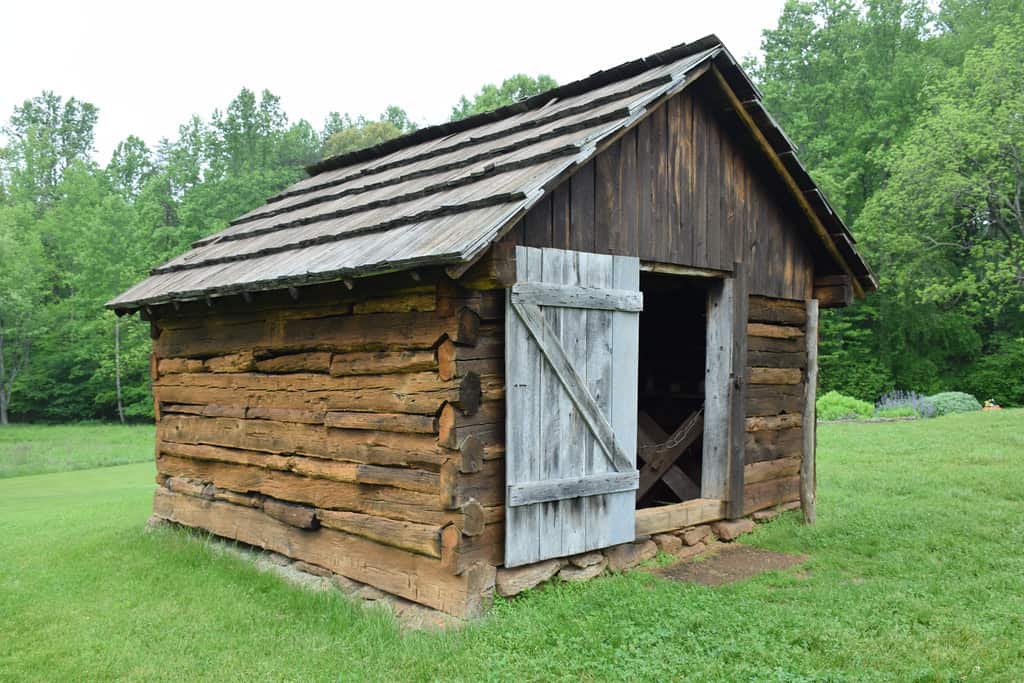 The Booker T. Washington National Monument is quite a drive from the Blue Ridge Parkway in Virginia. Families visiting the Monument will learn about Washington's early life as a slave on a Virginia plantation.
The Monument's museum exhibits are perfect for elementary school children. They provide opportunities for children to relate to the jobs that Booker T. Washington would have been required to do as a 6-9 year old slave.
The cabin where Booker T. Washington lived with his mother and siblings has been reconstructed. Kids can see what sort of living arrangements a slave might have experienced in 1860s Virginia. Be sure to ask for a Junior Ranger booklet to help get the most out of your visit.
9. Fairy Stone State Park – 16 Miles West of the Blue Ridge Parkway at Mile Post 165.2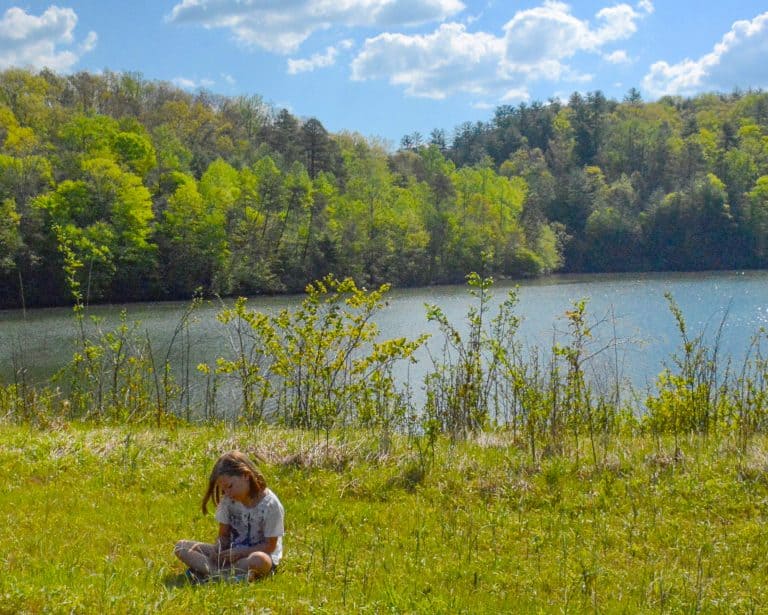 Fairy Stone State Park is one of Virginia's 36 fabulously managed state parks. It features cabins that can be rented by the week during the summer months.
In the spring, my kids and I enjoyed hiking along the edge of the lake to a small earthen dam. As we drove around the lake, we were excited to see large foam water toys being installed for the summer season.
10. Rocky Knob – A Scenic Stop on Your Blue Ridge Parkway Road Trip at Mile Posts 167-174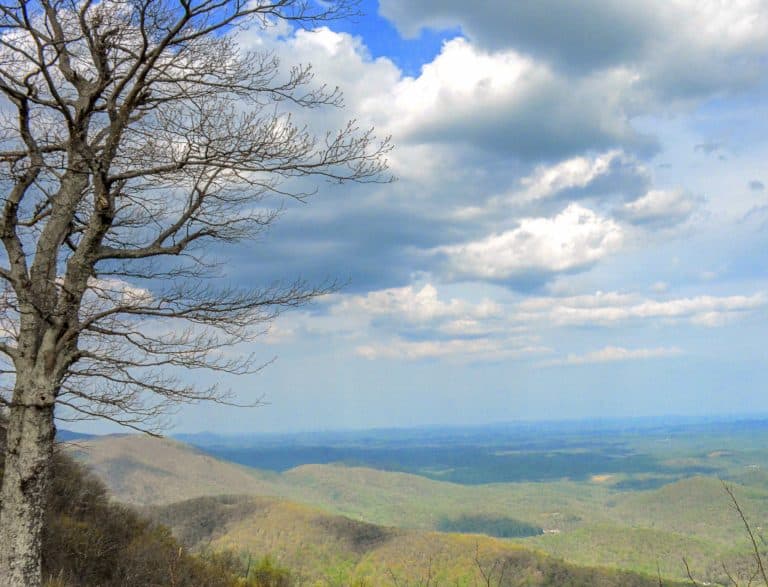 There are plenty of spectacular views along the Blue Ridge Parkway in Virginia. In the Rocky Knob area there are several pull-outs where families can park their car and savor the view.
My kids especially liked the picnic area at Rocky Knob. There are large boulders for climbing on and around. When it's not busy, it's the perfect place for a game of hike and seek.
11. Mabry Mill at Mile Post 176.1 of the Blue Ridge Parkway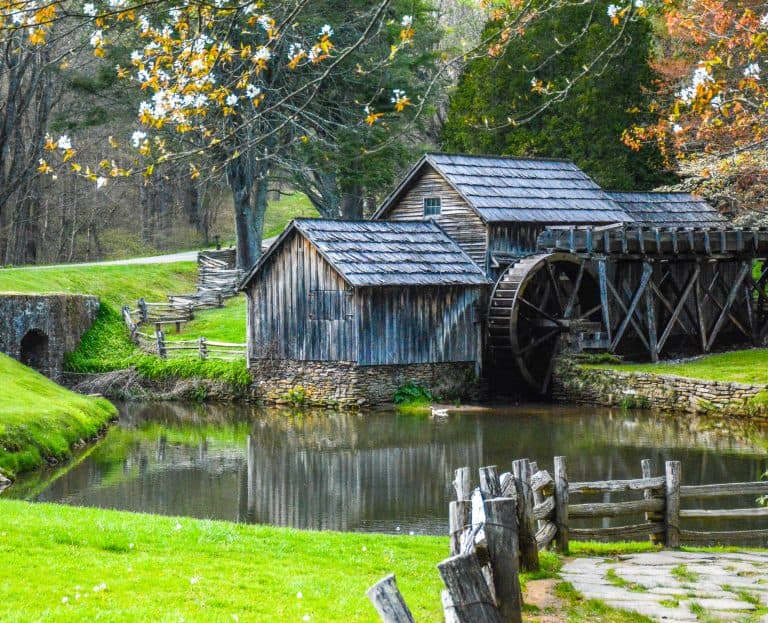 Get pancakes all day long at the Mabry Mill Restaurant on the Blue Ridge Parkway! It's the perfect place to stop for a meal during the summer and fall.
The restaurant and gift shop are closed in the off season. However, the area is still beautiful to walk around the blooming trees in the spring months.
As we strolled the pathways around the mill in the spring, we saw the waterwheel turn. There were also ducks playing in the lake.
During the summer months, I imagine that this place is really hopping. There is live folk music and staff from the National Park Service demonstrating crafting techniques from the Appalachian region.
Heading down south on the Blue Ridge Parkway? Check out these 7 amazing things to do with kids in Asheville.
12. The Crooked Road Music Trail (Highway 58) at Mile Post 177.7 and The

Blue Ridge Music Center – Mile Post 213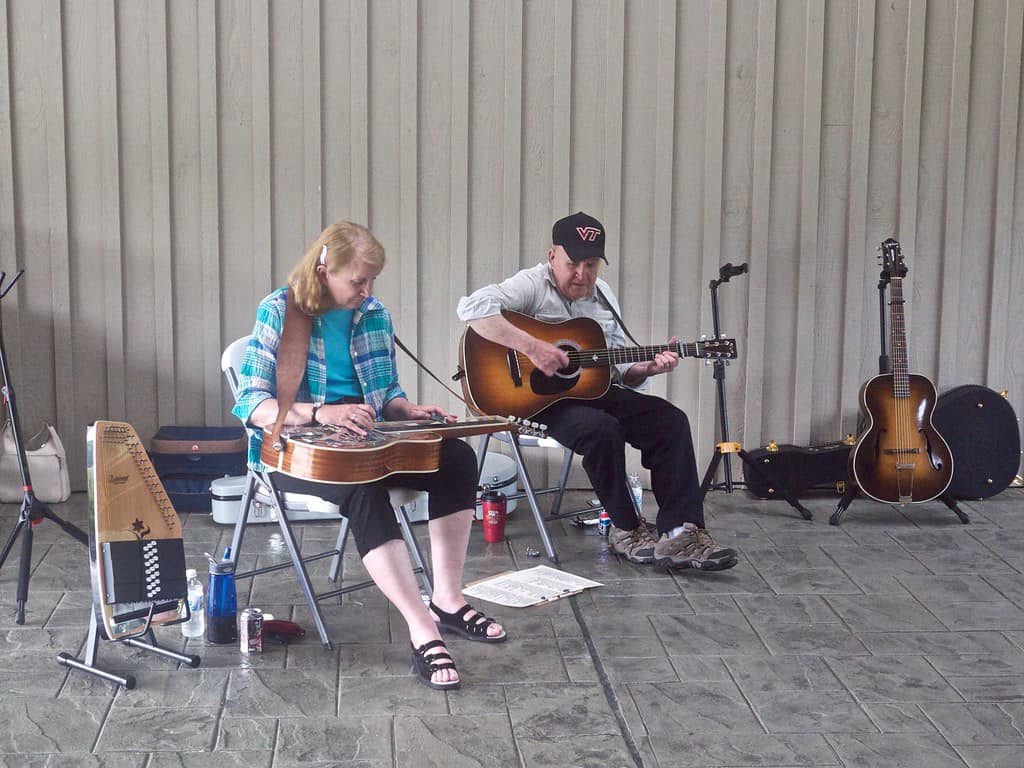 As we exited the Blue Ridge Parkway Virginia onto Hwy 58 at the Meadows of Dan, I was surprised that the scenery kept getting more impressive. Families driving the Blue Ridge Parkway should make sure to take a detour east along this beautiful highway.
We drove we passed by many signs for Virginia's Crooked Road Music Trail. This region of Appalachia is not just famous for its scenic beauty, but also its rich country music heritage.
Along this trail, families can visit with music and instrument makers whose craft has been handed down through generations. There are all sorts of music venues along the trail. In the summer months, it's difficult to travel this way without stumbling upon live bluegrass or country music.
The Blue Ridge Music Center is open seasonally. It is one of the final places to stop on the parkway in the state of Virginia. The museum is the host of a summer concert series and home to a museum featuring an exhibit on the "Roots of American Music."
Continuing into North Carolina to Great Smoky Mountains National Park ? Check out Trekaroo's guide todriving the Blue Ridge Parkway, in North Carolina which includes 14 great places to stop.
Disclosure: The author's family was hosted by Wintergreen Resort, Discover Lynchburg, and Visit Virginia's Blue Ridge. All opinions are my own.