Note: when I decided my teen was ready for his first trip away from his dad and me, we sent him on Adventures Cross Country's Costa Rica Classic. This 14-day trip for high school-aged students combines meaningful service with cultural interactions and adventure. Below, my son, Nate (age 15), shares his experience in his own words.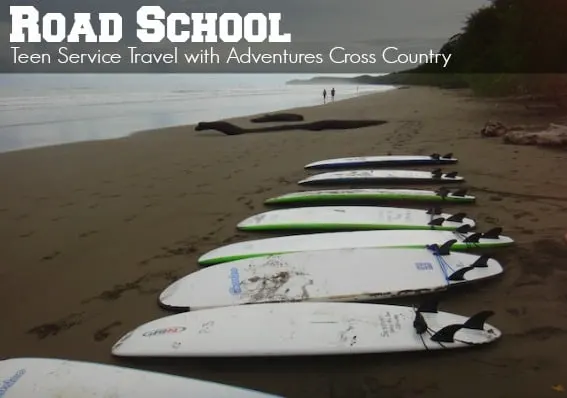 Written by Nate Whitley
The last my mom saw me before my Adventures Cross Country trip, I was getting on a plane in San Francisco, headed to San Jose, Costa Rica. Two weeks later, my dad picked me up in Portland, Oregon. Here's the crazy adventure in-between!
Meeting Up With My Group and Getting to Know Everyone
Getting to know everyone was a little bit more difficult for me than the others because my flight was delayed, connecting me with the group (of 13 kids and two leaders), one day late. Since I missed making a good first impression the first night, I had to jump right into it the next day. Good thing my two leaders, Sally and Bolo, were super easy to get to know!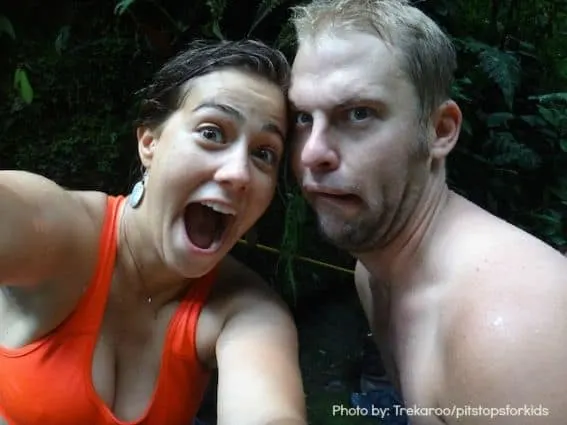 After a long drive, ATV ride, and a short hike I met up with the group. Thankfully, they were still doing get-to-know-each-other activities and games so it wasn't too hard to figure out who everyone was. The group was very inviting and nobody was "too cool for school" since we were all there for the same reason: to discover Costa Rica and all it had to offer.
Rafting the Pacuare River
On the morning of the third day we woke up around seven, packed up, ate, then set off on the Pacuare River with our guides from Rios Tropicales. This was our second day of rafting but I had missed the first because of the plane delay. We pushed off with a few other groups, and our group took up two rafts. For the next three hours we rafted, swam, and paddled hard. Our guide Jonathan directed us about how to paddle and navigated the white water using commands like forward, left back, right back, OH MY GOD THIS RAPID IS WAY BIGGER THAN I REMEMBER, and back.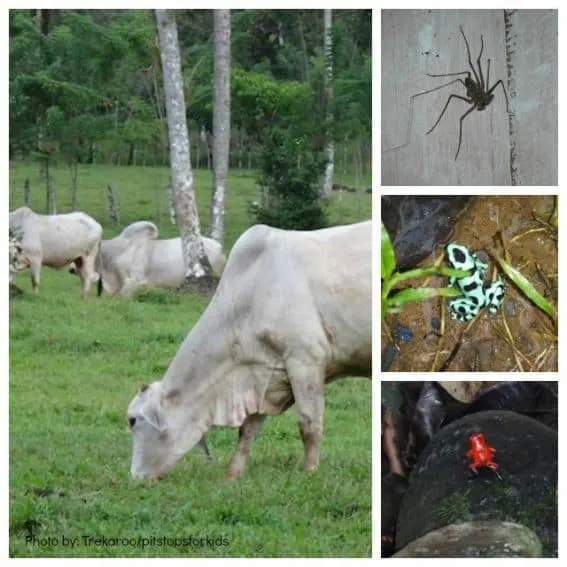 This part of the trip wasn't just fun, it was immensely beautiful. I honestly can't even begin to describe the sights when we entered a canyon with 300-foot mossy walls and could look up and see vines growing down to the water, birds flying above, and could hear the birds screeching in the distant jungle. Once the rafting trip had come to an end, we got out of our rafts, collected our things, and headed out to teach kids English.
Teaching Kids English in El Cairo

After rafting, we stayed with Rios Tropicales and split up into groups to plan our lessons to teach kids English. My group had four people and we decided to teach about soccer positions and emotions. We all went to sleep that night exited to teach the next morning. The next morning we woke up, ate, then got into the bus to go to the school. When we first got there it was a bit intimidating seeing all those kids running around. But after the first group went into the classroom to teach, we had a chance to calm ourselves and get our head in the game. We all taught for three hours, rotating groups until it was time for lunch and soccer, or actually 'futbol.' We played America vs Costa Rica and did our country proud. We went and did the same thing the next day with different lessons, but on the third day we played Jeopardy. We split the class into three teams and had them answer questions we had taught them about the previous two days. They all nailed it and I felt so proud of myself and of the kids for putting so much effort into the lessons.
For the days we taught the kids we also had the chance to just talk with them and get to know them. It was really cool to be able to see how they saw the world and how they live. I really felt like they were letting me into their culture.
Service in Savegre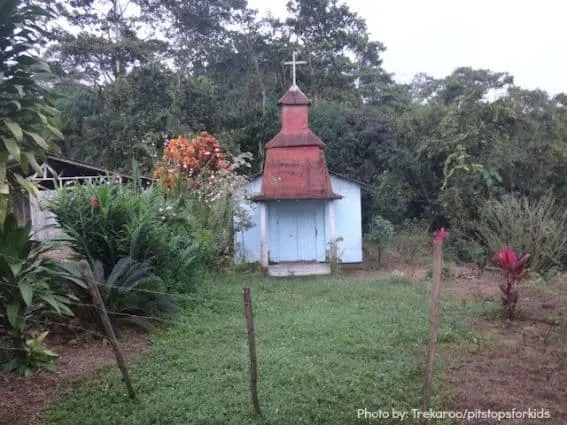 After teaching, we packed up and got in the bus to go to our new friend Santiago's house, high in the mountains. It took three hours in a bus, then one hour in a jeep on a muddy, uneven road, but once we got there it was all worth it. The people in this small mountain village were funny and inviting. The work was hard and rewarding. Over the course of three days we did repairs to the school, swam in a waterfall, picked beans, and watched beautiful lightning storms. Aside from the service, we got to meet many interesting people and got to learn how hard it really is to live where they do.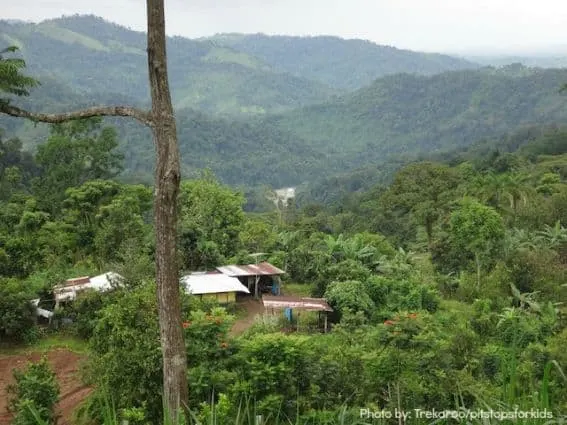 Learning to Surf
Surfing was really cool. The owner of the campground we stayed at showed us a big waterfall we could swim in and even slide down. He also had a very interesting policy that all animals are the same and that we can't kill anything so long as we were on his property.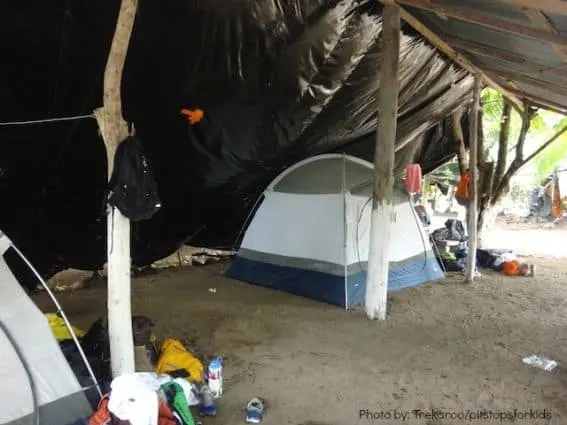 Surfing was also a very cool experience. I thought it would be very difficult to even stand up. But by the second day the group was already cleared for an intermediate course. We were able to not only stand up, but also turn in the wave and surf with the break. The surf instructors were also really cool. They were very helpful and were able to give one on one instruction while also helping the group.
---
Parents' Perspective: What to Look for in a Teen Service Operator
It's crucial that parents feel confident in the teen travel organization they've chosen, and more importantly, in the individuals representing it. Parents naturally know to look for an operator with a stellar safety record and experienced leaders, but the right company will go beyond this. Any operator you choose should offer extensive preparation for your teen (and you!), excellent communication pre, during, and post-trip, and an engaging, meaningful, and busy itinerary.
Preparation with Adventures Cross Country:
As soon as families express interest in an ARCC trip, they can access reviews, general itineraries, and expectations online. We loved the ARCC videos, which captured the essence of each trip offered, and read through the general rules and expectations for kids.
After we'd booked our trip, our assigned regional director gave us a call, and set us up with an individualized portal at the ARCC site, which allowed us to view the many forms, waivers, and documents we needed to get signed, filled out, and turned in. We could also access packing lists, country guides, and student expectations.
Well before Nate left for Costa Rica, we had several more phone calls, including one with his trip leader, to answer any lingering questions, check on forms, and calm nerves (mine). When Nate was ready to leave, I can honestly say we had no question that was left unanswered.
Excellent communication:
During Nate's trip, I knew to expect only 1-2 phone calls from him. However, I could also access a parent-only portal on ARCC to his trip blog. On it, his two leaders posted updates, with photos, once every few days. These updates were a lifesaver to me! In addition, I received an email and phone call when Nate safely arrived, plus a few others from our regional director when the leaders couldn't get a blog post up (WiFi and other factors vary). Here's a glimpse at our portal: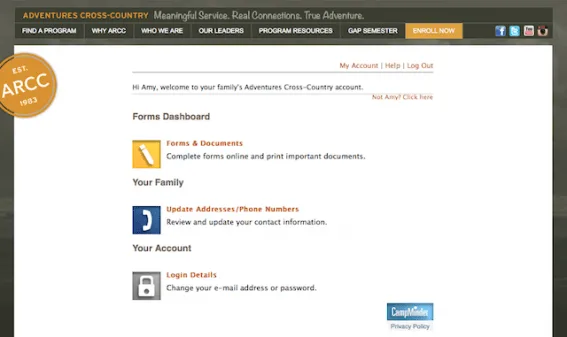 Nate's dad and I also experienced ARCC's excellent communication when something went wrong. Before Nate arrived into the care of his ARCC leaders, he became delayed en route to Costa Rica in Dallas/Fort Worth. When this delay turned into an overnight with a morning-after departure into San Jose, I called the ARCC office to inform the staff of our situation. Even though I called after-hours, I was able to immediately speak to a staff member, Brooke, who helped us sort out the situation. Not only did Brooke inform Nate's leaders (already out of the country) of the delay, but she took my calls well into the night, as I continually updated her. She looked up flights for me, assured me Nate would be met by his leader at the airport at his new arrival time, and generally calmed my fears. I was very impressed by Brooke's efficiency. Had she not answered that ARCC phone call and had the resources to quickly communicate with the leaders in Costa Rica, I would have become panicked at Nate's delay.
An engaging, meaningful, and busy itinerary:
Service travel varies by program and country, and sometimes, whether teens actually make a meaningful impact can be uncertain (given complicated political and environmental factors out of their control). While ARCC does provide teens with a chance to make a difference in the communities they visit, the leaders also focus on the impact the trip has on the students themselves. Nate learned even more about himself during his two weeks away than he did about the communities he visited, which will have a lasting impact on his life.
"I met people who knew who they were, and led by example," Nate explained, "and I knew I could be that way, too." He described his time with ARCC as 'life changing.' When what we can do for others is limited or complicated, this self-betterment is worth its weight in gold.
All ARCC trips are divided into age-appropriate, low-ratio groups (Nate's trip included 13 kids ages 14-15 and two leaders), which allows friendships to form and common interests to rise to the surface. Group exercises and team-building games filled any downtime.
As a parent who was concerned about homesickness for her teen (which turned out to be unfounded), I was glad to see the ARCC schedule so well-packed with activities, projects, and group bonding experiences. Nate didn't have a lot of time to get homesick (or get himself into trouble), which is just the way I like it. At every turn, a new-to-him experience awaited, which took his full concentration and heart. We won't hesitate using ARCC again. In fact, Nate's younger brother is already eyeing trips!
Preparing your teen:
Guide books on Costa Rica were not terribly helpful to Nate, because his itinerary was already set and his leaders would be the ones organizing their days. However, we loved the documents periodically sent to us by ARCC, which included political, cultural, and zoological information about the country. Nate also brushed up on his Spanish (he'd had two years of high school credits, too).
Read more tips on what to look for in a teen service operator.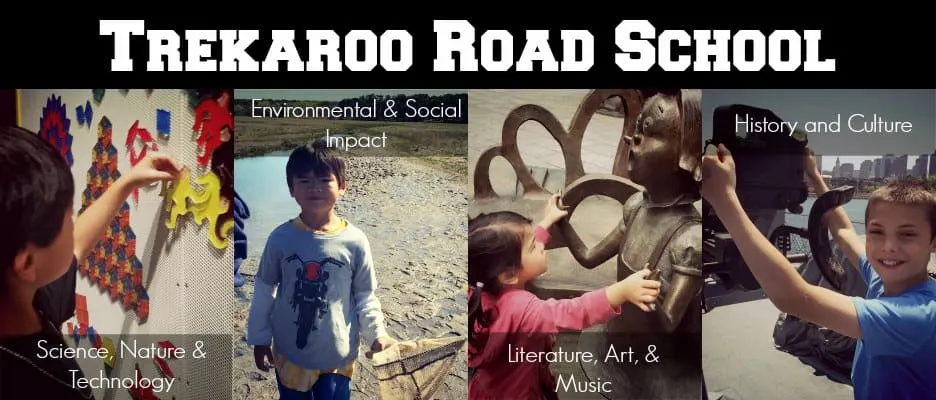 Looking for more Road School Guides? Check out our landing page where we keep all our latest tips, tricks, and educationally approved guides.
Disclosure: Nate experienced Costa Rica as a guest of ARCC, for the purpose of review. He's grateful for the chance to explore this beautiful country, and all opinions are his own.
---

Get help with your Costa Rica Family Vacation!
Trekaroo has an exceptional local operator for Costa Rica family vacations. We've even negotiated Trekaroo Perks for our families.
---
More Costa Rica Travel Stories: