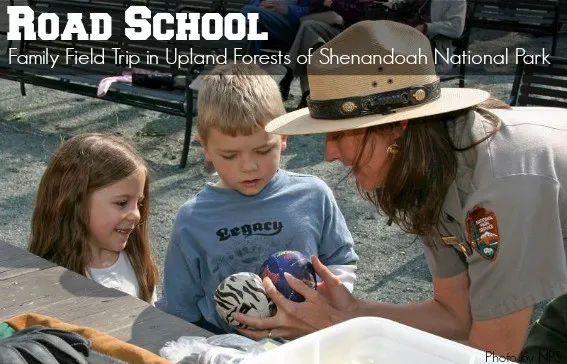 Do you have forests where your family lives? Chances are good that you do have trees of some kind nearby. Forests are one of nature's many classrooms and if your kids are like mine, this is one place they wouldn't mind attending summer school…or road school during summer vacation! The forested area of Shenandoah National Park offers many opportunities to explore and learn not only about the ecosystems and inhabitants of the region, but also a chance for kids to learn about themselves and their relationship to the environment.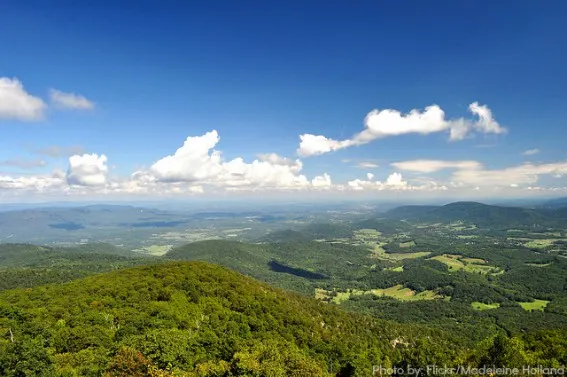 Shenandoah National Park- Where is it located?
Stretching a vast 105 miles, Shenandoah National Park is nestled in the Blue Ridge and Allegheny mountains of Virginia state. They say Virginia is "for lovers" but we say that Virginia is for "lovers of learning!" This unique area nicknamed "the Big Valley" is home to a world of wonder from Harper's Ferry to Roanoke.
One of the most well-known aspects of the region is the famous Appalachian Trail. Since this trail is a real capstone for any hardcore hiker, your kids can be proud to hike a section of the trail and learn about the history of hiking in the area. Kids interested in natural resources can learn about parks and recreation management, trail maintenance and construction, and even the politics of an immense system like this one–or what life was like in the Civilian Conservation Corps days! Though your family may not be planning a thru hike, it's still a feat to have made miles along this majestic corridor. The park has streams, peaks, geological wonders, and forests where adventure abounds.
Tips: Bring binoculars, field guides, and a good pair of boots for every pair of feet in the family class!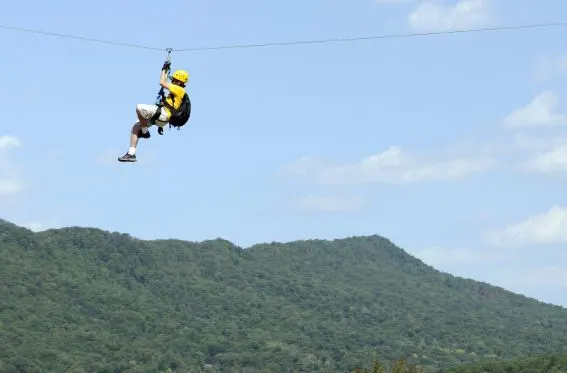 [box border=full] Sponsored by Massanutten Indoor WaterPark & Resort: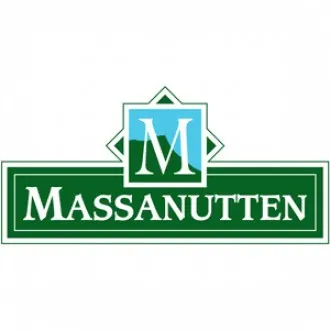 Packed with possibilities for the day-tripper and vacationer alike, Massanutten Resort is a true four-season, family resort located right in the heart of the Shenandoah Valley of Virginia.
Among the Resort's sprawling 6000 acres, you will find the Massanutten Indoor WaterPark featuring eight water slides, a multi-level aquatic fortress, Adventure River, kiddie pool, and Virginia's first and largest FlowRider® surf wave! And there's more…skiing, golf, zip lines, spa treatments, and almost limitless other activities await you at Massanutten Resort! For customized, seasonal vacation experiences that are easy on the pocketbook, be sure to visit www.massresort.com/specials.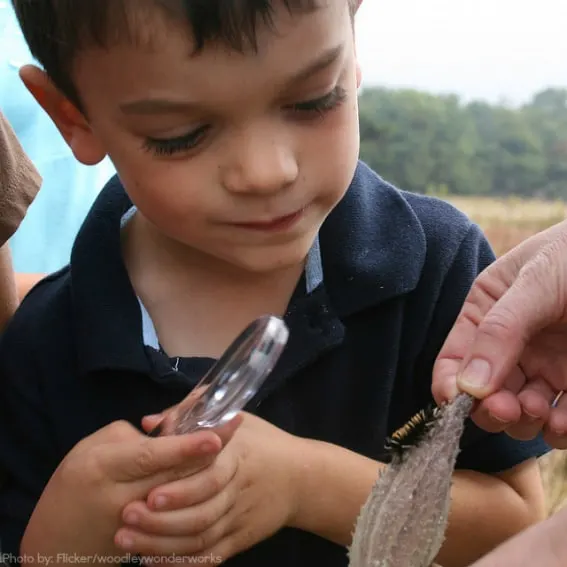 Cool Curricula
This forest offers a vast array of educational opportunities. For the more advanced students and older kids, an itinerary teaching them about forest diseases and disturbances across the landscape may be in order. The Park has a diverse history evident in the landscape that reflects gypsy moth and other insect infestations, hurricanes and other weather events, human interactions and alterations, and other successional changes. These events may not be readily apparent as you gaze out upon the canvas of hardwood leaves that cover the horizon, but with a little searching and perhaps some help from a Park Ranger and investigation during a Jr. Ranger program or Ranger Explorer exercise, your kids will see the bigger picture and go home to be at the top of their biology classes! Chestnut, sassafras, red oak, striped maple, hemlock, tuliptree, and black locust are all species your kids can view and compare in Shenandoah National Park.
The area, which has a rich human history, can be a great place for kids to see lasting impacts of civilization over time. Take a hike and have them see how many 'traces of the past' they can find along the way — think fence-lines, foundations from buildings, old roads, and cemeteries. Depending on how far into the forest you are, have them reflect upon HOW one would build a structure here? Why would this be a good place to live? Is there water nearby? Critical thinking can be a fun way to explore a landscape!
If your kids are more into creatures, have them hone their skills on habitat facts and expanded vocabularies while in the park. White-tailed deer are abundant in the park where they are safe from the harvest. Kids can learn a great new word, and one of my personal favorites–crepuscular. Deer are a great example of what this word means–most active at dawn and dusk! For a real teacher pleaser: they are crepuscular gregarious ungulates! Though that's more of an upperclassman lesson if you can get your tweens to latch on to the fun-to-say scientific words, they will remember the adventure and go home feeling smug! (Rough translation: social critters that are active at dawn and dusk and have hooves.)
Fun in the forests: Where to start your Shenandoah adventure
Trekaroo editor Amy Whitley and her three kids (ages 14, 12, and 9) recently visited Shenandoah National Park. Here's a glimpse into their itinerary, filled with educational opportunities.
Written by Amy Whitley.
I strongly believe that the best way to ensure kids understand—and more importantly—care–about forest ecosystems is to get into them and explore them firsthand. Living in the Pacific Northwest, we're in the forest regularly, camping, backpacking, and hiking in national forests as well as state or national parks. When we took a trip to visit Eastern US cities, it was natural for us to take a much-needed break in the woods. We selected a trip to Shenandoah.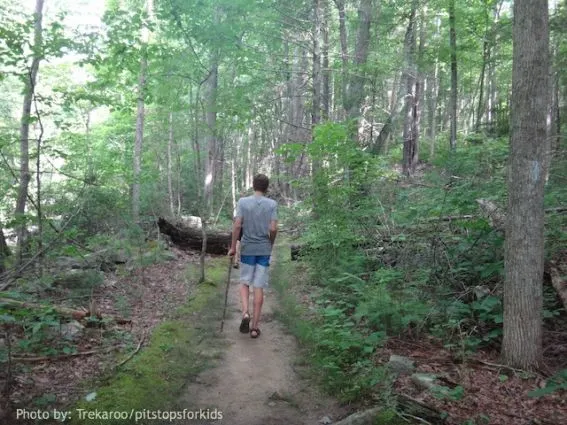 To start our Shenandoah adventure, we acclimated to the forest setting with a self-guided hike. We wanted to climb iconic (and popular) Old Rag Mountain, but didn't have the time (this hike requires a full day and strong hikers). Instead, we asked locals for a good alternative hike, and found Nicholson Gap. Accessed from the same trailhead as Old Rag Mountain (near the Thorton Gap entrance), Nicholson Gap starts on private land, which is why it's known mostly to locals. To find it, walk up the road to the Old Rag Mountain trailhead, but follow the turnoff to Nicholson Gap instead (it will come first). The trail winds through dense vegetation, following a deep creek. About 1.5 miles in, we came to a series of perfect swimming holes connected by small waterfalls. Paradise! The kids and I took a chilly dip, then discovered a large water snake. Forest vegetation education and wildlife viewing in one!
After our Nicholson adventure, we were ready to learn more about the Shenandoah valley. The best way to gain an overview of any park is to head to a visitor's center: Shenandoah has two. For us, the Dickey Ridge Visitor's Center was closest (located on Mile 52), so we stopped by to learn about Shenandoah ecosystems, watersheds, and wildlife. We asked about our snake (always report wildlife sightings to rangers…they want to know!) and were able to place a pin on a map, showing zoologists where we found it.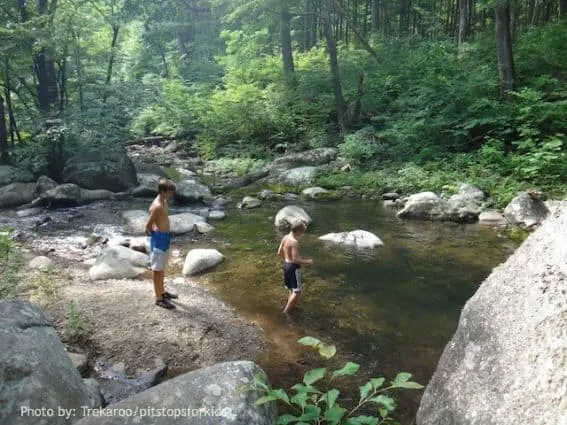 After visiting the center, we made sure we got our booklets for the Junior Ranger program. In our experience, this program is the best way to educate kids in national parks. Our youngest son has collected over 25 Junior Ranger badges, and is officially addicted! For our tween and teen sons, Shenandoah offers Ranger Explorer guides. Most Junior Ranger booklets take 1-2 days to complete if you do the activities while you tour, so make this one of your first stops.
Skyline Drive is, without a doubt, Shenandoah's most popular attraction, but with kids, we knew we didn't want to drive its entire 105 miles. Instead, we used Skyline as a route to a few more Shenandoah day hikes in the Thorton Gap entrance area. While Skyline's 75 overlooks are impressive, it's my belief that nature shouldn't be viewed from the car if families are mobile and able to walk trails.
Tip: It's important to get a map of Shenandoah National Park, or check out the official website directions, as GPS/navigation systems may direct you onto unofficial roads. Because Shenandoah is so long and skinny, you really don't want to have to backtrack multiple miles to access an entrance station!
Preparing for forest-themed vacations
Shenandoah National Park, like most national parks across the US, has a variety of ranger-led educational programs available to school-aged kids. Many of these programs are designed for classrooms, but that doesn't stop parents from downloading materials at home and teaching kids about topics ranging from habitats to watersheds, both vital to forest ecosystems.
Journaling can be something kids can do from the pre-K age through college. It's a cognitive experience and will make the memories (even the educational ones) last. Remember, humans tend to remember more if they write it down. This can be done through pictures drawn, leaf rubbings (bring a crayon on your hikes), words to investigate further when around Wi-Fi, or just general observations. Have your kids try to view and study wildlife without scaring it away–a true test of their abilities!
If the kids just MUST have more from the Shenandoah National Park, there is a two-week camp in August called Camp S.E.E.D. that promotes more fun in nature for kids and outdoor active lifestyle exploration.
Tips: Check the schedule for the Jr. Ranger programs and any outreach the Park might have going on during your visit and plan accordingly! Investigate ahead what you might encounter in the way of plants and wildlife during your planned visit.
Resources for Preschool-Kinder
Resources for Elementary School
Resources for Middle & High School
Resources for adults:
Check out our Pinterest Board of Books and Fun Projects to help kids learn about Forests
Follow Trekaroo Family Travel's board Road School: Learning about Forests Habitats with Kids on Pinterest.


With four seasons of adventure, there is never a bad time to put this Road Schooling field trip on your to-do list! Fall brings colorful palette of scenic settings while spring is a time of growth and renewal and animal babies. In the winter, discover solitude and quiet and explore the mechanisms that living things have to cope with colder weather. Summer is a time for fun and getting in a few extra hours of learning and exploration! Shenandoah National Park will please the family and is sure to expand the knowledge base of your fledgling learners–most of the time disguised as fun and outdoor recreation!
Have you visited Shenandoah National Park? Do you Road School? Tell us about your parenting successes while teaching your kids on the road!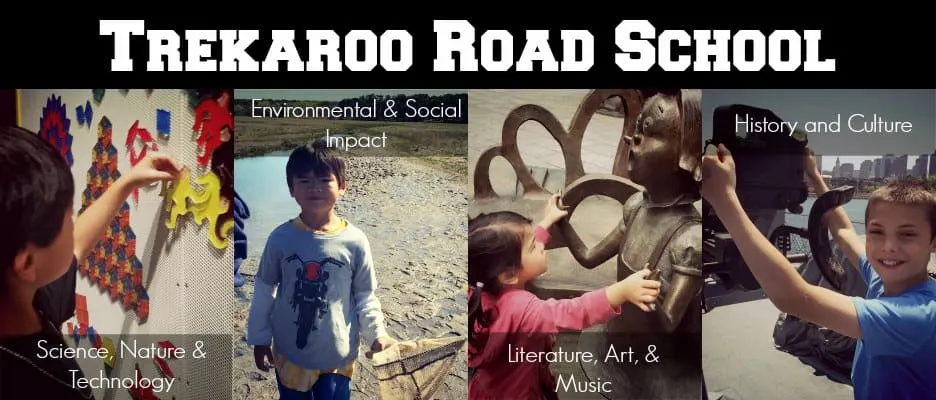 Looking for more Road School Guides? Check out our landing page where we keep all our latest tips, tricks, and educationally approved guides.