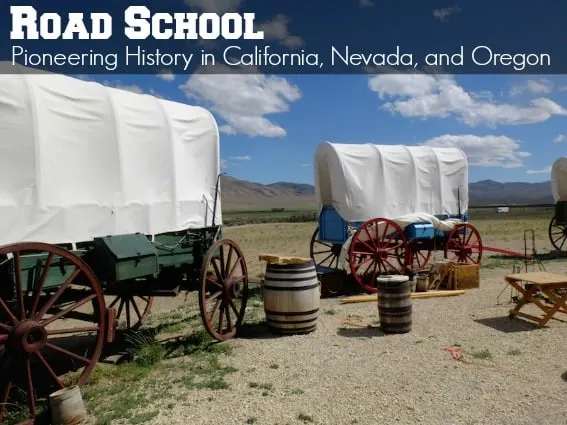 As lifelong residents of the Western US, my family and I love pioneering history. Since the moment my 4th grade class studied the California Gold Rush, I was hooked, and I've passed on my passion for this chapter of our nation's history to my kids. Nearly everywhere we drive in the West harbors some vestige of early settlements, Native American life, or pioneering struggles.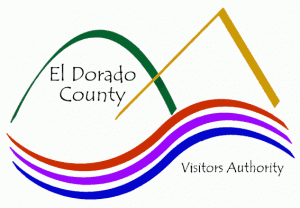 Enjoy "hands on history" learning in El Dorado County California. From gold panning lessons to underground mine tours, adventures are educational and exciting for all ages. What better place to experience Gold Rush history than the place where gold was first discovered? Old and young alike get fired up when they spot "color" in their gold pan or travel into the heart of a historic hard rock mine. Visit-ElDorado.com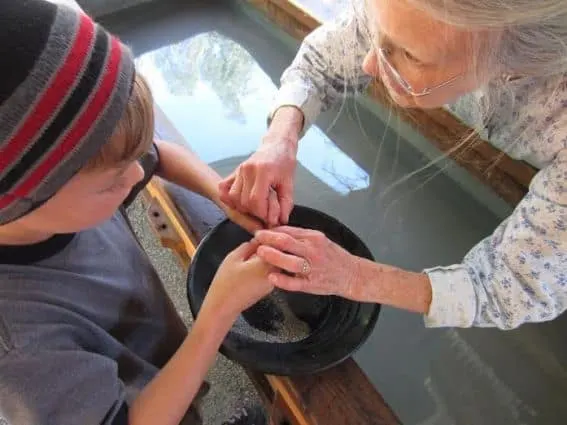 On various trips, my kids have packed replica covered wagons with boxes of flour, bacon, and salt pork in Oregon City, have learned about trading forts on the rugged Oregon coast, and have laid eyes on the dreary cabins of the ill-fated Donner Party in Northern California. They've seen 'original Oregon Trail crossing' signs, stumbled upon 'gold' nuggets in streams, and explored defunct mining tunnels (before I yanked them back out!). Because pioneer and settlement locations are often appealing to kids of all ages (think forts, teepees, and outdoor locations), I believe Western history is a great place to start for historical travel, whether you have toddlers or teens. Combine the following pioneering stops in one road trip, or do as we've done, and visit them on separate trips.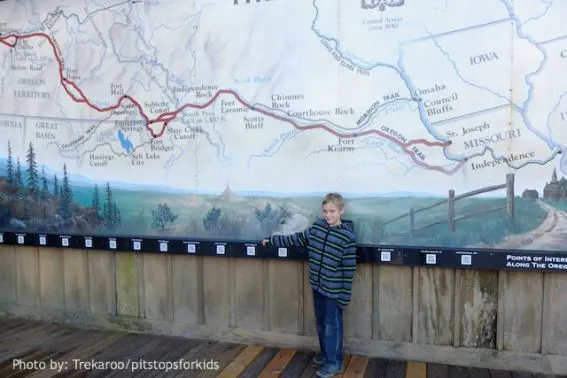 Learn about the Gold Rush in Sacramento and the Sierra Nevada
Start in Sacramento to learn about Western Migration and the Gold Rush of 1849. We love touring Sutter's Fort, which is self-guided, but often staffed by costumed interpreters. Here, kids can see Patty Reed's doll, which she carried all the way to the fort after her family's ordeal in the Sierra Nevada as part of the Donner Party. We got to see bread being baked in a traditional outdoor oven, and see exhibits about Sutter's discovery of gold.
Afterward, we grabbed a bite to eat in Sacramento's Old Town, along the banks of the river. Though filled with some touristy shops, Old Town still offers information on the Pony Express and early railroad history in the excellent California State Railroad Museum. Just visit before the heat of the day.
After touring Sacramento, head into the foothills to learn about mining history in Grass Valley. Here, kids can tour mines and visit somewhat ragtag but fun museums filled with artifacts like gold pans and other early mining methods. Then head to the mountains. At Donner Summit of I-80, the excellent museum and re-constructed encampment commemorating the ill-fated Donner Party is a fascinating (if morbid) stop.
See the birthplace of 'Gold Fever' in Placerville and Coloma, CA
Adjacent to Sacramento, El Dorado County is home to sleepy California foothills towns that once boomed with gold mines, pioneers hoping to strike it rich, and yes, lawlessness. In Coloma, kids can see where the very first gold nugget was found on the banks of the American River, found by James Marshall when digging out a ditch for Sutter's mill. The whole course of history was changed in that one moment! The Marshall Gold Discovery State Historic Park has preserved Sutter's Mill, James Marshall's cabin, the gold discovery site, a Chinese store, and several other historic buildings. We started at the Visitor Center and then headed to the gold panning area.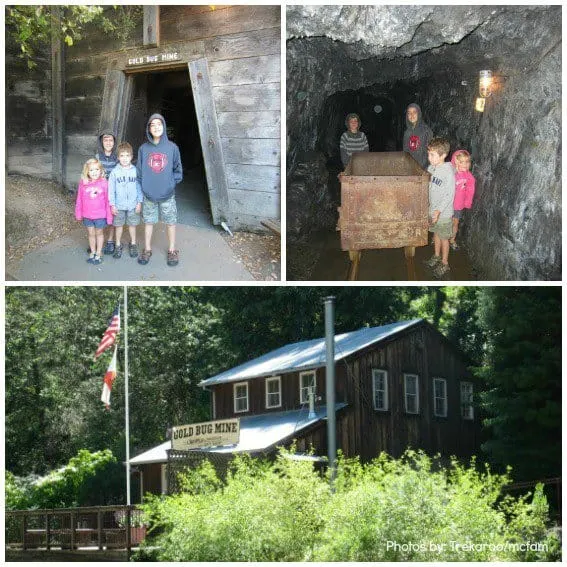 In Placerville, also known as "Hangtown" for its wild history, families can learn about the Pony Express and more gold history. Just north of town is Gold Bug Park and Gold Bug Mine. In Gold Bug Mine, the miners blasted gold out of the rock. It's possible to take a self-guided audio tour into the drift (aka "shaft") of the mine where one can see evidence of the quartz vein that the miners followed and extracted for the gold it contained. There's also a short trail uphill to the stamp mill. This is the very large machine that stamps the ore into tiny pieces in order to get the gold out.
Pack a wagon like a pioneer in Oregon City, OR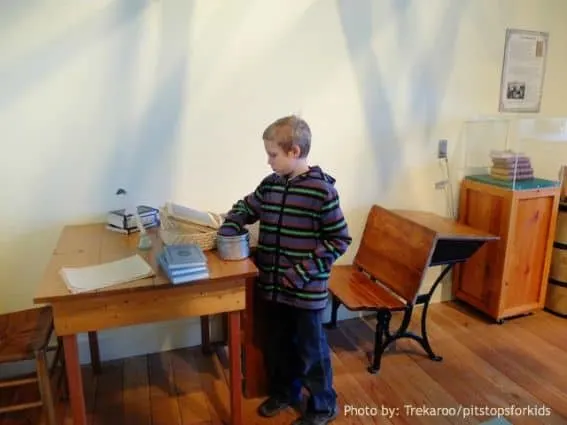 Ever wonder where the Oregon Trail actually ended? The answer is just outside Portland, Oregon in Oregon City. The End of the Oregon Trail Museum is excellent, and integrates living history opportunities with artifacts. Kids can stock (and load!) their own covered wagon, and follow the trail through the Columbia River Gorge via map systems. The museum staff guides families through the museum personally, with a long period for questions after seeing a relevant and well-done film. If you're on a road trip en route to Oregon from the east, Northern Nevada's California Trail Museum ties in nicely; it's one of the best independent museums we've toured on pioneering history, and is located along the actual trail site.
Follow the path of Lewis and Clark in Astoria, OR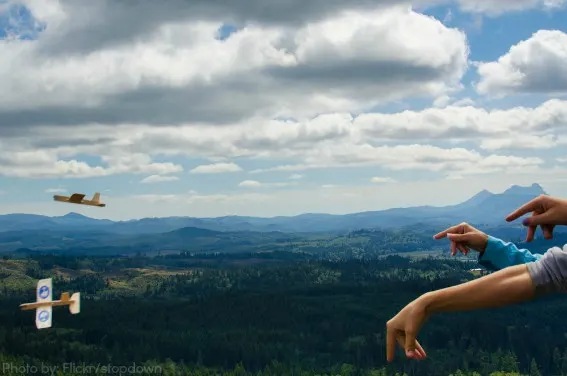 If you're teaching your kids about the Lewis and Clark Expedition, you can start as far east as Montana. However, if you're short on time and already in Oregon, head to Astoria to see Fort Clatsop where the explorers wintered. The nearby state park offers hiking trails where kids can take in the same views of the Pacific as the explorers. While in the area, climb the Astoria column for views of Washington and the coastline on sunny days. Bring or buy a balsa wood airplane and fly it from the top!
See the Wild West in Virginia City, NV
Families interested in more early mining history (with a few ghost tales here and there) will want to head just outside of Reno, Nevada to Virginia City. This one-time boom town is amazing. Families can tour mine shafts and historic homes (William Randolf Hearst's family got his start in Nevada mines), and take a carriage or steam train ride. Virginia City has no shortage of interesting shops and eateries: older kids will get a thrill out of seeing old card tables where long-ago gunfights took place in saloons. It's the Wild West at its best (or worst!). Our kids were fascinated by Virginia City's somewhat tarnished and mysterious past, and I loved the Old West charm far more than I anticipated. Bonus: Tell kids to keep their eyes peeled on the windy drive from Reno to the town: we spotted some of the area's elusive wild horses!
Educational resources for Western living history
Check out Trekaroo's Pinterest Board on Learning about Pioneering History in California, Nevada, and Oregon:
Follow Trekaroo Family Travel's board Road School: Western Pioneering History on Pinterest.


Elementary grades:
Patty Reed's Doll, Rachel Laurgaard
Little House on the Prairie series, Laura Ingalls Wilder
True Books: Westward Expansion
If You Traveled West in a Covered Wagon, Ellen Levine
Middle and upper grades:
Ordeal by Hunger, George R. Stewart
Indian Myths and Legends, Richard Erdoes
Undaunted Courage, Steven Ambrose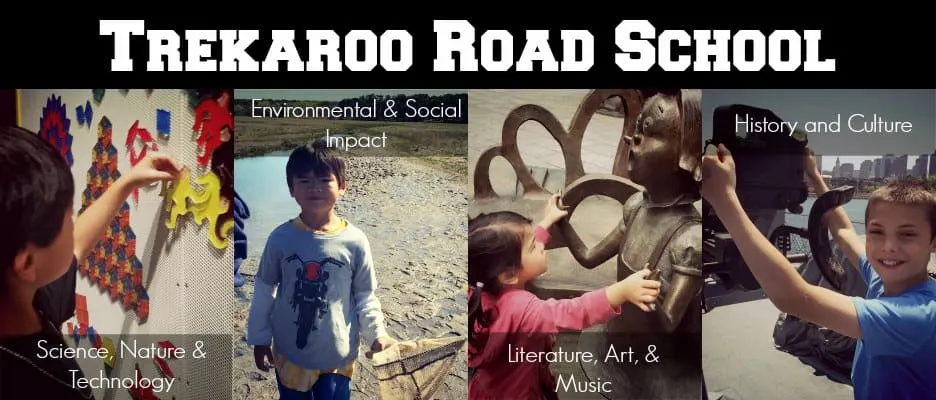 Looking for more in our Road School Series? Check out this landing page with links to all of our Road School Guides.
---
Disclosure: This post contains Amazon affiliate links.