Families love Beantown. Why? Because there are so many fun things to do in Boston with kids! This, New England's unofficial capital city, is where families travel to experience the region's vibrant culture and America's colonial past.
In fact, it is virtually impossible to spend time in Boston without getting swept up in the rich history that dominates the city's urban landscape. Here are our picks for the top 10 things for families to do in Boston (plus some can't miss dining, lodging, and day trip recommendations).
Save 42% on tickets to Boston's most popular attractions. Trekaroo is a trusted CityPass affiliate.
Fun Things to do in Boston with Kids
1. Experience Boston's Wild Side at the New England Aquarium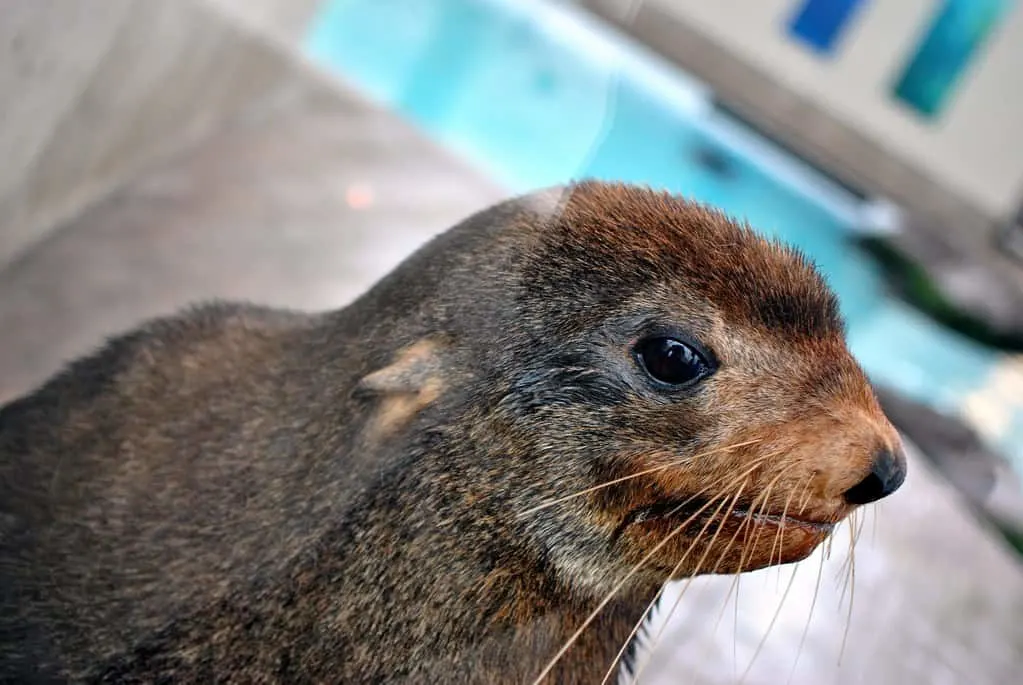 Located on Central Wharf on Boston's waterfront, the New England Aquarium gives visitors the opportunity to get up close and personal with the wonders of the deep.
The 200,000 gallon Great Ocean Tank, the aquarium's central attraction, is designed to reflect what a diver might encounter inside a Caribbean coral reef. Other popular exhibits include the shark and ray touch tank, penguins, and the Marine Mammal Center where the seals and sea lions play.
Don't miss the penguin feeding. It is always entertaining!
Book your tickets for the New England Aquarium with TripAdvisor. They have a low price guarantee!
Find more fun in "The Bay State." Check out the top things to do in Massachusetts with kids.
2. Experience Hands-On Fun at the Museum of Science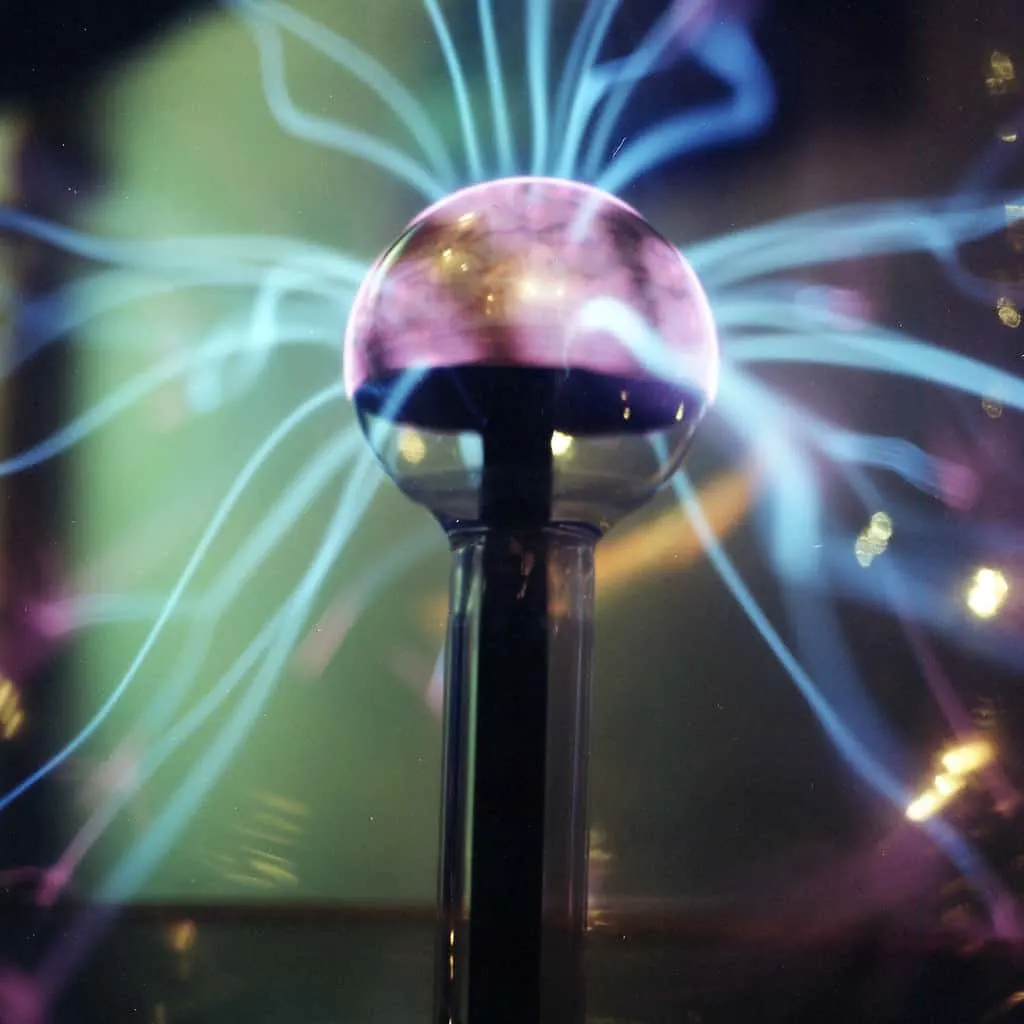 Watch the wonders of the universe come to life in the Hayden Planetarium, see a film under the IMAX dome, take a trip up the musical staircase, and watch your kids get lost in the hands-on fun of the Discovery Center all at Boston's Museum of Science.
Unlike some science museums where there's lots of reading to do, this museum invites you to interact, touch, and learn from observation. Located just across the river in neighboring Cambridge, this museum is home to over 500 interactive exhibits, a butterfly garden, live science shows, and enough fun to keep your family entertained all day.
3. Get Back to Nature at the Boston Harbor Islands

A short ferry ride out of Boston Harbor take visitors out to Boston Harbor Islands, a series of islands overseen by the National Park Service. These 12 diverse islands offer an easy escape from the urban hustle and bustle and an opportunity to experience the region's natural beauty within view of the Boston skyline.
Comb the beach for all sorts of glass, pottery, and even the cobbled shoe soles of times past on Spectacle Island, explore Fort Warren on George's Island, visit the nation's oldest continuously used lighthouse on Little Brewster Island, enjoy the rich wildlife of Grape Island, or throw up a tent and spend the night on Bumpkin Island.
Trekaroo Tip: Be sure to ask for a Junior Ranger booklet at a visitor center so your kids can earn a coveted Junior Ranger badge!
4. Learn Through Play at the Boston Children's Museum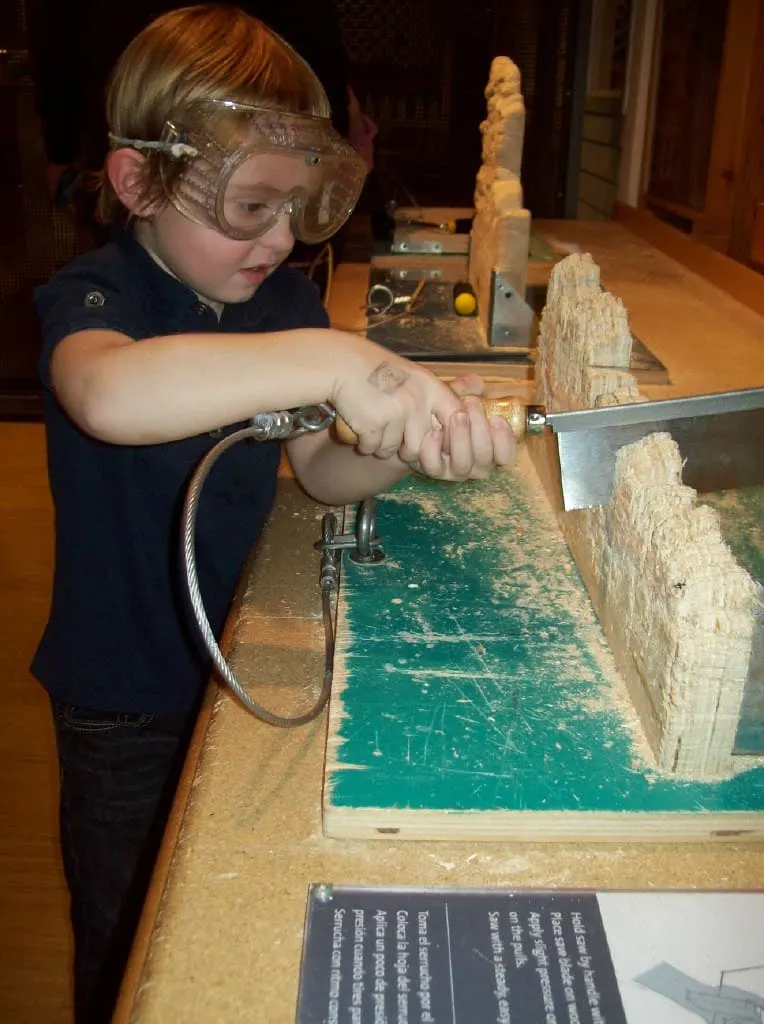 The 100-year-old Boston Children's Museum focuses on engaging young children in the areas of arts, culture, and science. The museum features three stories of play-based fun and is one of the best things to do in Boston with kids 10 and under.
Families often find themselves spending all day exploring fun exhibits such as the Arthur and Friends town, sand and water fun of Peep's World, the Construction Zone, Art Studio, and the active fun of Kid Power.
Those with little ones will especially appreciate the room dedicated to children ages 0-3. The centerpiece of the museum is a multi-story climbing tower located inside the museum's atrium.
Short on time? Here is what to do with 24 hours in Boston.
5. Board Boston's Historic Ships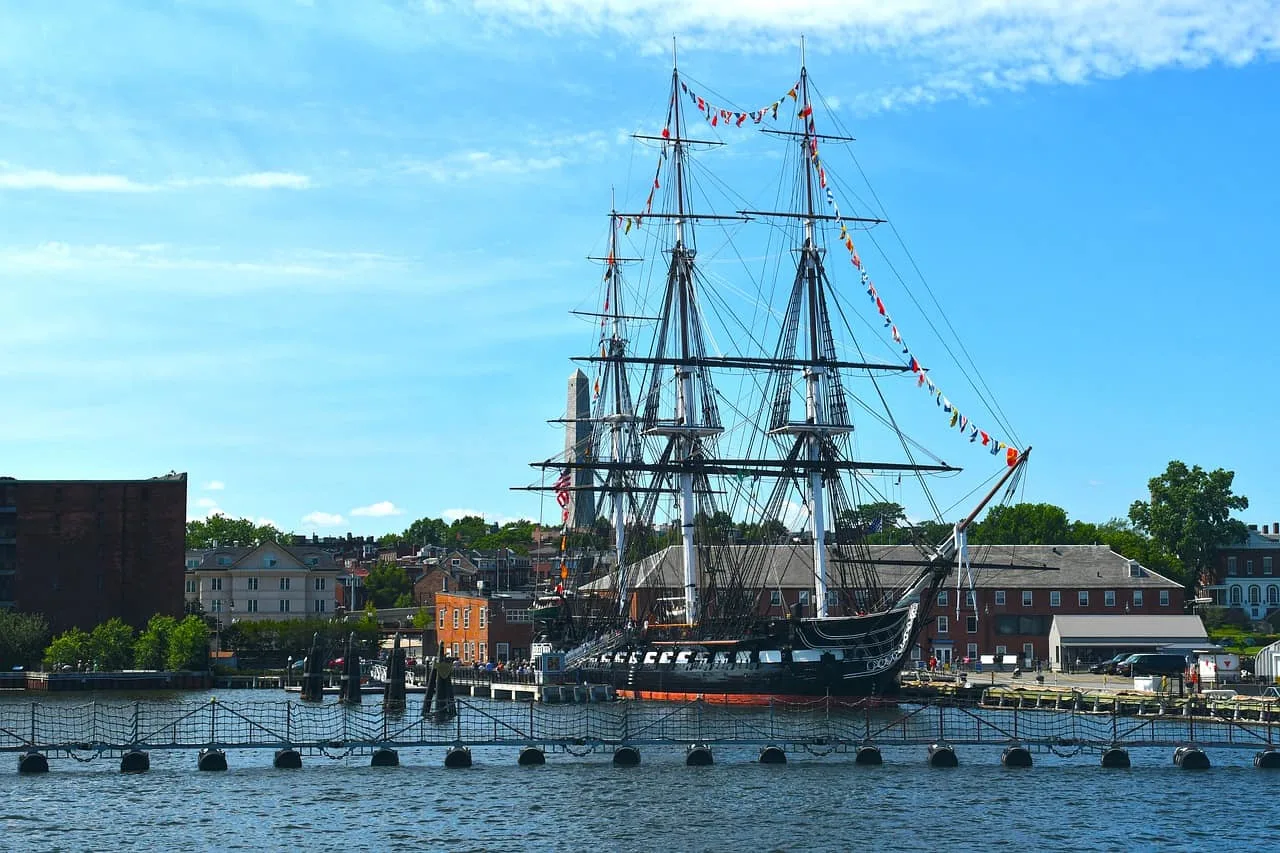 Just across the Charles River sits the Navy Yard's most famous resident, the USS Constitution. It is part of the National Park Service and yep, you guessed it, there is a Junior Ranger Program.
"Old Ironsides", as it is often called, is the oldest commissioned warship in the world. Tours of this historic ship are offered four days a week in the summer and three days a week in the winter. After the tour, let the kids get the wiggles out on the ship-shaped climbing structure in nearby Shipyard Park.
While at the Navy Yard, make time to also explore USS Casin Young, a navy destroyer that served during World War II and the Korean War.
Hands-on historical reenactment fun can be had on the replica ship of the Boston Tea Party Museum. Actors in period costumes help set the mood and bring to life the most famous tea party in the world.
To plan a trip around American Revolutionary history, do not miss Trekaroo's road school guide on planning an American Revolution field trip to Boston and Philadelphia.
6. Make a Splash on a Boston Duck Tour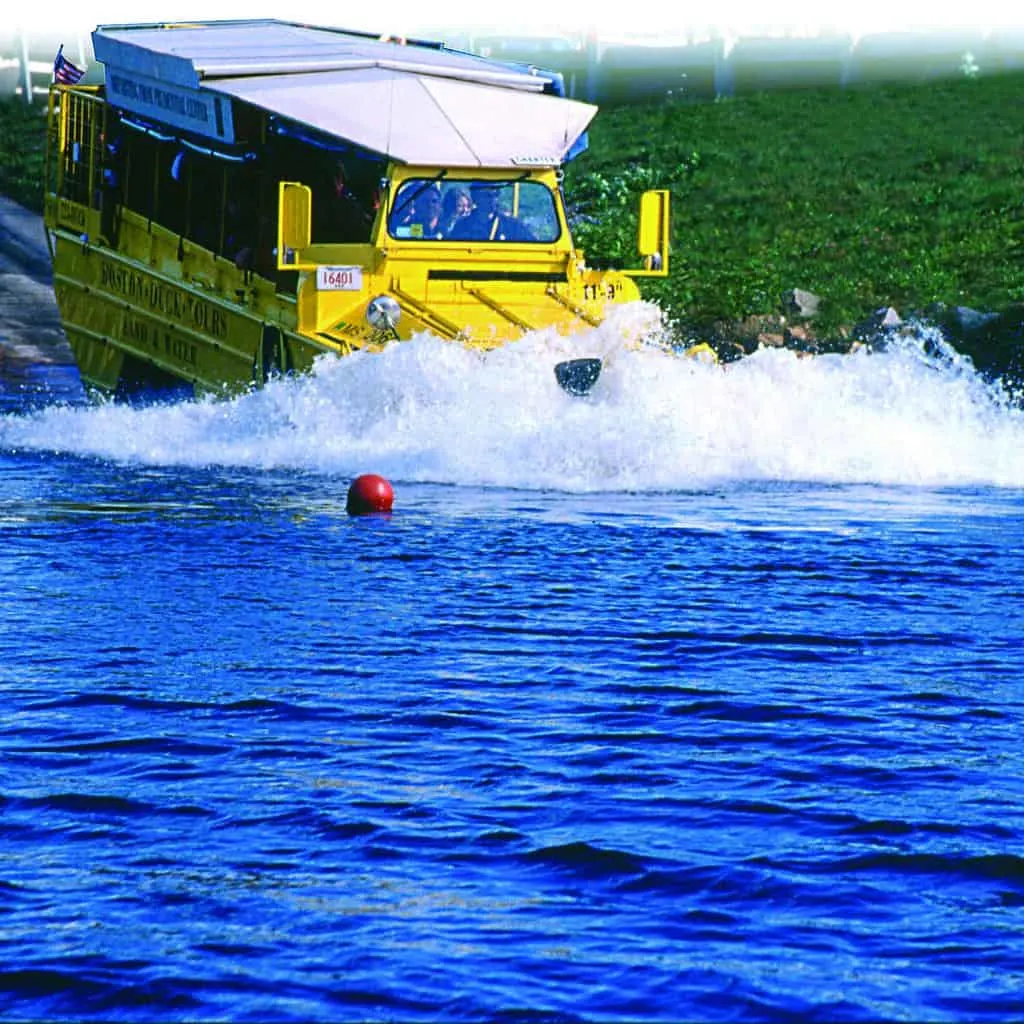 Quack! Quack! Duck tours take place in amphibious vehicles which can travel both on land and in the water and have become a popular way to see cities across America. The most popular duck tours in the country take place in Boston.
These entertaining driver narrated tours take riders past historic sites all over Boston, but the most exciting part for kids is usually the moment the duck boat splashes down into the Charles River and floats past crew teams and sailboats.
This experience gives you a great overview of the city and its attractions, and is a great "intro to Boston".
7. Eat Your Way Through Faneuil Hall/Quincy Market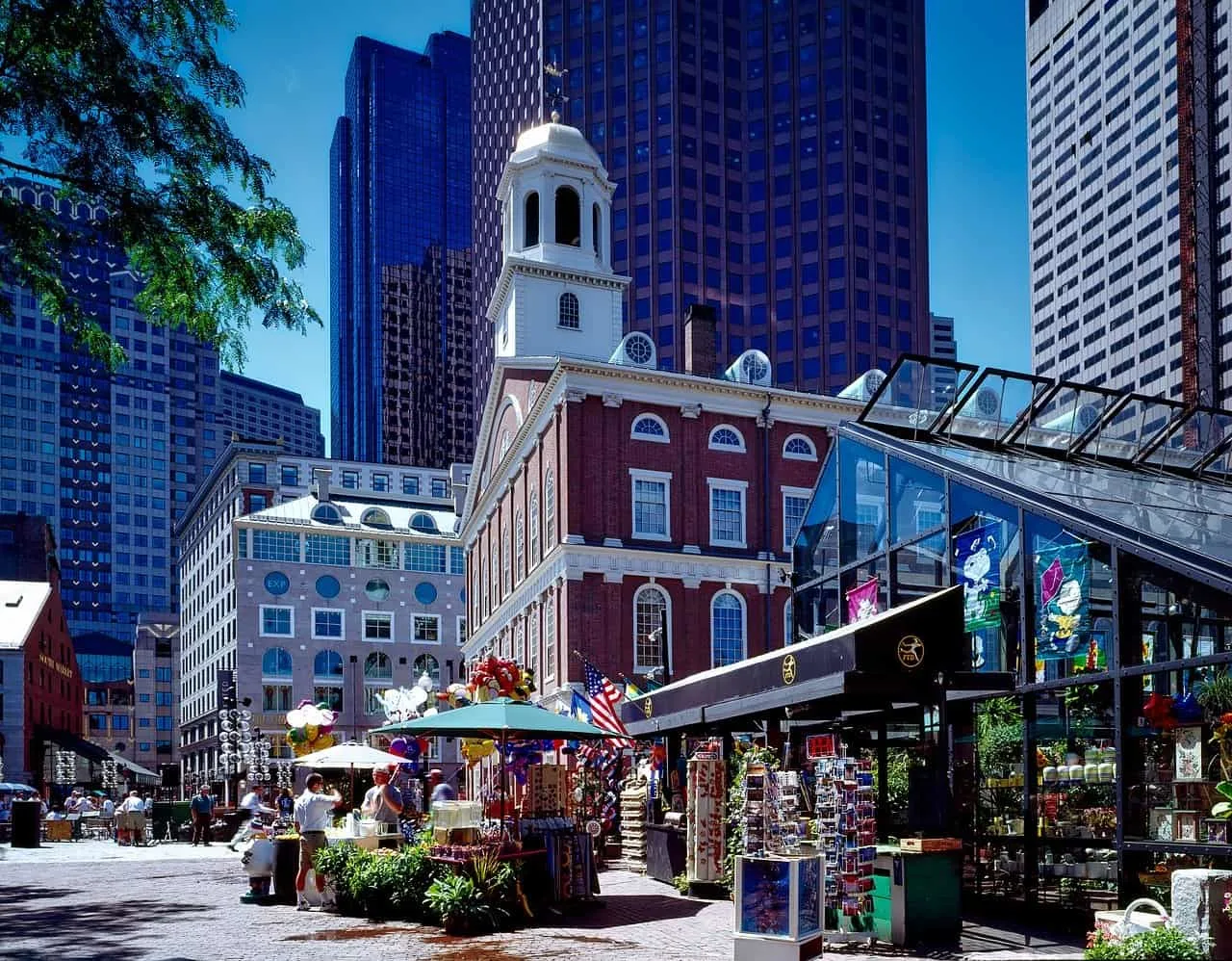 Life is always a buzz around Faneuil Hall, much as it was back in the 1700's when the first whisperings of revolt were making their way around Boston.
Here you can watch street performers entertain while munching on a lobster roll, stroll the cobblestone pathways of Quincy Market and pop into shops that catch your interest, or spend some time enjoying the National Park exhibits inside Faneuil Hall.
Don't be surprised if you end up making your way back to this hub again and again during your time in Beantown.
8. Enjoy Boston Common and the Public Gardens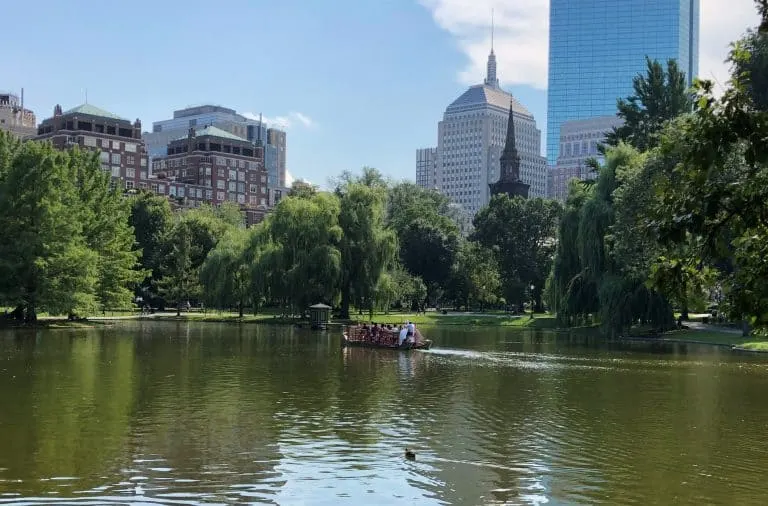 Every great city needs a great city park and the Boston Common, a gathering place for hundreds of years, most certainly fits the bill. Highlights of the oldest city park in America, include a gated playground (great for herding multiple little ones) and Frog Pond which is great for wading in the summer and ice skating in the winter.
The Public Garden across the street is beautifully landscaped and features swan boat rides as well as the famous bronze statue of Mrs. Mallard and her ducklings.
9. Experience Fenway Park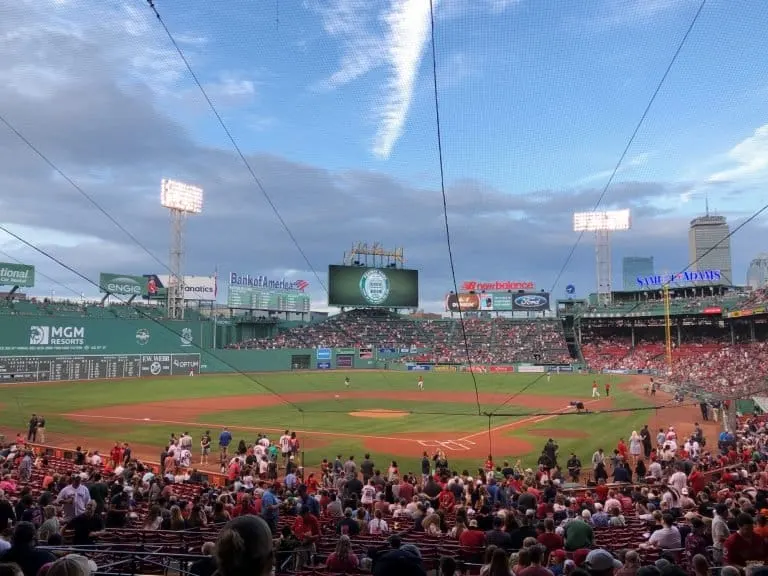 Most of our country's classic ballparks have been torn down and replaced by bigger and more sophisticated stadiums, but the people of Boston would rather lay down and die than see their beloved Fenway Park disappear.
Seeing a baseball game at Fenway Park is an essential Boston experience.
To really appreciate the stadium's history and fall in love with this legendary ballpark, make time to take a stadium tour first. The guides do a great job at sharing the history and lore of the park; the opportunity to stare down the Green Monster inside a silent stadium is something you won't soon forget.
10. Walk the Freedom Trail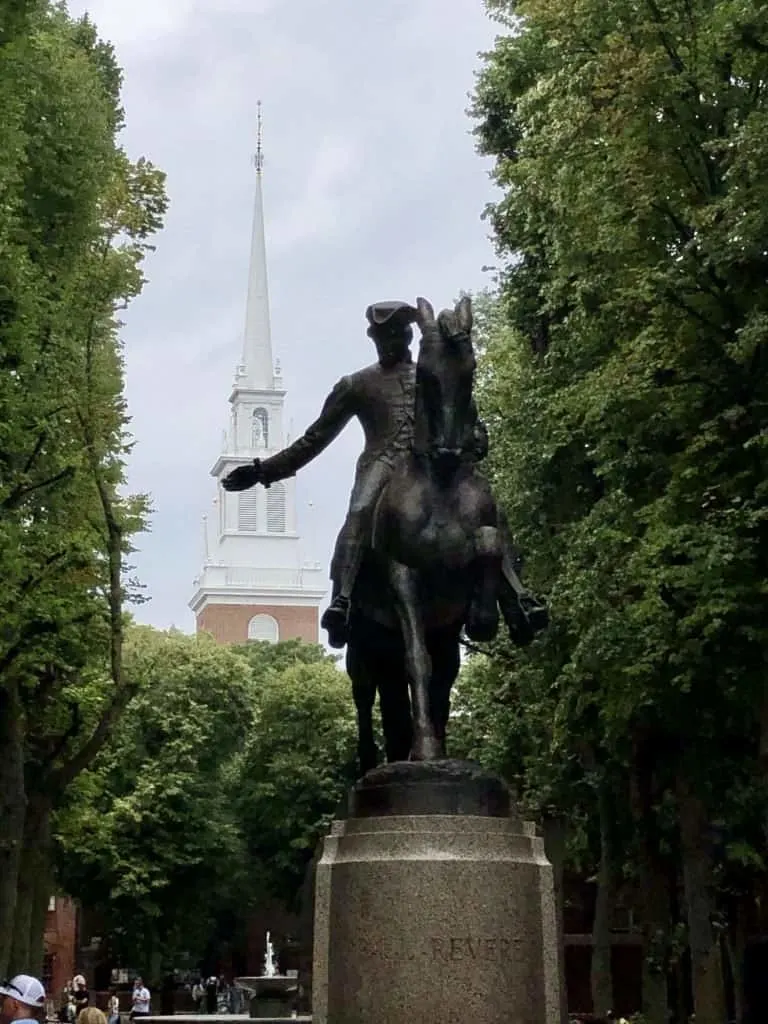 There is no better way to teach our children history than to have them see it for themselves. Boston's rich colonial history is best experienced by walking the Freedom Trail, a 2.5 mile route which allows families to walk through history.
It includes fascinating cemeteries where some of our nation's founding fathers were buried, the Old North Church which was instrumental in Thomas Payne's midnight ride, and into the very meeting houses patriots used to make the decisions which lead to our independence from Great Britain.
Be sure to stop by the visitor center at the start of the Freedom Trail in Boston Common to purchase a self-guided tour map or drop inside Faneuil Hall for the National Park's free version. Both are filled with fascinating details about the stops along the way. It's easily one of the best things to do in Boston with kids.
Great Places Eats in Boston with Kids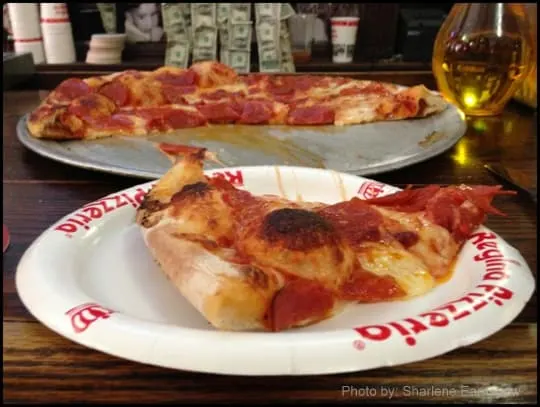 Just because you are traveling with kids doesn't mean you can't eat well too! Food is an important reflection of regional culture and Boston has some great eats.
Boston's historic North End is still home to a thriving Italian community and some of the best pizza on the planet can be found inside Pizzeria Regina. Plan a late lunch or early dinner (between 3 and 5) to avoid the crowds.
Faneuil Hall's food court is a wonderful place to sample all the great food that defines Boston, from lobster rolls to chowder. You can also find a Pizzeria Regina stall here.
Both Boston cream pie and Parker House rolls were invented and still served at the iconic Boston Omni Parker House Hotel, located on the Freedom Trail near Boston Common.
If you are still craving something sweet, head to the Hi Rise Bread Company in Cambridge for incredible baked goods, including their delectable vanilla bean cake.
Are your family members foodies? Then check out this Pizza and Cannoli Walking Tour of Boston's North End.
Family-Friendly Places to Stay in Boston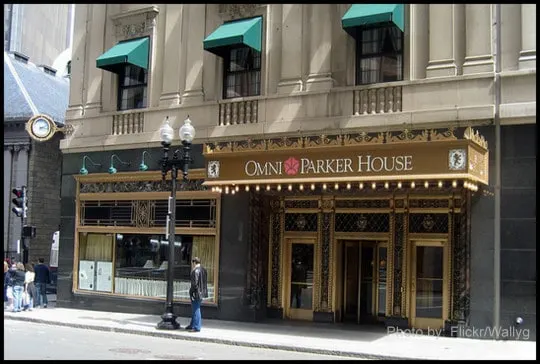 Trekaroo is a trusted Booking.com affiliate which means we can offer the lowest prices on Boston hotel rooms guaranteed. There are several great lodging options for families staying in Boston. Here are a few of our favorites:
Boston Omni Parker House Hotel
Located on the Freedom Trail, the gorgeous Boston Omni Park House Hotel is the ultimate place for history buffs to stay. It opened in 1885, making it the oldest continuously operating hotel in the United States.
The Parker House is where JFK proposed to Jackie O., and Malcolm X once worked in the restaurant. Omni's signature "Sensational Kids" backpacks filled with all sorts of goodies make kids feel like VIPS.
Marriott's Boston Custom House Villas
Originally built in 1847 as a custom house for 1/5th of the world's wealth brought in to Boston's busy harbor, this Marriott Vacation Club property's suites feature full kitchens, a separate bedroom, dining space, living space, large bathrooms, and incredible views.
Hotel Commonwealth
Located within an easy to walk to Fenway Park, Boston University, and Boston's easy-to-use public transit system, "the T," the boutique Hotel Commonwealth's staff really goes the extra mile to make sure your family is comfortable and happy. Rooms are spacious and Fenway views are available.
Royal Sonesta Hotel
Ice cream in the lobby, complimentary bike rental, indoor/outdoor pool area, scavenger hunt lists, kids cooking classes every Sunday- yep, there is no doubt that the Royal Sonesta knows how to make families feel welcome.
This hotel is located in neighboring Cambridge, but public transportation makes getting to and from Boston a breeze.
Must-Do Day Trips from Boston
There are many options for getting away for the weekend from Boston. But even if you just have a day, here are few options to consider.
Plymouth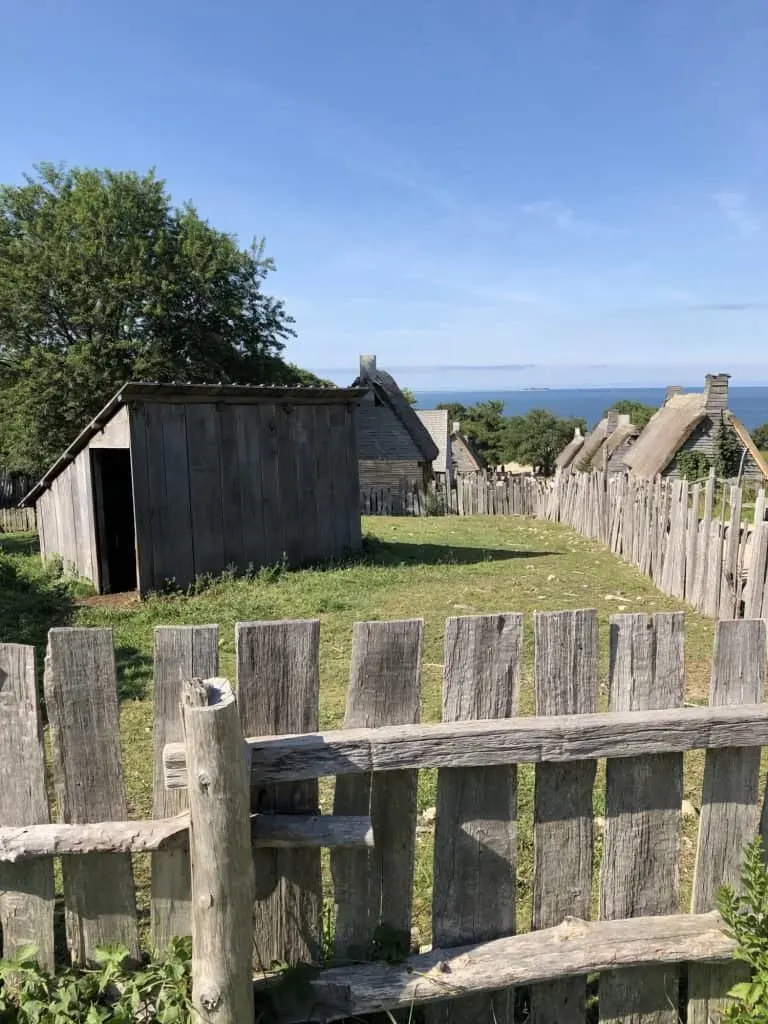 Head 40 miles south of Boston to see the actual Plymouth Rock (it is much smaller than most folks believe it to be). Next, step on-board a recreated Mayflower and get an idea of what the cramped journey to America must have been like for the pilgrims.
Then head to Plimouth Plantation to experience living history at its best. Designed to allow visitors to experience life in 1627, actors do a great job of staying in character, exhibits allow for plenty of hands-on opportunities, and the lessons learned will stick with your kids much more than anything they will ever learn in a textbook.
Portsmouth, New Hampshire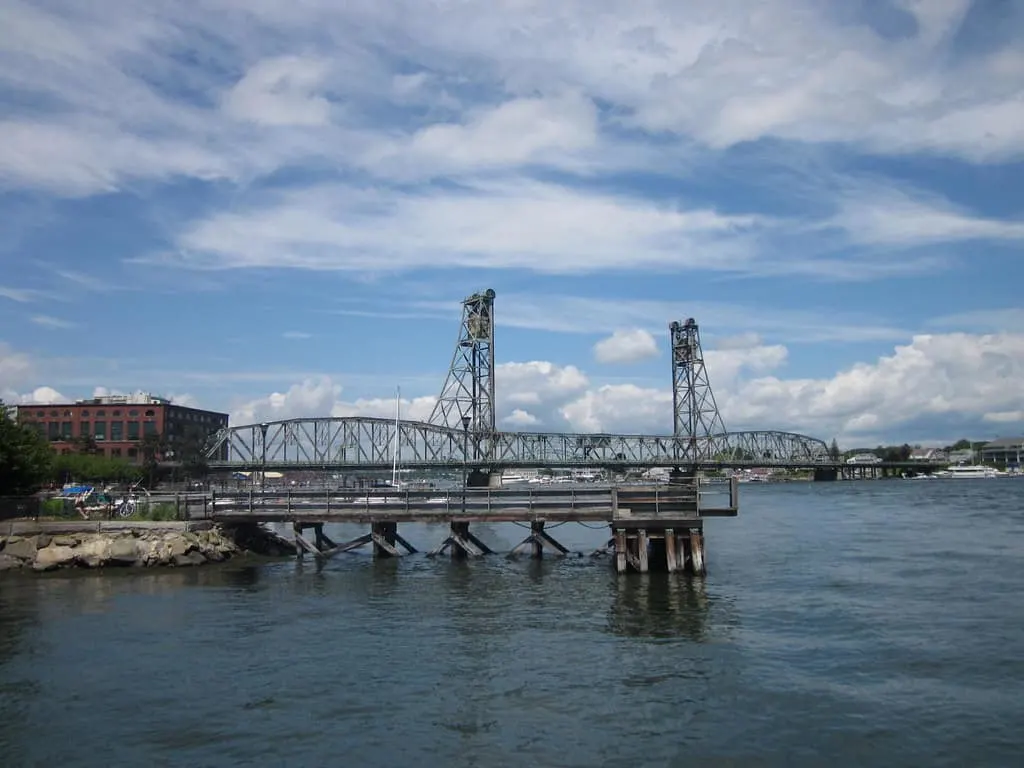 An hour north of Boston, lighthouses, rocky coasts, salty history, and family fun await you in the town of Portsmouth, New Hampshire. Get a taste of maritime history at the outdoor living history museum, Strawberry Banke, or learn about seafaring science at the Seacoast Science Center in nearby Rye.
Guided walks, natural history and an aquarium are all part of the area fun but in the summer Hampton Beach is the main attraction.
Concord, Massachusetts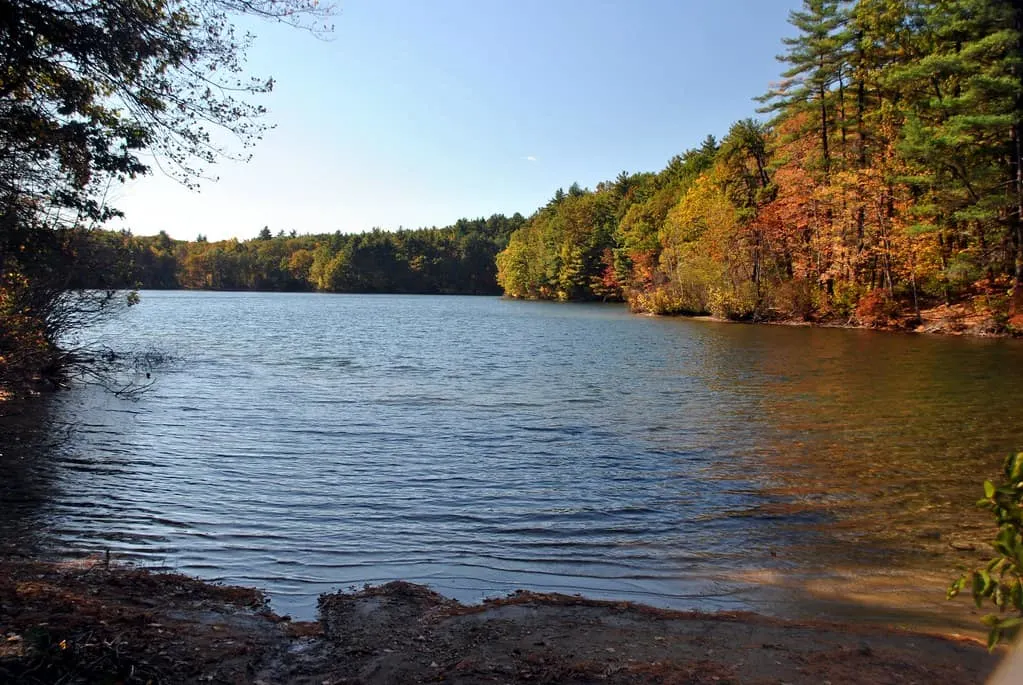 Literary families will enjoy a pilgrimage to Concord, about half an hour northwest of Boston and home to two significant literary sites.
Walden Pond State Reserve, home to Henry David Thoreau and inspiration for his influential book "Walden," is a great place for families enjoying a swim in the pond during the summer or bask in the beauty and serenity Thoreau described so vividly during the fall and winter months.
Easy hiking trails make this the perfect place for families to enjoy fall colors or to try cross-country skiing for the first time.
The Orchard House, home to Louisa May Alcott and the setting of her beloved novel, "Little Women" is also nearby and open for tours. While in Concord, a stop at the birthplace of the American Revolution is a must.
The Old North Bridge may seem like an unassuming spot for young ones, but those who have studied about the American Revolution will grasp the significance of the spot where the "shot heard around the world" was fired.
Lead Image by Shutterstock
Find things to do with kids near you!
From coast to coast, we're determining the Top 10 Things to do with Kids in each state (and big cities!) of our great nation.
Special thanks to Michelle Brennan and Liling Pang for their contributions to this article.