You're packing your family up for a Caribbean cruise. Do you know what to bring? Do you know what to leave at home? You need a good Caribbean Cruise Packing List that suggests all of the Caribbean cruise clothes you'll need for a great time with the family.
Here's a great guide which will tell you exactly what to pack for a Caribbean Cruise. Scroll down to the bottom for a printable packing list.
Is this your first family cruise? Be sure to read our tips for cruising with kids. Also, you will want to be sure to read up on how NOT to get sick on a cruise and what to do if you do get sick.
Developing a Caribbean Cruise Packing List? Start With the Basics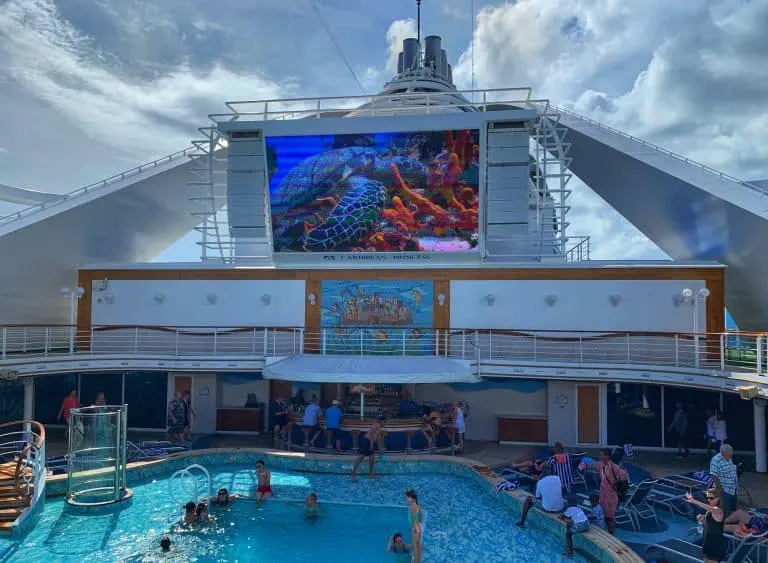 Leaving for a Caribbean cruise is an exciting time. I've been on four, and they are truly a great way to bond with your family and get in some much-needed relaxation time.
When you go, however, you want to be sure you have cute things to wear and the kids have what they need to be comfy and functional. You'll also want some beautiful things for formal night(s) on the ship. There's a lot to think about. Where do you start to develop a packing list for a Caribbean cruise?
Read more about our experience on a Princess Caribbean Cruise.
What Do You Normally Wear In Warm Weather Climates?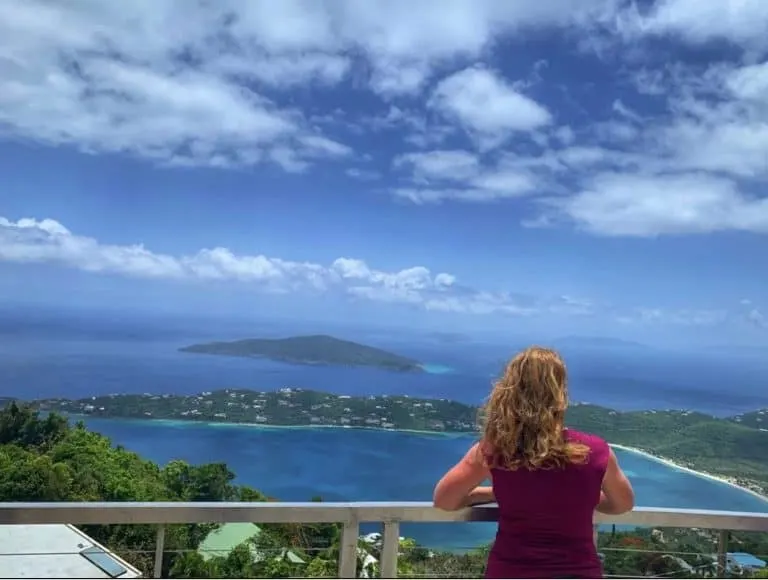 When pulling together outfits for enjoying time on the boat, choose items that can do double duty. Do you have a pool cover up that's also a cute dress, for instance? Do your kids have board shorts that can be used on a boat or in the pool? Outfits that work with more than one top or bottom are also good choices.
There's not a lot of room in the cabins, so storage can be quite limited. Using things twice also means less luggage. I know we tried to keep things limited, but you bring what you feel you need. Don't forget a hat and sunglasses, as you'll spend plenty of time in the warm sunshine having fun.
What don't you need? Anything that's bulky or takes up a lot of room. The ship has plenty of beach and bath towels, for instance, so no need to lug them on board.
Consider Excursions When Packing for a Caribbean Cruise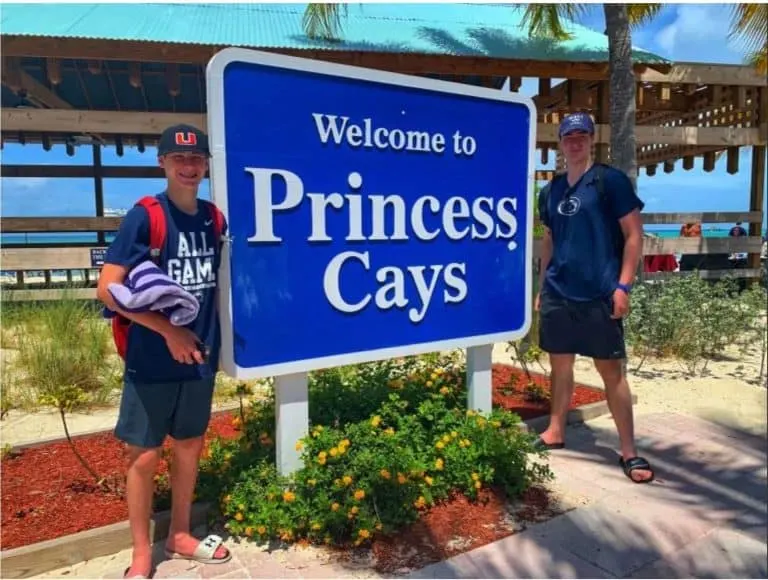 Be sure you have what you and your family will need for your off-ship excursions. A boating trip isn't fun if you forgot appropriate footwear. A hike is dangerous without good hiking shoes for everyone.
You'll also want to pack a waterproof phone pouch for snapping pictures of the kids. Thinking of your excursions before you go helps you assemble the key items you'll need.
If you know your kids tend to get sunburned, remember a rash guard or cute hat for them.
What you won't need to bring? Things like snorkeling gear or bigger beach items. Most Caribbean cruise excursions cover equipment. It's also so much easier to rent things once you're there than to pack them.
When we were on the beach in Princess Cays, Bahamas, there were plenty of items you could rent to enjoy your day there.
What Will You Wear For Formal Night(s)?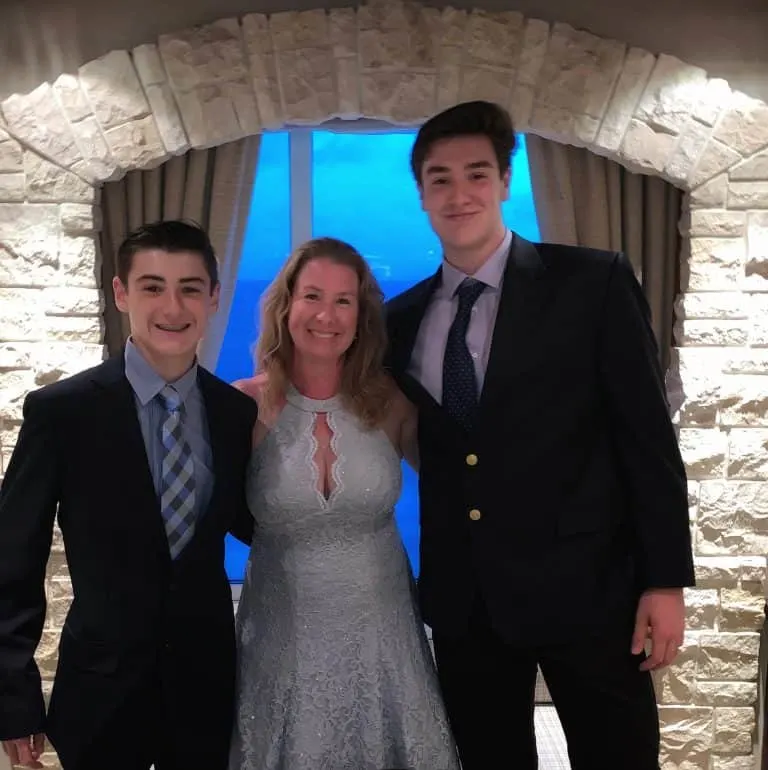 Most cruise ships host a formal night or two on board the ship. When I was on board Princess Cruise line's Caribbean Princess with my family, we had two such nights to dress-to-impress.
This is one of those rare occasions to get a nice family photo with everyone coordinated. There are plenty of places and photographers about the ship to take shots for you. You can also ask someone to snap a few shots with your own device if you wish.
Have everyone try on their attire before going, to be sure everything actually fits and all of the outfits pieces are accounted for. What not to bring? Expensive jewelry is not necessary, and only gives you one more thing to worry about on board.
What Extras Do You Want To Have With You?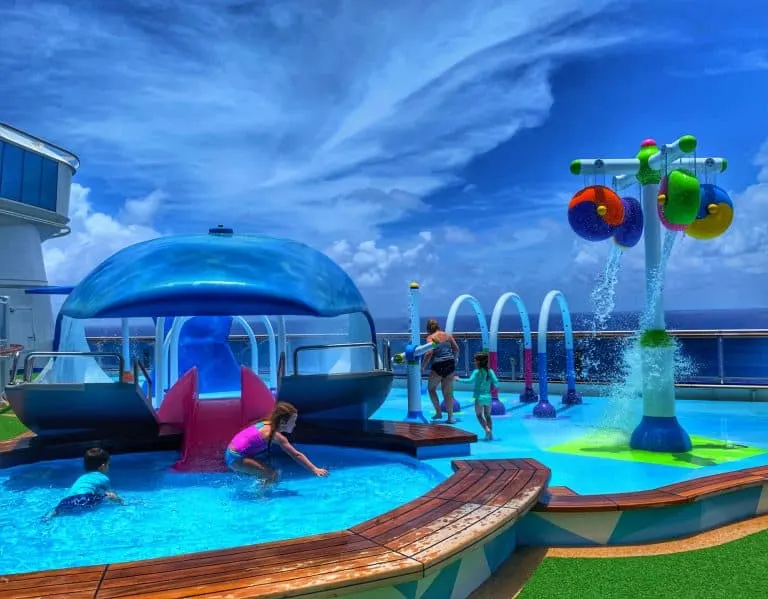 Consider packing some extras that could make the cruise more enjoyable for all of you. Are there a few special toys or small stuffed animals that should come along? Is there a blanket that cannot be forgotten? What about items for a special day you're celebrating on board?
Technology cords, chargers, a power strip, batteries, or adapters are useful extras. The ship provides a lot, but you're always happier with certain things that are specific to your family's needs.
Don't bring basic toiletries like shampoo, conditioner, and soap. Those are provided in the room. Linens and towels are as well. Here is are tips for what to put in your TSA-approved quart size bag for your carry on luggage.
Snacks and alcohol are also plentiful on board a cruise so no need to stash them in your baggage. Leave toys like drones at home, as well as bigger books. Many ships have a library just for on-board reading, as well as board and card games. E-readers are good things to pack since they are lightweight and don't take up much space.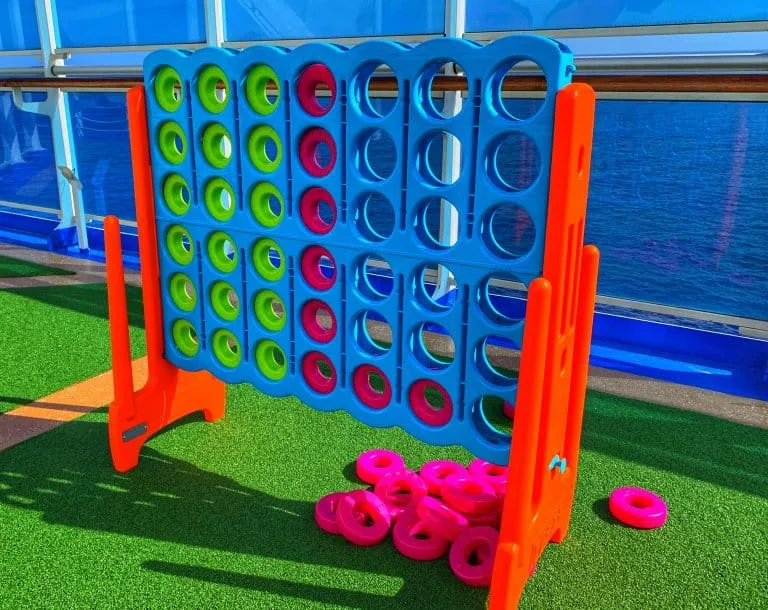 Remember, a Caribbean cruise is like traveling in a large, mobile luxury resort. You will have plenty to eat, drink and do, but you'll want to enjoy it in the cruise clothing and accessories you're most comfortable in.
Having access to a good Caribbean Cruise Packing List is key is important and can take a lot of the stress away, leaving plenty of time for the most important part – enjoyment! What kinds of things do you make sure you bring on board when you are on a Caribbean cruise?
Your Printable Caribbean Cruise Packing List