I carefully prepared a long packing list after scouring the Internet looking for tips for cruising with kids and even though I had it mostly figured out, there were still bumps and hurdles unique to having kids that I could have avoided with even more preparation. Here's what I learned from taking a 7-day cruise along the California coast with Princess Cruises.
Top tips for cruising with kids
Preparing for the boarding process
The process of boarding included having porters take our luggage (bring cash for tips), filling out health questionnaires, having documentation checked (kids need original birth certificates but check cruise line for details), and then waiting for our boarding time. It takes a lot of coordination and a lengthy amount of time to board over 2,000 people! Our boarding time was at 12:30 and I foolishly did not bring any snacks to fill us up as we waited. Once we finally boarded, we were starved but the line at the buffet was super long! We finally found a place to pick up pizza but they were going like hotcakes so we each only got one piece. By the time we got to dinner at 5:30, we were all super hungry and a bit cranky.
Tips & tricks for the first day of your cruise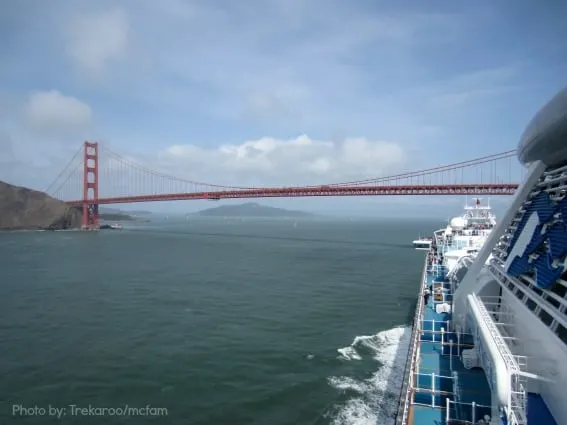 Bring Snacks.
Carry-on swimwear because it can take several hours for your luggage to arrive at your stateroom.
Drop off carry-on items in stateroom when you board.
Meet your steward who usually is readily available around the staterooms and have your kids meet the steward. Communicate any family needs you have. We asked that the bunks be left down so the kids could rest and take naps during the day.
Check out the many places to eat and find options.
When your luggage arrives (can take several hours), unpack everything, hang it up, and stow your suitcases under your bed. This makes it easy to get what you need all week long.
Attend safety instructions and go to your muster station when instructed to do so. This is a tedious process but it is mandatory and important. They will make you do it later if you miss it the first time.
Register for the kids club and get acquainted with the schedule.
Put the schedule of the day and the kids schedule in your pocket or bag so you can reference it while on the ship.
Purchase a soda card if you usually like sodas. Usually priced around $4-5 a day, this can save a good deal of money rather than paying for them individually. We are used to having diet coke every day and the headache and stomach upset of not having it was not worth it for our vacation. It also covers glasses of ginger ale which can be good for sea-sickness.
---
[cta id="67808″ align="none"]
---
Special Tips & Tricks for Family Cruising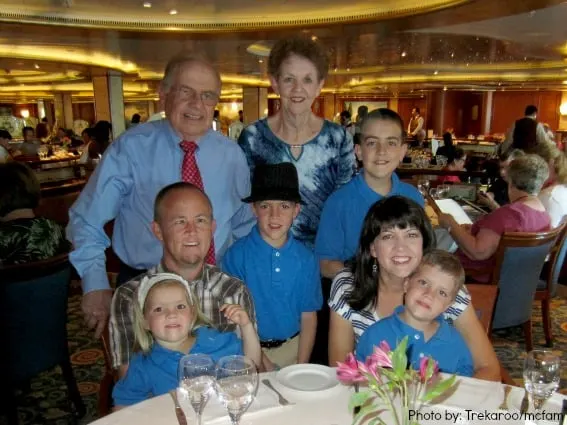 Swimming
Bring floaties, life jacket, or swim diapers if needed.
Find a seat in the sun early in the day if on a warm cruise.
Dining
If in a large group, choose scheduled dining so that you can easily meet up with your group and have a relaxed dining experience.
Because dinner is served in many courses, do not plan on getting your main dish until about one hour after being seated. If you or your kids are usually hungry early, choose the early dinner schedule.
Most cruise lines offer anytime dining, and this can be a flexible and great plan for families with young kids. No matter what you choose, there are dining options in many places, so if you miss dinner (in the dining room) you won't go hungry!
Your stateroom
Have your kids draw a picture that could include your names, pictures of yourself, your stateroom number, or anything they love, and laminate it. Tape it to the outside of your door so that your little kids can easily identify what room is yours in the super long aisle of rooms. Other ideas includ bringing balloons or a magnet.
Use a notepad and pen to write notes for fellow travelers to let them know where you may be.
Bring an alarm clock. Or load an alarm clock onto your Smart Phone.
Pack a night light, especially for very dark inner cabins.
Our cruise line allowed one bottle of wine to be brought per adult passenger to be consumed in the stateroom. We actually brought one case of diet coke each which we really enjoyed having available. The mini-fridge in our room kept them cold.
Consider spending more for a stateroom with a balcony if you have very young kids who need naps. You don't want to have to spend time stuck in an inner stateroom with a napping baby! Cribs are usually available but check your cruise line for details.
Pack a flashlight. In the case of an emergency, inner staterooms and hallways will be very dark.
Unique things to pack
Daypack or backpacks for you and the kids for excursions
Refillable water bottles for excursions
Extension cords and a power strip. There may be only one electrical outlet in your stateroom. Don't forget the chargers for all your electronics!
Pool bag for carrying towels from your stateroom to the pool along with your room card, kid swim gear, and water bottles. There were very few towels available at the pool. They were all stored in individual rooms.
Windbreakers or jackets. Even in warm weather, the wind from the ocean while sailing can be very cool.
Highlighters and pens. Check your schedule in the evenings when it is delivered to your room for all the things you may want to do the next day.
Games for the kids to play. Our favorites are "Too Many Monkeys," "Guillotine," and "Swipe" because of their small size and that the adults enjoy them too.
We read tips to bring extra hangers for the closet but we actually didn't use many of them. There were approximately 20-30 hangers available so we used the extra for the kids' clothes.
Sunscreen
Umbrella stroller. There is a lot of walking and long, narrow hallways along the ship and a small stroller can make the difference for small children.
A word about sea sickness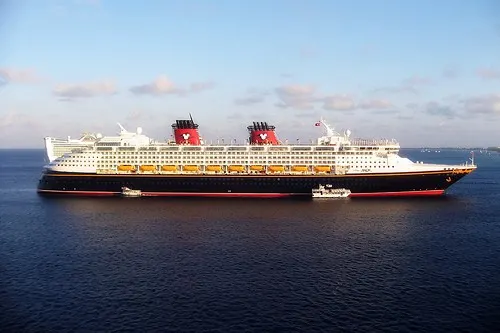 Photo by: Flickr/twodolla
Parents frequently research methods about how to cope with seasickness when they ask for tips for cruising with kids. Many avid cruise-goers recommend taking Bonine to prevent seasickness, claiming that it is helpful and doesn't cause excess drowsiness. We tried over-the-counter Dramamine and within ½ hour we were struggling to stay awake. Sea-bands are available at drug stores or online in kids sizes. They work to alleviate seasickness by using pressure points (adult sizes are available too). We recommend that you pack a variety of sea sickness treatments so that you have options when on the cruise.
When seasickness hits
Many long-time cruise goers reassured us that they had never experienced the rocky seas that we did while traveling from San Francisco south. In fact, many say they never notice the rocking of the ship. So hopefully no one will need these tips… but just in case it's good to be prepared!
Find salty snacks in the buffet or popcorn served during the outdoor movie as an antidote to seasickness.
A full stomach can alleviate nausea that comes with seasickness, so even when the boat is rocking and you feel unsteady, eat up!
Ask the bartender for ginger ale as it is great for upset stomachs.
Go out on the deck and get fresh air.
Keep your eye on the horizon where the sea meets the sky. It's like "watching the road" when driving.
Encourage kids to tell you right away if they feel sick so as to prevent catastrophes in the dining room. Get them outside or to a bucket right away!
The back and front tops of the ship rock the most it seems, so go to the middle of the ship and lower to the water to find a bit of relief from the major up and down motion.
Featured photo by: Bigstock/Solarisys
---
[cta id="67808″ align="none"]
---