Massachusetts is a relatively large state compared to other New England states. Boston rightly gets much of the attention due to its lively, friendly scope of activities. However, the Pioneer Valley in western Massachusetts can easily stack up with its family friendly activities and downright beauty.
The Pioneer Valley geographically centers around the Connecticut River and Springfield is her flagship city. This centerpiece provides verdant fields and a lovely backdrop for the surrounding mountains of the Berkshire range. Here are our recommendations for the top 10 things for families to do in Pioneer Valley, Massachusetts.
10. Explore Northampton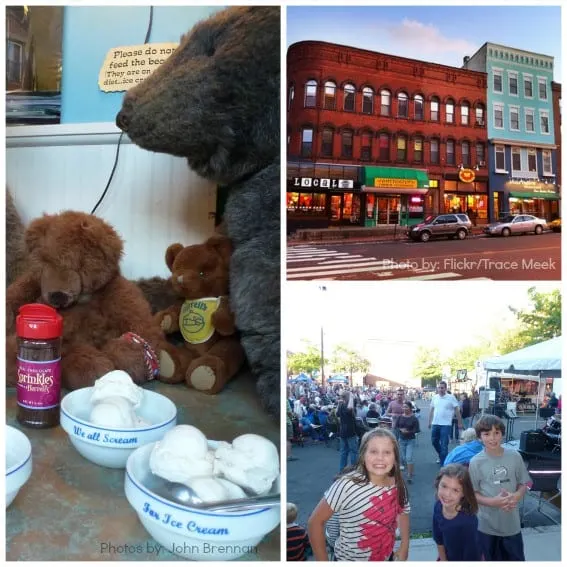 Northampton is the home to several renowned universities and colleges. It is also a well-known arts and entertainment town. This makes for a funky, artsy, and diverse downtown setting. Meander the streets and shops after grabbing lunch or maybe attempt to eat a jalapeño ice cream cone at Herrells. During the summer, there are often music festivals and street performers. Our kids especially like the A2Z Science and Learning Store where you may even sign up for a Yo-Yo class. For more active fun, take the 8.5 mile bike path from downtown to Look Park.
9. Navigate the river valleys
Gotta hankering for adventure? Maybe whitewater is beckoning. Try Zoar Outdoor for some family adventure. They offer family float trips or class II trips for beginners on the Deerfield River. Learn to paddle in the Pioneer Valley. For more subdued water fun think about taking a trip on the Quinnetukuet Riverboat. This narrated boat trip on the Connecticut River highlights the natural history and legacy of the area. Be on the lookout for nesting Bald Eagles!
8. Talk to the animals at local parks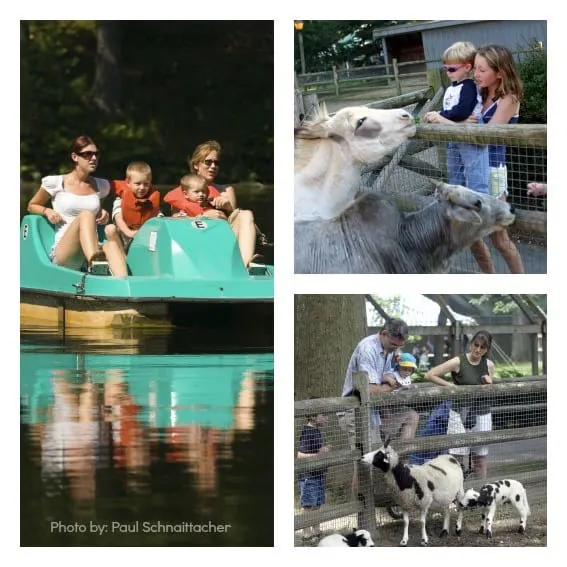 There are a couple of places to appease animal lovers in the Pioneer Valley. Look Park has a small zoo housing deer, birds of prey, other birds, and goats. It is free to take a gander, but if you want to feed them (what kid doesn't?), there is a small fee. There are also other activities at this great park. Enjoy a train ride through the park, get a work out on the paddleboats, play a few rounds of mini golf, or just enjoy the playgrounds.
Forest Park Zoo is a more traditional, yet small zoo and is perfect for the younger set. The zoo's exhibits range from wolves and cougars to a braying donkey that we feel actually talks to us! The zoo is open seasonally and is located on the outskirts of Springfield.
7. Step back in time at Historic Deerfield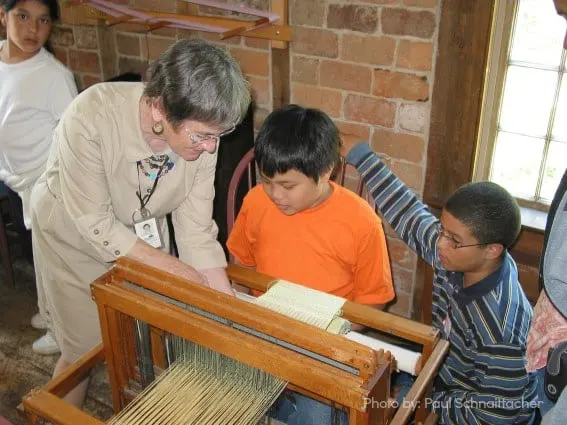 Many homes and businesses have been restored to their 18th century splendor in the Historic Deerfield Village. What you encounter is an iconic New England farming village set on the shores of the Connecticut River. Tree-lined streets, stately colonial homes, and verdant fields await your tour. They even offer a kid friendly tour with hands on exhibits as well as classes for children. This is a living town as several residential homes and boarding schools are in the historic mix. This blend of history and the modern era makes for an interesting day.
6. Shoot some hoops at the Basketball Hall of Fame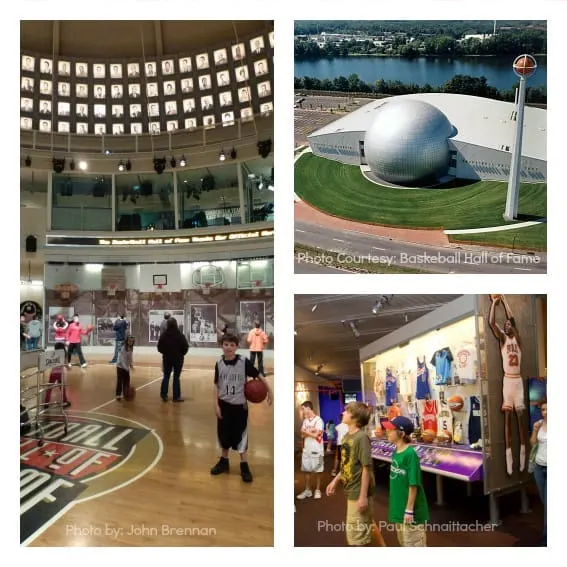 James Naismith invented the game of basketball in 1891 in Springfield. The Naismith Memorial Basketball Hall of Fame has been built here in his honor. You cannot miss the lit, silver orb of a basketball upon entering Springfield. Pro and college players alike are honored here every year and there is an annual class inducted. Fans of all ages can view memorabilia of their favorite athletes (be sure to check out the footprint of Shaq), enjoy some great hoops activities, and even shoot some hoops on the main floor center court.
5. "Oh, The Things You Can Think" – Visit the Springfield Quadrangle Museums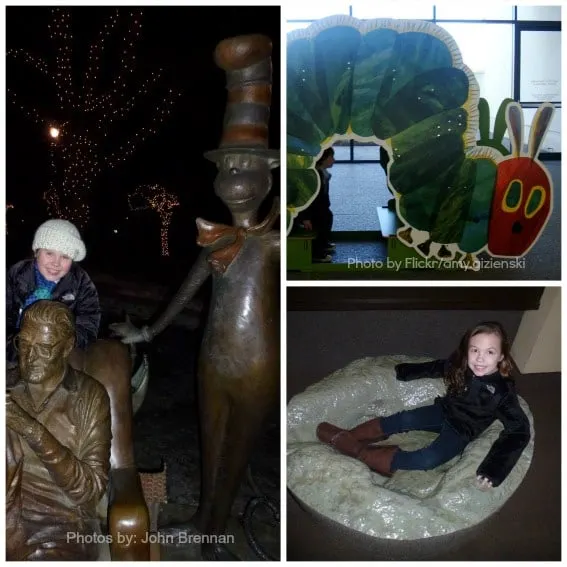 Everyone loves Dr. Seuss. Springfield is the birthplace of Theodore Geisel, otherwise known as Dr. Seuss. At the Springfield Museums Quadrangle there is an entire sculpture garden dedicated to Dr. Seuss and some of his most loveable characters. The Lorax, the Grinch, Thing One and Two…all here! Our kids especially love the sculpture of the Cat in the Hat overseeing Dr. Seuss as he creates.
Beyond the sculpture exhibit are other museums to explore including art, history, and science museums. Our favorite is the science museum with dinosaurs, animal dioramas, minerals, and a planetarium. There is usually an intriguing revolving exhibit just right for the science loving youngster.
The Eric Carle Museum is also located in the Pioneer Valley. Fans of his classic book, The Very Hungry Caterpillar will delight in the displayed artwork or a class at the museum.
4. Zoom down the mountain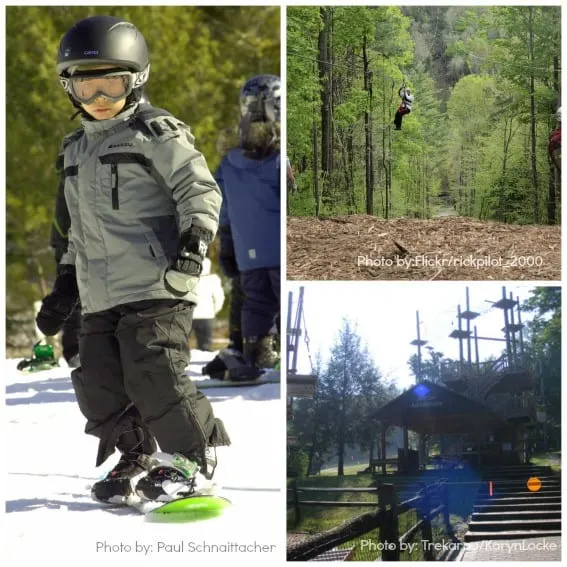 Vermont and New Hampshire are not the only New England skiing states. The Berkshires offer several mountains for outdoor family fun. Jiminy Peak presents great family skiing during the winter, and a mountain coaster and aerial course in the summer. Likewise, in addition to great skiing, Berkshire East has a fun zip lining excursion available seasonally. Any season is the right time to enjoy some mountain fun in the Pioneer Valley.
3. Butterfly magic at Magic Wings Conservatory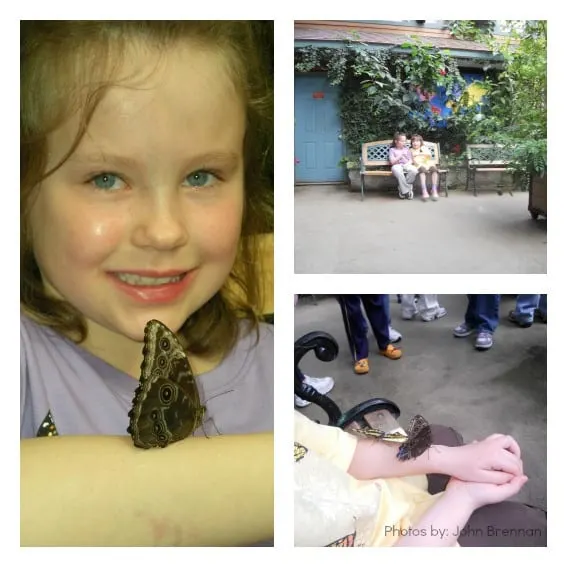 The Magic Wings Conservatory is a large living butterfly house in the Valley. This is an annual stop for our family. We roam throughout the facility and sit on the benches and hope that butterflies land on us. Touching the butterflies is prohibited, but they can touch you. My daughter can spend hours at this magical warm escape counting and detailing the butterflies that land on her. There are literally hundreds of butterflies flitting around the tropical plants and flowers housed in this large greenhouse like building. We also love to watch the chrysalises move and shake as the newly hatching butterflies begin their escape. This is also an educational stop with information about other insects as well.
2. Yankee Candle: 'scentsory' overload

The Yankee Candle flagship store is located in the Pioneer Valley. Proudly coined the "Scenter of New England," you can spend a good chunk of the day here delighting in the scents of the candles and the many sections of this candle mall. Of course there are candles available for purchase, but you can have a good time even if you are on a tight budget. Santa is on hand most days at his workshop and there is an animatronic 'boy' band that should not be missed. Snow falls in the Bavarian section, and there are many Christmas displays year round. You can also make your own candles or dip your hand in wax as a keepsake. Of course you will likely leave with a lifetime supply of candles, until you visit again!
1.Go for the thrill at Six Flags New England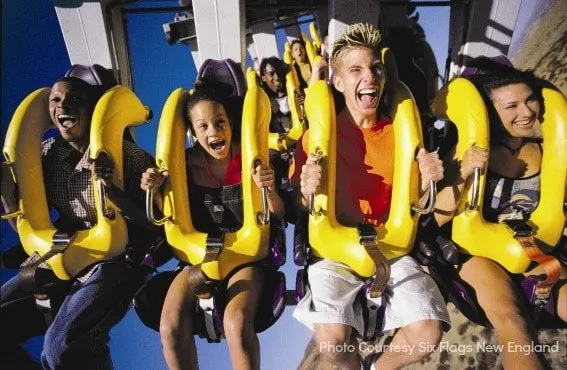 Six Flags New England is a regional treasure. Most New England families have visited and if you haven't, what are you waiting for? This park is filled with thrilling coasters and rides as well as a great outdoor water park in the summer. The theme park is open seasonally and I can dare to say that I have been on the Batman coaster with my legs dangling into space! Kids of all ages will have fun at this theme park on thrill rides, family rides, or kiddie rides.
There is something for everyone in the Pioneer Valley. Whether planning some day trips from a local area or coming from afar you will not be disappointed.
Read parent approved reviews of Family Friendly Fun in the Pioneer Valley.
Stay Here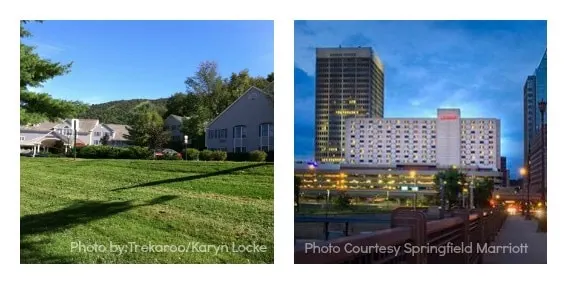 If you are planning to spend a few days in Pioneer Valley, consider staying at the Springfield Marriott. It is centrally located in downtown Springfield and is an easy drive to all the action. In the Berkshires, consider the Country Inn at Jiminy Peak for a stay near the slopes during winter or summer. Budget family accommodations are located in Hadley at the Holiday Inn Express. This is a newer, nicely decorated hotel with upscale decor and an in ground pool. To top if off,the staff is terrific!
Read kid friendly reviews of Pioneer Valley Hotels.
Must Eats
The Pioneer Valley offers an eclectic group of kid-friendly restaurants so there is certainly something to please even the pickiest of eaters. Plan B, a local upscale burger chain, has a location in Springfield where tasty burgers are the name of the game. The Hu Ke Lau in Chicopee is a perennial icon in the area. Here you can eat Asian fare while taking in a show or just enjoy the dining room. Kids love the Asian décor and luau. Chandlers at the Yankee Candle Flagship store serves up Yankee inspired food in an upscale environment where children are always welcome. Sometimes Fancy Nancy or Mrs. Claus can join in for some tea on schedule days. In Northampton, Fitzwilly's serves pub fare in the city environs. Hands down our favorite is the North Hadley Sugar Shack. Typically open for breakfast only during sugar season, the Sugar Shack makes some of the most scrumptious pancakes around. In addition the restaurant is a rustic low-key affair with large wooden tables and a laid back atmosphere. Outside, the kids can play on the play scape, pet the animals, or watch the syrup being boiled in the shack. It is a great way to start to the day!
Read reveiws and explore more kid-friendly Pioneer Valley restaurants.
Find more fun in "The Bay State." Check out the top things for families to do in Massachusetts or explore the top 10 things for families to do in Boston.