After trekking around with your family and traveling to and fro all year, if you're anything like me, you suddenly realize that home is more than a place to hang your hat! Big trips to Disney and the Grand Canyon are great but we do not have to go thousands of miles to have a great vacation. We can explore our own backyard! Those of us who live in Minnesota are fortunate to have a state that offers boundless opportunities for family fun. We've created five fun, family-friendly day trips from Minneapolis-St. Paul, the Twin Cities metro area. Take advantage of your respective backyards or come explore ours!
1. Mankato- Now Playing!
Distance from the Twin Cities: ninety minutes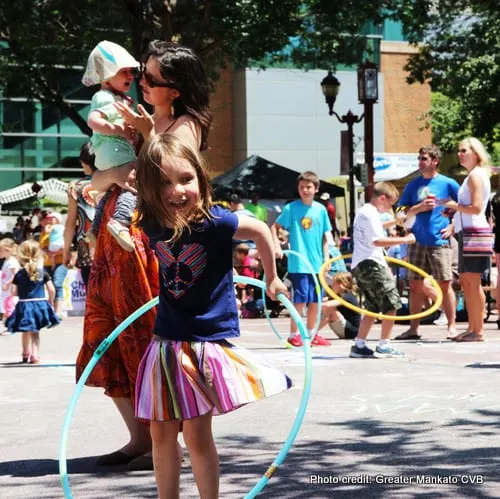 There is a reason that the Greater Mankato area's slogan is 'now playing.' Opportunities abound for young families and even the hard-to-please tweens because Mankato has a plethora of fun for everyone. If it's outdoor fun you crave, you can hit the bike trails. Explore Minneopa State Park and the geological grandeur of the gorge and check off some birds from you bird watching list. The smaller kids will delight in the farm themed playground at Sibley Park – where they will also find some furry friends to feed and pet. Sibley Park is a great place for a fun-filled picnic. (Check out Pub 500 for pre-made delicious picnic packs.) The River Hills Mall is a great choice for a rainy day. It has an antique carousel and a free play area! Bowling, laser tag, and entertainment for the older kids is not in short supply at Wow Zone. While you're in town grab a bag of Angie's Kettle Corn–a tasty, authentic made-in-Mankato souvenir!
Check out this itinerary for more family fun ideas in Mankato.

2. Stillwater—the 'birthplace of Minnesota!'
Distance from the Twin Cities: about thirty minutes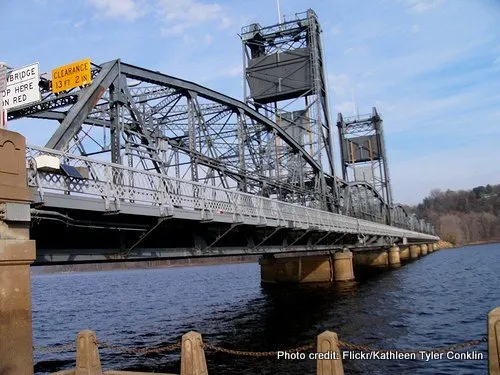 Stillwater is a beautiful escape along the banks of the St Croix River. Throughout the summer, families can dance to free outdoor concerts, grab a burger and malt at Leo's Grill on Main Street, climb on giant teddy bears and a tree house at Teddy Bear Park, and catch dinner and a ride upstream on a paddlewheel boat. During cold months, tour historic sandstone caves. (You can even pretend to be on an adventure straight from the pages of Mark Twain as the adults get to sip some wine.) In the winter, there is ample opportunity to brave the outdoors on skis or showshoes while exploring local park trails. Avast, me little scallywags, walk the plank to Smalley's Caribbean Barbeque and Pirate Bar and take the oath of a swashbuckler! Ye finish yar meal and a ye might spy somethin' ye be fancyin' in the treasure chest for wee lasses and lads! If your crew of bilge rats are more the land lubbin' kind, take a Trolley tour around the town or pedal a Biercycle. (That's a bicycle built for up to 13!)
There's even more fun to be had in Stillwater!
3. Compete in the Nisswa Turtle Races!
Distance from the Twin Cities: two hours and thirty minutes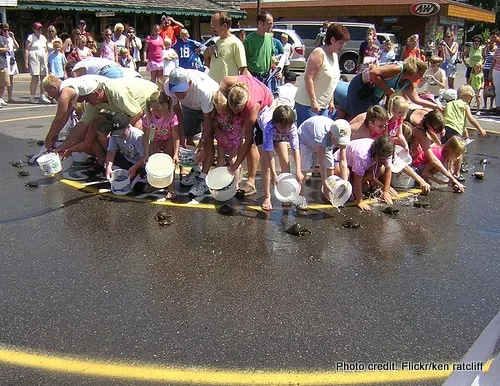 Brainerd Lakes Area locals agree, Nisswa is a favorite little town full of family fun. It is surrounded by picturesque lakes, sandy beaches, and wooded trails for walking, biking, and snowmobiling. Check out the many local shops and restaurants on Main Street, including The Chocolate Ox for special sweet treats. If you visit midweek during the summer, you won't want to miss the Wednesday night turtle races held right in the middle of town. Brainerd International Raceway isn't far if you're looking for some entertainment and fast-paced action! Ditch the motors and try out some new words like jibing, sloop, and mizzen while learning to sail!
Here's a comprehensive list of family friendly adventures for the Brainerd Lakes area including Nisswa.
4. Cruise the St. Croix Dalles in Taylors Falls
Distance from the Twin Cities: about sixty minutes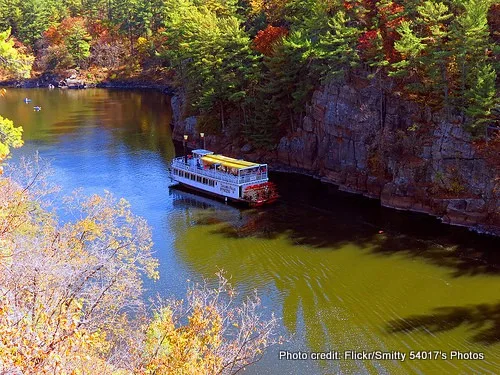 Whether you are looking for fun in the winter, summer, spring, or fall, Taylors Falls has action packed options and sweeping vistas that will have the family begging to go back the next year! Wild Mountain is aptly named. You can experience a speedy snow tube, cool your jets at the waterpark, zip around on go-karts, go kayaking, and so much more. For the adventurous spirit, it's a one-stop shop! If you want a more serene experience, visit Interstate State Park, where the entire family can climb around and gaze out over a dramatic section of the St. Croix Dalles and River or scamper along trails and find all the potholes. If history is what you're after, visit the historic Folsom House, one of twenty-six fantastic sites that the Minnesota Historical Society manages. Franconia Sculpture Park is only a few miles down the road and is weird and wonderful with acres of gigantic sculptures. (It is also free of charge and open year round.)
5. Edifying. Educational. Exciting! Elk River!
Distance from the Twin Cities: fifty minutes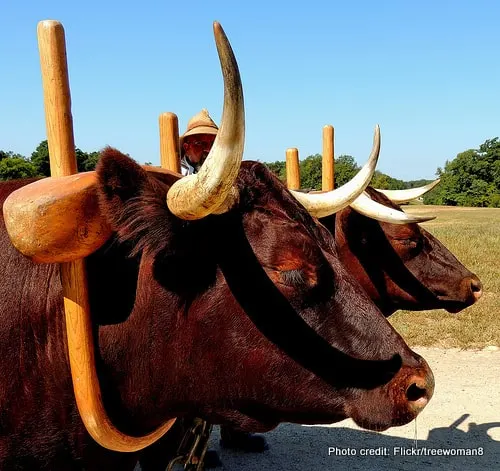 Do you have kiddos that would just LOVE to see a team of oxen working fields or participate in the annual threshing? Maybe they'd get a kick out of doing farm chores or putting up the harvest for the long Minnesota winter? Well, the Oliver Kelley Farm in Elk River is a fantastic place (and probably one of the only places) where visitors can do all of the above! After a long day in the fields, you might think about turning your day trip into an over-nighter at a hotel with a waterpark to soak away your worries. Spend some time on the beach at Lake Orono. Enjoy the Riverfront Concert Series on Thursdays in the summer. The little ones will enjoy autumn's harvest happenings including the Market 101 Fall Festival and Corn Maze. With festivals and events all year long, this town on the river will make you shiver with delight!
Explore More Minnesota Family Fun:
Top 10 Things for Families to Do in Minnesota
Fun Family Day Trips from Minneapolis/ St. Paul
Explore the best of kid-friendly hotels, activities, and restaurants in Minnesota
Check out our Minnesota Pinterest Board