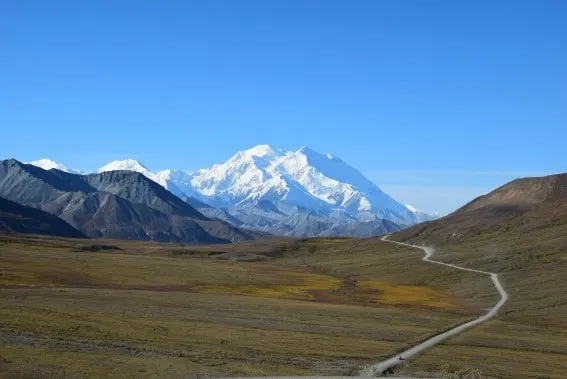 Alaska is a massive place. It is bigger than Texas, California, and Montana combined! If the top of Alaska was placed in Denver, Colorado, the bottom of the state would be in Mexico City. As you can imagine, Alaska's tremendous size results in dramatic biodiversity- from the temperate rain forests of Southeast Alaska to the vast tundra dominating the landscape above the Arctic Circle.
The average, large-ship Alaska cruise focuses on the glaciers and rain forests of the Southeast with time spent in Glacier Bay National Park and stops in Skagway, Juneau, and Ketchikan. While this region of Alaska is gorgeous and well worth a visit, the only way to really experience the diversity of Alaska is to spend time on land.
Now don't get me wrong, the sea experience is still a worthy endeavor. After all, how can you go wrong with glaciers, wildlife, and all the pampered fun that goes along with cruise travel? But going on a Princess Cruise and not experiencing an Alaskan land tour would be like going California and only visiting Yosemite. Sure, the park is majestic and worthy of a visit, but California has so many more landscapes and experiences to offer.
How good are Princess's Alaska cruise land tours? Everyone I traveled with agreed that the experience we had on land with Princess was better than the experience we had on the cruise. Why? Because Princess has really outdone themselves by providing great lodging, quality dining, and exceptional tour options that allow guests to immerse themselves in the culture and natural beauty of Alaska.
Princess Cruises Denali Explorer Alaska Cruisetours- An Epic Alaska Experience
Alaska Cruise Tours – Lodging
Photo by: Princess Cruises
Princess operates five different lodges in Alaska. Most land tours visit one (or both) of their two largest lodges, Mt. McKinley Princess Wilderness Lodge and Denali Princess Wilderness Lodge. Both settings are spectacular.
Denali Princess Wilderness Lodge definitely wins the award for "location, location, location." This sprawling resort sits just outside of the Denali National Park boundary, making it an ideal home base for exploring the national park and surrounding attractions. There are 656 rooms on property but the resort is spread out into smaller lodge buildings and the natural setting on the Nenana River results in a more intimate experience. I was impressed with the dining quality at the King Salmon Restaurant and Grizzly Bar and Grill, especially since this property is essentially in a wilderness area. The seafood options are so fresh and well prepared. Shuttles from the lodge to the National Park Visitor Center are frequent and park bus tours of the park are typically included in the cruise/tour rate.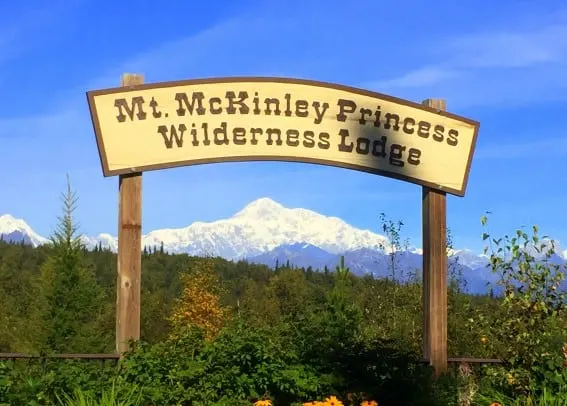 Mt. McKinley Princess Lodge is a remote property with million dollar views. Located in Denali State Park, 40ish miles from the charming and eclectic town of Talkeetna (shuttles in to town are offered multiple times a day), this quiet property sits up on a hill above the Chulitna River and has the absolute best views of Denali.
One of the most memorable moments of my trip to Alaska was the evening spent on the deck of the Mt. McKinley Princess Wilderness Lodge. We had just finished stuffing ourselves with succulent king crab at Mountain View Dining Room when a hotel employee informed us that the Northern Lights had been spotted. We headed outside and were treated to a light show that only Mother Nature could deliver. The lights danced and swirled all around us in technicolor hues of green, purple, pink, and red. They lit up Denali in a soft pink glow, surpassing every expectation I could have had for Alaska's raw beauty.
Northern Lights Tip: Your best bet for seeing the Northern Lights is to visit Alaska during the end of the cruise season (late August and September). The sun is pretty much omnipresent during the months of June and July and the sky is never dark enough for the lights to make an appearance.
Alaska Cruise Tours – Exploring Alaska by Rail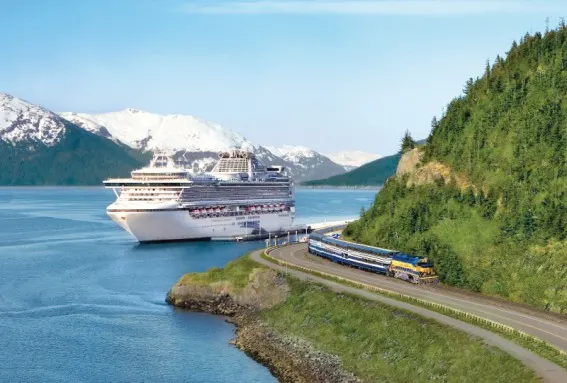 Photo by: Princess Cruises
Denali Explorer land tours include travel time on the Alaskan Railroad, a classic train experience. The rail cars feature comfortable seating, meals, full beverage service, attentive staff, and glass-domed cars offering tremendous views of the surrounding landscape. Our train ride from Talkeetna to Whittier passed through taiga forests, the urban landscapes of Anchorage (where 40% of the state's population resides) and through the famous Whittier Tunnel before dropping us off across the street (literally) from our Alaska cruise ship. The highlight of the train journey for me was the time we spent cruising along the Turnagain Arm, famous for its bore tides. It was cool to see adventurous folk donning wetsuits and windsurfing atop the frigid waters.
---
Alaska Cruise Tours – Amazing Excursions
Much of what makes Princess Cruise's land tours such a special experience on any tour are the incredible excursions they have to offer. The excursions options are varied and offer the opportunity to really get out and enjoy the wilds of the Denali region.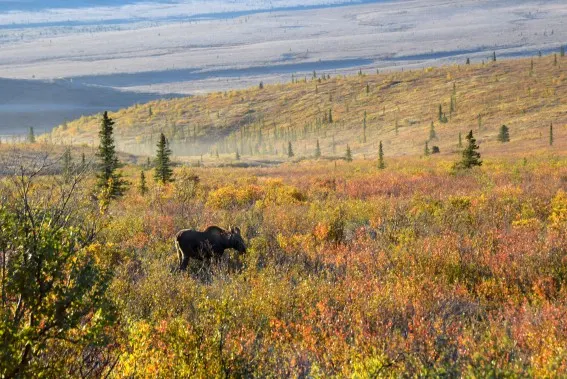 National Park Tour. A National Park tour is great for those hoping to spot the famous wildlife of Denali, as well as a glimpse of the mountain itself. During our tour we saw moose, caribou, Dall Sheep, and even a grizzly bear cooling off in a stream. This tour does involve quite a bit of bus time which will be hard on young children, so be sure to bring activities to occupy them in between wildlife sightings. Early morning tours tend to have the most wildlife viewing opportunities. The National Park Service does include a box "lunch" with the bus tour but it is really just a variety of snacks. We found the meal to be on the small side so I suggest packing some extra food, especially for picky eaters.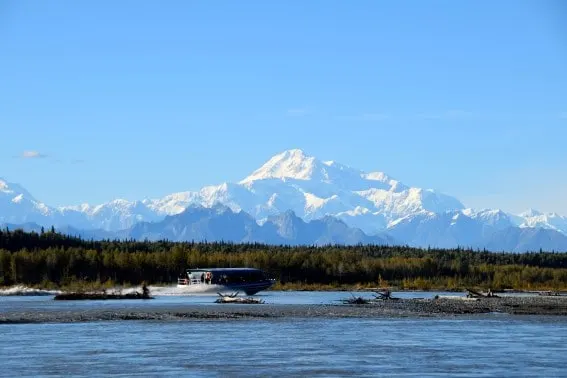 River Expeditions. Rivers play a big role in life around Denali and getting out on one is a great way to really enjoy the area's natural beauty as well as spot some wildlife. Adventurous spirits will love the rafting through the class II and III rapids of the Nenana River just outside the park. This thrilling experience is suitable for families with children over the age of 7. Don't worry- dry suits are provided to keep you protected from those chilly Alaskan waters.
Those looking for a more relaxed float will enjoy a trip down one of the silty, glacially-fed rivers near Talkeetna. Bald eagle spotting is at a premium on these trips and if the mountain is cooperating, the views are tremendous. Spottings of bear and spawning salmon are also a possibility. Jetboat tours are very popular along the three rivers of the Talkeetna region. These are ideal for people who would rather relax and be out of the elements.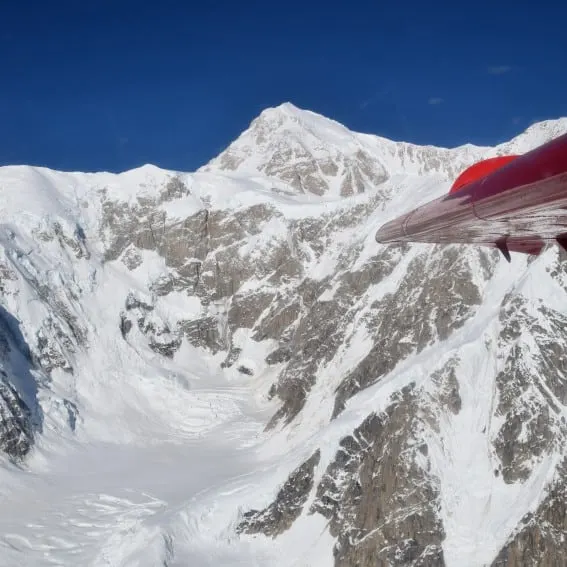 Flightseeing Tours. One of the best ways to truly experience the vastness of Alaska's wild is on a flightseeing tour. Unless you are an experienced mountain climber, these tours are also the only way for you to really get up close and personal with Denali. Small plane and helicopter tours are available and many include glacial landings.
Not to be missed is the helihiking adventure with ERA Helicopters. This once in a lifetime experience took us out into the remote Alaskan backcountry where we hiked through the tundra with an experienced naturalist. The scenery was unlike anything I had ever experienced. Our enthusiastic guide got everyone excited about the beauty of the tundra as he pointed out tons of geodes, caribou antlers, animals, and wild blueberries ripe for the picking. Walking on the spongy ground with expansive views of the Alaskan Range all around me is something I will never forget.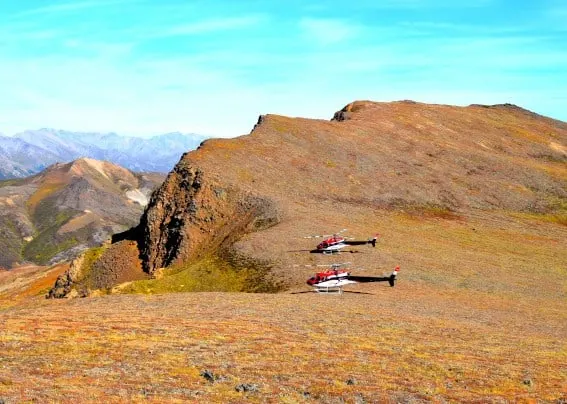 Disclosure: The author was hosted by Princess Cruises on an Alaska Cruise Denali Explorer Cruisetour for the purposes of providing unbiased editorial coverage. All opinions are her own.
All photos by Sharlene Earnshaw unless otherwise noted.