Hike through towering Saguaro cactus, float past wild horses, or just bask in the almost constant sunshine of the Phoenix metro area. The outdoor activities in Phoenix let families experience the wonders of the Sonoran Desert in a variety of ways.
With all the sunshine, Phoenix is a dream destination for those who love to be outside. World-class parks, enchanting trails, cool waters, and plenty of adventure await. Here are some of our favorite outdoor activities in Phoenix.
Unique Outdoor Activities in Phoenix
Spring Training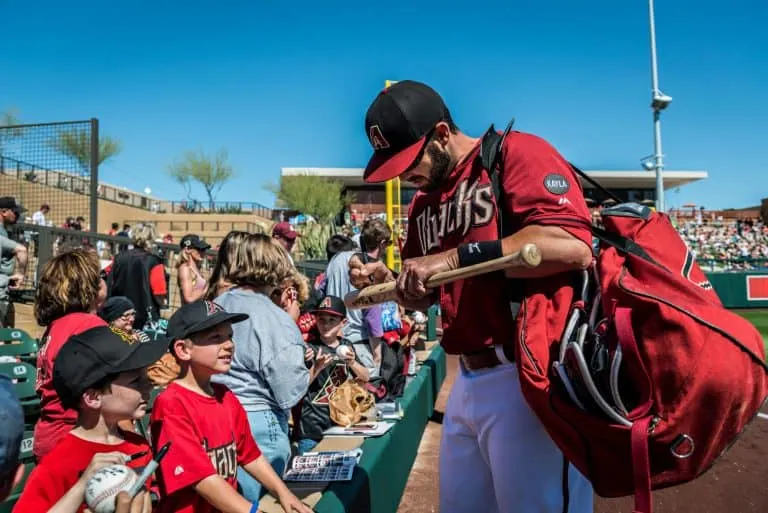 Join with baseball fans around the country for some preseason, Cactus League Spring Training games. The ideal spring weather and affordable major league games entice families to Phoenix every March.
Since these practice fields are smaller, fans are closer to the action. There is also a more casual feel to the games, leaving players more relaxed and more willing to sign autographs and meet fans. The local stadiums usually bring a taste of their team's hometown to the snackbar, like Cleveland's famous Bertman Ballpark Mustard available at the Goodyear Stadium.
Parents with younger kids love the "grass seats" behind the outfield that most stadiums offer. Kids can run around and play while those interested can recline and watch the game. The grass is also the perfect place to catch a fly ball.
Get more tips about Spring Training from our article, Arizona Spring Training: The Cactus League with Kids
Desert Botanical Garden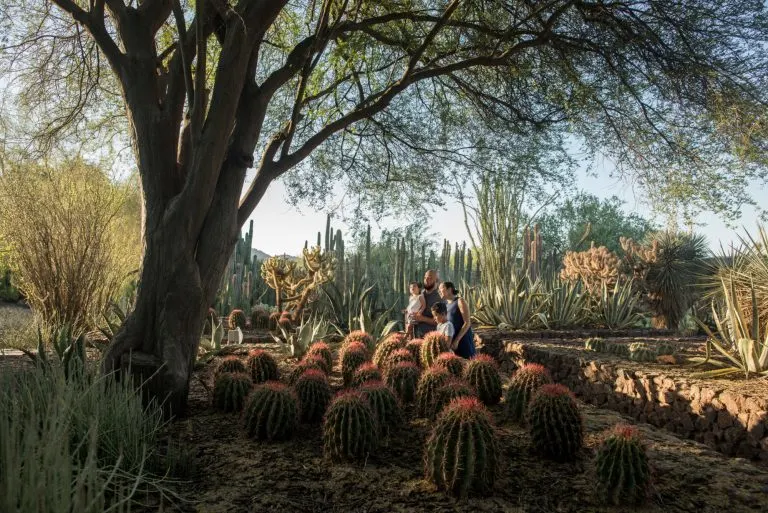 Colorful trails adorned with over 50,000 desert plants meander through Desert Botanical Garden. It is a perfect place to appreciate the beauty of the desert. Artistic masterpieces are created from the variety of cactus and blooming desert flowers.
Kids 12 and under love the Cactus Clubhouse. This nature play space encourages unstructured exploration in the outdoors. On weekends, check out the Cactus Kids Programming including digging in the garden, meeting some desert creatures, and participating in other learning activities.
In the spring and fall, a seasonal butterfly pavilion displays over 2,000 native butterflies. Guests enjoy the lush, enclosed garden as butterflies flutter around and maybe even land on you. Peek into the "Butterfly Nursery" to view the various stages of butterfly development.
When you start to get hungry, head to the Patio Cafe on the Ullman Terrace. They offer delicious food options like Sonoran hot dogs and prickly pear tea. While you eat, keep an eye out for the resident birds, including roadrunners, who love to scavenge the area for crumbs.
Apache Trail Day Trip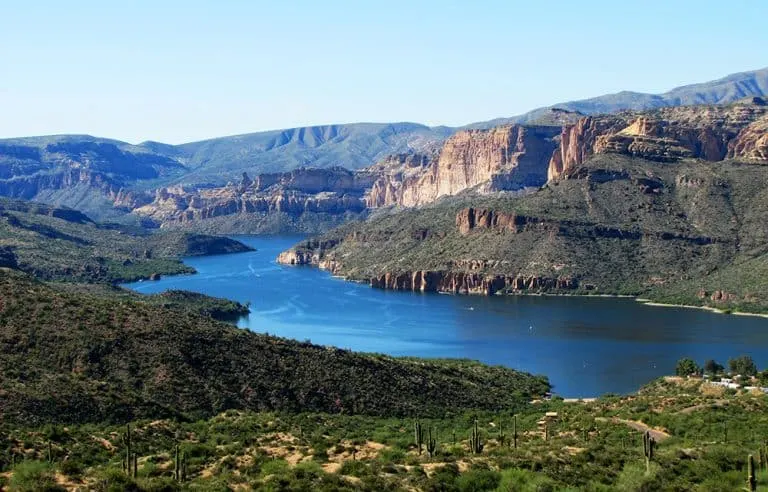 Drive through the Superstition Mountains, past desert vistas and sparkling lakes on the Apache Trail. This drive starts in Apache Junction, just 40 minutes from Downtown Phoenix. The incredible scenery and family-friendly attractions along the route make for an exciting day trip.
After starting down Arizona State Route 88, make a stop at Goldfield Ghost Town. Transport yourself to the wild west with weekend gun shows and buildings from the 1800's. Stroll the dirt roads and boardwalks, stopping into shops for souvenirs or a drink.
Here are the 10 best ghost towns in Arizona to visit with your family.
Families can take a ride around the town on the Superstition Narrow Gauge Railroad to learn more of the history of the town and the surrounding mountains. Tours are also offered through the underground mining tunnel. For some thrills, take in the mountain views from the Superstition Zipline.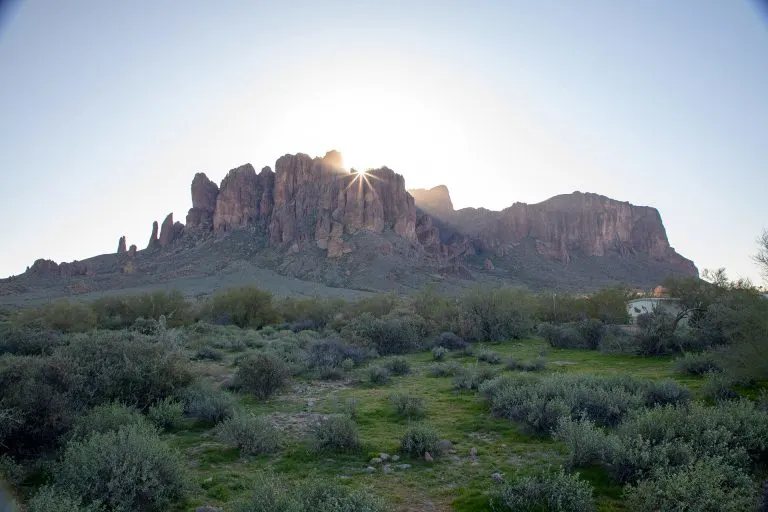 Just down the road is the entrance to Lost Dutchman State Park, one of the best state parks in Arizona. The Treasure Loop Trail showcases the Superstition Wilderness over a 2.4-mile moderate trail. Stop by the ranger station to find out about any ranger programs and earn an Arizona State Park junior ranger badge.
As you continue to wind through the Apache Trail you'll come to Canyon Lake. Kayak and boat rentals are available at the marina. Families can also tour the lake on Dolly's Steamboat Lake Tours, floating past cliffs and canyon fingers.
Canyon Lake was named one of the best lakes in Arizona. See what else made the list.
Just past the lake you'll come upon the tiny town of Tortilla Flat. It's really just a strip of buildings. Stop in the saloon for a delicious lunch and fun decor.
The Country Store sells unique treats, including Prickly Pear Gelato and Prickly Pear BBQ Sauce. Near the far end of "town," you'll see some mining artifacts and a small museum. Make sure to take advantage of all the photo-ops as well.
Find more day trip options in our article, 17 Awesome Day Trips from Scottsdale.
Phoenix Zoo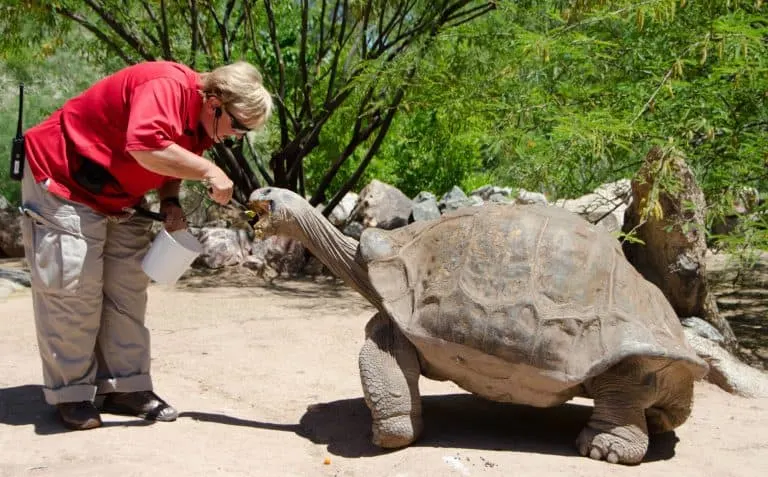 Take a trip around the world at one of the best zoos in the nation, the Phoenix Zoo. In addition to local wildlife, this zoo showcases a variety of exotic animals. Watch giraffes mingle with ostriches in the open savannah, a family of orangutans swing around trees and ropes, or river otters flip and dive underwater.
In addition to animal viewing, this zoo offers fun, interactive activities. Families can feed giraffes, touch and feed stingrays, and even ride a camel. There is also a carousel, a safari tram, and water play areas in the summer.
One of the most fun exhibits is Monkey Village. Head into the squirrel monkey enclosure to watch them swing and play all around you. Kids also love the children's zoo, where they can pet and brush goats.
Want more kid's activities? Find more nearby with our article, Top 10 Fun Things to do in Phoenix with Kids.
Horseback Riding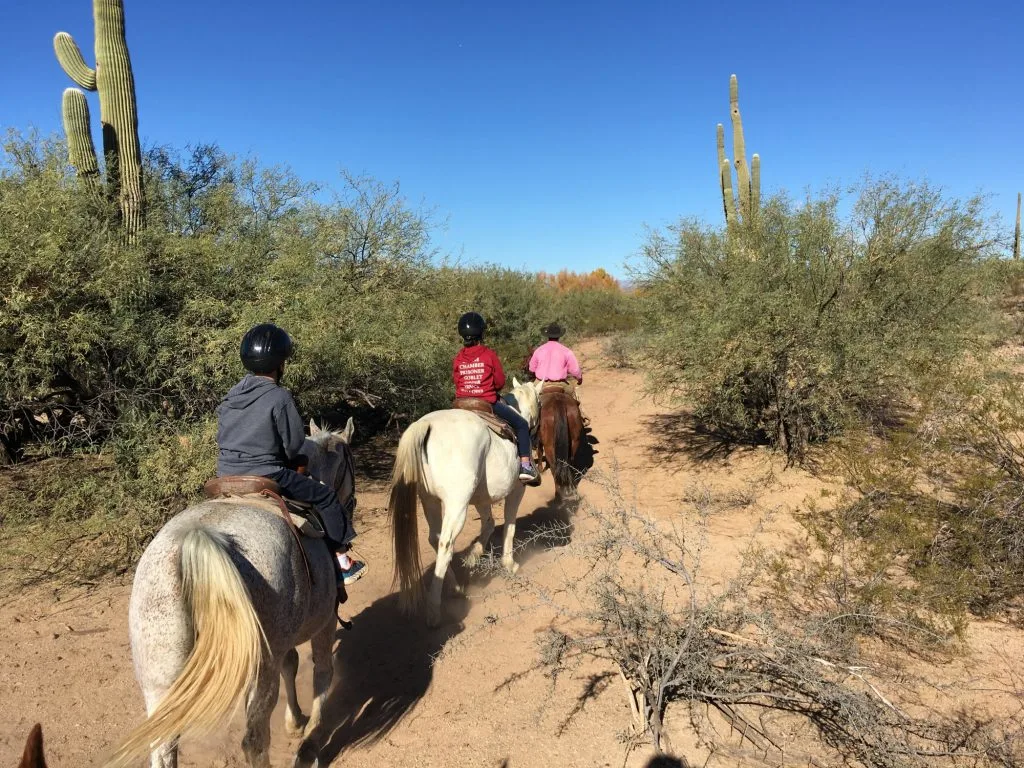 A great way to appreciate the wild west, ranching roots of Arizona is a horseback riding tour. There are many great tour operators around the Phoenix metro area, showcasing different parts of the desert.
For anyone over six, MacDonald's Ranch provides trail rides for any experience level. The guides lead families past towering Saguaro cactus, looking for wildlife along the way. They also have stage coach rides, yard games, and a petting zoo.
Another awesome tour company is Fort McDowell Adventures. Travel along (and through) the Verde River as knowledgeable guides teach about the surrounding plants and animals. In addition to trail rides, they offer tours of the desert on off-road vehicles (ages 4 and up) and even Segway (12 and older).
One more horseback riding recommendation is Saguaro Lake Ranch, sister stable to MacDonald's Ranch. I took this tour with my very nervous son and the guides were so patient and encouraging, that by the end he was asking when we could go again. The trail takes riders near the Salt River, and through it a couple times.
Outdoor Activities in Phoenix for the Summer
Lake Pleasant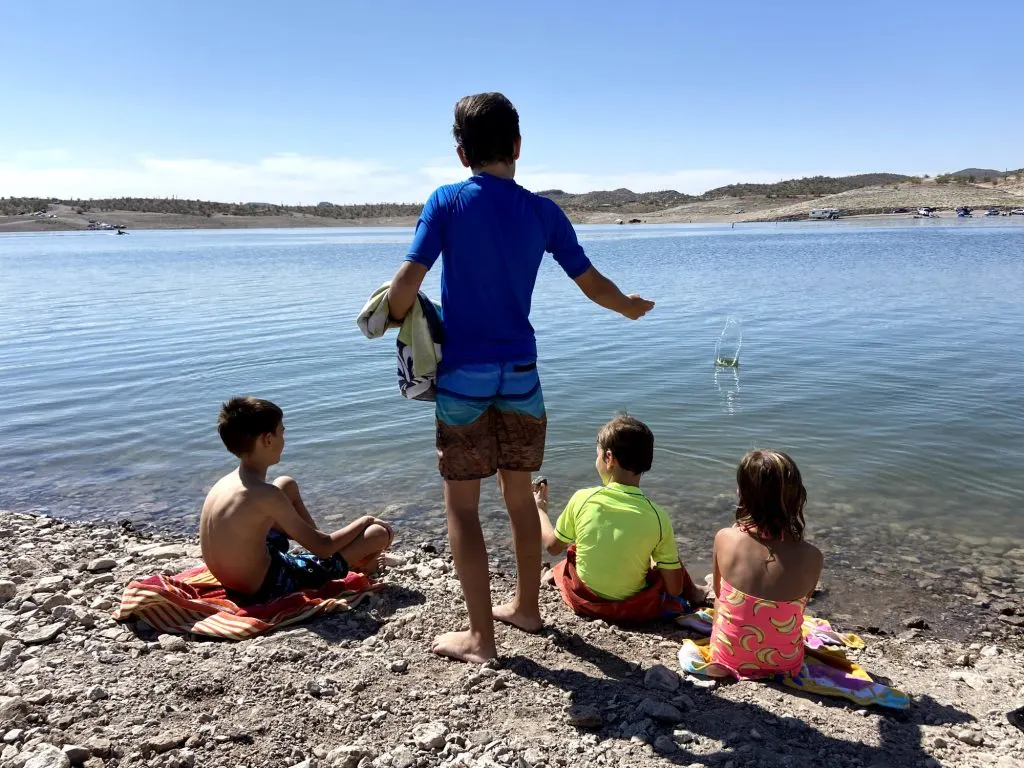 One of the most scenic water recreation areas in the valley is just an hour north of Phoenix at Lake Pleasant. Over 23,000 acres of hiking, wildlife viewing, and watersports fill this regional park.
Cool off from the summer heat in the glistening lake. You can swim from the shoreline, go fishing or kayaking, or get more adventurous by renting a speed boat for waterskiing. You can even get under the water and explore some of the best inland scuba diving in the US.
If it's too cold to get in the water, try hiking the Roadrunner Trail. Along this 1.5-mile hike, look out for local, friendly wild burros. Bring along a picnic and take some time basking in the glorious desert landscape.
Float the Salt River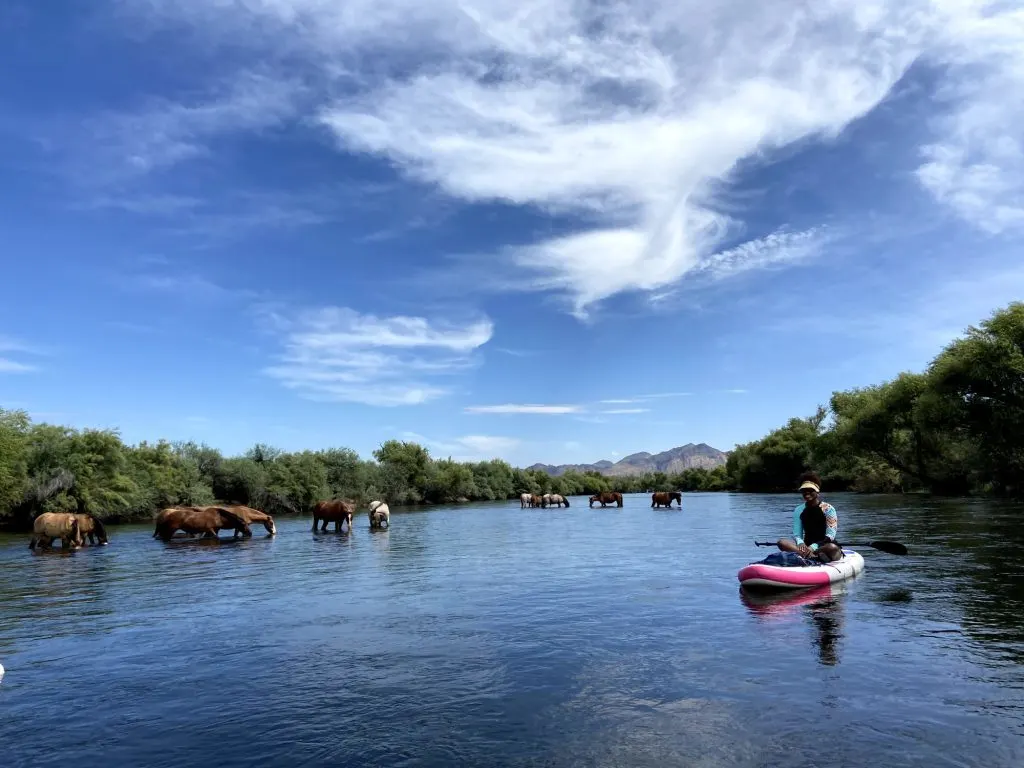 When the Salt River opens in the summer, it is one of the best outdoor activities in Phoenix. Grab a river tube, paddleboard, or kayak as you float along with the current. Watch the riverbanks for river otters, wild horses, and other critters that call this area home.
Shuttle service and tube rentals are available through Salt River Tubing. Or take an unguided stand-up paddleboard or kayak trip with Saguaro Lake Ranch, which provides rentals and shuttles. If you have two cars and two drivers (or don't mind a bit of a hike), you can also just do the trip on your own.
Avoid the rowdy, party crowds by floating on a weekday. Evenings also tend to be a little less busy, after the shuttle service has stopped running. And the mornings are best for spotting wildlife, and avoiding the most brutal heat of the day.
Six Flags Hurricane Harbor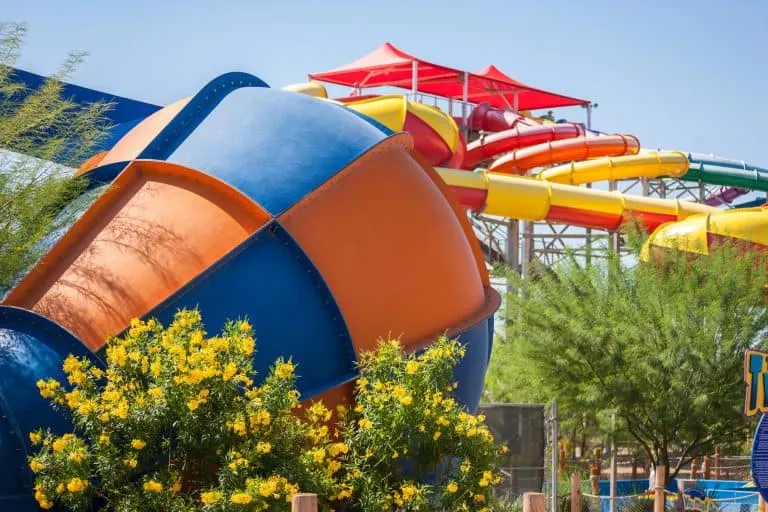 Over 30 attractions keep families cool at Six Flags Hurricane Harbor. Arizona's biggest waterpark offers thrill levels for all ages. Take a relaxing float down the lazy river, or get your heart pumping on waterslides.
Families love riding together on the giant rafts of the Big Kahuna slide. Little kids can get pint-size thrills at the Coconut Bay kid-sized water park, or even just splash around at Splashwater Beach.
Adrenaline seeking teens should race down the tandem slides of Maximum Velocity-Dueling H2O Coasters. Or catapult into the swirling waters of a 45-foot funnel on Tornado. And of course, everyone enjoys the four-foot swells of Monsoon Bay wave pool.
Traveling with teens? Check out our article, 22 Fun Things to do in Phoenix with Teens.
Golfland Sunsplash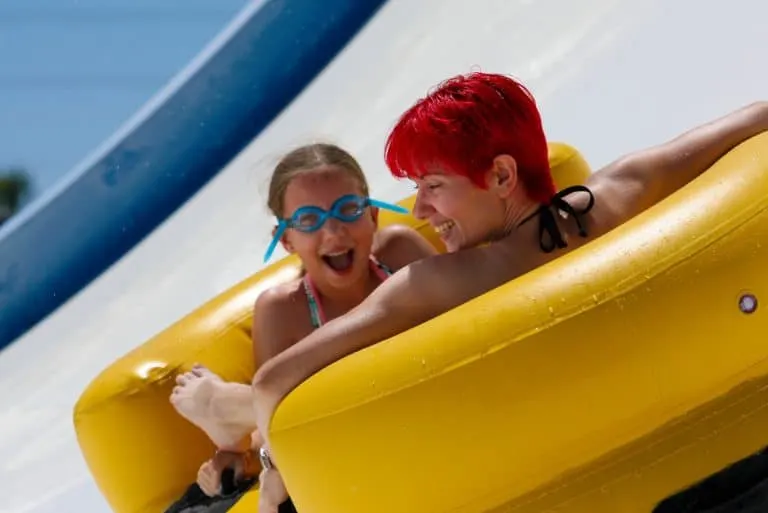 Mesa's Golfland Sunsplash is another refreshing place to beat the summer heat. Take a ride down a steep vertical drop before zooming up the opposite wall on the Sidewinder. Or grab the family and feel what it is like to get flushed down a toilet as you ride together on Stormrider.
As the name suggests, Golfland offers more than just waterslides. Three, award-winning mini golf courses provide 18-holes of family fun. There is also a go-kart course, bumper boats, and an indoor arcade.
Free and Low Cost Outdoor Activities in Phoenix
Phoenix Mountains Preserve
For the most popular hikes in the Phoenix area, check out the trails at Phoenix Mountains Preserve. Even though the park is surrounded by the city, exploring here feels remote due to the massive boulders, desert plants, and local critters.
The most well-known trails are steep and strenuous. Make sure your family is in good hiking shape before attempting Camelback or Piestewa Peak, and never hike in the heat of the summer.
Camelback Mountain Summit tops every Phoenix tourist's hiking bucket list. Scrambling over rocks and ascending over 1,200 feet in 2.5 to 3 miles (depending on the route) challenges even avid hikers. But reaching the peak promises bragging rights, lots of photo-ops, and epic views.
The nearby Piestewa Peak summit trail gets hikers the same view with less crowds. And though there isn't rock climbing involved, legs definitely start burning on the mile-long stairway up 1,148 feet elevation.
For recreation and hiking without the crowds and intense climb, check out the shorter peaks of Lookout and Shadow Mountain. The 2.6-mile Lookout Mountain Circumference Trail loops past native plants of the Sonoran Desert and offers views of nearby mountains, Scottsdale, and North Phoenix. Or for little legs that get tired quickly, try the short, 0.8-mile Shadow Mountain Small Loop Trail.
South Mountain Park and Preserve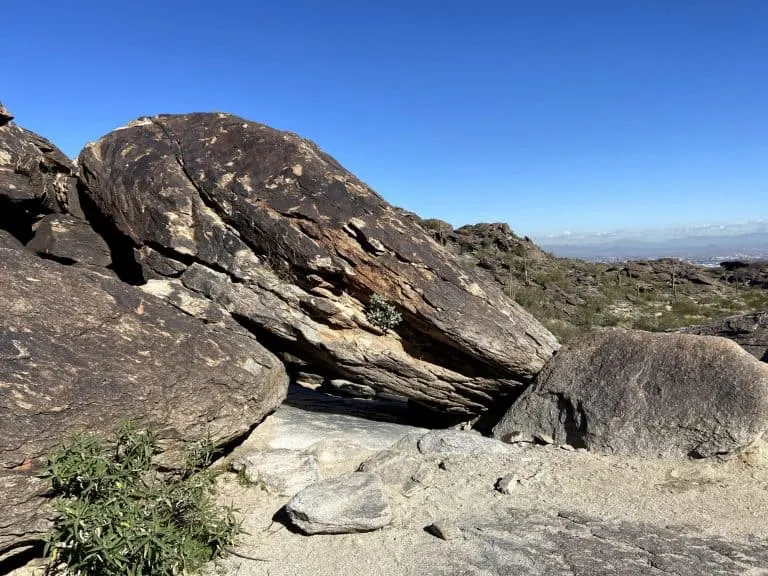 Almost 60 miles of multi-use trails wind over and around South Mountain Park. This 16,000 acres preserve is the largest municipal park in the United States and the perfect place to enjoy some city or desert views from mountain peaks.
South Mountain is one of the most popular places in the valley for mountain biking. Beginners should try Desert Classic Trail, which has wide trails and just the right amount of mild hills. Check out Cactus Adventures at the Arizona Grand Resort for bike rentals.
If your family prefers exploring by foot, you'll love the variety of hiking trails for all skill levels. For views of the Phoenix skyline, take the short but steep trail up Telegraph Pass. Or hike through the Hidden Valley Trail where you'll squeeze through Fat Man's Pass, feeling miles away from city life.
Papago Park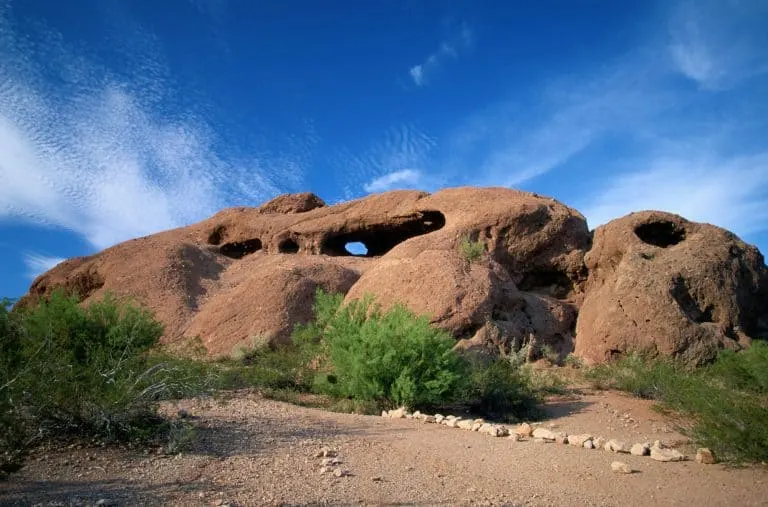 Wander through sandstone buttes surrounded by a variety of cactus, wildlife and desert scenery at Papago Park. The natural beauty of the desert offers a refreshing escape from the rush of downtown Phoenix.
Hike up to the iconic Hole-in-the-Rock, an iconic opening in one of the sandstone buttes. Getting to the hole looks intimidating, but once you walk around the backside you'll see it's actually an easy 0.1-mile hike. Once at the top, enjoy picturesque views of the surrounding landscapes.
In addition to this hike, numerous other trails provide routes to explore by foot or mountain bike. There are also fishing ponds, picnic tables, a golf course, and even an archery range.
McDowell Mountain Regional Park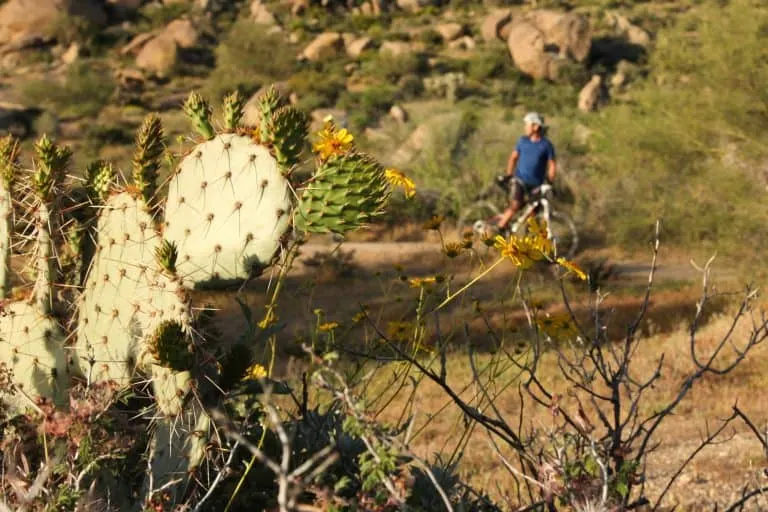 Explore over 40 miles of trails at McDowell Mountain Regional Park. The trails range in difficulty level from a nice stroll to a great workout. Take on the trails by foot, mountain bike, or horseback riding.
The Ringtail and Lost Dog Overlook Loop is a great trail for families. The trail through the McDowell Mountains is well marked with beautiful views along the entire route. The 2.4-mile trail only has a slight elevation gain and will take around an hour or so, depending on how many times your kids make you stop.
McDowell Mountain also has developed campsites for RVs and tents, complete with flush toilets and showers. Camping here is a great way to take advantage of some of the night programs, like night hikes or stargazing, offered by the park. There are also occasional guided hikes and nature programs at the on-site McDowell Nature Center.
Encanto Park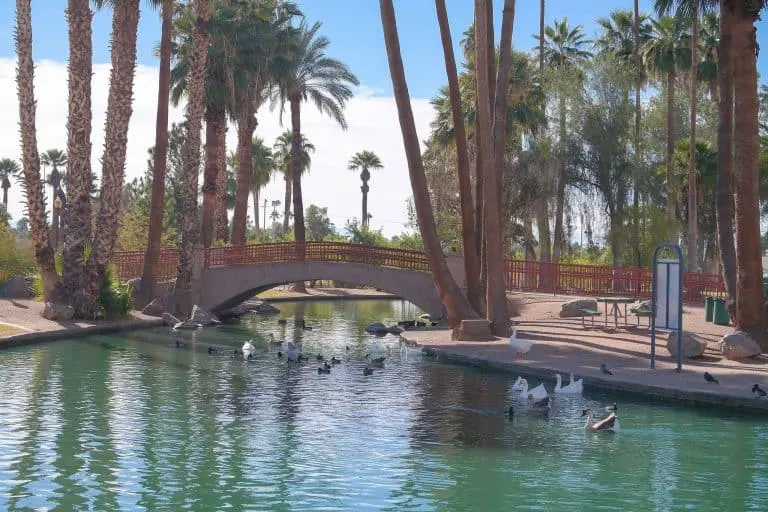 The sparkling oasis of Encanto Park lies just minutes from downtown Phoenix but feels worlds away. Nature trails, golf courses, and picnic areas sprawl over 200 acres of land. In the lagoon, families can ride canoes or pedal boats. There is also a public pool for swimming.
Families' favorite feature of Encanto Park is Enchanted Island Amusement Park. This little park provides children under 10 with hours of fun. Classic rides like a carousel and mini roller coaster enchant little ones and bring back nostalgic memories for parents.
When the weather is warm, cool off in the Splash Zone. Several water features adorn this splash pad. And it only cost $5 for kids to play all day.
Find more amazing parks in Phoenix with our article 15 Best Parks in Phoenix, Arizona for Families.
Tempe Town Lake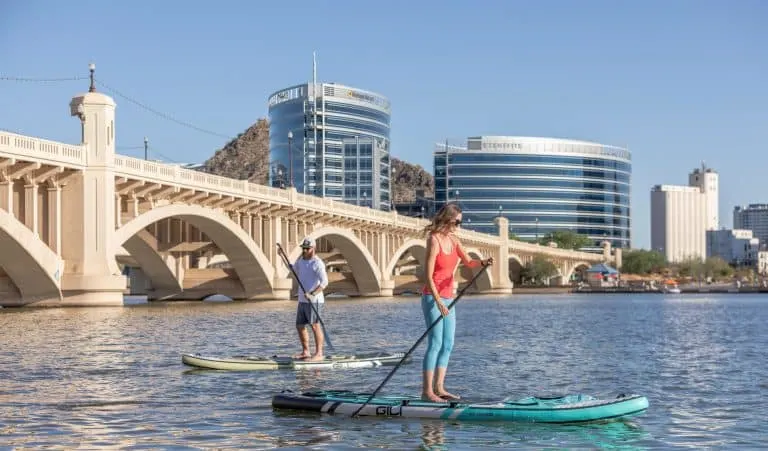 Paddle, ride, or stroll along Tempe's desert oasis, Tempe Town Lake. Boat Rentals of American-Tempe Boat Rentals rents pedal boats, paddleboards, kayaks, and party boats on-site. Surrey bikes are also available here, perfect for bringing the family down the waterfront paths.
Throughout the year, Tempe Town Lake hosts family-friendly festivals. My favorite is the Aloha Festival in March where you can experience Polynesian dancers, music, and food. Another great festival in the fall is the Four Peaks Oktoberfest at Tempe Town Lake, where families enjoy kid activities, a carnival, great food, and performances.
Check out our article, 25 Fun Things to do in Tempe with Kids, to explore more of Tempe.