Nothing's better than a day at the park with kids, as long as the park is amazing. Lucky for you, Phoenix boasts some pretty awesome parks. Here are the 15 best parks in Phoenix and the surrounding area, from city parks with unique playgrounds to regional parks with picturesque hiking trails.
Best Parks in Phoenix Metro
1. Chaparral Park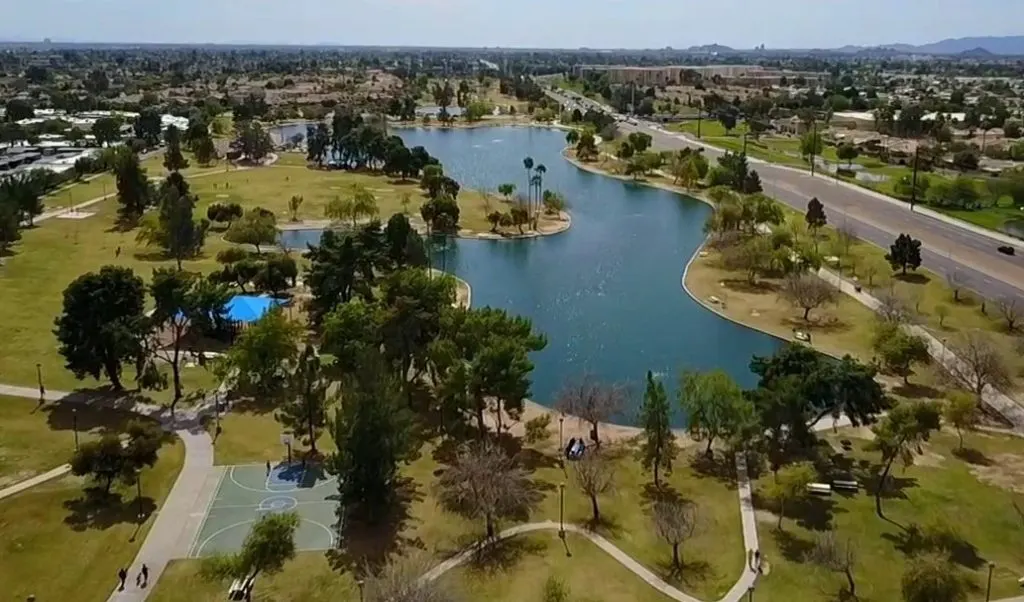 Location: 5401 N Hayden Rd, Scottsdale
Whether you are in the mood for swimming, walking, or playing, Chaparral Park has you covered. A fishing pier positioned on the lake lets visitors try to nab the perfect catch. And the Chaparral Aquatic Center features zero-depth entry as well as lanes for lap swimming.
Bring your four-legged child to enjoy the dog park here. Or get the family together for a game on the basketball or volleyball court.
Explore more of Scottsdale! Here are our favorite things to do in Scottsdale with kids.
2. Desert Breeze Park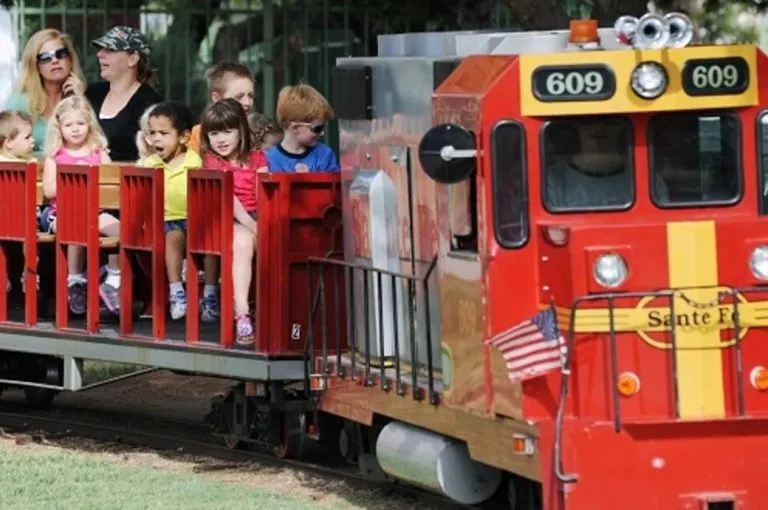 Location: 660 North Desert Breeze Blvd E, Chandler
The popular Desert Breeze Park boasts ballfields, a walking trail, playground, lake, tennis courts, and even a carousel from the 1950s. Swimming and fishing is allowed in the lake. There is also a unique Hummingbird Habitat which showcases Southwestern plants.
The Desert Breeze Railroad offers a fun way to tour the park and operates Labor Day through Memorial Day. Its open air cars are pulled by an 1880's replica engine on the railroad's 3/4 mile loop.
When the summer sun rears her scorching head, cool off at the park's splash pad.
3. Encanto Park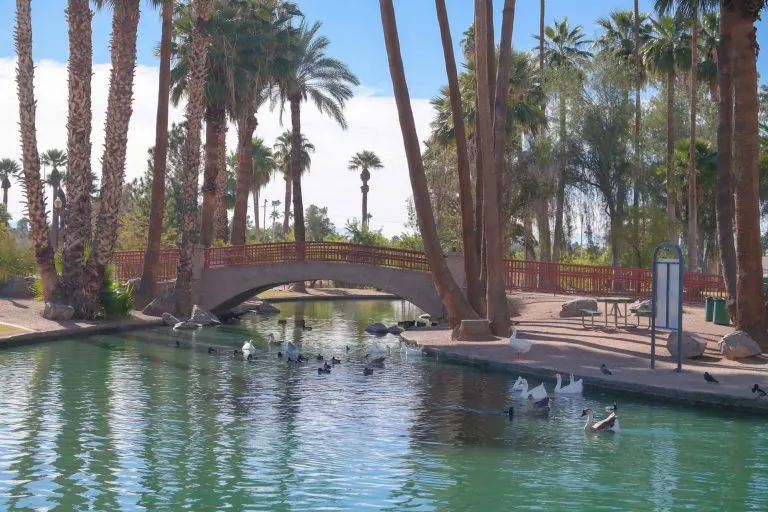 Location: 2605 N 15th Ave, Phoenix
Located just minutes outside downtown Phoenix lies the sparkling oasis of Encanto Park. The 222 acres of land provide picnic areas, nature trails, and even golf courses. Kids love fishing or riding pedal boats and canoes in the lagoon, swimming in the public pool, but especially Enchanted Island Amusement Park.
Enchanted Island offers hours of fun for children age 10 and under. Spend a nostalgic afternoon on classic rides such as the carousel and mini dragon roller coaster.
On a hot summer day, cool down in the Splash Zone. This splash pad has several water features and is only $5 for kids to enjoy all-day access.
Hungry? Check out our picks for the best Mexican food in Phoenix.
4. Freestone Park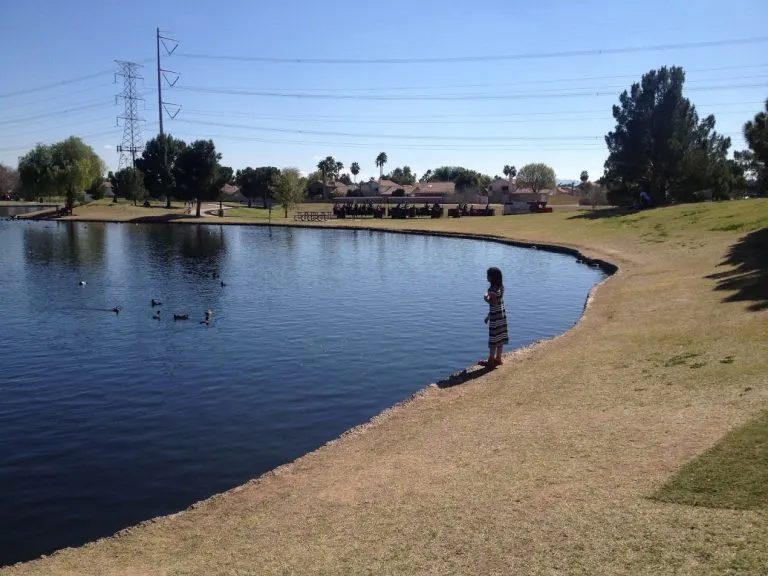 Location: 1045 E Juniper Ave, Gilbert
The 88 acres of Freestone park are bursting with amenities. Families love the skate park, multitude of sports courts (from softball to sand volleyball) and batting cages. There are also three different playgrounds, including one that is wheelchair accessible.
The paved walkway around the lake is a perfect place to stroll on a nice day. You can also fish in the lake as well.
On weekends and holidays (excluding summer), Freestone Railroad operates at the park and offers amusement rides for small children, as well as snacks for all.
Ready for an escape? Check out these amazing weekend getaways from Phoenix.
5. Friendship Park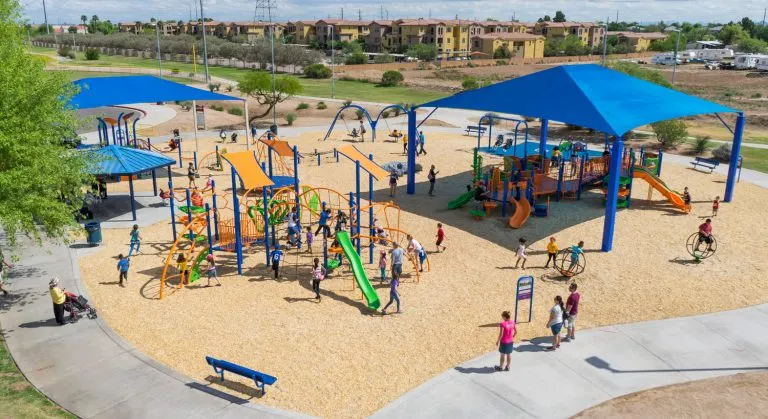 Location: 12325 W McDowell Rd, Avondale
Grab some bird seed and make some new feathered friends at Friendship Park. The ducks and geese love to visit the people who come here to fish or walk around the lake.
A playground, splash pad, and multi-use fields make this west valley park one of the best parks in Phoenix.
6. Gilbert Regional Park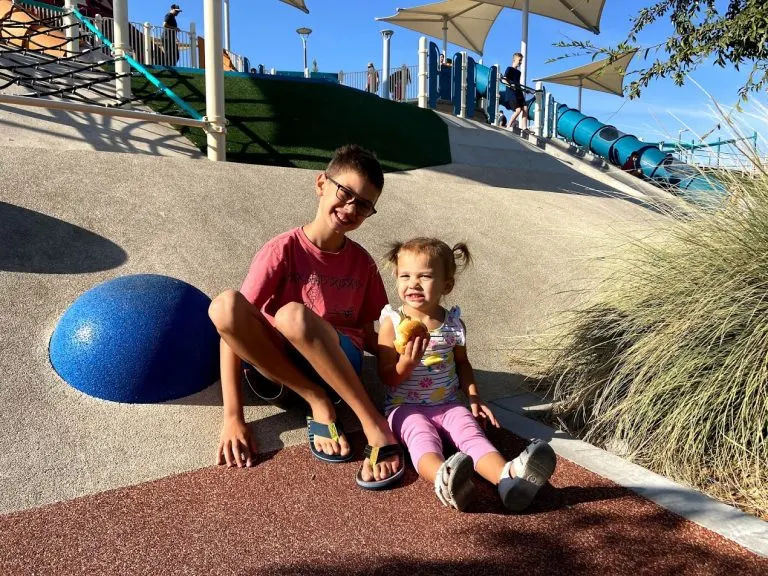 Location: 3005 E Queen Creek Rd, Gilbert
The playgrounds at Gilbert Regional Park entertain families year round. When the weather is nice, enjoy the multilevel playground equipment with unique slides and climbing features.
In summer, the 4,000-square-foot splash pad with over 50 interactive water features keeps everyone cool.
Gilbert Regional Park is one of the best parks in Phoenix for playing sports. Choose from lighted basketball courts, pickleball courts, sand volleyball courts, and tennis courts. The 10-acre event lawn boasts a beautiful performance plaza for city events, or even just a family picnic.
7. Kiwanis Park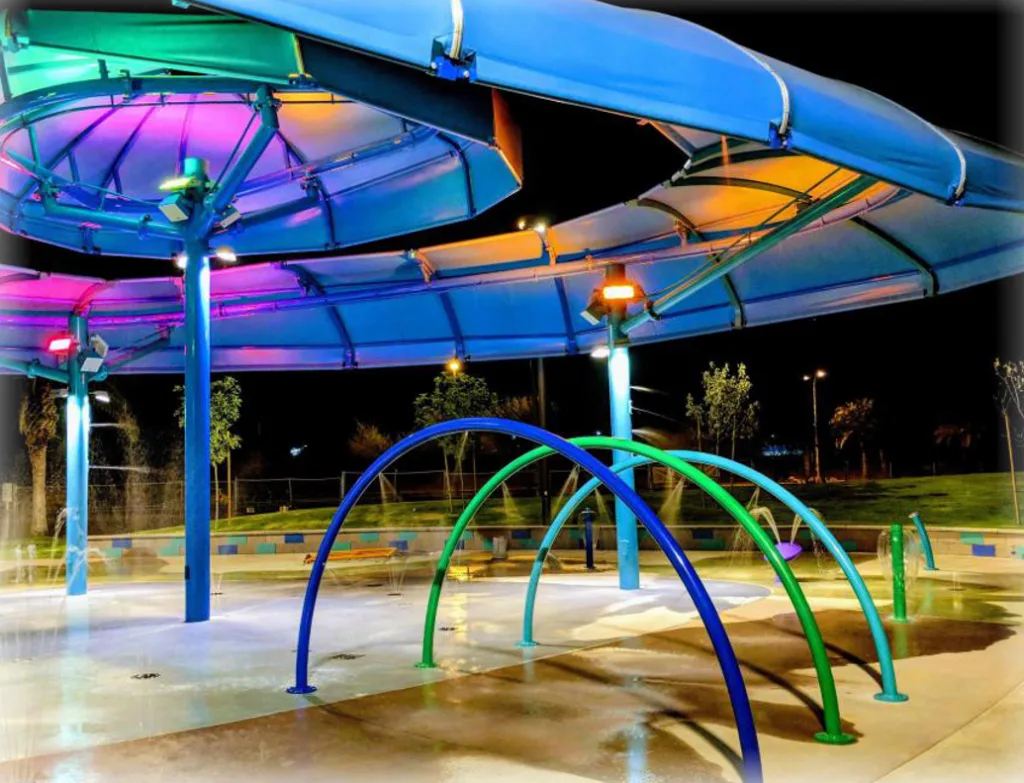 Location: 5500 S Mill Ave, Tempe
Recreational opportunities abound at Kiwanis Park. Play on playgrounds, sports courts, a lake, and even an awesome wave pool.
On a hot day, the park's splash pad, The Cloud, keeps everyone cool. Pedal boat and kayak rentals are available for the lake, as well as surrey bikes to ride around the park.
Explore more of the state. Here are our favorite things to do in Arizona with kids. How many have you visited?
8. Mansel Carter Oasis Park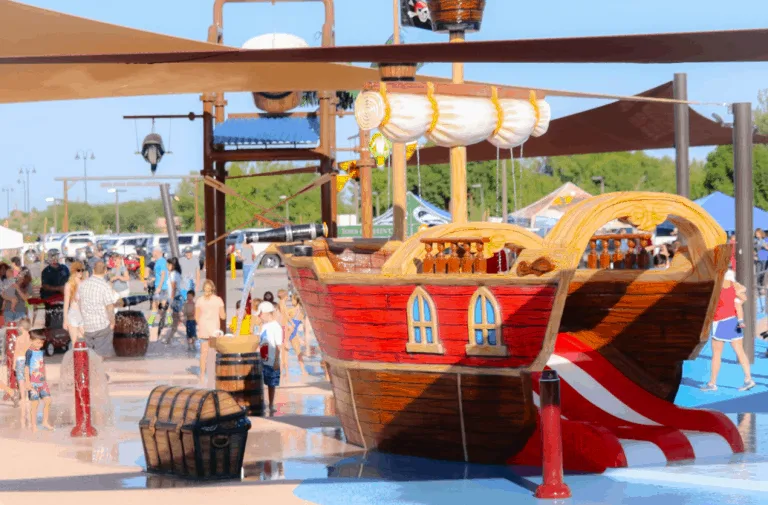 Location: 19535 E Appleby Rd, Queen Creek
The pirate ship splash pad at Mansel Carter Oasis Park may be the most popular splash pad in Phoenix. The climbable ship, animal water sprayers, and huge buckets of dumping water keep families coming back over and over.
Families also love the playground, skate park, and fishing lake. Seating around the playground is limited so bring a chair or plan to participate.
9. Margaret T Hance Park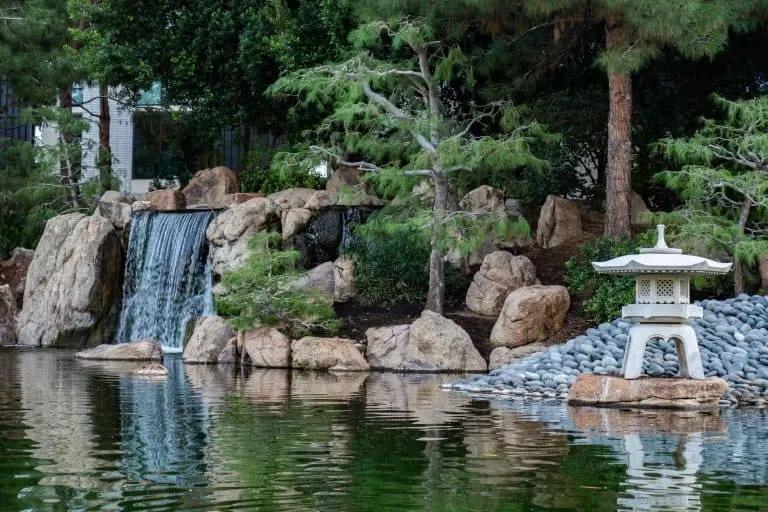 Location: 67 W Culver St, Phoenix
Get out and relax in the tranquil Japanese Friendship Garden located at Margaret T Hance Park. Watch the koi fish swim beneath the 12-foot waterfall as you stroll around the grounds. Or visit the Irish Cultural Center located here to explore a replica of an Irish cottage.
Kid's not feeling peaceful? No problem. Let them climb in a giant rabbit, fox, or owl in the Fiesta Bowl PLAY area. The playground also features webs of ropes to climb, sand, and a dragonfly teeter totter.
In the summer months, a splash pad keeps everyone from overheating.
10. McCormick-Stillman Railroad Park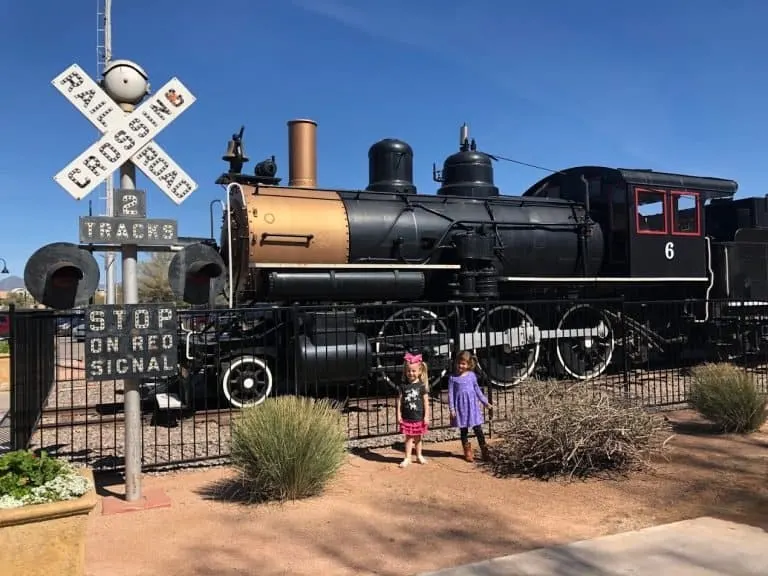 Location: 7301 E Indian Bend Rd, Scottsdale
If you love trains, this is one of the best parks in Phoenix for you. Take a ride on the Paradise & Pacific Railroad before checking out the 10,000 square feet of interactive model trains in the model railroad building. Then climb aboard the historic railway cars that house the Scottsdale Railroad Museum.
On top of all the trains, this park features a vintage 1950's carousel and multiple playgrounds with a water feature. Don't forget to pack a picnic lunch. Plenty of grassy lawns and picnic tables cover the grounds.
11. Papago Park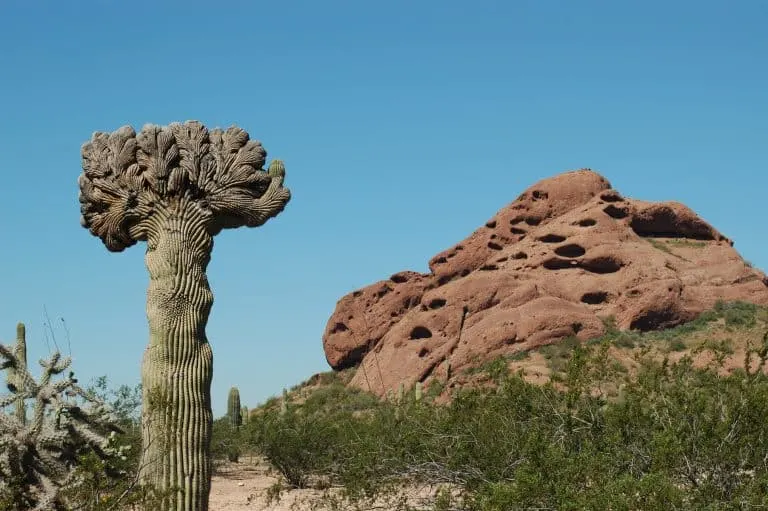 Location: 625 N Galvin Pkwy, Phoenix
There is no better park to combine natural Sonoran desert beauty with outdoor attractions than Papago Park. First hike the short trail to the iconic Hole-in-the-Rock for breathtaking views of the Phoenix Valley. Then choose from more hiking or biking trails, fishing, archery, golf, or just enjoy a picnic.
In addition to hiking trails, Papago Park is home to the Phoenix Zoo and Desert Botanical Garden, both of which made our list of the best things to do in Phoenix with kids.
12. Pioneer Park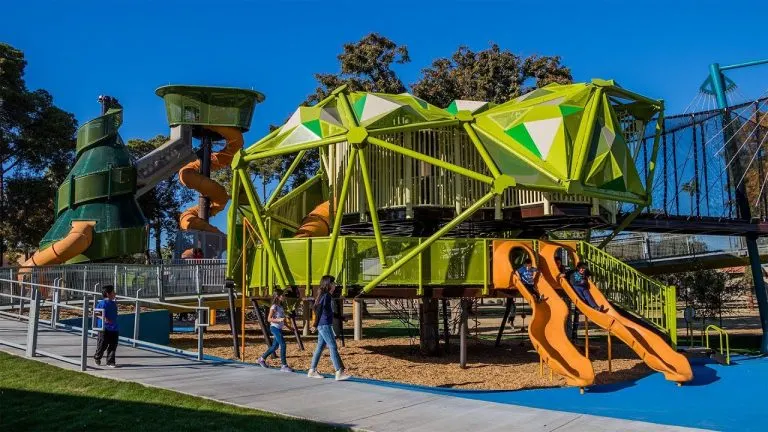 Location: 526 E Main St, Mesa
The treehouse play structure and 15-foot waterfall/splash pad make Pioneer Park unique and super fun. Swing on the 500-foot suspension bridge before climbing around the historic train. Shaded picnic tables and lots of grassy areas make it a perfect place for a picnic.
13. Riverview Park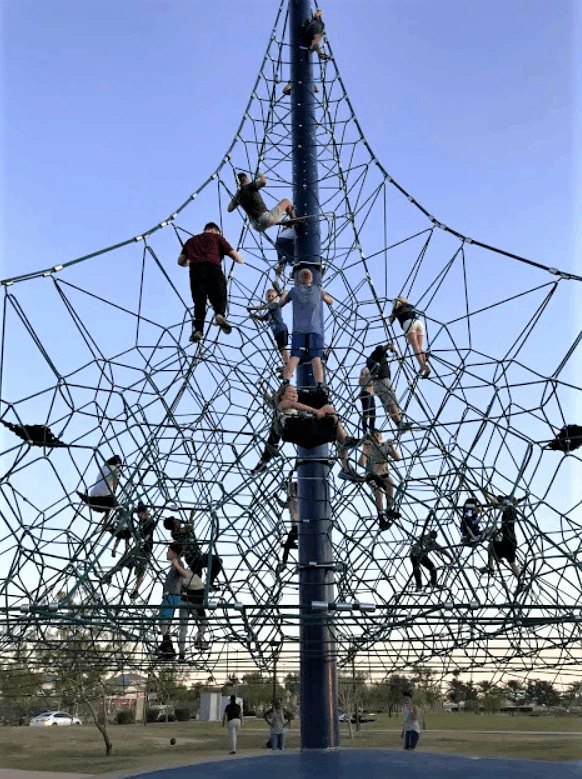 Location: 2100 W. Rio Salado Parkway, Mesa
Riverview Park playground proves that ropes make the best toys with their 50-foot climbing tower and 60-foot long mesh rope climbing structure.
There are also plenty of open play areas, lots of shade covers, and a fishing lake. And of course, because it's Arizona, there is a splash pad.
14. South Mountain Park and Preserve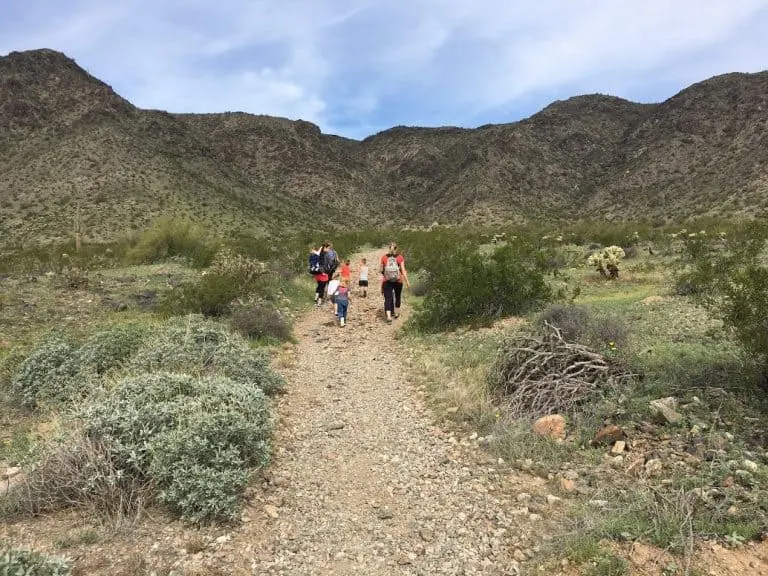 Location: 10919 S Central Ave, Phoenix
Over 50 miles of trails meander through the hills of South Mountain Park. Adventurers can explore by foot, bike, or even horseback. And the trails here span all skill levels, from beginning to expert.
Multiple trailheads provide plenty of parking as well as ramadas and restrooms. Just be sure to bring plenty of water. This park is best enjoyed outside of the summer months.
15. Tumbleweed Park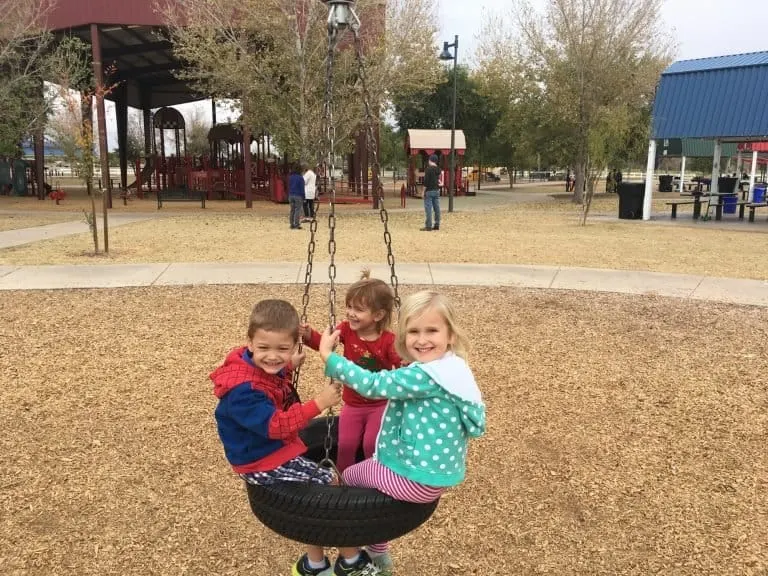 Location: 745 E Germann Rd, Chandler, AZ 85286
Affectionately known by my children as "the farm park," Playtopia! at Tumbleweed Park features themed play areas including city land, critter land, and (you guessed it) farm land.
Kids especially love the zipline and tire swing. Bring scooters or bikes to ride along the bike path that winds around the playground.
In addition to the playground, check out the Tumbleweed Recreation Center for indoor sports courts to use on a hot day. And on weekends, head to the Arizona Railway Museum, located on the southwest corner of the park, to tour historic railway cars.