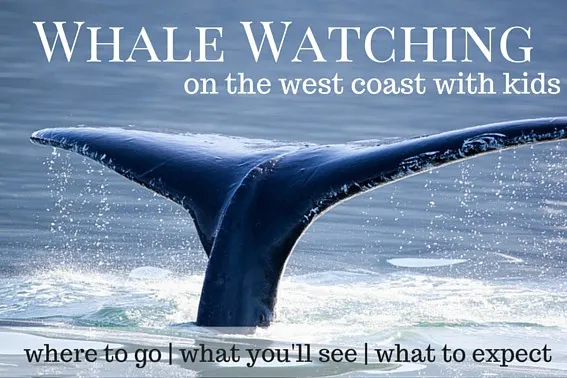 Can you imagine traveling 10,000 miles just to give birth? Gray whales do it every year. After spending the summer in the Arctic, the whales embark on an epic migration as they travel from Alaska's Bering Sea to Baja California's breeding lagoons. As they skirt the North American coastline, we humans hop on boats and kayaks, and peer over cliff edges in hopes of catching a glimpse of these peaceful creatures on their incredible journey. We bring our kids with hope that they will join us in collective awe and respect for nature, learning more in two hours on that boat than they could during a week's worth of science classes. Plus, it's fun! Ready to go whale watching with kids but don't know where to start? Trekaroo's Guide to West Coast Whale Watching with Kids to the rescue! (And be sure to read up on our our whale watching tips at the end of this article.)
British Columbia, Canada
Vancouver Island
When to go and what you will see:
What won't you see?! The Vancouver Island coast, especially the wilder western coast, is filled with wildlife. Families will routinely spot bald eagles, seals, rare sea birds, and plenty of whales. Vancouver Island whale watching is best spring through fall, but orcas can be spotted year round. Don't leave without booking at least one kayak tour as well, in either Tofino or Ucluelet, BC.
See the whales with:
Without doubt the best whale watching operation we've experienced, Remote Passages takes families out on a Zodiac boat onto the beautiful waters off Tofino, BC to spot as many as a dozen whales at a time. Because the boat is so small, even very young kids can see the whales and other wildlife easily, and sea-sickness is rarely a problem. They even outfit you with warm rain-proof suits.
Read our review of Remote Passages.
Majestic Ocean Kayaking: This kayaking and whale watching operation out of Ucluelet has tours for everyone from young families to adventure-seekers who want to spend 2-3 days on the water, camping at nearby islands. Spotting whales from a kayak is a unique experience for school-aged kids!
Read a review of Majestic Ocean Kayaking.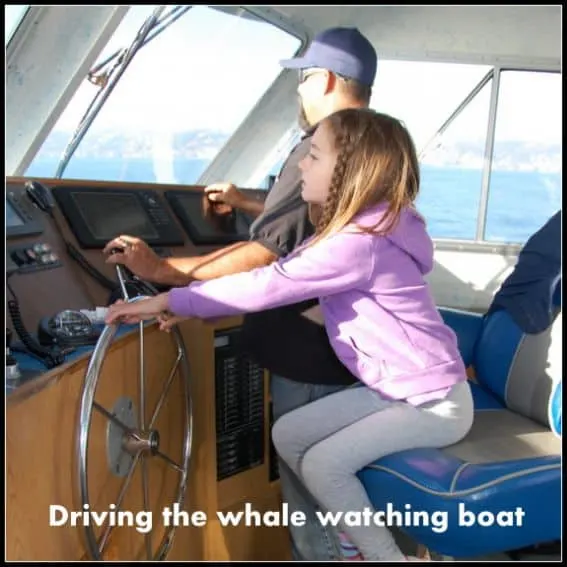 Oregon and Washington
Washington Coast and San Juan Islands
When to go and what you will see:
Orca whales reign supreme in Washington, especially in the beautiful San Juan Islands. If you don't want to hassle ferry schedules, stop at Anacortes, easily accessible from Seattle by car, for whale viewing. If you do travel onto the islands, bear in mind that ferries are affordable, but have limited schedules in the off-season. Most San Juan Orcas are resident whales, so you can see them all year round. Humpback whales and gray whales migrate in mid-March and mid-December.
See the whales with:
Island Adventures departs from Anacortes and is open seasonally (from March-December). Another great option, San Juan Excursions departs from Friday Harbor and also offers sea kayak tours so kids can get up close and personal with additional wildlife.
Learn more about whales at The Whale Museum, also located in Friday Harbor.
Where to stay in Friday Harbor with kids.
Central Oregon Coast
When to go and what you will see:
Gray whales migrate from the cool waters off the shore of BC, Canada to the warm bays of Baja California every December, and return as early as mid-March. This conveniently coincides with most families' winter holidays and spring break school vacations! During both the week between Christmas and New Year and the last week of March, Oregon's Whale Watching Spoken Here program takes place at 26 sites along the coast, from Brookings Beach State Park to Cape Disappointment. Volunteers are on-hand to teach kids about the whale migration and help families spot whales from the shore.
See the whales with:
Known for sportsfishing and crabbing, Tradewinds Charters launches from Depot Bay, one of the best 'launching' spots for whale watching. As the 'whale watching capitol of Oregon,' Depot Bay boasts sightings year round, making this a sure bet for families.
Whale Research Eco-Excursions: Families can join biologist Carrie Newell on intimate whale watching trips in a smaller Zodiac style boat off Depot Bay. Be sure to check out the attached museum before or after you head out!
Learn more about whales and other marine animals at the Oregon Coast Aquarium. Read reviews written by parents who have been there.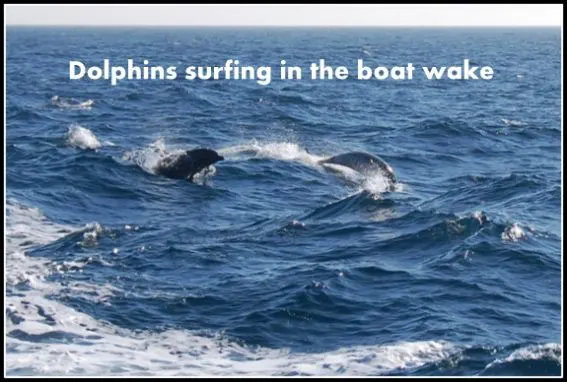 Northern California
When to go and what you will see: Whales can be viewed year-round in Northern California, but due to disparities in their migratory patterns, you'll set eyes on different whales at different times. Coastal Gray Whales are seen in Half Moon Bay from December through May, and San Francisco in late March and April. In the summer and fall, Northern California offers glimpses of Blue Whales, Humpback Whales, Minke Whales, Risso's Dolphin, Pacific White-sided Dolphin, Northern Right Whale Dolphin, Harbor and Dall's Porpoises, California and Steller Sea Lions, Northern Elephant Seal, Northern Fur Seal, Harbor Seal, and Sea Otters!
Redwood Coast
See the whales with:
Humboats Kayak Adventures: Isn't the whole point of whale watching to get as close as safely possible? For the thrill-seeking family, certified professional guides lead kayaking tours along the redwood coast through the protected harbor of Trinidad Bay—and no prior experience is required. Trinidad, one of California's smallest cities, is known for its 10 public beaches. Migrating whales pass so close to the Trinidad headlands that they're easily spotted from shore!
Mendocino Coast
See the whales with:
The California Gray Whale boasts the longest mass migration of any marine mammal and passes by the Mendocino Coast twice each year between the months of November and February and again between the months of February and June. Telstar Charters whale watching excursions leave twice daily and are two hours in length. As the whales are only a few miles from the coast, reaching them is only a 5 to 15 minute boat ride!
Bodega Charters offers whale watching tours from January until the end of April, departing twice daily at 9:00 am and 1:00 pm. Children under 40 lbs. are required to wear a life jacket and it's suggested that you bring your own child vest if you have one as it will probably be more comfortable than one of the boat jackets. In Bodega Bay, it's not uncommon to see the Dall's Porpoise. In 2010, Bodega Charters experienced Blue Whale sightings into September!
San Francisco and San Mateo Coast
See the whales with:
California Whale Adventures: Year-round whale watching tours depart out of San Francisco's Fisherman's Wharf on a 50-foot Coast Guard certified vessel and target the Farallon Islands and/or Point Reyes Sanctuary. California's population of the protected Blue Whale regularly feed near the Farallon Islands in the summer and fall. It's estimated there are only 5k to 12k left on the planet. Trips departing at 8:30am run Saturday and Sunday only, vary 4 to 8 hours in length, and cost $100 per person. Reservations are required. If you're very lucky, you may get to see one of the most famously feared creatures of all, the Great White Shark.
Each year approximately 85% of the world's population of Gray Whales swim from the Arctic to Baja California. For almost 6 months of the year, they can be seen within a few miles of Northern California's shore. During each of the Oceanic Society whale watching cruises, naturalists discuss gray whales and the conservation efforts which have rescued them from near extinction. Cruises are held on board motorized diesel vessels departing from San Francisco (6.5 hours) and from Half Moon Bay (3 hours) every Saturday, Sunday, and on select Fridays from December through mid-May.
April is an excellent time to charter a boat along San Mateo's coast. Female gray whales can be seen swimming slowly close to shore escorting their calves north. Riptide Charters offers a 3-hour tour for up to 12 people departing at 9:00 am and 1:00 pm. Riptide Charters is located at Pillar Point Harbor—the gateway to the San Mateo's Coast—just 25 miles south of San Francisco and 4 miles north of Half Moon Bay.
Monterey and Santa Cruz
Monterey offers four seasons of whale watching, as outlined below:
Spring: Gray Whales, Humpback Whales, Orcas and Dolphins
Summer: Blue Whales, Humpbacks, Orcas, Dolphins, Albatross, Mola, Sea Turtles
Fall: Humpback Whales, Orcas and Dolphins
Winter: Gray Whales, Orcas and Dolphins
See the whales with:
Stagnaro Charter Boats: Whale watching tours depart from both Monterey and Santa Cruz. In Monterey Bay, seven different species of whale, dolphin, and porpoise can be seen year round. In Santa Cruz, Humpback Whales are seen from April through November followed by Grey Whales from December through April. Passengers aboard Stagnaro charters can also peep Sea Lions, Seals, Otters, Sea Turtles, Jellies, Sunfish (mola mola), and even Sharks have been spotted at the surface. Whale, Dolphin, & Sea Life Excursions are 3-4 hours.
Remember the 2004 Mother's Day Cruise when passengers witnessed orca's attack a baby grey whale—that was Sanctuary Cruises—and in 2011 spectators were blown in the face by a whale spout during a November cruise. Sounds to me, if you're in Monterey, Sanctuary Cruises is the place to be! Using biodiesel made from recycled waste vegetable oil collected from Central California restaurants, Sanctuary Cruises is the only sustainable charter boat on the Monterey Bay. Daily departures are at 10:00 am with trips lasting 4-5 hours.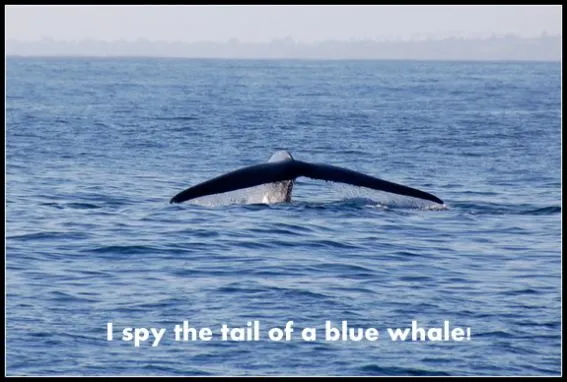 Southern California
When to go and what you will see: During the winter season (late December through early April) whale watchers are likely to see gray whales, dolphins, and sea lions. Fin whales, minke whales and even the rare killer whale sightings are also possible. During the summer season blue whales are the stars; dolphins and sea lions are likely; and fin whales, minke whales, and humpback whales are possible.
Orange County
See the whales with:
Dana Wharf Whale Watching: Dana Point is a hub for whale watching activity. Gray whales use Dana Point, a cliff protruding out towards the sea, as a migration marker on their journey to Baja. Dana Point hosts the Festival of Whales during the first two weekends in March every year. Summer whale watching peaks in August and is a great way to escape any of those Southern California heat waves.
Many people know Newport Beach for its posh and ritzy side but whale watching boats share the same harbor as those 75 foot yachts! Newport Landing is one of the few outfitters in Southern California that offers summer blue whale watching. Catching a glimpse of the largest creatures on earth is a moment you will never forget.
Read more about winter whale watching in Dana Point.
Long Beach
See the whales with:
The great thing about going grey whale watching in Long Beach with Aquarium of the Pacific and Harbor Breeze Cruises is that aquarium admission is included in the package price. Lately, boats have been spotting the second largest animal on the planet, the endangered fin whale, in the waters off Long Beach. After catching a glimpse of some of the largest creatures in the world, head into the aquarium to see Whales: Voices in the Sea multimedia exhibit. Then spend a couple hours peering in the tanks and viewing all sorts of small marine animals that share the same ocean with those gentle giants.
Read reviews of Aquarium of the Pacific written by parents who have been there.
Santa Barbara
When to go and what you will see:
The deep trench between Santa Barbara and the Channel Islands is a favorite route for whales on their annual migrations. Whale watching cruises boast that the Santa Barbara Channel features some of the best whale watching in the world. From December through May you will have the chance of spotting gray whales, sperm whales, orcas, California sea otters, northern elephant seals, Dall's porpoise, and dolphins. May through October, humpback whales, blue whales, fin whales, minke whales, Dall's orpoise, and dolphins are all possible.
See the whales with:
The
Condor Express
posts daily sightings from cruises on Facebook and a typical comment goes something like this, "
Fifteen gray whales, 250 common dolphins, 100 Risso's dolphins, 500 California sea lions, and one bald eagle.
" Year-round cruises take off from Santa Barbara Harbor, but spring is the best time to take kids. The 2.5 hour coastal cruise departs three times daily. Those looking for a to explore the ecosystem further should take the longer, 4.5 hour cruise to the Channel Islands with Condor Express to see the magnificent wildlife in the channel and on the islands.
San Diego
When to go and what you will see:
Good news! You can actually spot whales year-round in San Diego. The best time to see the gray whale migration is between late December and mid-April, with January as the prime month for viewing. If you're hoping to see gray whales from shore, keep an eye out early in the migration season as whales headed north toward the end of spring will swim too far from shore for even binoculars. Over the last five or so years, sightings of finback and blue whales have exploded during summer and fall months, from just a handful to over 1000 spotted each season. At the moment, San Diego whale watching expeditions focus primarily on the gray whales.
See the whales with:

Binoculars: Panoramic ocean views at Cabrillo National Monument's Old Point Loma Lighthouse and Whale Outlook provide prime whale watching opportunities from shore. Staff is available to help spot tails, spouts, and more. During the gray whale migration, a movie about these majestic creatures plays during the day at the Visitor's Center. While you're there, check to see if a whale-related ranger talk is on the day's agenda.
Next Level Sailing: Sure, the price of this tour is a bit higher than the others, but you can bring your own picnic (with adult beverages) and leave your sea sickness fears behind as the famous yacht, America, glides smoothly through San Diego waters. Your ticket includes admission to the Maritime Museum of San Diego, as well.
Designed to be an interactive tour, board the Flagship-San Diego Harbour Excursion boat with questions in tow to be answered by an expert from the Birch Aquarium at Scripps.

Since part of the San Diego Museum of Natural History's mission is to "to inspire in all a respect for nature and the environment," it only makes sense that guests can admire gray whales with museum-trained naturalists in partnership with Hornblower Cruises. They guarantee a whale sighting, boast theirs is the most comfortable yacht in San Diego, and have hot food as well as a full bar onboard.
Maui
When to go and what you will see:
Whale watching season is November through April, when the mighty humpback whale comes to winter in the warm waters surrounding Maui, Molokai, and Lanai. Dolphins are commonly spotted as well. Most outfitters guarantee humpback whale sightings during this timeframe (or your money back!). If you decide to stick to land, favorable vantage points include Papawai Point, McGregor Point scenic overlook, Launiupoko State Wayside, Wahikuli State Wayside, and Wailea Beach Park.
See the whales with:
The Pacific Whale Foundation: Whale watching in bright blue Hawaiian waters. What's not to love about that? We love the Pacific Whale Foundation because their focus is on marine research, education and conservation. The offer a junior naturalist program onboard for kids, making the experience fun for everyone.
Read more about humpback whale watching in Maui.
Good to know before you go
Check deal sites like Groupon or company websites for discounts before you go. Half price bargains are not uncommon!
Pack something to keep little kids entertained. Sometimes there is a long lull in between whales (long in "kid time" at least) and small children are not often content just taking in the views.
Bring binoculars. Whale watching boats need to follow laws designed to protect marine life and keep their distance from the whales. Sometimes whales swim towards the boats, often they don't. While you will be able to see the whales without binoculars, it is always exciting to get the close-up view that binoculars can offer.
Keep your binoculars and camera on a neck strap. Nobody is going to jump into the ocean and save your gear when if you (or your kids) drop it.
Bring cash onboard. Many boats have a small snack bar onboard and a Sprite to cure a queasy stomach is worth its weight in gold. Plus, your guides love (and deserve) tips.
Queasy is my middle name. Heck, I get motion sickness from Ferris wheels! If you or your little have a tendency towards motion sickness, I have some pointers that may help. First, embrace Dramamine or Seabands or whatever homemopathic method works for you. Second, I have found I am much less likely to be seasick if I stay outside on the deck of the boat for the entire whale watching trip. The fresh air and the ability to watch the horizon, especially land on the horizon, help tremendously.
Special thanks to Amy Whitely, Katie Dillon, and Tina Buell for helping put this guide together and being such an important part of our beloved Trekaroo team.
Lead photo by Bigstock/JHVEPhoto; remaining images by Sharlene Earnshaw