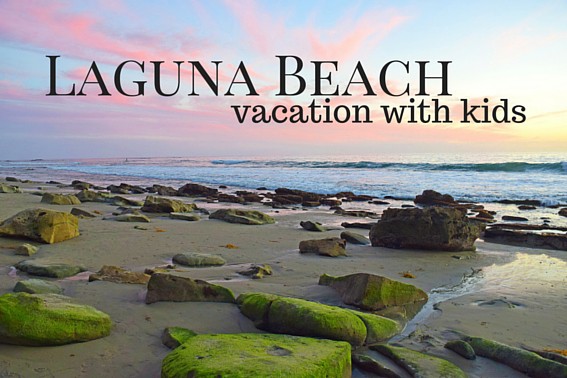 Photo by: Bigstock/TraceRouda
The following post is sponsored by Holiday Inn. 
Do you ever daydream about where you will build your vacation home after hitting a super mega millions lottery jackpot? My fantasy always takes me to the same place. Laguna Beach is a little town in Orange County, CA, with bougainvillea dripping from cliffs, an artsy vibe, gorgeous weather year-round, and beachfront sunsets that take my breath away. My numbers have not yet been pulled by lottery officials so for now, weekends in Laguna Beach will have to satisfy those daydreams. Luckily, I have discovered that real estate aside, Laguna Beach can be an affordable destination for families. Here are my tips on how to have a dream weekend in Laguna Beach with kids without breaking the bank.
Stay Here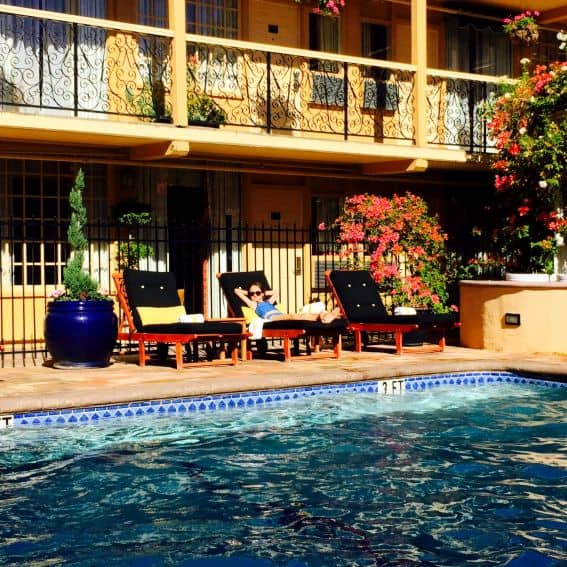 Photo by: Sharlene Earnshaw
Living in Laguna Beach may be a dream for now but thanks to the Holiday Inn, vacationing in Laguna Beach is a budget-friendly reality. Located across the street from the beach and in the heart of all that wonderful gallery-meets-surfer action downtown Laguna Beach has to offer, the Holiday Inn Laguna Beach has a wonderful boutique vibe. Rooms in this Mediterranean-style property face a charming central courtyard, home to a heated pool and inviting gazebo. Guests of this intimate, 54-room property are treated like family by the inn's staff, who always have a wide selection of beverages (my son became addicted to their lemonade) and treats like popcorn available in the lobby. The suite that my family stayed in gave us plenty of room to spread out, and included a fridge and microwave which are always appreciated by families traveling on a budget. A Ralph's grocery store is conveniently located across the street, the perfect place to grab picnic supplies and a bottle of wine.
Read my full review of the Holiday Inn Laguna Beach.
Play Here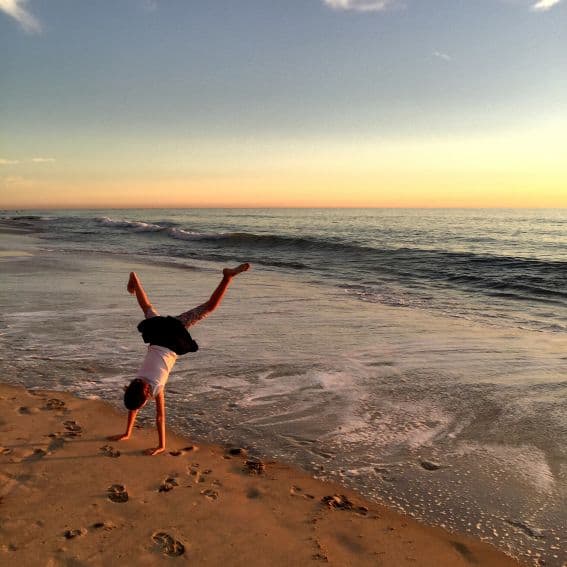 Photo by: Sharlene Earnshaw
The main hub of activity is Main Beach, located across the street from Downtown where Laguna Canyon meets Pacific Coast Highway. The beach is home to basketball and volleyball courts, a newly renovated beach-themed playground, wide expanses of sand lapped by blue-green waters, and incredible views of Catalina Island. Tide pools filled with marine life can be found on the north end of the beach. Round the corner and enjoy the intimate cove before heading up the stairs to Heisler Park. The park is  a great place to enjoy a cliff-top barbecue and take in the expansive views.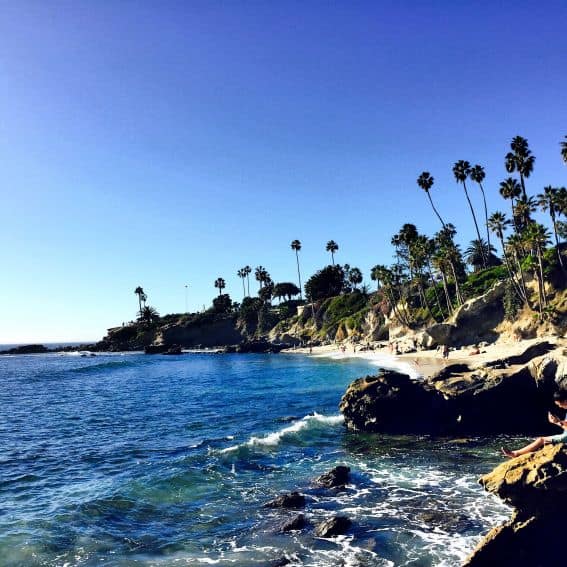 Photo by: Sharlene Earnshaw
If you are in the mood to go beach hopping, climb on board Laguna Beach's free trolley which runs Friday, Saturday, and Sunday year-round. Laguna coastline is dotted with over a dozen beaches, each with its own personality. Shaw's Cove, on the north end of the trolley route, is great for scuba diving and snorkeling. Treasure Island Beach is home to a photo-friendly sea arch. Aliso Beach Park has a fun playground right on the sand and fire pits for those beachfront bonfires. Salt Creek Beach Park, at the far southern end of the trolley route, is a popular spot for surfing and boogie boarding.
Did you know: The waters off the coast of Laguna Beach are on the migratory path of the gray whale, which travels 10,000 miles from Alaska every winter to give birth in warm water lagoons off the coast of Baja? Get the scoop on which local companies we recommend in Trekaroo's Whale Watching with Kids guide.
If you are looking to stretch your legs, Laguna Coast Wilderness Park is situated in rare, coastal chaparral habitat and is a great place to hike. Begin your day with a visit to Nix Nature Center which has hands-on exhibits, rangers to answer questions, and an outdoor scavenger hunt for the kids. After, I suggest heading to the Willow Staging Area to hike up Willow Canyon Trail up to Boomer Ridge, take in the ocean views, and then follow the Laurel Spur over to Sycamore-shaded Laurel Canyon. On your walk, be on the lookout for sandstone caves tucked inside giant boulders and birds of prey soaring in the skies above.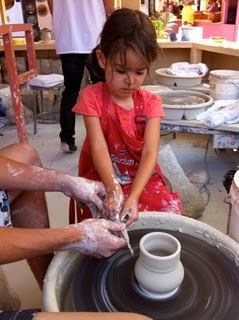 Photo by: Laguna Beach CVB
Of course, no trip Laguna Beach is complete without exploring the city's artistic side. While younger children may not be up for a few hours of quietly staring at incredible works inside the city's multitude of galleries, they can certainly be bribed into window shopping along the main drag with their lips pursed on the straw stuck in a Johnny Rocket's ice cream shake. If you visit during the winter holiday season or popular summer months, be sure to set aside time to visit the Sawdust Festival, where hundreds of artists gather to showcase their work. Children will love the fun (and often free) classes where kiddos can make art projects of their very own under the guidance of experts.
Eat Here
Laguna Beach is home to some impressive fine dining establishments, but when traveling with kids on a budget, a multi-course, 3-hour meal with wine pairings is typically not in the cards. Luckily, the city also has some great tasting, affordable options. Across the street from the Holiday Inn Laguna Beach is Orange Inn, a little cafe that has been popular with locals since it opened in 1931. Orange Inn is a good place to grab a breakfast burrito, THE original smoothie, or a tasty sandwich. Big Fish Tavern has become one of our favorite spots in downtown. Bargains are to be had during the Monday through Friday Happy Hour from 2-7pm, including a sizeable portion of ahi poke for about $7. The children's menu is diverse and includes my daughter's favorite coconut shrimp. Down in South Laguna, we also love the Coyote Grill, a local Mexican food joint with amazing fried chicken- a carryover from decades past. Be sure to request a table out of the patio so you can take in views of the Pacific. Ruby's Diner is a 1940s-themed Orange County staple. The restaurant is known for its hearty breakfasts, wide variety of burgers, and mouth-watering ice cream treats. My personal favorite is the peanut butter cup shake.
Disclosure: The author's family received two complimentary nights at the Holiday Inn Laguna Beach for the purposes of an unbiased review and this blog post. The hospitality was appreciated but all opinions are her own.