New England natives are pleasantly aware of the change in seasons from summer to autumn. Crisp, cool weather replaces the warm, summer season. Ripe pumpkins fill the gardens where strawberries and beans once resided. The most obvious change, however, is the transition of the lush, green foliage to its vibrant fall colors! Pleasing shades of lemon, tangerine, and crimson can be seen for miles flanking the mountain peaks and valleys. Quiet lakes and streams reflect the dazzling hues and pleasant, autumn sun, while the joyful laughter of rosy-cheeked children can be heard jumping into fallen leaves.
If this sounds like the perfect location for an autumn venture, then pack your suitcases and head to the picturesque setting of The Berkshires! Just across the Eastern Pennsylvania border in Western Massachusetts, The Berkshires is the ideal getaway from big city life. Nature lovers will delight in the endless outdoor activities and scenic treks. Families interested in American culture will enjoy the many historical landmarks that can be visited by car or on foot. Your family will adore the laid back, carefree attitude of The Berkshires for a weekend visit or a leisurely mid-week stay. Top notch hotels and quaint bed & breakfasts cater to visiting families, leaving you relaxed and refreshed. Pack your cozy sweaters, some sturdy hiking boots, and don't forget your camera!
The Yankee Inn
The Yankee Inn prides itself on being able to please every taste and budget for families visiting The Berkshires. Located in Lenox, MA, this well-kept and family-friendly hotel has guest rooms ranging from 2 double beds with a seating area and porch to luxurious king canopy suites with working fireplaces. Guests will appreciate the deluxe continental breakfast served fresh every morning.
After breakfast, take a walk out to the back of the property where the wee ones will love the pond and open field to play in, or grab your swimsuits and choose from a seasonal outdoor pool or indoor, saltwater pool.
Accommodating staff is available at any hour to answer questions and tend to requests. Complimentary internet service is available for guests and families staying on property. The Yankee Inn is just minutes away from Bousquets Ski Resort and close to many other local attractions, making it a fabulous choice for families!
Hancock Shaker Village
Families that enjoy American history will be fascinated with Hancock Shaker Village! Built in the 1700's, this well-preserved village and farm of the Shaker community that originally hailed from England allows for visitors to immerse themselves into a simpler time. A comprehensive account of the creation and day-to-day life of Hancock Shaker Village can be viewed in the on-site museum. Self-guided and guided tours are available from April through October and will take visitors through many of its historic areas.
As you journey through the village, your wee ones will see typical duties and daily Shaker jobs such as gardening, animal tending, and artisan crafters demonstrating their handiwork. The schoolhouse has a teacher on duty to show the kids how a classroom was run hundreds of years ago. Don't worry, though! They won't be graded on their work! Free admission for children 12 and under makes Hancock Shaker Village a budget-friendly and educational choice.
Jiminy Peak Mountain Resort
Jiminy Peak Mountain Resort is more than just a winter ski haven! With two restaurants and three lodges, this all-inclusive resort is perfect for a solo fun-filled day or entire vacation! The on-site, three season, aerial Adventure Park has several levels of zip lines and suspended bridges. The star of its Mountain Adventure Park is the alpine slide, a solo rider mountain coaster that weaves through trees and around hills and valleys, all the while allowing the rider to choose his/her speed and thrill level! Summer hiking and mountain biking are also available for active families, and a newly added Segway tour of the property will certainly get you moving! Pleasant, dependable staff members will make your family's safety their number one priority and will let you concentrate on fun!
Mount Greylock
Interested in viewing five states at once? A hike to the top of Mount Greylock will allow you and your family to do just that! Officially titled the highest natural point in Massachusetts at 3,491 feet, a hike to the top of this famous peak will get your blood pumping! Your family will trek parts of the original Appalachian Trail, merging history and nature, on 50 miles of well-marked paths with several levels of difficulty.
Don't worry if your legs aren't up to the task, though. A paved road is available to safely carry you to the top. Fresh air and exercise will undoubtedly work up your appetites, so make a stop at Bascom Lodge at the peak of Mount Greylock, where everything from snacks to sandwiches are on the menu for breakfast and lunch.
Whitney's Farm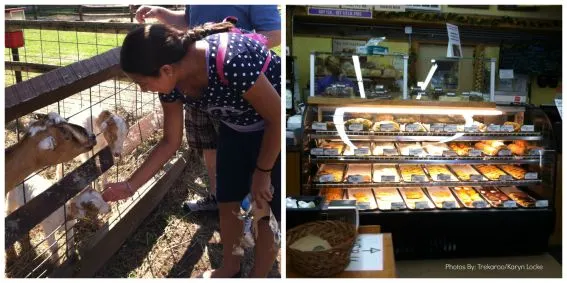 Across the road from the Ashuwillticook Rail Trail is Whitney's Farm, a fun place to take children off all ages! On September and October weekends, Whitney's turns into Pumpkin Fest with blow-up slides, a petting zoo, and a small corn maze. Hay rides are also given to patrons.
Whitney's has a well-stocked farmer's market. Its deli serves seasonal produce and sweets baked on site. Famous for their "grinders", Whitney's made-to-order sandwiches are perfect for lunch or dinner. For families with a sweet tooth, freshly made pumpkin and cider doughnuts will definitely hit the spot!
Ashuwillticook Rail Trail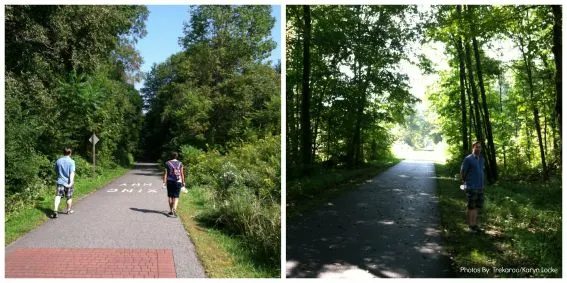 One of the best ways to get out and see the beauty of autumn in The Berkshires is by taking a trek along Ashuwillticook Rail Trail. Once a former railroad corridor, the trail has been converted to a ten foot wide, smoothly paved path perfect for a leisurely stroll or energetic bike ride.
Restrooms and parking lots are available for use along the path for families needing a quick pit stop. A lake along the path is the perfect stop for a quick break or pack a picnic lunch and spend more than a few moments at the serene aquatic vista. Don't forget your camera as multiple species of wildlife have been known to make an appearance!
Disclosure: My family and I were hosted by The Berkshires Visitors Bureau and received a complimentary two night stay at The Yankee Inn, a complimentary one night stay at Jiminy Peak Mountain Resort, and complimentary admission to Hancock Shaker Village. These did not affect my opinions in any way.