Universal Studios Hollywood is home to some of the best rides and attractions in Southern California, but where are the best rides at Universal Studios Hollywood? As a lifelong California resident and frequent visitor of our amazing theme parks, I have the answers!
There are important things to know before you experience all the best rides at Universal Studios Hollywood, and we cover all of that as well. So use this guide to plan your perfect day at this unique theme park that is also a working movie and television studio!
The Best Rides at Universal Studios Hollywood (+ 2 Great Shows!)
Important Things to Know About Universal Studios Hollywood Rides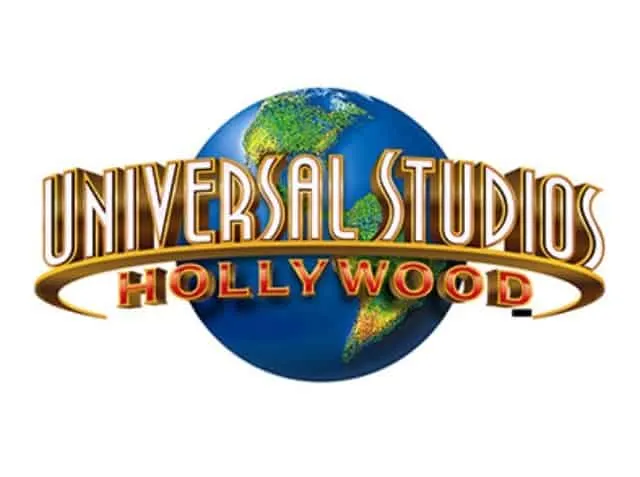 Universal Studios Hollywood is a great theme park to visit if you have school-age children. Unlike Disneyland, there aren't very many options for families with babies and toddlers because almost every ride at Universal Studios has a minimum height requirement.
Thankfully, Universal Studios Hollywood offers the Child Switch program. This program is designed for families who have a child who can't (or maybe doesn't want to) ride an attraction and allows both parents the opportunity to ride without having to wait in line twicce.
Basically, one adult rides the attraction while the other waits with the child in the Child Switch area. Then, the parents switch and the other parent goes on the ride.
Another important thing to know about Universal Studios Hollywood is that it is an actual studio lot where lots of tv shows and movies are regularly filmed. This makes it quite exciting because you never know what you might encounter on the Studio Tour, but it also means that nearly all the rides are in indoor sound stages to reduce noise.
Since being indoors limits the size and scope of the thrill rides, many of them have some sort of 3D motion element to help amp up the fun. If you are prone to motion sickness, you may want to avoid those rides or take Dramamine before you go.
I have been to Universal Studios more times than I can count. And in order to get the most out of your day and avoid spending a long time in lines, I highly suggest making sure you are at the park entrance at park opening.
This means you should be parked at least 30 minutes before the theme park opens because it does take a few minutes to walk from the garage and through Universal CityWalk to the entrance. And always buy your tickets online in advance. Undercover Tourist always has great deals on ticket.
If you have only one day at Universal Studios Hollywood and won't be able to come back for a long time, you may want to consider purchasing the Universal Express Pass which allows you to skip the line once for each of the rides (minus Mario Kart: Bowser's Challenge when it opens). It is expensive but worth it if you are limited on time and want to see and do it all.
And now, without further ado, here is our breakdown of the rides and shows at Universal Studios Hollywood for 2023. And when you get hungry, be sure to check out our guide to the best food at Universal Studios Hollywood.
Visiting during Christmas? Then you won't want to miss our guide to Christmas at Universal Studios Hollywood.
1. World-Famous Studio Tour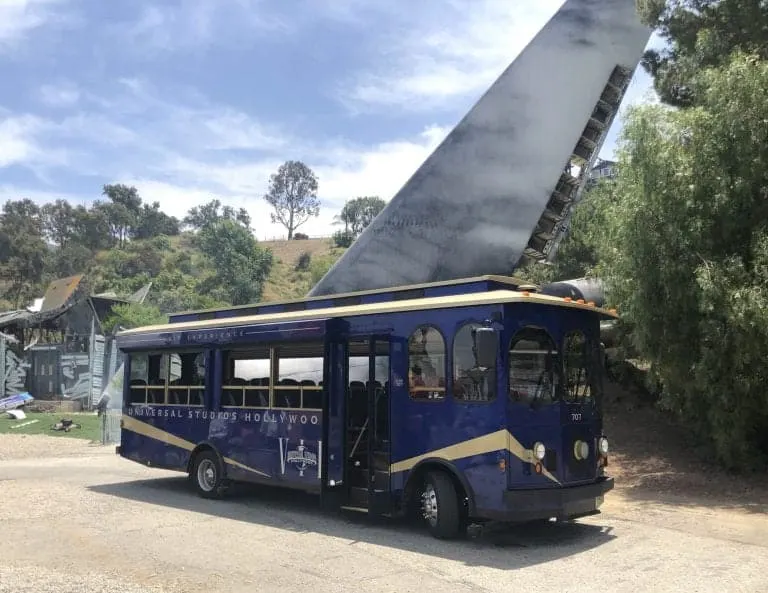 Minimum Height: None
Single Rider Line: No
Universal Studios Florida may have lots of coasters but Universal Studios Hollywood has the World-Famous Studio Tour which is the best attraction at any Universal park.
Why? Well for one thing, you get to see a real studio and will surely recognize some of the permanent scenes from various movies and tv shows you have watched over the years. The 60-minute tour is very entertaining and you may even spot a celebrity filming a scene while you are there!
The shooting schedule can sometimes cut off portions of the tour, but most days you will get to see iconic scenes like the Jaws pond, the airplane crash site fom War of the Worlds, the Bates Motel from Psycho, a New York City scene used in countless films and shows, a flash flood scene, a simulated earthquake in a simulated subway, and much more!
Plus, the King Kong ride and and Fast & Furious Supercharged ride are built right into the studio tour so you don't have to wait in separate lines to experience them like you do at Universal Studio Orlando.
I highly suggest making the World-Famous Studio Tour one of your first rides of the day. We usually hit up Harry Potter and the Forbidden Journey and then book it over to the Studio Tour trams before the line starts getting long.
2. Harry Potter and the Forbidden Journey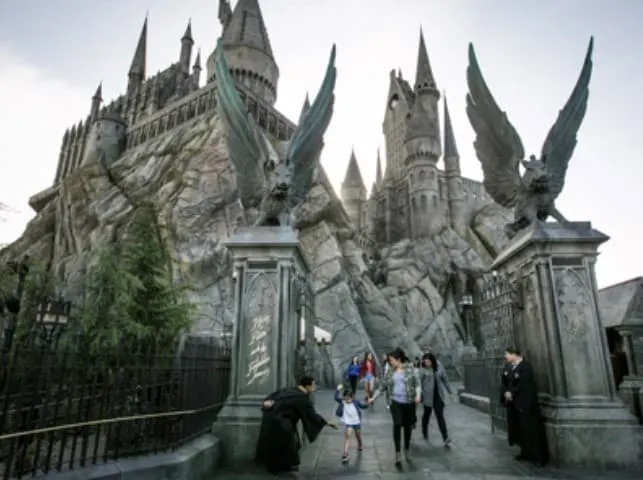 Minimum Height: 48 inches
Single Rider Line: Yes
The best land in Universal Studios Hollywood is the Wizarding World of Harry Potter, which is certainly on par with any themed area that Disney has ever produced. It is magical and you will want to take plenty of time to fully explore every nook and cranny.
The best ride in the Wizarding World of Harry Potter is Harry Potter and the Forbidden Journey. It take place inside of Hogwart's Castle, and even the queue is worth exploring. You will see Dumbledore's office, the Gryffindor commone room, and even a Hogwarts classroom as you wait in line.
The ride includes all sorts of the 3D scenes from the Harry Potter series where you will follow Harry on his broomstick through Hogwarts while encountering giant spiders, a steam-blasting dragon, and even the dreaded Dementors! The ride vehicle you are in will twist, turn, drop, and spin a bit along the way. It isn't a coaster but it is thrilling.
Harry Potter and the Forbidden Journey uses a combination of moving ride and 3D technology, so if the 3D bothers you, you may want to close your eyes in parts. This is a ride you will want to experience at least once! I haven't met anyone who doesn't love it.
3. Revenge of the Mummy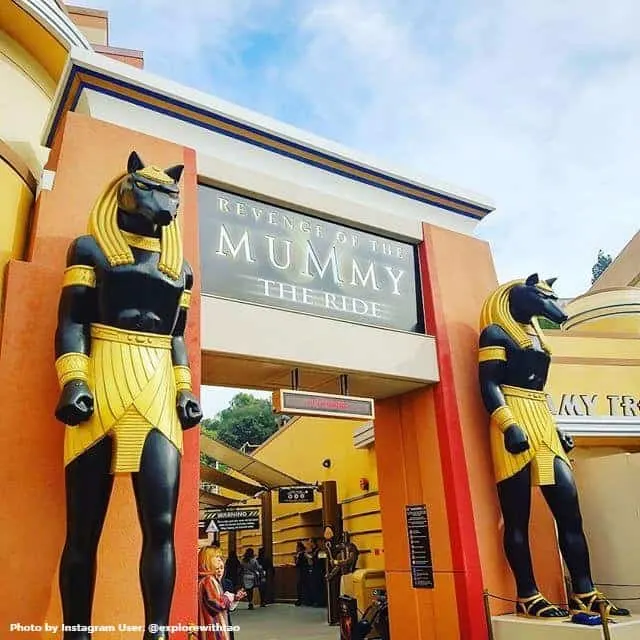 Minimum Height: 48 inches
Single Rider Line: Yes
The Revenge of the Mummy is a coaster ride themed after its namesake movie franchise. It is shorter than the version at Universal Studios Florida, but still lots of fun. This ride reaches speeds of 45mph, making it the fasted ride in the park.
My kids love the launch and the thrills resulting from the immersive theme. Riders board a mine cart which zips around an archaeological dig in an Egyptian tomb that has been cursed by the mummy. There is even a portion of the ride that goes backwards!
4. Jurassic World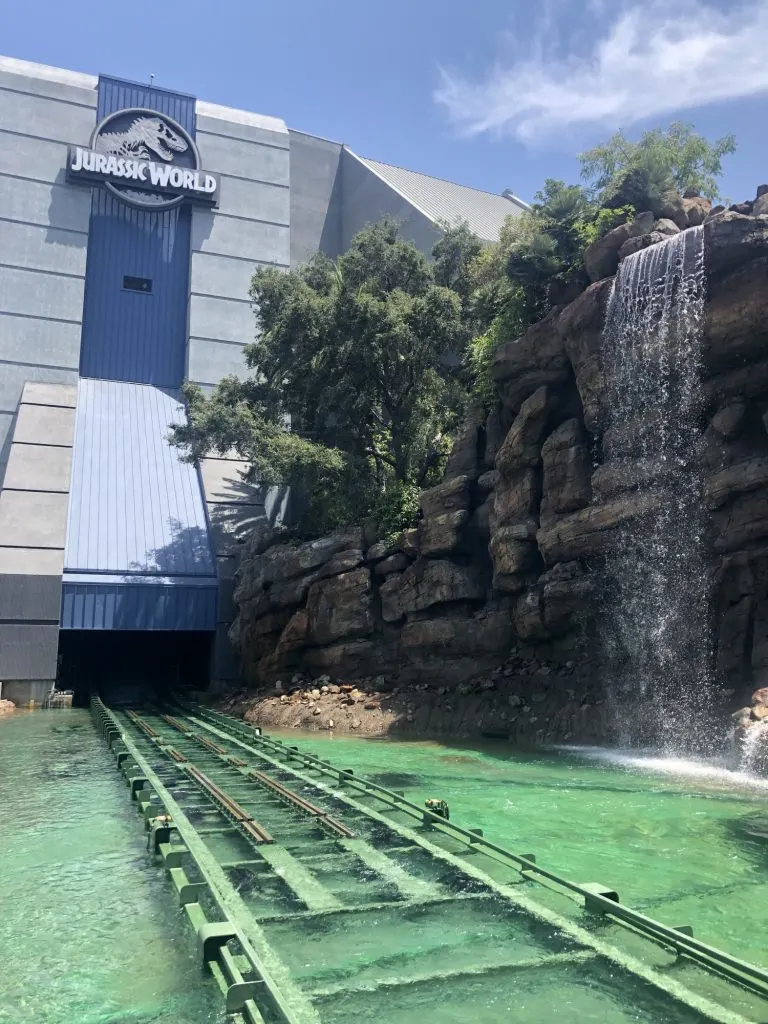 Minimum Height: 42 inches
Singler Ride Line: Yes
In 2018 the original Jurassic Park ride at Universal Studios Hollywood got a makeover to become the new Jurassic World ride.
This is the only water ride inside the park, and it beloved because of the dinosaur theme which appeals to all ages. The layout of the ride is basically the same as the original, but the dinosaur animatronics are more advanced and realistic, and there is a new screen section at the beginning of the ride which is pretty cool.
This ride does involve a big drop at the end which will get you wet, so it is very popular during hot days.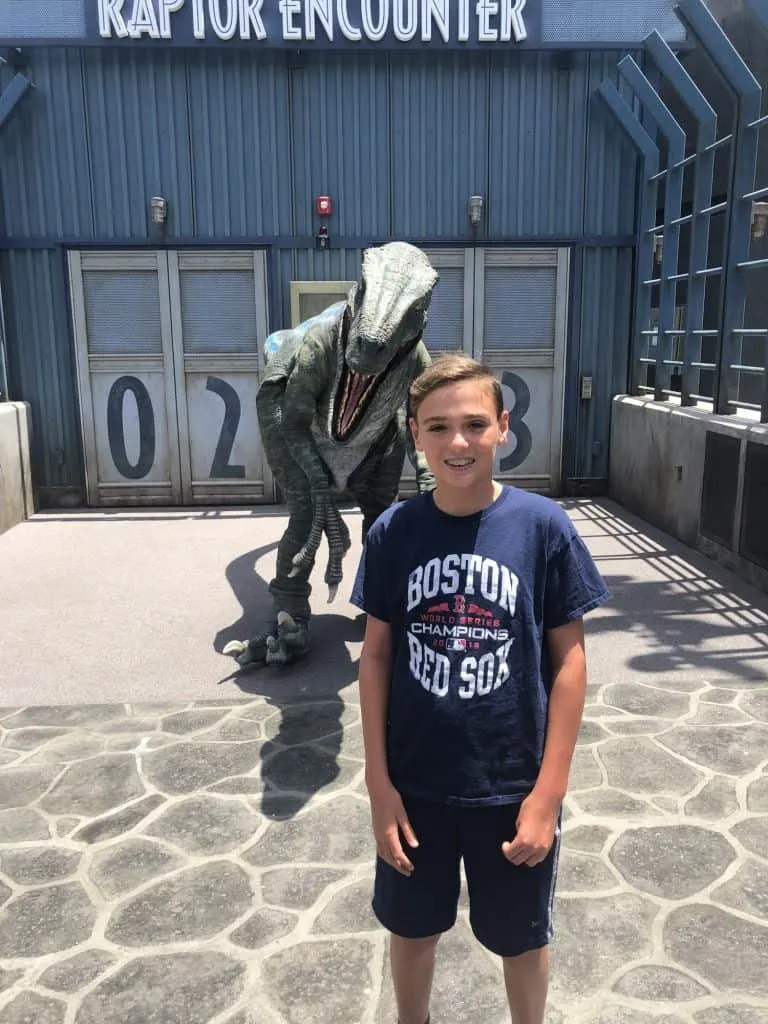 There is a Raptor Encounter out in front of this ride, as well as a DinoPlay area to keep little kids entertained while the older kids in your group are in line for the ride.
5. Mario Kart Bowser's Challenge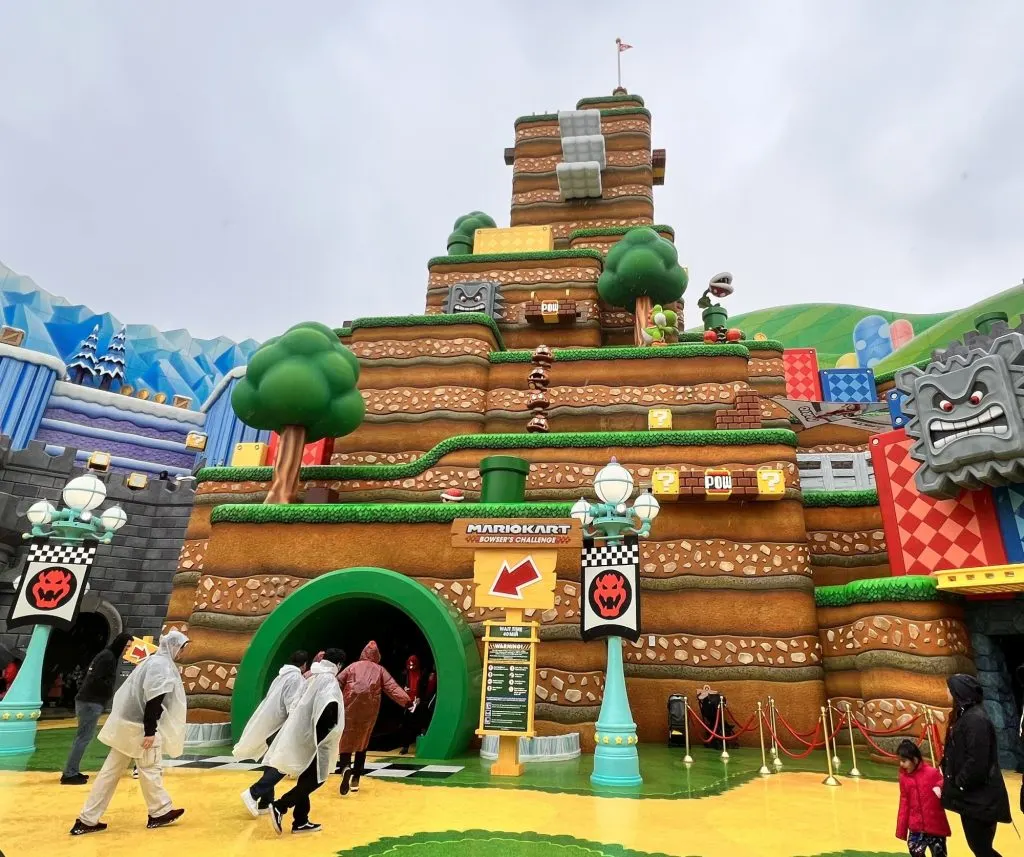 Minimum Height: 40″
Single Rider Line: Yes
The newest are in Universal Studio's Hollywood is Super Mario World and the newest ride is Mario Kart Bowser's Challenge. It is a new and innovative ride that puts you behind the wheel in a Mario Kart Race. Compete as a team and individual in this cutting edge video challenge.
You are invited to race through a variety of settings from the clouds to the sea, to try to win the gold cup for your team! The ride is both a physical cart you work to steer and a virtual video game overlay.
The queue is just as fun as the ride itself. Look for the seemingly endless Mario Brothers' Easter eggs and fun memorabilia throughout the line. Be sure to check the sample cart outside the line for size restrictions.
6. WaterWorld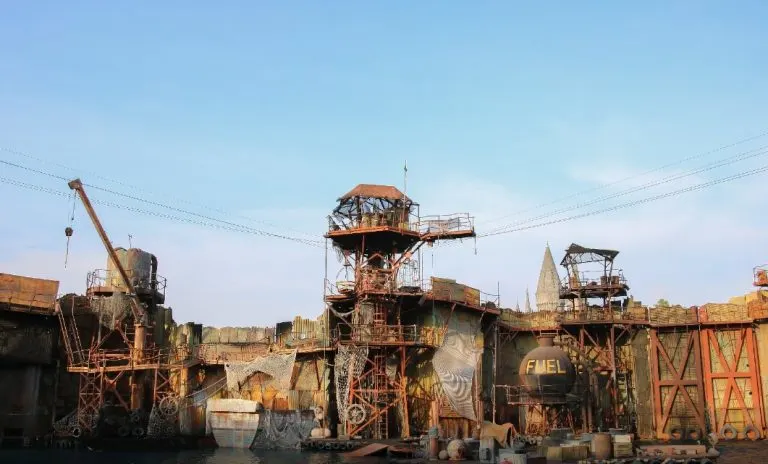 Minimum Height: None
Single Rider Line: No
I believe the WaterWorld show at Universal Studios Hollywood is the best show at any theme park I have visited (and I have been to A LOT of theme parks). It is an incredible stunt show that should definitely be a priority for every visitor to the park.
The stunt show is based on the infamous film with a massive budget that was considered a flop when it came out 25 years ago, despite making $264 million. It is performed by Hollywood stunt actors with impressive credits who ride jet skis, fall off buildings in spectacular fashion, engage in stage combat, and survive a multitude of explosions.
I don't want to spoil the ending but it is a climax worthy of a Hollywood film. If you don't want to get wet from the jet skis, make sure you sit outside of the splash zone.
7. Simpsons Ride
Minimum Height: 40 inches
Single Rider Line: No
Universal Studios Hollywood has not only a Simpsons Ride but an entire Simpsons Land! Fans of the beloved franchise will get a kick out of visiting the Kwik-E Mart, having a beer in Duff Gardens, and grabbing a Krusty Burger to eat.
The Simpsons Ride is a 3D motion-simulation ride which takes you through Krusty the Clowns midway which has been taken over by his former (now evil) sidekick, Sideshow Bob. Leave it to the Simpsons to save the day!
8. Transformers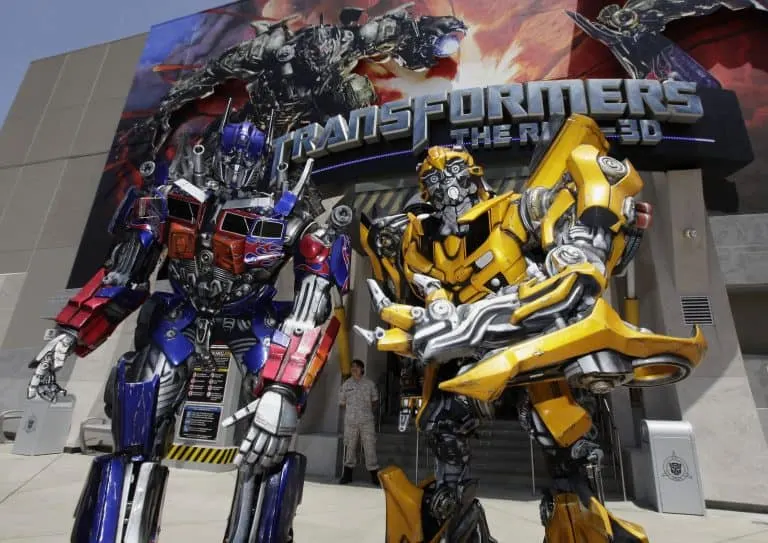 Minimum Height: 40 inches
Single Rider Height: Yes
Located on the Lower Lot near the Revenge of the Mummy, Transformers: The Ride 3D uses flight simulation technology to put riders inside the story of Optimus Prime battling to protect the AllSpark.
This ride utilizes a track as well as 4D technology, with heat and splashes of water adding to the immersive experience. It is a more intense ride, and those prone to motion sickness might have issues with the 3D screens combined with the ride motion.
9. Special Effects Show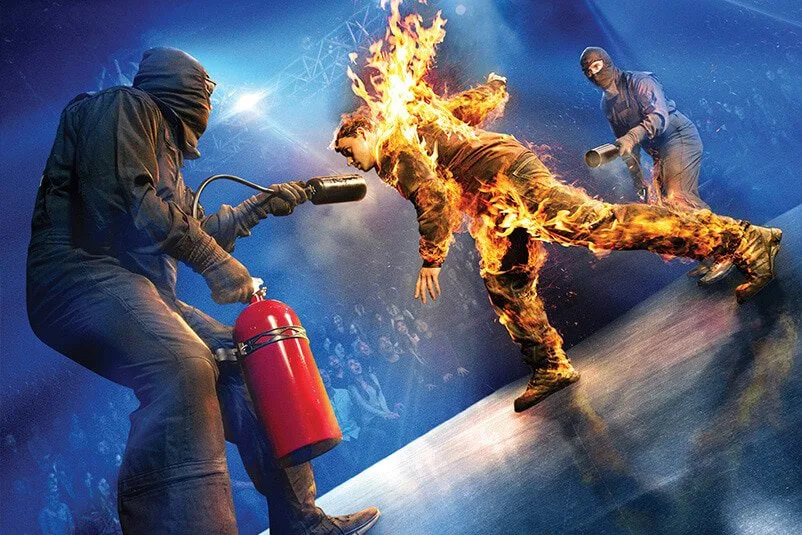 Minimum Height: None
Single Rider Line: No
The Special Effects Show is a great reminder that Universal Studios is first and foremost, a movie studio, and they have developed very creative technology over the years to bring these movies to life. This show does vary but expect lots of humor, interesting factoids, crowd participation, and cool special effects being demonstrated.
10. Secret Life of Pets: Off the Leash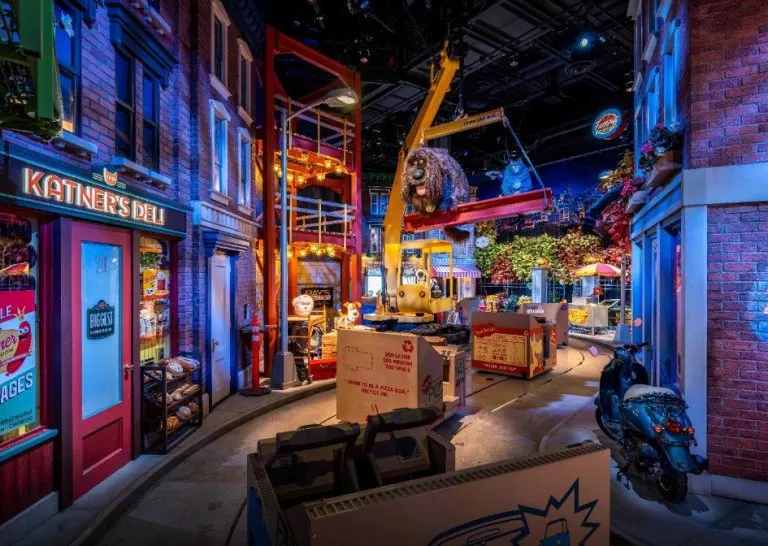 Minimum Height: 34 inches
Single Rider Line: No
One of the newest rides at Universal Studios Hollywood is Secret Life of Pets: Off the Leash which is based on the movie of the same name.
This ride is going to appeal to younger kids while still entertaining the older folks with its cute displays. It has an immersive and detailed queue which helps riders get familiarized with the story. Riders will be assigned a puppy which has the goal of getting adopted.
During the slow-moving ride you hop inside a "cardboard box" and try to make your way through New York City to get to the adoption fair and find a forever home. The ride is very cute and a nice break from some of the more adrenaline-packed attractions.
11. Flight of the Hippogriff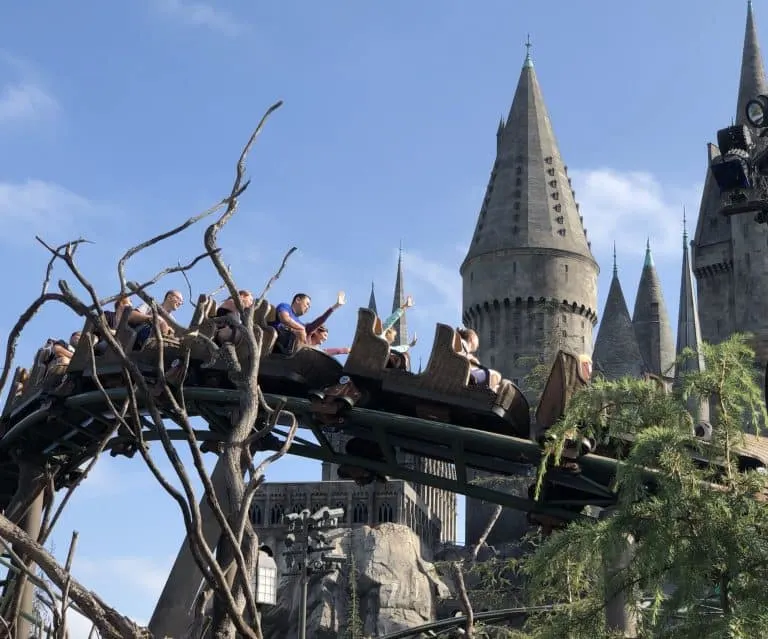 Minimum Height: 39 inches
Single Rider Line: Yes
Flight of the Hippogriff is a great "first coaster" for kids who are new to the world of thrill rides. They will appreciate that they can see exactly what the ride looks like from the queue.
This coaster is in the Wizarding World of Harry Potter and themed after the Hippogriff, a magical creature with the head and wings of an eagle and the body of a horse. The creature swoops and dives, just like the coaster.
The ride would actually be rated much higher if it wasn't so short! The track is less than 1,000 feet in length and feels like it is over right after it begins. I wouldn't bother waiting in line for more than 30 minutes for this attraction.
12. Dispicable Me Minion Mayhem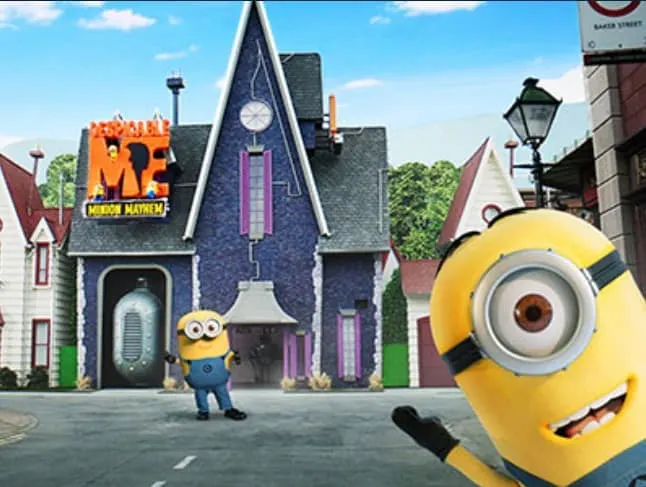 Minimum Height: 40 inches
Single Rider Line: No
The Minions have become quite popular over the years, so it is no surprise that Universal decided to give them their our ride- Despicable Me Minion Mayhem.
In this ride Gru invites riders into his house to do some minion training but it is quickly revealed that his evil plan is to turn us all to minions! Thankfully, Edith, Agnes, and Margo are there to help save the day.
This is basically a 2D motion ride, with moving seats and a screen filled with action. Little kids love this ride so it is a shame that the height requirement is so high.
13. DreamWorks Theatre Featuring Kung Fu Panda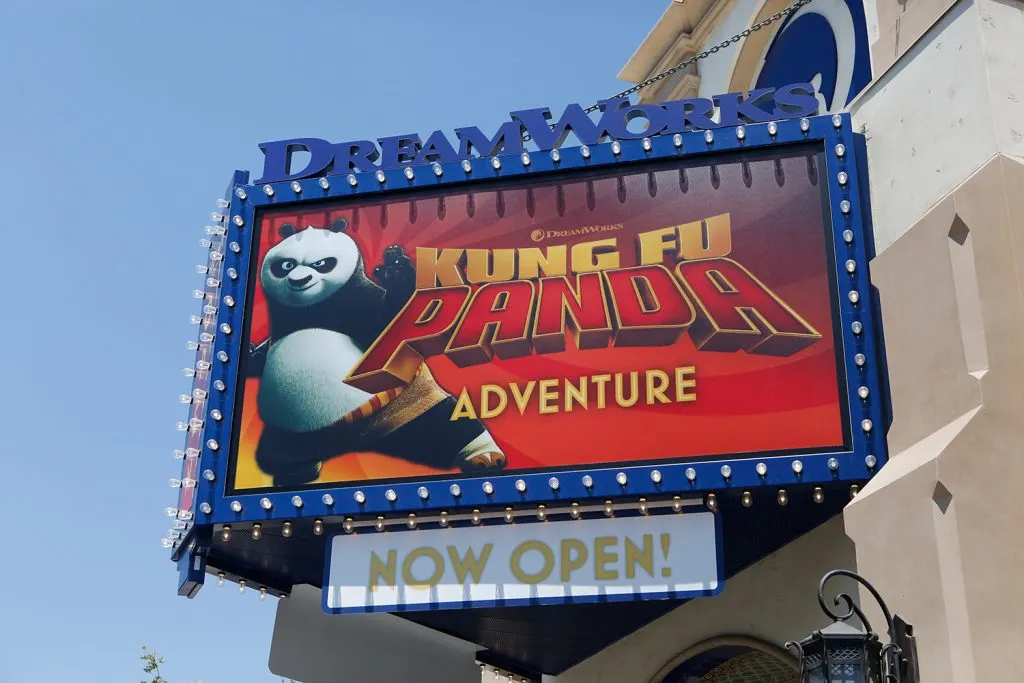 Minimum Height: None
Single Rider Line: No
This is not really a ride, it is a theater featuring a multi-sensory attraction starring Kung Fu Panda. The seats move to go along with the action on screen (a bit like the Jimmy Fallon ride at Universal Orlando) and the 360 surround sound helps add to the immersive experience.
14. Silly Swirly Fun Ride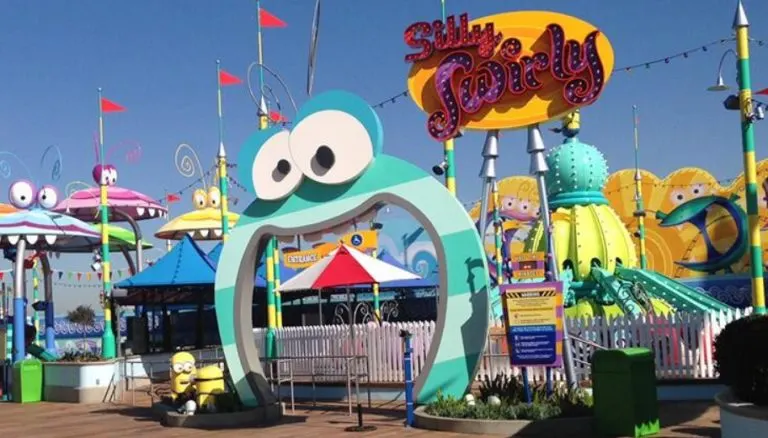 Minimum Height: None
Single Rider Line: No
Another ride with a Minion theme is Silly Swirly Fun Ride. This ride is for younger kids and doesn't have a height requirement, so it is a good place to bring the little ones while the older members of your group are on a bigger ride.
The ride has 12 different ride vehicles that are connected to a center spoke, just like Dumbo and Astro Orbitors at Disneyland. It goes in a circle and allows you to enjoy views of Super Silly Fun Land all around you. The ride is cute, but certainly not ground breaking.
Want more SoCal theme park action? Check out our picks for the best rides at Disneyland and the best rides at Disneyland for toddlers.