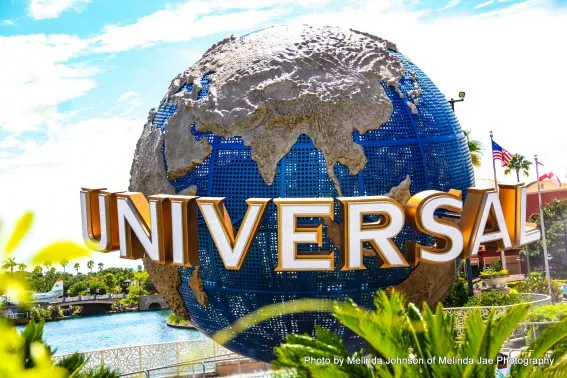 As a family we don't get out to a lot of amusement parks. Our family travels tend to take us to National Parks and foreign countries, but an opportunity to travel to Universal Orlando Resort came up that we couldn't turn down. Everything was new to us, but we eventually found our way and have some advice for other first timers like us! Explore these frequently asked questions in this handy first-timer's guide to Universal Orlando with kids.
Where should we stay when visiting Universal Orlando?
Loews Hotels has amazing resorts and facilities for families with a variety of options only minutes from the parks including the Loews Royal Pacific Resort, where my family stayed. Considering everything I know now, I don't think I would even consider staying off-site for future trips. Each hotel has a different theme, amenities, and price level that will suit every family! Transportation is fantastic with Water Taxis, Resort Shuttles, and beautiful walking paths to get you to the heart of the action in minutes! The selection of onsite restaurants is vast and there is even character dining! The pool at the Royal Pacific is amazing but one of the best perks is that you can go to all the other onsite hotel's pools with your room key – including the new Loews Sapphire Falls Resort which boasts the largest pool onsite and a water slide!
The very best two perks in my opinion? All onsite hotels give you early admission into the Islands of Adventure and Universal Express Passes are included with your stay at Loews Royal Pacific, Hard Rock Orlando, and Loews Portofino Bay which can cost more than $89 per person per day. Those benefits alone make staying onsite worth it!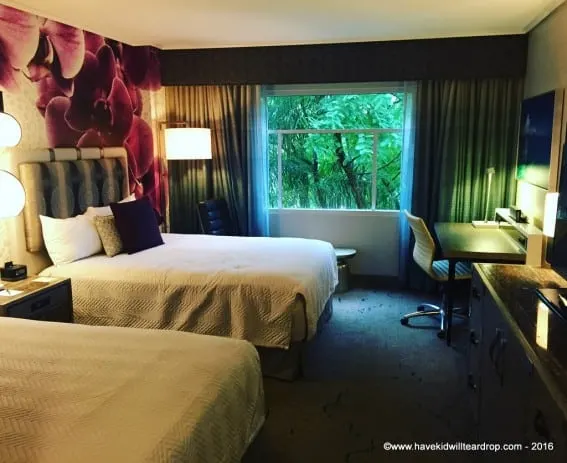 Need a break during your kid-centric getaway? The Loews Royal Pacific, Hard Rock Orlando, and Loews Portofino Bay each have a child care room available for kids ages 4-14 (the littlest kids need to be potty-trained to join in the fun). Reservations need to be made and there is a fee, but kids get to hang out with other kids, play and watch movies while you enjoy a hot meal! If this isn't a good option for you, the hotels can help you arrange alternative babysitting services.
You can read more about the hotel guest benefits of staying onsite at Universal Orlando's hotel website.
How long should we make our trip to Universal Orlando?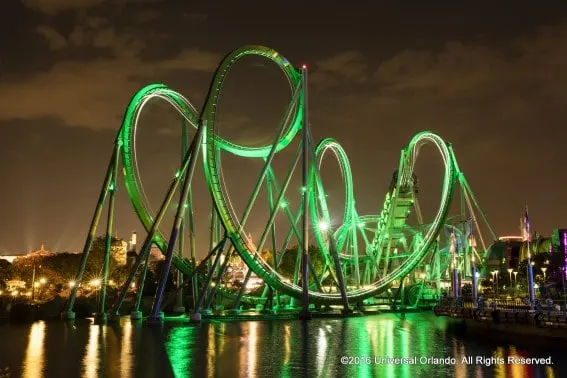 Knowing how long to make your trip to Universal Orlando will really depend on your family and what you are up for. We had a 3-day pass to the parks, and with our love of roller coasters my family felt we were able to do everything we wanted to in that time. Having the Express Pass included in our stay allowed us to get on rides a little quicker than we would have otherwise and we were able to ride all of the roller coasters we wanted to multiple times. Those express passes are worth every penny!
What's the deal with park tickets, Express Passes and the VIP Tour?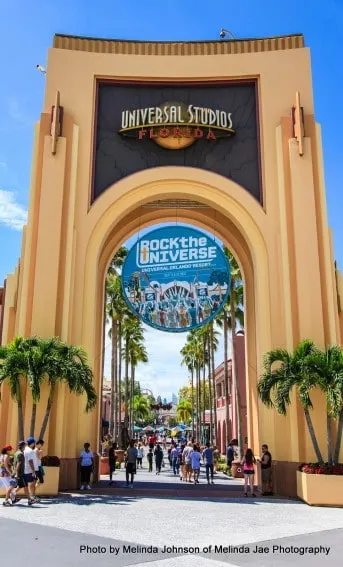 Park Passes. Park Passes can be purchased when you book your room, online for a slight discount, or at the park the day of your visit. We booked ours when we reserved our room. Right now there are two theme parks at Universal Orlando Resort and you can decide if you want a 1-day/1-park ticket or a 1-day/2-park ticket. There are many multi-day passes to check out as well and this can save you a bit of money too. I would encourage folks to consider getting the 2-park pass though if you plan to ride the Hogwarts Express. This ride runs between the Islands of Adventure and Universal Studios, which was a big deal for us as we are HUGE Harry Potter Fans. I also liked the variety of mixing up our activities between the parks in a day. Summer 2017 will bring a third theme park called Volcano Bay which will be an onsite water park and that will definitely change things up! (We were given a sneak peak during our visit and it looks amazing!)
Explore all the park pass options for Universal Orlando.
Express Passes. OK, so you keep hearing me mention Express Passes. If you are staying at the Hard Rock Orlando, Loews Royal Pacific, or Loews Portofino Bay hotels, Express Passes are included in the cost of your hotel. During busy times, this can make a huge difference in wait times, cutting them in half in most instances. If you are not staying at one of those hotels, Express Passes can be purchased and they have a variety of options. If you are doing the 2-park passes though and you want to use it unlimited times the cost starts at $89 per person. We went on rides multiple times so the unlimited pass was important for us and really paid off on those busy weekends where wait times could be over an hour for many of the most popular rides.
Read up on all the Express Pass options at Universal Orlando.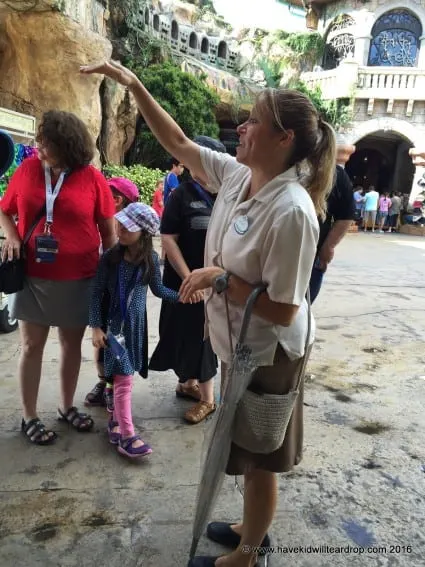 VIP Experience. Want something really special? I think we ruined my husband forever with this! The Universal VIP Experience is an incredible way to learn about the parks, have an amazing lunch, and go through the back door and walk straight onto the rides without waiting in line at all! Your VIP guide will customize your tour so you can pick and choose what you want it to look like and which rides you go on. My husband hates to wait in line, and he hasn't stopped raving about this experience. We were in the parks during a busy summer weekend, but we were able to ride everything we wanted and we were given the inside scoop about the parks. The tour included lunch which was an all you can eat buffet style lunch in a private restaurant just for VIP Experience guests. This incredible experience will run $199+tax for the 2 parks per person (and you need to buy a park pass on top of that).
Read more about Universal Orlando's VIP Experience.
So, when should my family go to Universal Orlando?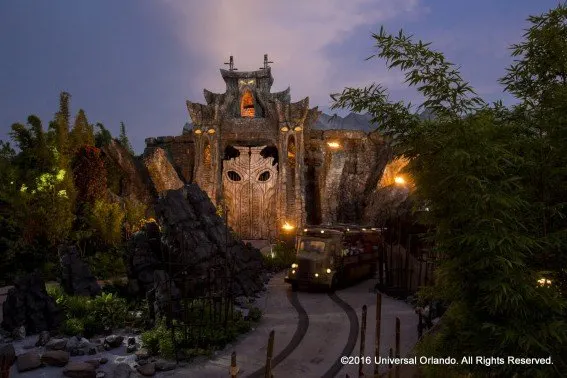 Due to the amazing climate in Florida there is really no bad time to visit Universal Orlando Resort! The busy season runs during summer and over the Christmas week (from 23 Dec-1 Jan) when all of the kids are out of school and families are making the most of their vacations! Wait times get really long and there will be lots of people. If you want to go during the holidays the weeks leading up to Christmas/New Year's tend to be quieter and you will still get to experience Grinchmas and all the décor. Special events draw lots of people to the parks such as the Halloween Horror Nights, Macy's Day Parade, and Mardi Gras concerts.
We have young children in our family, are there things for them to enjoy at Universal Orlando?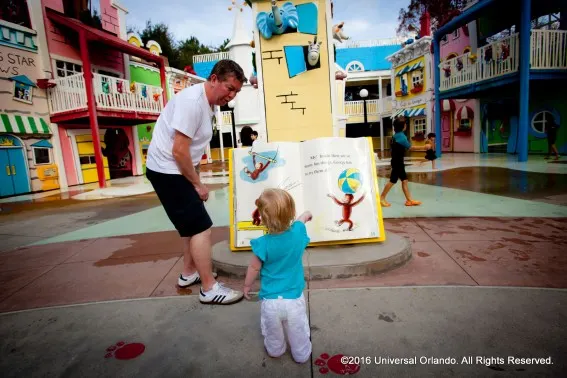 There sure are! First of all kids under 3 get free admission to the parks and there are several areas they can enjoy in both Universal Studios and the Islands of Adventure. A few ideas to get you started are "If I Ran the Zoo™," "Me Ship, the OliveSM," and "Camp Jurassic®" which can all be found in Universal's Islands of Adventure®. On the Universal Studios side you will have "Fievel's Playland®" and "Curious George Goes to Town™" in Woody Woodpecker's KidZone. Many of these areas have water play including splash pads, small water slides, and water squirters so you might want to bring swim suits and towels. We spent a good amount of time in the ball room at the "Curious George" area, which is fun for older kids too! There are lockers all over the place that you can use if you need to put things away while you have fun on rides.
Suess Landing in the Islands of Adventure is a great place for the youngest visitors to play as well. There are shows, the "Caro-Seuss-el," and "One Fish, Two Fish, Red Fish, Blue Fish" that are great for the smallest visitors.
If the kiddos want to do rides, most of them start with a minimum height requirement of 36 inches. Some of the ride themes might be a little scary for kids who are right around the 36" tall though, especially "Skull Island: The Reign of Kong." "Woody Woodpecker's Nuthouse Coaster" would be a great first roller coaster as would the "Flight of the Hippogriff." Both have a minimum 36" height requirement. The E.T. Adventure ride is also awesome for the 36"+ crowd and is the only ride left from when the park originally opened.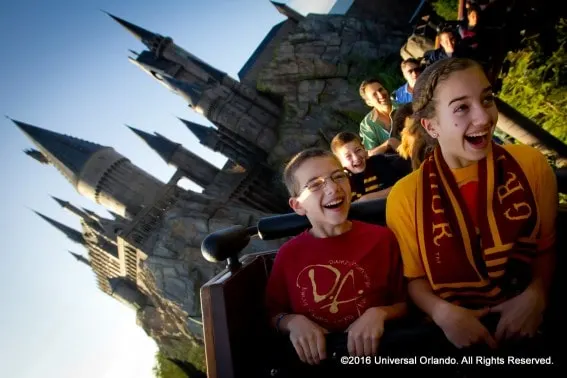 If your kids don't quite reach the height minimums and can't ride the ones they hope to, you can ask for a special ride certificate from the park. It is a certificate that promises when they come back and they have grown tall enough to ride they can skip the line and get right on without waiting. Amazing!
Ok, great, but is there child-swap for the big rides?
YES! Each ride at Universal Orlando has a child-swap room where kids who are unwilling or too small to ride can wait with a family member while the others ride. There was usually a TV in the room with cartoons to watch and nice benches for everyone to sit on while they waited. Often the windows look out to where the ride loads and unloads, so kids can watch their family take off and return!
Is there anything to do at Universal Orlando other than the parks?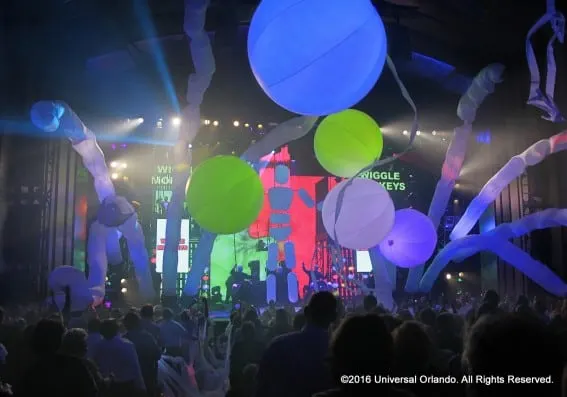 If you want a really fun family experience the Blue Man Group performs shows at their theater in Universal CityWalk. During the summer they offer two shows a night. My son absolutely loved the show and there were kids of all ages in the audience. This is a family-friendly all inclusive show that will have you rocking in the aisles! It can be loud, so ear protection is a good idea if kids are sensitive. CityWalk also offers other entertainment and dining options for when you are out of the parks.
Any last tips you found helpful?

We decided to download the Universal FL app for our phones. It is available free for iOS and Android-based phones. This app helped us figure out wait times for rides and told us more about them, provided a map so we knew where rides and restaurants were located, where lockers and restrooms were located, and more. You can even set "Wait Time Alerts" so when the wait times get down to a more reasonable wait for you, it lets you know to come over! It updates frequently so you stay up to date on everything! We found this app helped us plan our day the best possible way: we got the most out of the parks and we could change course quickly too!
Want to add my favorite places to your own personal guide for visiting Universal Orlando? Check out my Favorite Universal Orlando Destinations and click "Add to Guide" to start creating your travel-planning guide.
---
Disclosure: We want to thank Family Forward, Mom It Forward, Universal Orlando Resort, Loews Hotels, and Blue Man Group for making this trip completely amazing for me and my family. All opinions are always my own.
Featured photo by: Bigstock/navintar