A few months ago my sister-in-law asked me if I might be interested in a trip to the Philippines. Her mother's family is from Luzon Island (the island where Manila is located), and I knew a trip to the Philippines was not something this adventurer wanted to pass up. After talking it over with my husband, my son and I packed our bags, boarded our flight, and were off on an amazing two-week adventure with my sister-in-law and her family.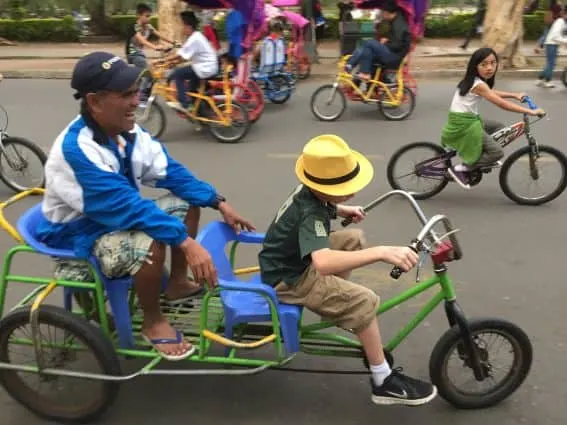 We did so many activities and fell in love with the Philippines during our time abroad! We rode in tricycles, Jeepneys, and banana boats, we ate really delicious food (oh the mangos!), and we checked out a few "once in a lifetime" experiences as well. Here are some highlights of our time exploring the Philippines with kids!
Things to do in Manila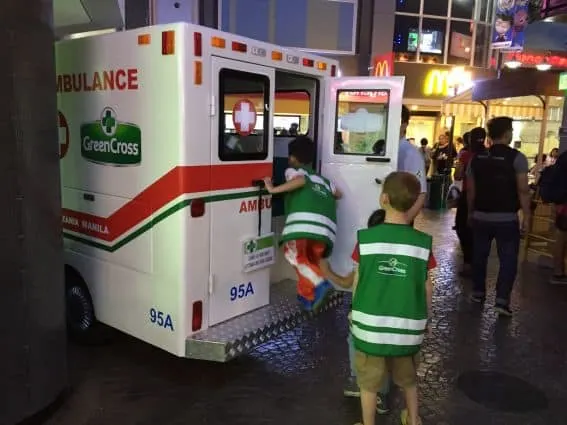 Kidzania Manila is an amazing place where the entire world is scaled down to "kid-sized" and run (essentially) by kids. The whole place is sponsored by real world businesses where kids go in and "work" for 20 minutes at a time and earn Kidz Bucks (which they can later use to buy souvenirs at one of the stores in Kidzania). Like the real world, it has working transportation and currency systems and kids get to pick where they want to "work." Jobs range from fire fighters to making hamburgers at McDonalds. Parents are not allowed into the training sessions or to do any of the work, but can watch through big windows. This ensures the kids do everything themselves which is incredibly empowering. Nearly everything was done in English making it easy for westerners to participate. This was something our guy talked about for the rest of the trip!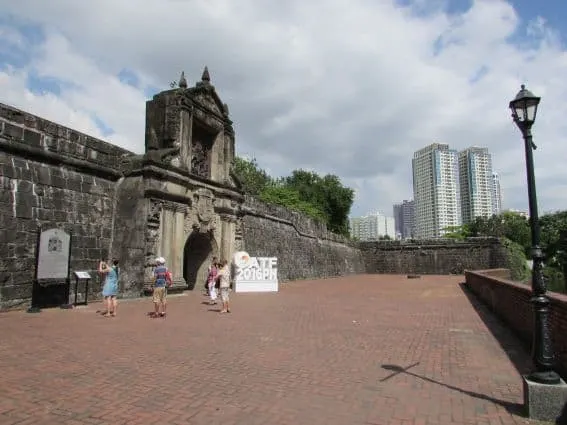 Manila has a long, rich, and turbulent history, and you can learn even more about the history at Fort Santiago and the Old Spanish Walls. This is a particularly old part of the city where you can view the old Spanish ramparts and explore the wall that surrounded the city of Manila before it expanded and became the massive metropolis it is.
Fort Santiago has beautiful gardens and tall brick walls, water ways, and dungeons. This is an important historic location for so many reasons; it was not only important during the Spanish Occupation, but during the American Occupation and WWII. Many people lived their last days here, the most famous being the Philippine's National Hero, Jose Rizal. There is a museum/shrine in the Fort, devoted to the man who was a doctor, poet, naturalist, world explorer, and nationalist. He was accused by the Spanish-ruled government of starting the revolution in 1896. Rizal was held prisoner at the Fort during his trial and his footsteps, replicated in bronze, can be followed through the Fort, showing the path he walked to his death.
This was a very humbling place to visit and gave us a better sense of the history of the Philippines, Manila, and the Fort. A few other historic places to visit in the area include the Manila Cathedral, San Agustin Church (the oldest church in Manila), and Barbara's which gave us an amazing lunch (in an old converted Spanish home).
Things to do in Subic Bay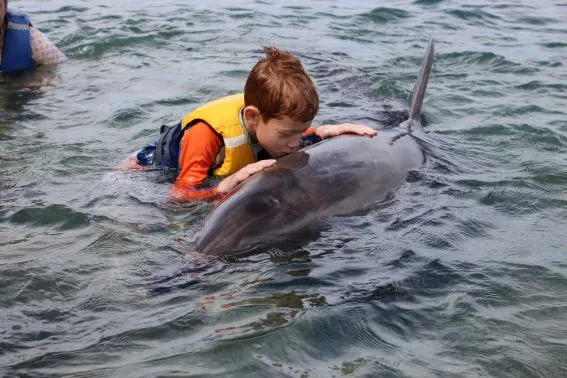 Ocean Adventure Sea Park was a great experience for us with a variety of shows teaching about the animals we share the world with and had a strong message of conservation. Each show was a lesson about the various animals that were in the care of the park. The Rain-Forest Animals Show highlighted many native Filipino animals. All of the shows were done in English so we understood everything.
Ocean Adventure also offers swimming with the dolphins. Groups of five people or less spend 30 minutes with one of the dolphin trainers and dolphin. We learned all about dolphins, their anatomy, and their social habits. We each had two rides where we swam with the dolphin and saw some of his special tricks. This makes for a great day! Nearby there is the Zoobic Safari. Keep an eye out! Native wild monkeys can be seen in the forests surrounding these two parks.
Things to do in Baguio
Camp John Hay is the former US base used for recreation and rest. The base was returned to the Filipino people and has been turned into a place for fun, exploration, and has loads of things for families to do. One of the activities we checked out was the Tree Top Adventure. There are several adventures you can choose from – either very fast and thrilling or a bit on the slower side. The Canopy Tour (that my son chose), is similar to a chair lift that takes the rider to various points and exposes some of the amazing views the area has to offer. It lasts about 45-minutes and the rider passes through 8 points.
We also checked out the Bell House, Bell Amphitheater, and the Cemetery of Negativity. The Bell House was built over 100 years ago and was named after Gen. Franklin Bell who built the house and lived here. He also built the neighboring Bell Amphitheater in 1914. Across from the Bell House is the Cemetery of Negativity. A guide told us that originally this was to help soldiers get rid of heavy thoughts that were "holding them back." They could bury them here and move on with life. Within the camp grounds are picnic areas and playgrounds as well as shopping and beautiful hotels to stay in.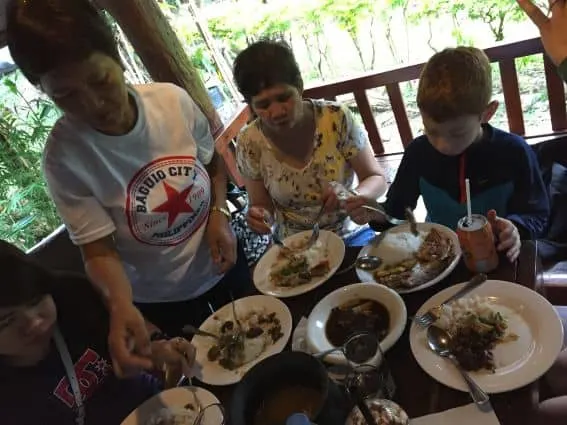 There is also an amazing restaurant called Chocolate de Batirol which is not only great dining but a great experience as well. In the Philippines there is a rich and thick hot chocolate that is made in a special way with a tool that resembles a honey-dipper and upon request, can be made at your table. Even if you don't like hot chocolate, this restaurant has delicious food and I highly recommend it. My son exclaimed, "I didn't know lunch would be so beautiful!" I couldn't agree more with that statement.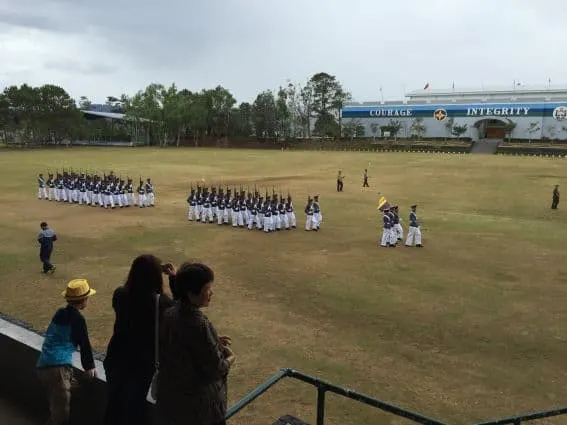 We made a stop at the Philippine Military Academy. The PMA is the equivalent of our West Point Academy, and is where the finest soldiers go for their education. We were able to watch the students marching in formation and being inspected by their superiors from a covered grand stand at the field before exploring a very nice museum. The museum gives the history of the Academy, explains military symbols, shows what their dorm rooms look like, how the uniforms have changed over the last 100 years, and explains the history of the academy and some of their heroes. Along the drive from the entrance gate to the museum you can stop to see decommissioned military equipment, from Sherman Tanks to Howitzers. They span several generations of war and each comes with a brass plate explaining what they are, where they came from, and some of their traits.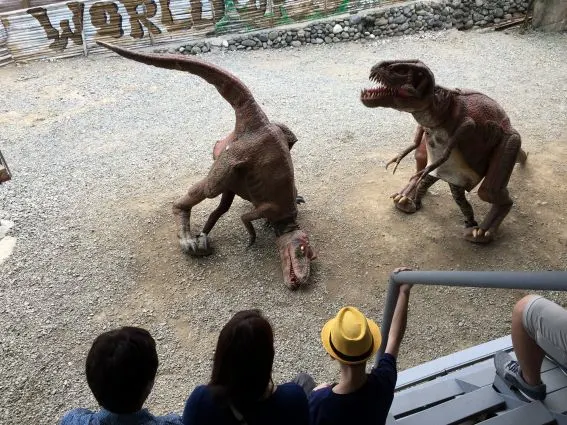 The Baguio EcoPark is a fun stop home to Dinosaur's Island. Life-sized replica dinosaurs stand on the side of the hill and although the animatronics were a bit hit and miss, when the sensors did work, they triggered the dinosaur movement and noises. The park is pretty simple but dinosaur lovers will really enjoy it. Another attraction is The Ruins that takes you through history in a very quick way showcasing Egyptian, Chinese, and Greek history using replicated relics.
We went out to an amazing co-op of farms in La Trinidad/Baguio for strawberry picking. Upon check in, baskets and scissors are given and a guide leads guests to the strawberry fields. They were big, juicy, bright red, and quite delicious! All sorts of other pre-picked fruit and veggies are available at the stand; if I lived there, I would shop here all of the time!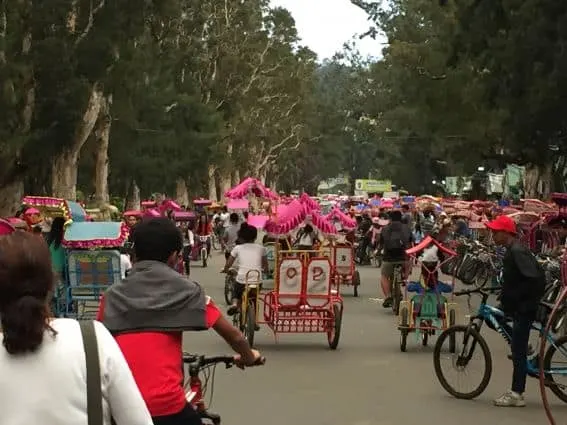 Burnham Park is a gorgeous green space in the middle of Baguio. It hosts a pond, gardens, and lots of space to walk and ride bikes. We enjoyed two activities while we were there: paddle boats and biking! There are various boat rental places around the perimeter of the pond, and we chose a swan boat to pedal. With still more energy, my kid was rearing to go, so we went biking! Bikes are available for rental for 40-50 Pesos an hour (about $1) and range from the Filipino Tricycle to a 2-person bike.
Take in the massive view of the mountain peaks and valleys from way up high at the Mines View Park. See some of the now defunct gold and copper mines in the distance too. This is the place to come to take it all in and really get a sense of the mountainous area. On the path to the view point, there is a table full of Igorot traditional dress, the native people in this part of the Philippines. For a small fee, be dressed by the ladies there and have your picture taken with amazing backdrops. This is a lovely place to see history and learn about tradition.
Beach Time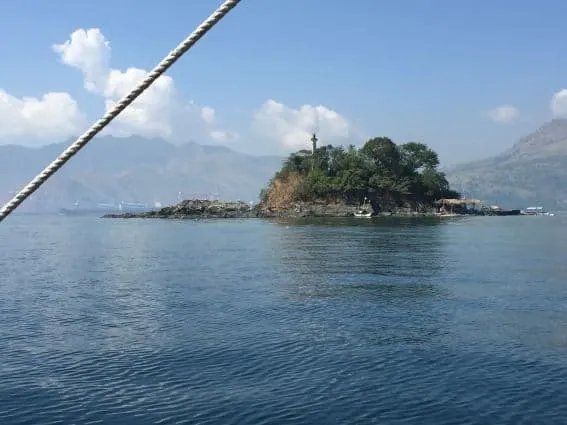 The Philippines is famous for their beaches and we had the chance to explore some of them. In Olongapo we went down to spend an afternoon at Half Moon Beach, which is considered a private beach, but if you pay a fee you can gain entrance to. Subic Bay is lined with small beach resorts and restaurants. The sand is soft and similar to the beige sand we have in Oregon. Both are volcanic lands, so that was no surprise.
We enjoyed a "Boodle Fight" (which is a beach picnic) and took one of the banana boats out to two very small islands to explore and swim. The first island we stopped at was Isla de Guilio, a tiny island that sits in Subic Bay about 15 minutes away by boat. It was a great spot for swimming and snorkeling with lots of rocks to look in and under. The island is a rocky outcrop so there isn't much sand, but the water is really lovely. Another island in the bay we boated to is called White Castle Island. Apparently, the castle used to be bigger, but due to typhoons much of the island has fallen into the sea.
On our next beach trip we traveled to the "Provence" to visit family in Candelaria north of Olongapo. During our visit we ventured out to Potipot Island on another banana boat. This can be a hot spot as a weekend getaway for people who live in Manila. Potipot's beaches have different sand than the rest of the Luzon – it is soft, white sand like you would find on Boracay or the Caribbean. The water here was just as warm and a beautiful blue. There was some aquatic life to be seen while snorkling and there is no rip tide like we are used to on the Oregon Coast, which made it perfect for kids to swim, especially in the roped off swimming area. While we were there, we bought traditional cheese ice cream (Queso Ice Cream) from the beach vendors and enjoyed the sweet mangoes from a roadside stand. It was just the perfect day!
With over 7000 islands in the archipelago, your choices are endless! Palawan and Boracay are calling me, so we will definitely be going back.
A Word on Safety
Our trip to the Philippines felt inherently safer as we traveled with locals who knew where to go and not go and are native Tagalog speakers. There are parts of the Philippines that are very dangerous right now and with our fair skin and red-hair, we would really stick out! The southern part of the country is especially dangerous as there have been reported kidnappings for ransom. The US State Department has issued warnings about the islands US citizens should avoid. We heeded their warnings as I was traveling with my sister and my son and felt it was best not to take any unnecessary risks. We also registered for the Smart Traveler Enrollment Program through the US State Department. The S.T.E.P program lets the embassies know where you are while you are traveling, sends you information that might be important about various situations happening near you, and contacts family members in case of any emergencies.
The way we traveled made me feel really safe and the Filipino people are friendly and warm, very welcoming, and they love children. The majority of the people are absolutely wonderful and there is a show of respect across age groups and family units are tightly woven networks. The people watch out for each other, especially children, even if the children are not their own.
All photos courtesy of the author @havekidwillteardrop.
Featured photo by: Shutterstock