Food is such an important part of every culture. We eat to celebrate, to mourn, to nourish our bodies, and we even eat because the food looks good! Food is such a huge part of culture. When I mention a croissant, one thinks of France. When I mention fish and chips, England comes to mind. Sushi always conjures up images of Japan. The food of our culture identifies us.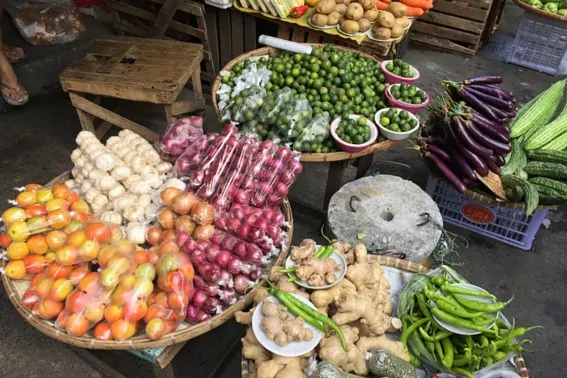 One cuisine that I think is highly under-rated and most delicious is Filipino food. Their diets consist of simple dishes of meat and vegetables, accompanied by rice or a variety of noodles. Fresh fruits are added as well (including bananas and mangoes). Lumpia, which are basically fried spring rolls, are probably the most notorious and my personal favorite. Recipes are seldom written, but passed down through the generations by cooking and eating together. Here are a few meals we enjoyed during our amazing stay in the Philippines. Their food is "masarap" (delicious) and we found exploring the food of the Philippines with kids to be a masarap experience.
Lechon
Photo By BigStock/Flolova Elena
Lechon is a special dish in the Philippines. Several cultures share in making this dish, as Lechon was brought to the Philippines by the Spanish. Lechon is a fully roasted suckling pig. This is generally served for special celebrations. The skin is crunchy and delicious and the meat is juicy and lovely. I have vegetarian Filipino friends back home who make an exception for Lechon because it's such a delicacy. When the pig arrived for our celebration, it was cut up on the spot and served to the group. My son was fascinated by the whole process.
Family Dinners
On our trip to the Philippines, we were lucky enough to have Aunts and Uncles make wonderful food for us in their homes. Our first night there, Uncle laid out an amazing spread that set us up for the rest of the week. He made pancit (pronounced pan-sit, which is a noodle dish mixed with various meats and vegetables), lumpia, grilled fish, amazing Adobo chicken, shrimp, egg omelets, and vegetables. These are common Filipino dishes, eaten daily. Their food isn't spicy like that of Thailand and Indonesia, but is savory, mixing lots of chicken and pork with fish and shrimp.
Boodle Fight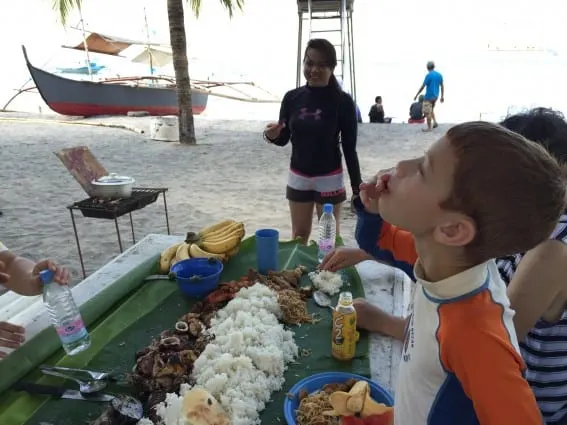 Boodle Fight is a term that was adopted by the Filipinos from the US military while our troops were stationed in the area. It refers to a long table covered in banana leaves with food spread out over the top. And, my son's favorite part, you get to eat with your hands! The banana leaf not only acts as a serving platter, but also as the plate. All sorts of food are put on the banana leaves from pancit and left-over lechon to freshly grilled fish and rice! Our left over feast from the night before made an excellent Boodle Fight! I was told this is often set up at the beach as picnics, and can be arranged for parties and special events.
Food Carts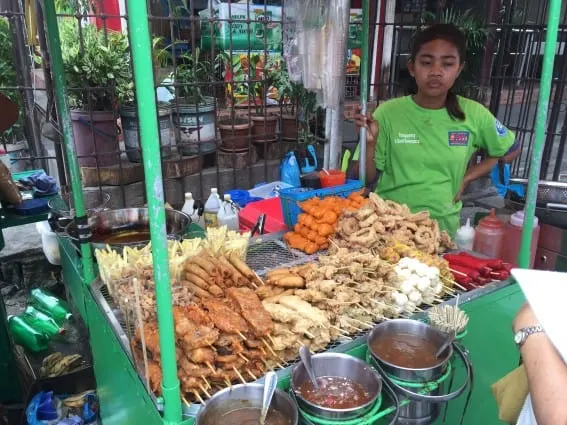 Living in Portland we are very familiar with the food cart movement, but we have nothing on folks in Asia who have been doing street food for longer than it has been "hip and trendy." Looking at the carts, there are some ingenious ideas from fish grills made out of bricks and paint trays to beautiful displays of skewers with special sauces. I am a big fan of food on sticks. I don't know if this is the inner child in me or that I just love a good shish kabob! I always find eating the way the locals do is a great way to experience the food. Smaller portions allows me to try more than one thing at a time! Traveling with adventurous kids? Check out this ultimate guide to exotic Filipino street food.
Markets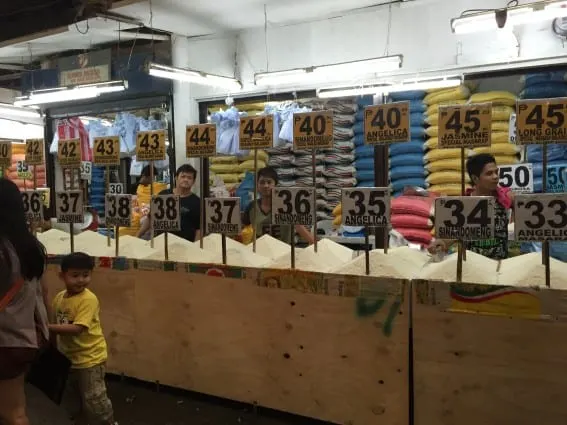 I love to walk through the markets in different countries to see what people are selling. It is incredible what you can find! The food sections are my favorite as I get a real sense of what the locals eat at home. In several markets we saw a rainbow of fruits and vegetables, fish, meat, lots and lots of rice.
Rice vendors have more varieties of rice on display than most Americans have ever considered. Each variation of rice has its own special characteristics and flavors. There are big grocery stores in the Philippines, but the majority of the food shopping happens at the markets where the freshest items are. Many of the year round vegetables available are grown in different parts of the Philippines and trucked in. Baguio, for instance, is a big supplier of vegetables because their climate is more mild than the rest of Luzon. This is true farm to market and the rich smells of chilis, meats, vegetables, rice, and spices blending together really fills the senses!
Road-Side Stands
During our travels through rural areas of the Philippines, we came across roadside stands selling all sorts of fruits and vegetables. We made a quick stop for some mangoes, special juicy turnips, and a few other dinner items. I will say the Philippines has completely ruined mangoes for me. I will never find them as sweet or delicious as I did there. After an afternoon swimming, these were the best snack alongside the delicious cheese (Keso/Queso) ice cream the beach vendors were selling.
Restaurants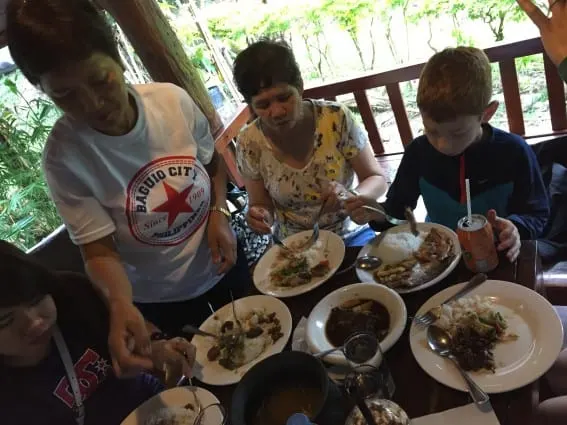 We enjoyed eating out a few times. We checked out out Korean BBQ, Sushi/Udon, and pasta places, but we tried to eat at true Filipino restaurants mostly. Here are some of our favorites:
Mamita's
Mamita's offers a special soup that is very traditional for the Philippines called Bulalo. It is made from Oxtail and is really delicious. The family wanted us to try it and we were not sorry; in fact, my son went back for seconds!
Chocolate de Batirol
Chocolate de Batirol is a special place too; they specialize in making hot chocolate and have a full Filipino menu. The Philippines has a very special hot chocolate they like to drink, using local cocoa. The servers here make it in the traditional way using a tool that resembles a honey-dipper. The liquid is basically whipped with the tool and then poured into small cups for people to drink from. It is very rich and thick, so a little really goes a long way. The ambiance is beautiful and we got to sit in Bahay Kubo (traditional huts) for the entirety of our meal!
Jolibee
We also tried out a couple of fast-food places. We don't generally eat fast food at home, but when traveling to other places, its worth giving it a try because it can be so different. One of the most famous fast food places in the Philippines is Jollibee. This Filipino restaurant's mainstay is fried chicken, and I have to admit it is pretty good. They have lots of other things on the menu like spaghetti and meatballs, but looking around the place, chicken is the way to go! Several famous chefs who travel the world have been spotted at a Jollibee when they are in the Philippines, so you know it must be good.
Chow King
Chow King is another favorite in the Philippines for steamed buns and other Chinese fare, but we stopped in for some Halo-halo. This is a special Filipino dessert which contains a combination of things but usually has shaved ice, coconut, fruit, and evaporated milk as the base. This was a great treat and is so refreshing on hot days.
After traveling in the Philippines for two weeks, I was stuffed. When I got home I wasn't hungry for a couple of weeks but was pining for more of what I had tasted. We had experienced some awesome culture and I really missed the food. Exploring the food of the Philippines with kids is an essential part of learning the culture of this amazing destination.
All photos, unless noted, taken by the author.
Featured photo by: Shutterstock