When it comes to great family vacation spots surrounded by beautiful lakeside scenery, New York state's Thousand Islands region certainly fits the bill. This area offers a relaxing and scenic outdoor playground that is filled with a variety of ways to enjoy the day. Come to recharge, regroup, or rekindle your love for the great outdoors. Visitors will find plenty of ways to explore New York state's Thousand Islands Region.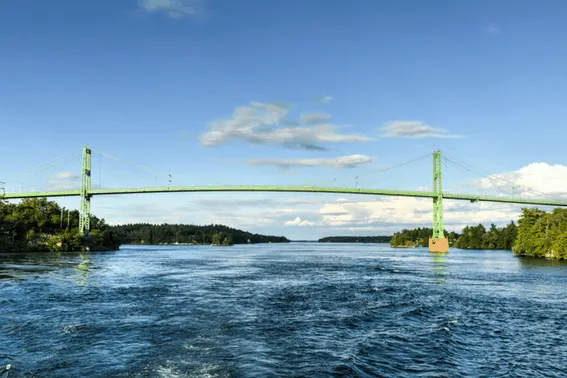 Photo by: Bigstock/demerzel21
Thousand Islands is situated on the St. Lawrence River, and really does consist of more than a thousand islands. In fact, there are over 1800 of them that hug the border between the U.S. and Canada. The area stretches for roughly 50 miles from the northeast corner of Lake Ontario near Kingston, Ontario down to Brockville. Most of the islands are in Canada with Wolfe Island at 48 square miles being the largest. Getting from New York to Canada is done easily via the five-span Thousand Islands Bridge and highway, although visitors do need a valid passport.
Look for current hotel deals in New York
What To Do in the Thousand Islands
There are no shortage of opportunities to get outdoors and get moving in New York state's Thousand Islands. Want to canoe, kayak, paddle board, or mountain bike? Yep, that's here. Other kid-friendly options include mini-golf, go karts, cute playgrounds and plenty of places to walk, ride, run, jog and stroll.
The area is home to plenty of recreational opportunities, many of them very family-friendly and convenient. No matter what time of year, the area offers something to do – from internationally-recognized mountain biking trails to boating and all-season fishing opportunities to camping, hiking, walking, and geocaching. Open areas include picnic sites and beach areas – great for outdoor play and sports. There's also ice skating and snowmobiling during the winter. Big kids and little ones can appreciate a walk in any of the nature areas. Stop by the Visitor's Center for special events and opportunities to try certain activities or learn more about the region.
Take A Sightseeing Cruise
An especially nice activity to look into is a sightseeing cruise through one of the tour boat companies in the area. We found the tours we took on Uncle Sam Boat Tours to be educational and enjoyable. Purchase tickets for the cruise options that meet your need for the day (a longer, more info-packed option or a quick shuttle to a specific location). Visitors are then free to sit and enjoy the scenery while learning about the history and some interesting facts about the lake and its surrounds upon reaching the destination. We saw folks of all ages traveling on the boat, and we were comfortable and entertained the entire ride. It was an affordable and scenic way to spend part of the afternoon. Where can you go? Places like Rock Island Lighthouse, Singer Castle, and Boldt Castle are some terrific options along the river.
Check for hotel availability in New York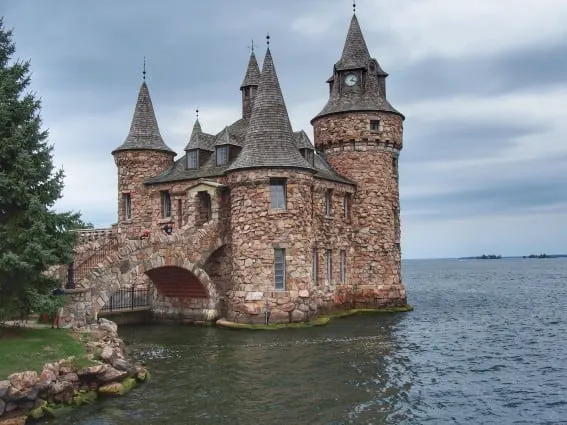 Visit a Castle
I had heard about Boldt Castle before my visit, and it was one of the places I had wanted to check out. Fortunately, our visit did not disappoint. The castle has an interesting story behind it, and is a pretty place to visit and photograph. Being right on the border of Canada and the U.S., it gets plenty of visitors from both nations. It is also a popular spot for weddings. Take a boat shuttle or tour from Alexandria Bay to Heart Island and hop off to tour the restored castle and beautifully landscaped grounds. There is also a Power House, a Clock Tower, and a Yacht House to visit. Its a nice way to spend a few hours and kids are able to move around a bit on the property, which is always nice. Singer Castle is another landmark on the St. Lawrence River that's worth visiting, and many folks do both in a day. Families traveling with a grandparent may find this option especially appealing, as it combines some history, architecture and lovely scenery.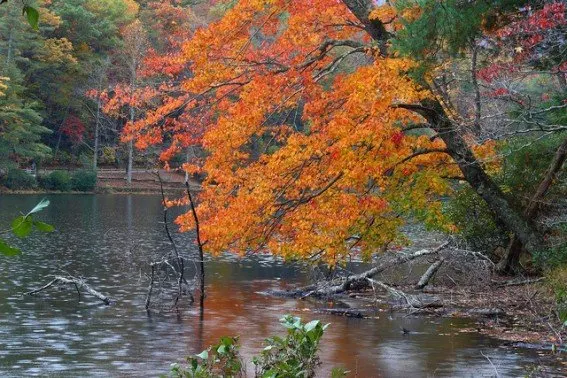 Photo courtesy of Digwee
Spend Time at a State Park
At one of the area's pretty state parks, visitors can do everything from hiking to biking, boating to fishing, or simply running around and letting off some steam. There are trails to explore and water to enjoy, with some parks offering options to swim or climb on playground equipment or enjoy a picnic nearby. Many have clean restroom options. Visitors to Grass Point State Park may spend some time reconnecting with nature, camping and walking by the river, and taking in the scenery. One of the larger parks bordering the river, Wellesley Island State Park, is open year-round, and offers up 2,636 acres of enjoyment. It is also home to the largest camping locations in the Thousand Islands region.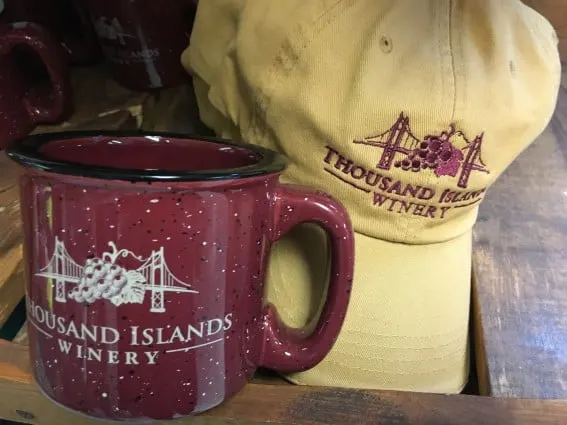 Taste Some Wine
The Thousand Island region is well-known for its wine tasting. Should this be of interest, make some time to stop into a tasting such as Thousand Islands Winery. Purchase a bottle to enjoy while there or to take it home to remember your trip at a later time. From whites to reds, sweet to dry, there's a plethora of options to please your palate. Perhaps the variety you think you'd like will turn out to be nothing like the one you pick out after a tasting (like what happened to me), or you may hit the nail on the head the first time you try. Either way, it's a fun way to see what wines in the area are like and what appeals to you.
Look for the best hotel prices in New York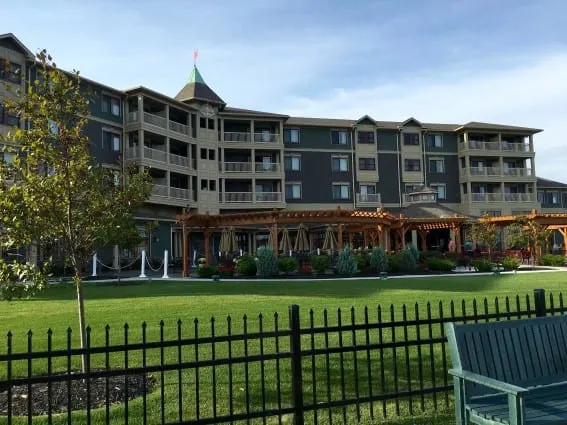 Where To Stay
Thousand Islands offers plenty of lodging options to families. From small, affordable motels to larger hotels or even campgrounds and RV parks, there's sure to be a venue that suits your crowd. When my family and I visited the area, we stayed at 1000 Islands Harbor Hotel, which is conveniently located in Clayton, New York. The property is just a few years old and delivers a wonderfully upscale experience. The hotel offered us the chance to get away, yet delivered on modern conveniences that are pleasing to any family. It is staffed with helpful employees and offers families the option of several room choices to meet the needs of your particular group. We found our accommodations to be roomy and the decor appealing. It consists of 105 deluxe guest rooms and suites, a beautiful patio that backs up to the river, and a lovely walkway beside it. There's also an indoor swimming pool with jacuzzi and an on-site restaurant that serves breakfast, lunch and dinner – all great things that families look for when away from home.
*Disclosure: My family and I were provided complimentary lodging 1000 Islands Harbor Hotel in order to facilitate this review. No additional compensation was received, and the opinions stated herein are entirely my own.
All photos courtesy of Sharon Rigney unless otherwise stated.