Last Updated on
Trekaroo generates revenue from purchases made through links to our partner brands.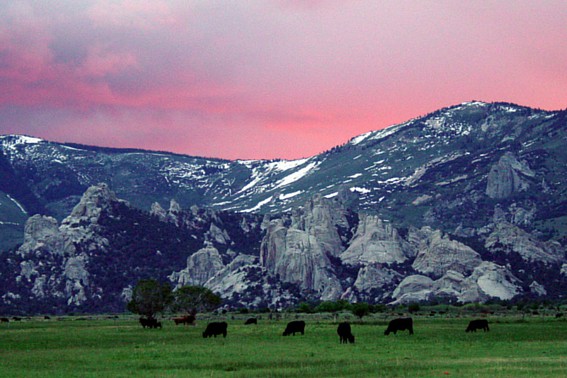 Photo Courtesy of Idaho Parks & Rec
Idaho is a state of contrasts, with mountains and forests giving way to high desert, volcanic fields, and farmland, with famous rivers like the Snake and the Salmon cutting through. En route to multiple national parks for families in the western states, Idaho has become one of our family's favorite 'road trip states.' We typically drive through part of Idaho every summer, and every year we discover a new 'best' place to camp. If your family is heading through Idaho this summer, stay and camp awhile at one of the state's many diverse, educational, and beautiful state parks. The following Idaho state parks are my family's favorites:
[box border=full]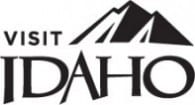 Idaho is home to thousands of miles of hiking and biking trails, lakes for swimming and fishing, mountains and dunes to climb, 18 ski areas for winter and summer fun and more whitewater than any other state in the lower 48. Our state parks are in the center of it all, offering a variety of terrain, activities, camping options and scenic beauty. So take a break and come out to play. Visit www.visitidaho.org for more information and vacation ideas.
[/gdlr_widget_box]
Priest Lake State Park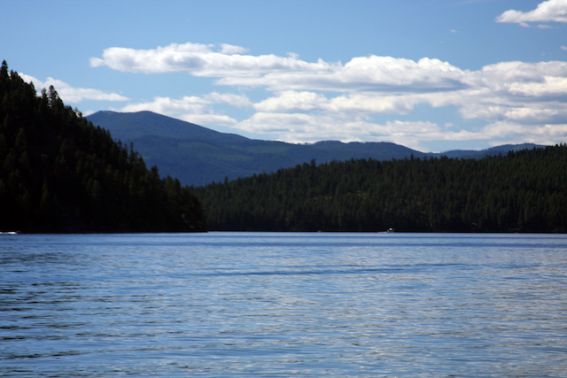 Just 30 minutes from the Canadian border, Priest Lake State Park is one of the most beautiful in the state, with alpine forests and a delightfully cold mountain lake. The little sister of the larger lake towns of Coeur d' Alene and Sandpoint, Priest Lake has just as much to offer…without as many of the summertime visitors. At 19 miles long Priest Lake is ideal for water sports, but when in this area, we typically spend more of our time hunting for huckleberries and hiking the many nearby trails. Families can find a wide variety of camping options along the lake, as well as boat rentals, kayak and paddle board rentals, and fishing excursions.
Read a full review of Priest Lake State Park!
Three Island Crossing State Park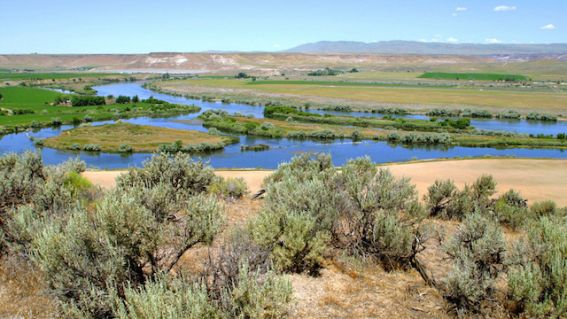 Sure, you may think you're in the middle of nowhere while driving I-84 through southern Idaho, but in fact, one of the most interesting historic state parks I've ever visited is located in the tiny town of Glenns Ferry. Three Island Crossing State Park is located at the point along the Snake River where countless wagon trains crossed to the opposite bank during the 19th century in their quest to travel the Oregon Trail. From the banks overlooking the river, it's easy to see the three small, flat islands that aided the pioneers in their journey across. Families can camp at the Three Island Crossing campground, but I recommend reserving one of the tiny cabins that sit right on the bank of the Snake, provided you have kids old enough not to wander…the water can be deep here. We loved waking up to the sun turning the sand and rocks along the Snake pink before the summer heat set in, and having a campfire outside our cabin at night. If you go, be sure to also visit the educational historic center on site. This museum gives a good overview on the area, and even displays a guidebook to the trail by Langford Hastings (the guide who steered the ill-fated Donner Party astray). For a place to let the kids run and play, nearby is Bruneau Dunes State Park, in Mountain Home (outside Boise).
Read a review of Three Island Crossing State Park!
Bear Lake State Park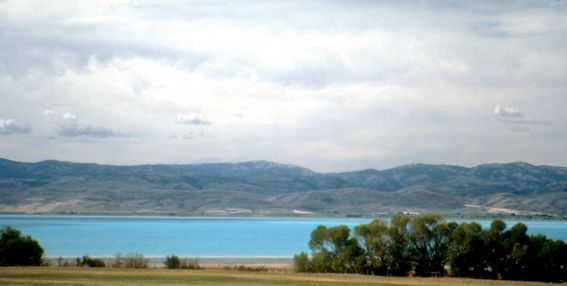 Want to experience the Caribbean…in Idaho? Head to Bear Lake State Park. The lake gets its nickname from the crystal clear, tropical-like water, which truly does shine like a jewel in the high desert terrain. Twenty miles long, Bear Lake is shared by Idaho and Utah, and families can waterski, swim, and even scuba dive. Not far from the state park is the National Oregon Trail Center, in Montpelier, Idaho. This is definitely worth a stop with older kids, particularly those studying US history. Take the Oregon Trail/Bear Lake Scenic Byway, too, where 13 Oregon-California Trail sites are marked in the Soda Springs area. Bring an RV or camping gear and stay in the campground at least two nights to really enjoy the lake and the area's history!
Read a review of Bear Lake State Park!
Harriman State Park
Harriman State Park is a small, sleepy state park on the eastern end of Idaho, often overlooked. However, I've been recommending it for years now, somewhat begrudgingly…I want to keep this secret to myself! What's the secret to Harriman? It's located about 25 minutes from the west entrance of Yellowstone National Park, and when the national park is at peak capacity during the summer months, Harriman is empty! We absolutely love the calm surroundings of Harriman, which is often teeming with wildlife. It's not uncommon to see moose here, as well as elk, swans, and cranes. Harriman does not have a campground; rather, overnight stays are limited to yurts. The Harriman yurt we stayed in was the best we've ever experienced (and believe it or not, we've stayed in a lot of yurts). It included a kitchenette, wood-burning stove, and bunks for up to 5-6 people. One of our happiest outdoor memories is of watching the kids play in the woods of Harriman after fun days hiking in Yellowstone.
Read a review of Harriman State Park!
See our Trekaroo Trip Guide featuring Harriman!
Heyburn State Park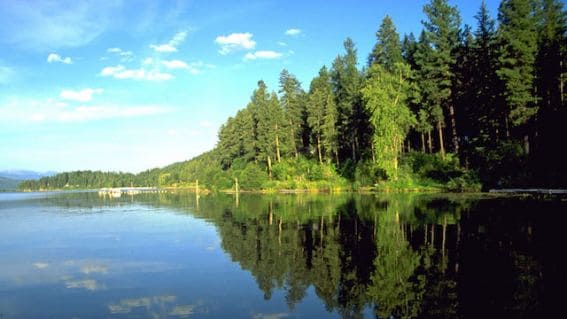 Located in the Idaho panhandle on Lake Chatcolet, Heyburn State Park is our favorite Idaho state park for feeling away from it all and in the center of things, both at the same time! How? First of all, the park is directly along the path of Trail of the Coeur d'Alenes. This 72 mile paved path follows the Union Pacific Railroad from Plummer to Mullan. It skirts the shores of Lake Coeur d'Alene, with 19 trailheads along the path. From Heyburn State Park, families can jump on the path on bikes or on foot. Second, Heyburn's location at Round Lake draws camping families and day trippers, so during the peak summer months, kids will always find friends and swimming buddies. For lodging, families can choose between cabins or campsites, and pets and RVs are welcome.
Read a review of Heyburn State Park!
See our Trekaroo Trip Guide for exploring the Idaho Panhandle!

We've got an exciting week of State Park fun rolling out on the blog. Don't miss:
Featured photo by: Shutterstock