One of my favorite things about camping is the challenge of making delicious meals in the great outdoors where my entire kitchen is reduced to a minimum. My secret? I can assemble on heck of a camp kitchen box!
Our entire camping kitchen fits into a single 25-gallon plastic tote. This single camp kitchen box contains all the equipment I need to cook everything from pancakes at breakfast to grilled salmon with capers on curried couscous for dinner.
It sits in our garage always packed and ready to go. Having this box ready to go at any given moment saves me at least an hour of packing every time we go camping.
I'm going to walk you through everything that should go into a camp kitchen box. To make it even easier for you to assemble your own box, I've included Amazon links to all my favorite items.
You can also pull old items from your own kitchen. That's where I started, but over the years of camping, I've slowly replaced many items with ones that conserve even more space or are just more effective than my old kitchen "upcycles."
Camp Kitchen Box Step 1: Begin with the Right Size Bin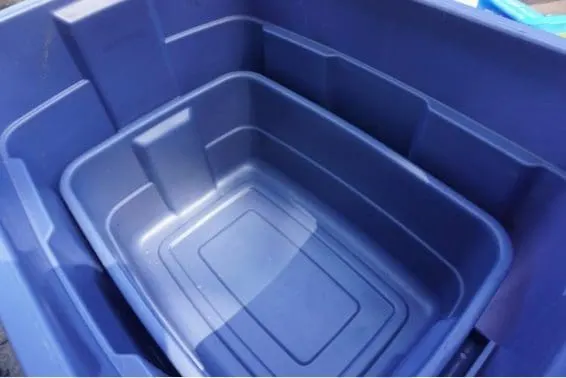 Start off by purchasing a heavy-duty 25 gallon plastic tote box with a lid. You can find them in big box stores like Target or Walmart, or purchase them online.
I have found this to be the perfect size for a camping kitchen. It is small enough to easily pack in the car but not so small that I am overly limited in what I can prepare.
Is this your first time camping with the little ones? Don't miss our guide to camping with a baby or toddler.
Camp Kitchen Box Step 2: Gather Everything You Need to Play with Fire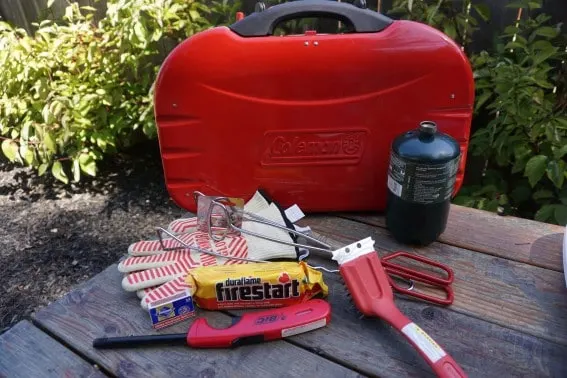 Fire is an important piece of an successful camp kitchen. While cooking over an open campfire is fun, there are times when campfires are prohibited or inconvenient to set up for a quick meal. If you are planning to cook some of your meals over a fire, I suggest packing firestarter logs, old newspaper, and a lighter.
Waterproof matches are always a good backup to have in case of damp weather and fire proof gloves are great for use around the fire pit. They can also double as pot holders.
For the rest of your meals, a camp stove is essential. In order to keep things compact and efficient, I like to use a Coleman two burner camping stove . It has two burners and can sit conveniently atop your campsite's picnic table. It uses propane fuel canisters which are compact and easy to use.
Don't forget to bring grill utensils and a grill brush. We love this kit which contains a spatula, knives, cutting board, tongs, scissors with bottle opener, and a serving spoon and fork all conveniently packed into a compact carrying case.
Don't miss Trekaroo's Ultimate Guide to Camping with Kids which is filled with tips, tricks, and the secrets to scoring the best sites.
Camp Kitchen Box Step 3: Assemble Those Pots, Pans, & More!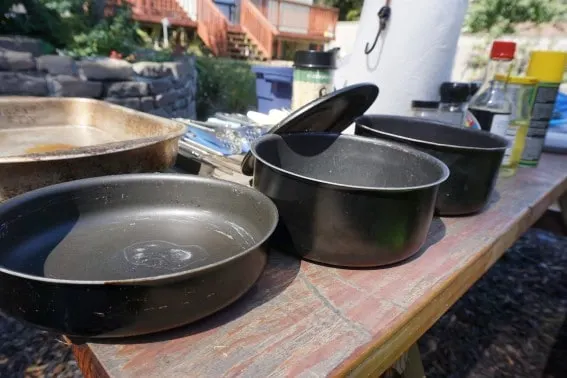 We highly suggest you invest in some small camping nesting pots. These pots and pans save a ton of space because they fit easily inside of one another and the handles collapse, saving precious space.
You should also invest in a lightweight camping griddle which will sit easily atop your Coleman grill. This will especially come in handy during breakfast. You will be making tons of pancakes and eggs in no time! An aluminum baking pan can be used for serving or on the grill as well.
If boiling water for hot cocoa, tea, or instant oatmeal is a priority, this silicone collapsible camping kettle is nifty and a great space saver. If you are a coffee drinker, this insulated french press will make coffee making a breeze in camp. It is an absolute "must" in my camp kitchen box.
Speaking of collapsible, another great, space-saving bit of genius to have in your kit is a collapsible mixing/serving bowl.
When camping with kids, s'mores are an absolute necessity while camping. These telescoping s'mores and hotdog sticks are a great space saver.
The US National Parks are great family camping destinations. Check out our comprehensive guides to national parks all over the country.
Camp Kitchen Box Step 4: Don't Forget Your Plates, Cups, and Silverware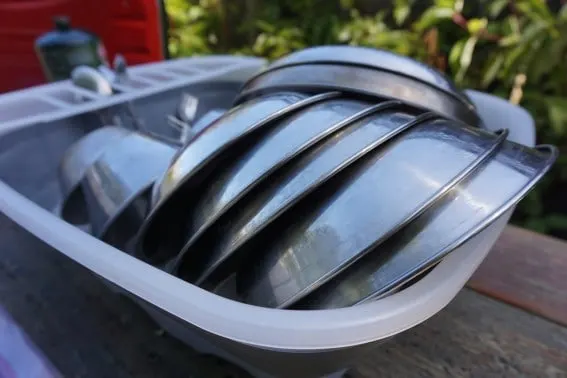 When it comes to plates, we like these stainless steel plates with a rim. Be sure to get plates that are all the same size so they store really compact. Plates with rims can also be used for soup and cereal.
Stainless steel cups are also great options for a camp kitchen box because they are durable and easy to clean and reuse.
Round out your stainless steel camp kitchen box gear with a stainless steel camping silverware set. We like this 4-in-1 set because it contains a spoon, fork, and knife that also doubles as a bottle opener.
Camp Kitchen Box Step 5: Don't Forget the Cleaning Supplies!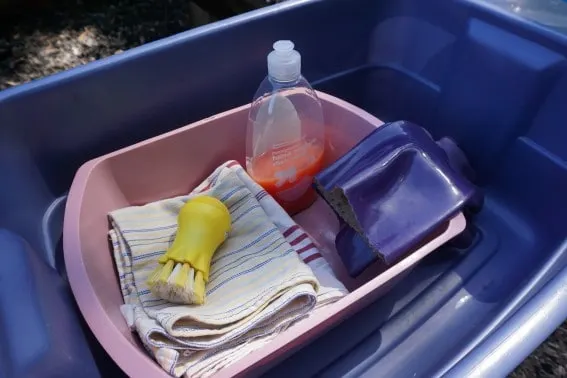 Don't forget, you (or the kids) are going to have to clean all those dishes after you are done eating and there is no dishwasher in sight! A collapsible dish draining tub along with a foldable dishrack make dish washing and drying easy.
Some old dish towels from your kitchen will do just fine, but grab a new dish brush/scraper for you camp kitchen box, along with dish washing gloves, and biodegradable multi-purpose cleaner.
I like to use a two dishwashing basin system. Why two? I explain in the video below, but having the same size tubs allows you to stack them for the most space efficiency.
Camp Kitchen Box Step 6: Pack Those "Can't Live Without" Conveniences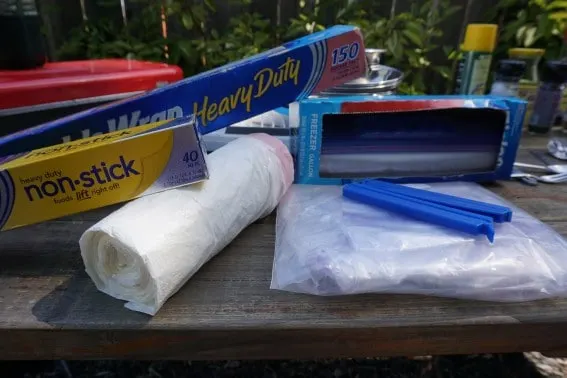 What falls into my simple list of kitchen conveniences I have to have when camping? Quality trash bags, like force flex drawstring trash bags;, non-stick aluminum foil; chip clips; and Ziploc bags of various sizes ( I put a bunch of different sizes inside gallon-size bag).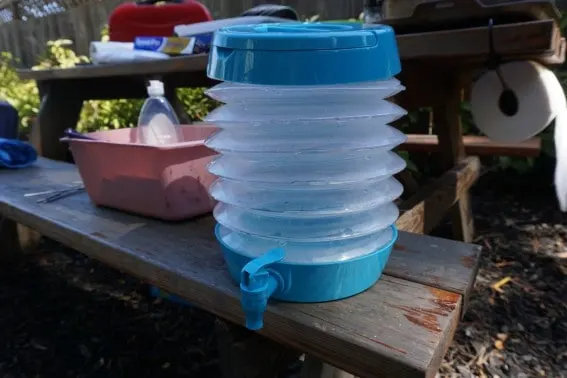 Other nice-to-have kitchen knick knacks include a collapsible water dispenser (so great for washing hands and brushing teeth at the table), compact waterproof tablecloth and picnic blanket, as well as picnic tablet clips for when it gets windy.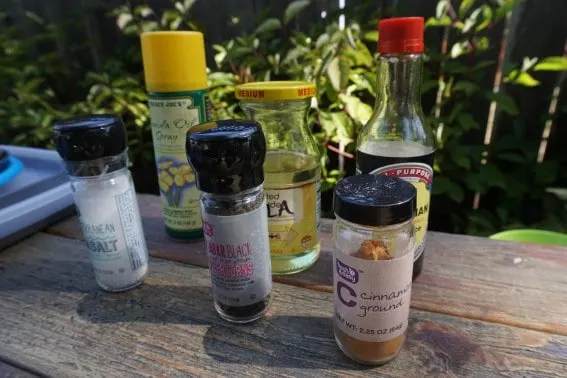 Seasonings are an important part of tasty cooking but they can take up quite a bit of space in your camp kitchen box. The key to easy camp cooking is to prep everything ahead of time.
Season your meats and veggies ahead of time. Or mix seasonings and carry them to camp in a small container. These seasonings should be in your camp kitchen box just in case, but it's amazing what you can do with just a little.
Oil (canola or grape seed do well at high heats)
Cooking spray (really nice for cooking pancakes)
Salt
Pepper
Cinnamon
Soy Sauce
For easy shopping: Go to the Trekaroo Camping Kitchen Shopping List
on Amazon.
Note: This article contains affiliate amazon links