Mickey's Toontown was declared reopened with great fanfare on March 18, 2023. Even more joy and fun has been packed into the happiest land inside the Happiest Place on Earth, which serves as the hometown of Mickey and his friends. Trekaroo was invited to be a part of the celebration and we were thrilled with the changes.
While we really love the rides inside this land, we also appreciate that there are several spaces for young children to run around and play in between waiting in queues for attractions.
The brightly colored spaces evoke joy and the focus on inclusivity is welcomed. There are more trees, more lawn areas to run around on, and more opportunities for fun! Here are some of the highlights:
Mickey's Toontown at Disneyland
Watch the official reopening ceremony of Mickey's Toontown.
CenTOONial Park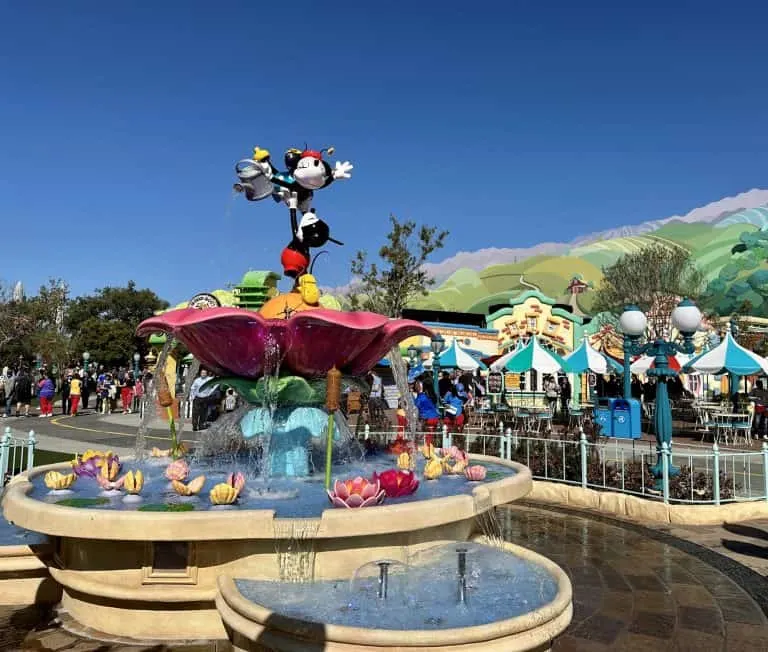 When you first enter Mickey's Toontown, you will notice a new area called "CenTOONial Park" on the left. Its centerpiece is a new fountain with Mickey holding up Minnie in the air. There are three different water pools with mini-fountains and water play is encouraged!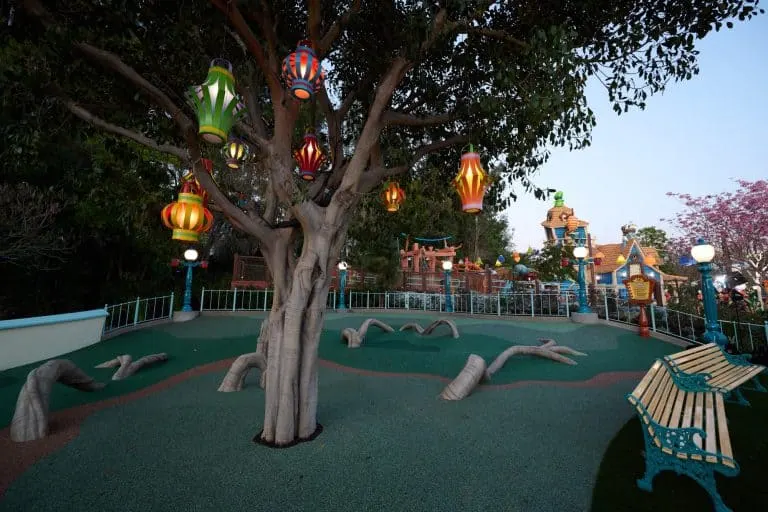 The other anchor of this park space is a beautiful tree adorned with lanterns that is inspired by one Walt Disney used to sit under as a boy. As the tree grows, it should shade the entire area. There are also "roots" which kids can climb under and over.
Pete Joins the Toontown Crew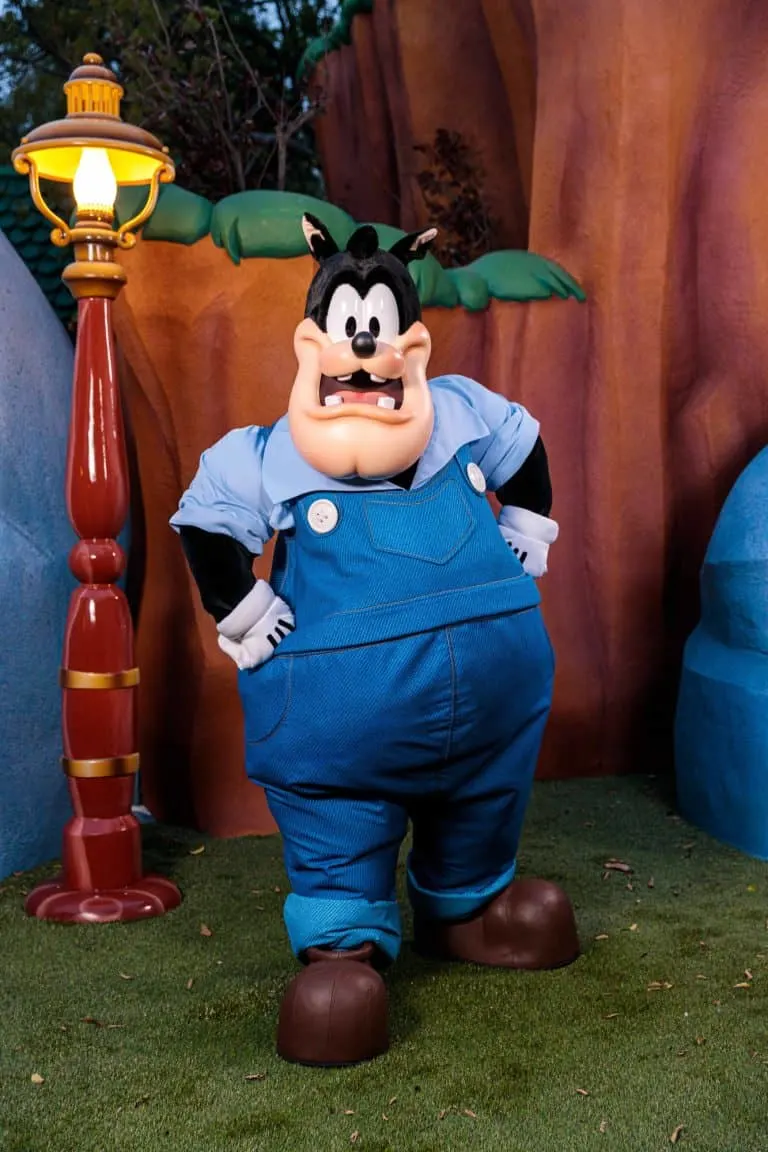 He's huge and he is ready to greet you! Pete from the classic Mickey Mouse cartoons is making his first appearance at any Disney Park in Toonwtown. He stands tall (I'm guessing around 6'7″) and he is a welcome addition to the crew.
You will also see Mickey, Minnie, Donald, Daisy, Pluto, Goofy, and Clarabelle (the cow) wandering around Toontown from time to time, posing for photos and autographs.
Of course, you can also meet Mickey and Minnie in the respective houses in Toontown like you could before the big re-opening.
Goofy's How-To-Play Yard and Goofy's House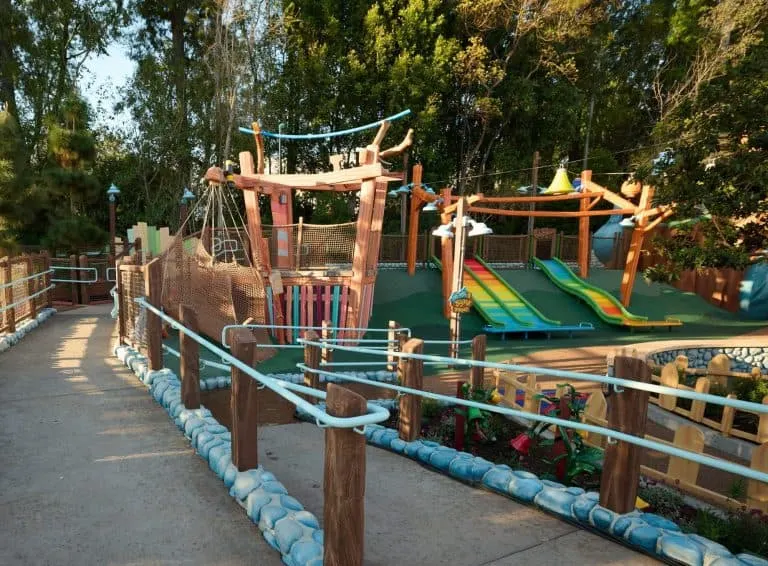 One of the mose exciting new areas is Goofy's How-to-Play Yard and a newly re-imagined Goofy's House which is now a candy factory.
The play yard is designed to be inclusive of kids of all abilities. The three colorful slides that are at the heart of the space are roller slides and they have ramps to reach them as well as a spot at the bottom of the slide that allows for space to transfer to a wheelchair.
The area above the slides is called Fort Max, and it comes complete with a Bigfoot trap!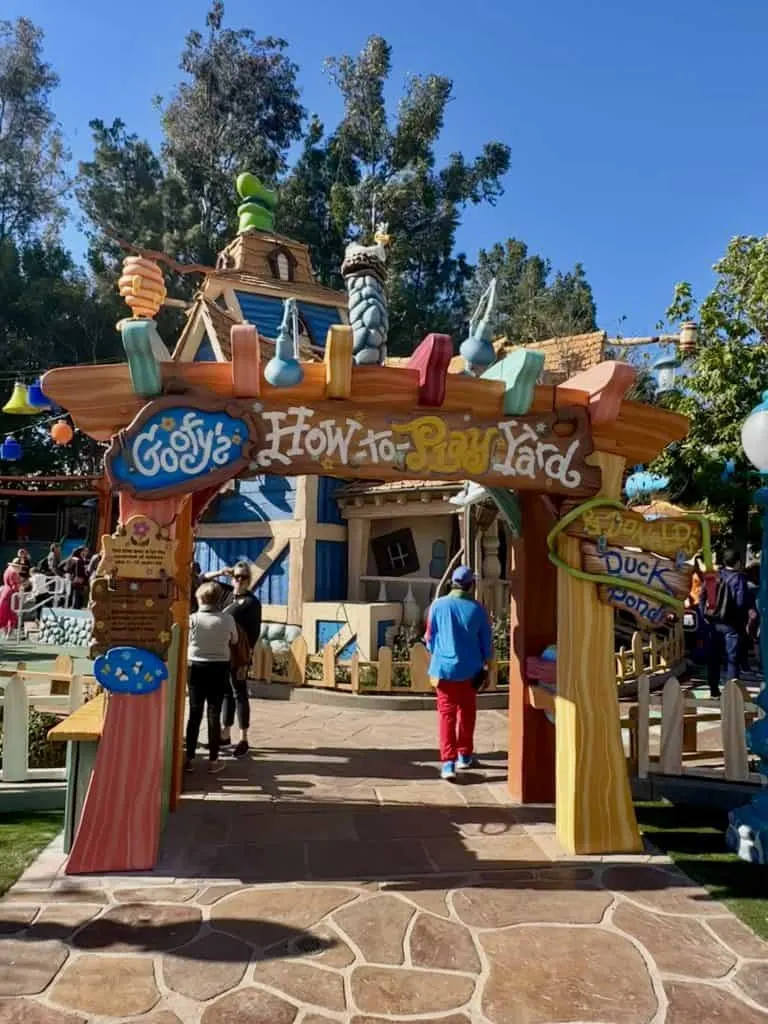 There is also a small footbridge that makes noise when you cross, hopscotch, and tent to climb in and around on the side yard. Parents will be happy to know the entire space has one entrance and is fenced. The side yard between Goofy's House and Donald's Boat are now connected.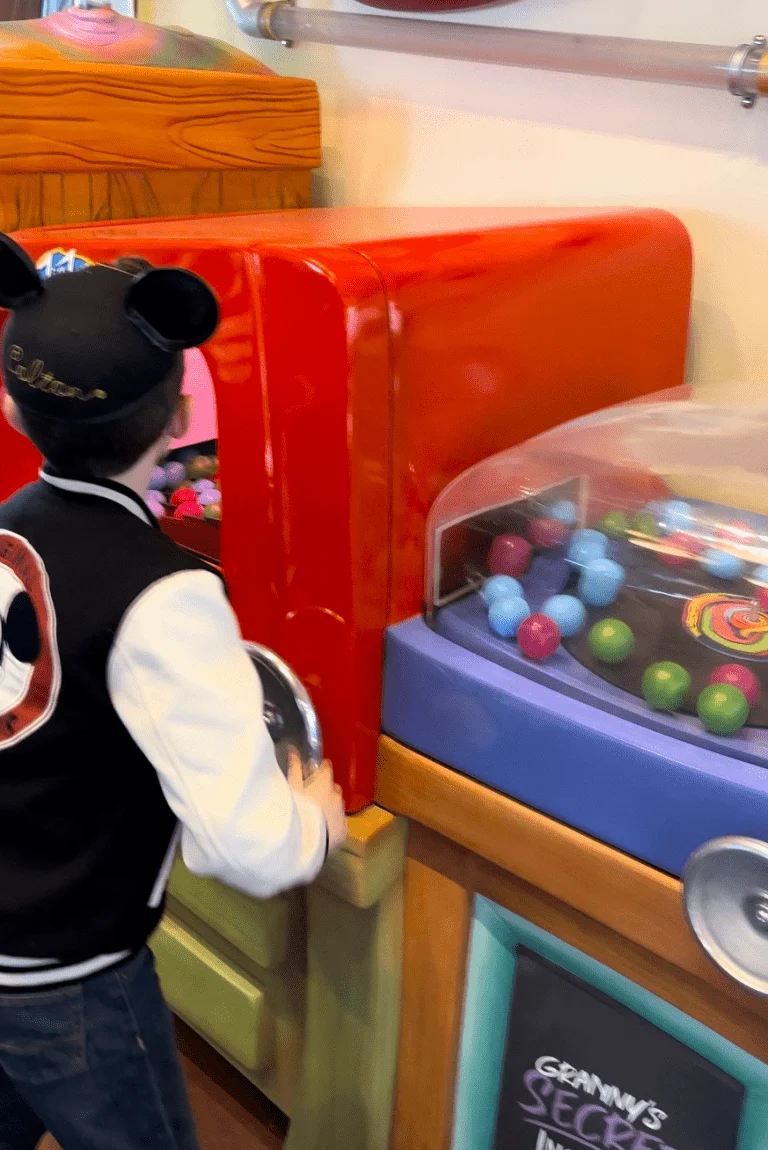 Inside of Goofy's House is a candy-making facility that is filled with interactive elements that allow kids to shoot candy balls in all sorts of directs inside the tubes, "oven", "blender" and more. It is super colorful and whimsical, and I have no doubt my son would have spent hours in there when he was a preschooler.
Donald's Duck Pond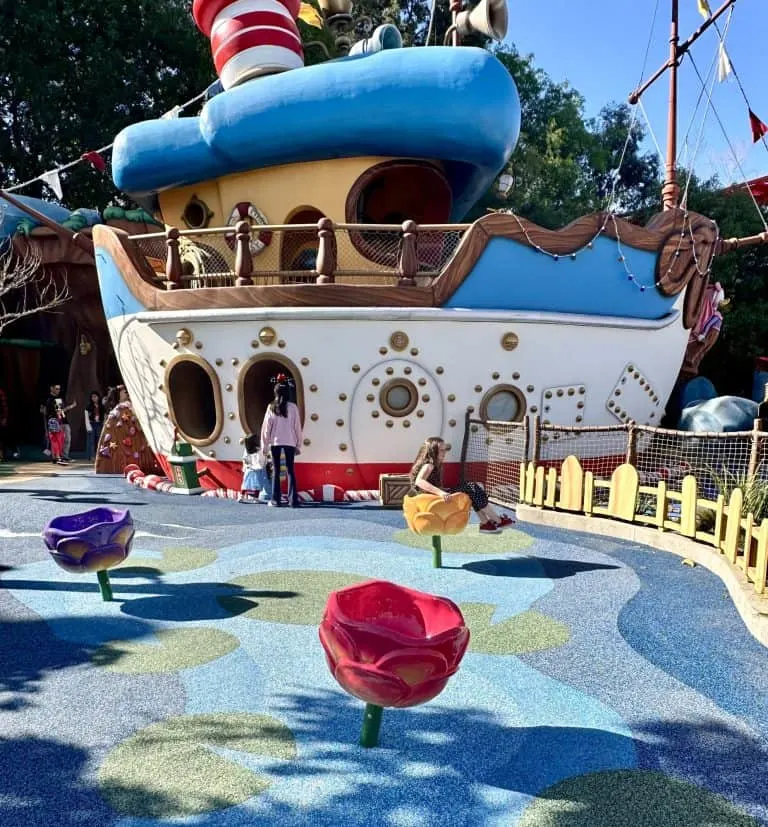 Donald's Duck Pond is a water play area that is sure to become an extremely popular spot when the weather is warm (which is most of the year in Southern California).
While you can no longer go inside Donald's Boat (kind of a bummer), there is lots of new fun to enjoy in the area around the boat instead. There are characters (Huey, Dewie, and Louie) inside the portholes of Donald's Boat that can be moved around by interactive levers.
Outside of the boat there are water fountains and splash areas (with that soft playground floor we have all grown to love). There are these fun spinning water lily pads that you can sit and spin in, rocking Sprinkle Springs to ride back and forth on, and lots of little water fountains to enjoy.
We Love the New Ride, Mickey & Minnie's Runaway Railway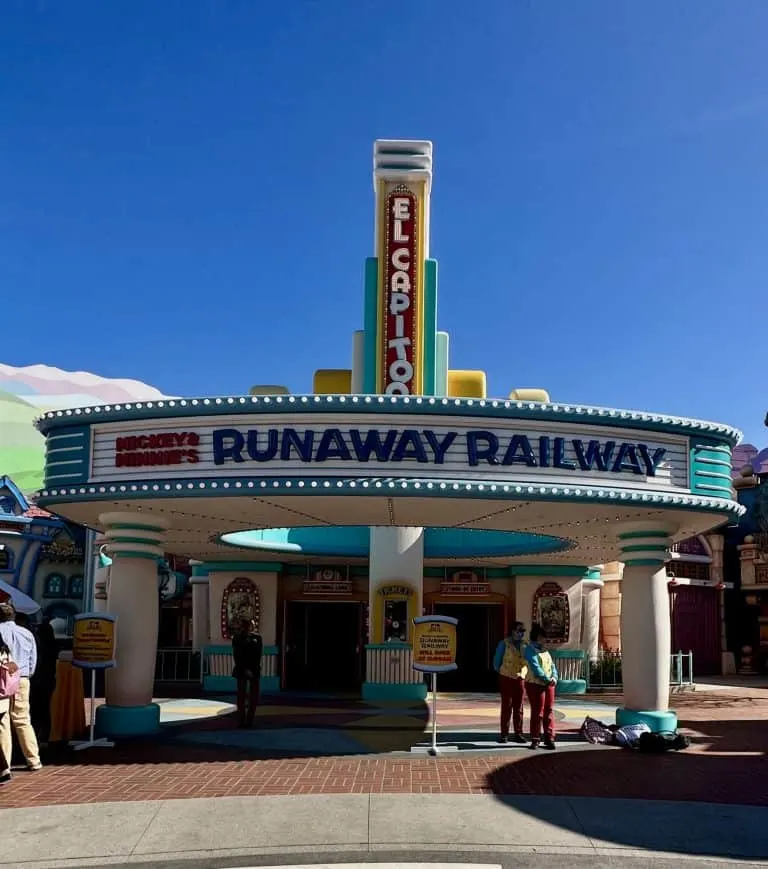 I am absolutely in love with the new Mickey & Minnie's Runaway Railway ride. It is the PERFECT fit for Toontown and from the highly detailed queue to the main ride itself, fans of Mickey and Minnie are sure to fall in love as well. Plus, this ride has no minimum height requirement which means the whole family can enjoy it.
The ride starts in the queue as you step into the "El CapiTOON" theatre to walk through the "Mickey Through the Ears" exhibit which showcases set pieces, costumes, and movie posters from the movies of Mickey and his pals.
Next, you enter a screening of the new Mickey and Minnie cartoon short, "Perfect Picnic", when a mishap occurs and the screen blows open and suddenly you board the ride and are taken inside the cartoon!
The ride is about five minutes long (awesome!) and takes you through different scenes of the cartoon with screens and action all around you. It is cute enough for young kids but still entertaining for adults and teens. Even my "too cool" 16-year-old son loved it!
Here are our picks for the 20 best rides at Disneyland Resort.
An Update to Chip 'n' Dale's Gadget Coaster and Reopening of Roger Rabbit's Car Toon Spin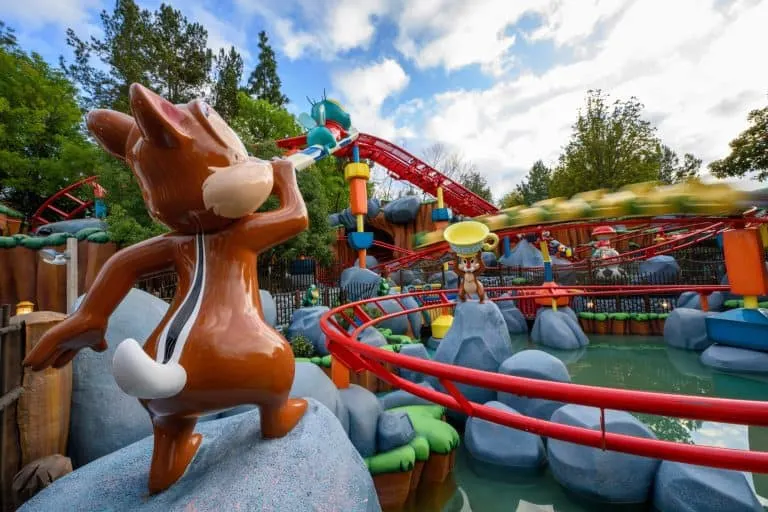 There are two other rides inside of Mickey's Toontown, Chip 'n' Dale's Gadget Coaster and Roger Rabbit's Car Toon Spin.
The roller coaster is mainly the same, but there are new figures that appear next to the coaster track. Gadget, the designer of the coaster makes an appearance along with your two favorite chipmunks, Chip and Dale. The ride is cute but short, making it a great first coaster for the littles.
Roger Rabbit's Car Toon Spin has reopened, a ride that I actually forgot is pretty fun! I think I avoided this ride for a few years because of the word "spin" but when I went back on it for the first time in a long time I was pleasantly surprised that it really didn't spin that much and my sensitive tummy had no issues at all!
The only difference in this ride is that Jessica Rabbit is now wearing a trenchcoat over her voluptuous figure in her iconic red dress.
Relax in Popcorn Park
Anyone who has a child who gets overstimulated easily will be thrilled to discover the new Popcorn Park area that occupies the space that Chip and Dale's Treehouse used to be in. There is a cave-like structure with benches and a small astroturf lawn that is designed to be a quieter place to decompress.
Even the music that plays in this area is calmer. I imagine this might become a popular spot for napping kiddos, breastfeeding moms, and overstimulated little ones.
Outsideof Popcorn Park is Yummy's Popocorn Cart so grab a bag of the best popcorn around and relax for a bit.
Fill up a Perfect Picnic Basket at Good Boy! Grocers Market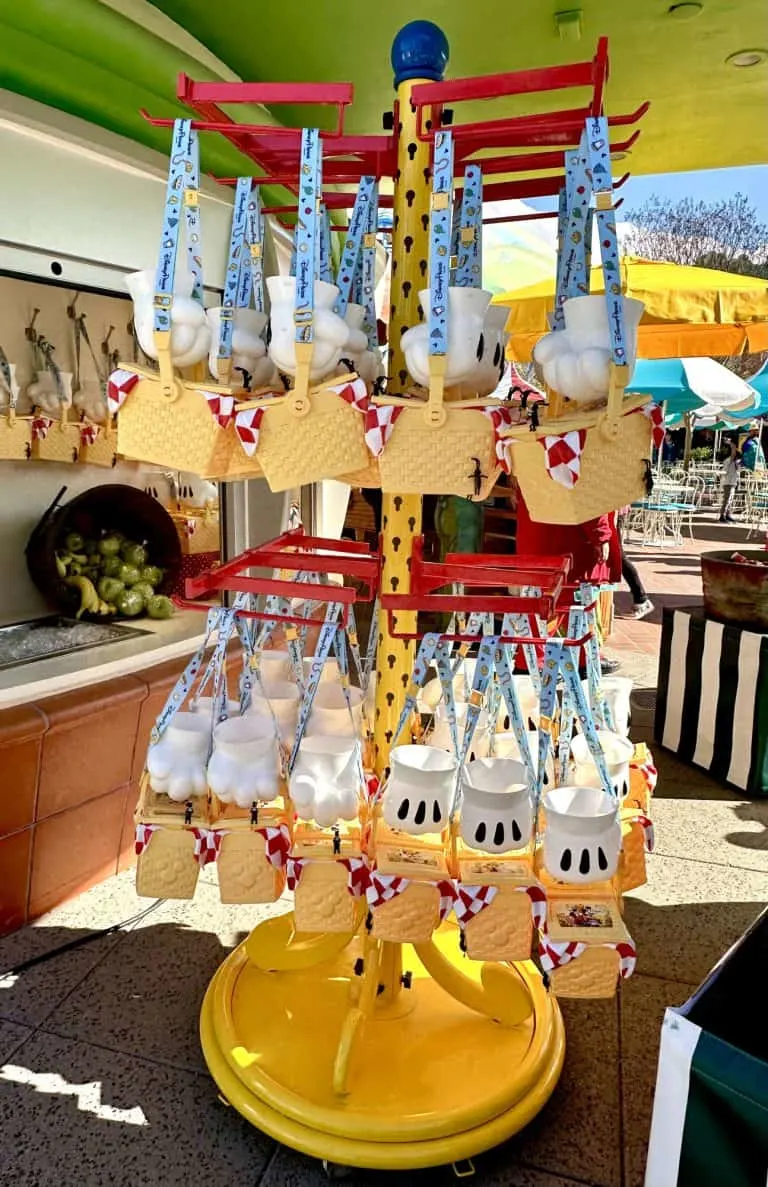 The Goofy's Gas Station area has been replaced with Good Boy! Grocers Market which is home to the Perfect Picnic Baskets which are sure to become a hot commodity among all those collectors of Disney goodies.
When you purchase a basket, you get to fill it with three snacks and a drink that perfect for little kids. Options include goldfish crackers, cookies, oranges, trail mix, yogurt, cheese, granola bars, water, juice and more.
There is also a slushie stand next door that has blue raspberry, Coke, watermelon, orange, cherry, and mago slushies as well as two souvenir cup options you can purchase for an additional fee.
New Dining at Cafe Daisy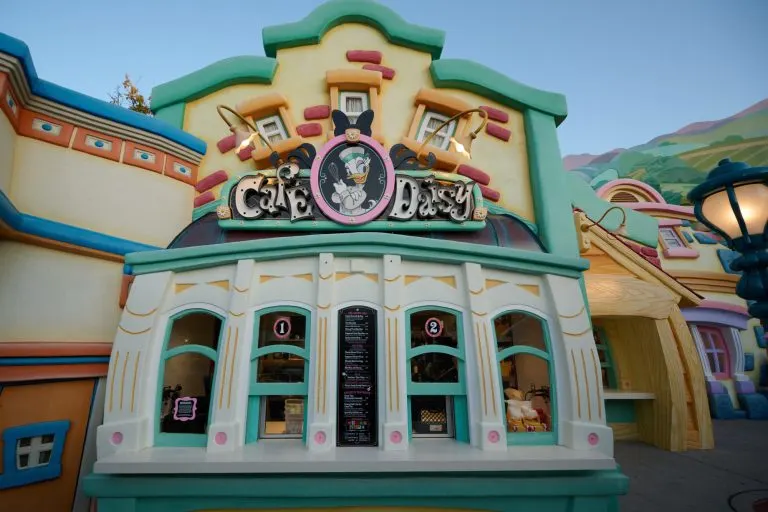 Cafe Daisy is the new dining establishment in Toontown, bringing kid-friendly options that parents will happy to eat as well. The main attractions are Daisy Dogs and Pizza Flop-Overs (cheese or pepperoni) which are basically folded over, single-serving pizzas with seasoning on the crust. There is even a Dressed-Up Daisy Dog with mac and cheese, chili-cheese sauce, parmesan potato crispies on top!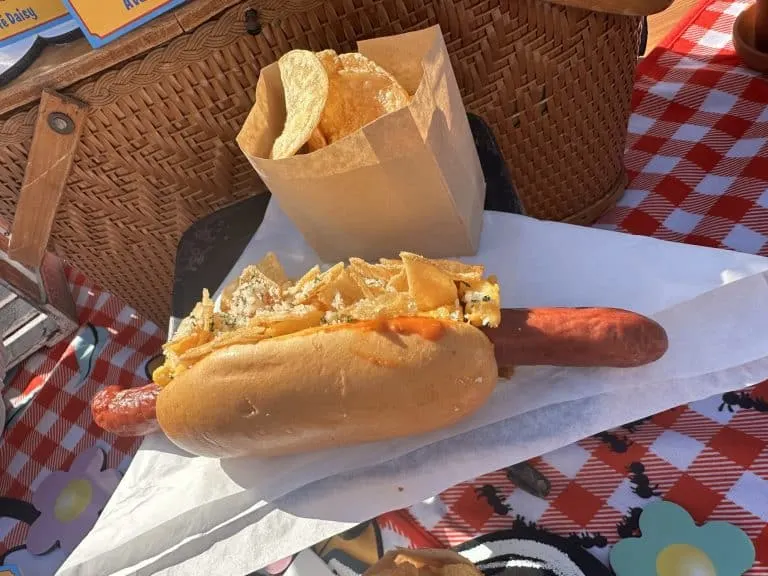 My son and I both have gluten intolerances so we were thrilled to discover that they have gluten-free buns for the Daisy Dog and a gluten-free pizza dough option for the flop-overs! My son loved his flop-over and I was very happy with my Daisy Dog. I ordered a side of the chili cheese sauce (also gluten free) and chips so I could make my own version of a loaded dog.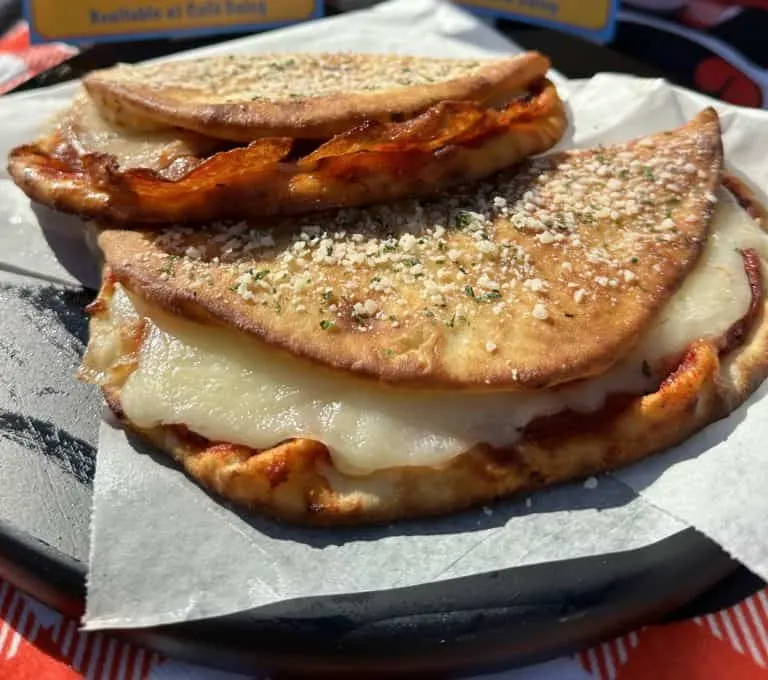 In addition to hot dogs and pizza, the restaurant also serves a vegetarian Spring Garden Wrap for adults and little pizzas, mini corn dogs, and mini mac and cheese for little kids. Everyone will want to sample Daisy's Good-Goody Donuts that are sprinkled with cinnamon sugar.
In addition to standard fountain drinks there are also three new specialty drinks- Watermelon Lemonade, Granny Goof's Garden Sweet Tea, the Specialty Cold Brrr-ew. The Sweet Tea has mango popping boba inside.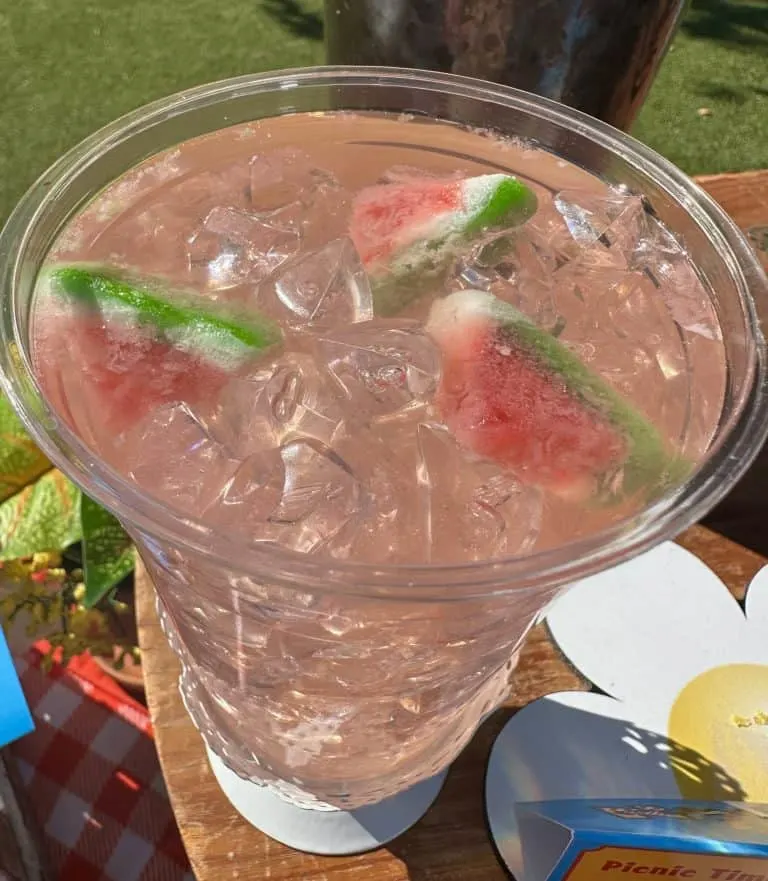 My kids tried and loved the Watermelon Lemonade which had these yummy gummy watermelons inside. I really liked the cold brew which I was a bit hesistant to order because I thought it would be too sweet, but it was actually perfect! It is less like an iced mocha and more like a cold brew with some sweet caramel and chocolate hints in it.
New Merchandise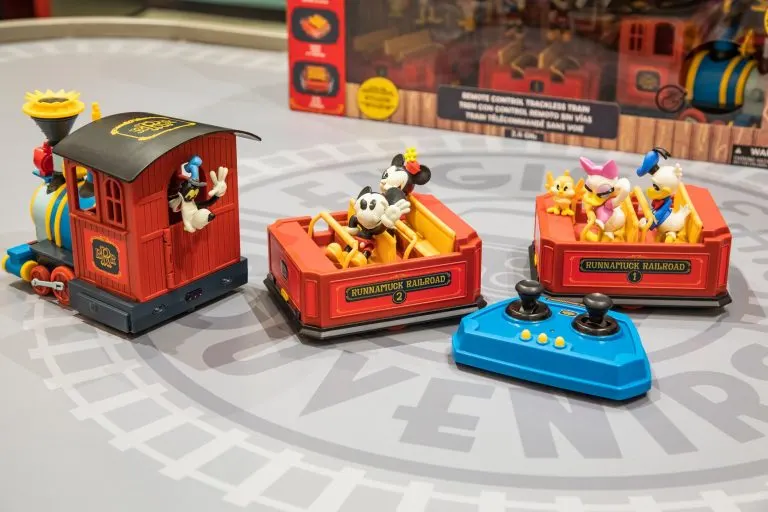 EngineEAR Souvenirs is Toontown's only merchandise shop and it also happens to be the exit for Runaway Railway (aren't they so clever?)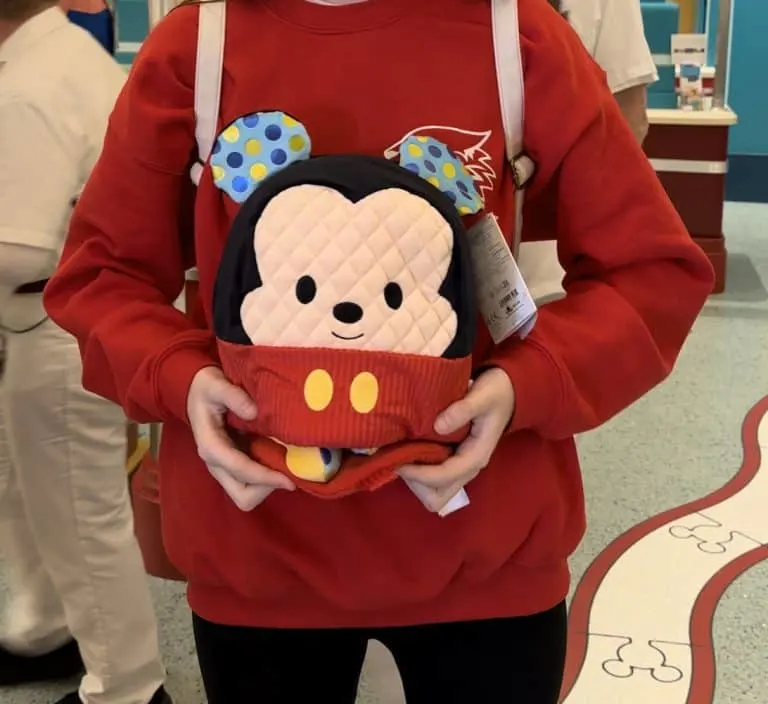 There are lots of Mickey & Minnie's Runaway Railway-themed items to purchase inside the store like clothing, Minnie Ears, and collectibles. Some of my favorite new merchandise offerings include:
Mickey & Minnie's Runaway Railway Remote Control Trackless Train which is a train set that doesn't follow a track
Mickey & Minnie's Runaway Railway Remote Control Roadster which was modeled after the car in the "Perfect Picnic" cartoon
Mickey's Toontown Nested Plush Set which has an adorable plush Pluto nesting inside Minnie nesting inside Mickey
Runaway Railway Locomotive Mug which I think would also be a great pencil holder on a desk
Mickey & Minnie's Runaway Railway Picnic Blanket which is waterproof, heavy duty, adorable, and would make a great family gift (have it embroidered with their last name!)
The author was invited by Disneyland to cover this event. All opinions are her own.