Trading pins at Disney properties is not only fun, it can be an affordable way to spend time when visiting. And, while the concept is simple, the ins and outs can be a little more complicated. To help with your Disney pin trading, I've complied a list of the top questions and answers to get you started. From how to begin trading to how to spot fake pins, here's everything you need to know about Disney trading pins.
What Is Disney Pin Trading?
In a nutshell, Disney pin trading is swapping pins with other folks willing to trade with you. There is no charge to trade Disney pins, either. You're able to pin trade with cast members and other guests. Which pins you decide to collect or trade is entirely up to you! I know folks that try to collect complete pin sets and themes. You can even decide to collect pins from favorite characters. It truly is a fun hobby that's completely catered to each individual.
How Did Disney Pin Trading Begin?
Disney pin trading started in October of 1999 with the Millennium Celebration at Walt Disney World. It quickly became a popular activity and today you can trade pins at Disneyland, Disney's Aulani, Disneyland Paris, and on Disney Cruises. For those that really go bananas over pin trading, there are even special, unofficial park nights dedicated to the fun!
How many pins have been made since the beginning of Disney theme parks? Amazingly, there have been over 100,000 official Disney pin designs created!
How Do I Get Started with Disney Trading Pins?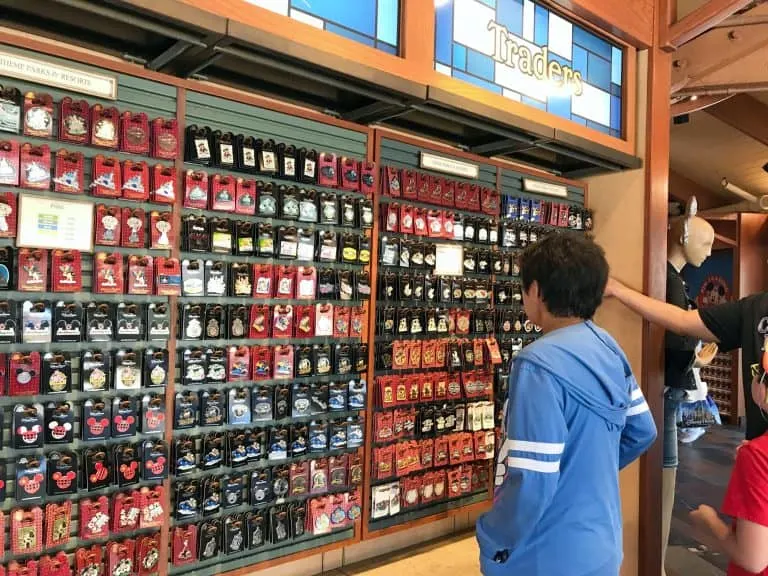 I am the mother of a pin-trading daughter; it's one of her favorite things to do at Walt Disney World when we have down time in the parks. She got started simply by seeing park guests with lanyards filled with Disney pins on our first couple of visits.
We bought a lanyard for her (you don't have to buy one but it certainly is fun to showcase your pins!) and a starter pin set. From there, it evolved to boards in her room filled with her favorite pins, purchasing pin sets online, and making a beeline for every cast member wearing pins.
Again, you don't have to go bananas with your kids but, I do warn you, it can be addictive in the funnest way possible. Our home park is Walt Disney World, so my daughter likes to look for pins from other parks. We've found random Disneyland pins that you can't purchase at Disney World and a couple from overseas as well. She's even traded with kids on the Disney resort buses heading to and from the parks.
Then there are the character collections. Right now, her favorite is Oswald the Lucky Rabbit. While he's not prominent in Disney World, we have seen a few of his pins for sale in the shops. So, she's on the hunt for every Oswald pin she can find. And, while I'm not an official pin trader, I can't help but find myself checking out cast member's pins for any hint of Oswald.
How Can I Save money on Pin Trading?
Another honest word of note: If you and the kids really enjoy pin trading, it can get expensive. My daughter's Disney trip stipend is most times spent on new Disney pins that she doesn't want to trade, but instead collect.
My advice is to purchase a starter set with pins that you have no problem trading and go from there. Or, look online for pin bundles and purchase them before your next trip. We've done this plenty of times in the past so my daughter can keep a few in her park bag just in case she spies one to collect. She's not into wearing a lanyard at this point, so keeping them in her bag is just fine with her. Also check the online Disney Store for pins that you may have missed while vacationing.
Headed to Disneyland? Here are our favorite Disneyland tips.
Are There Rules to Pin Trading?
Yep! There are several rules that need to be respected:
Look for Disney cast members that are pin trading. You'll know they're willing to trade because they'll have a lanyard with pins or a short apron filled with pins. Also be on the lookout for cast members in the shops with cork boards or pin books filled with pins, too. We've had luck in the Disney Resorts with larger collections.
Find a pin that you want to trade. It truly is collector's choice when it comes to Disney cast members.
Trade pins. While the general rule is that a cast member cannot already own the pin, I have seen duplicated ones here and there. Cast members are very easy to trade with and we've never been turned down. Guests may trade up to two pins per cast member per day. When you make a trade with a cast member, you'll probably only be trading the pin itself, not the security backing. This is true especially when trading from a book or board. The actual rule is to keep the pin back attached, but lately it's pin only.
Don't touch someone else's pins. You may, however, ask for a closer look before you decide to trade. When you do make a trade, hand your pin, open-handed with the pin back on.
Also of note is the fact that you may only trade official Disney pins. Check out how to spot a fake Disney pin below.
How Do I Spot a Fake Disney Pin?
Yes, there are Disney pin fakes out there. While at first, all pins may look the same (apart from the themes), there are a couple of ways to spot a fake. First, be on the lookout for pins that don't have the official copyrighted Disney mark. It's always somewhere on the pin, particularly on the back. Secondly, you'll need good eyes for this one. Check the actual pin part. True Disney pins will have a thicker, reinforced area attached to the pin itself. Fake pins generally tend to look much flimsier in that area.
Another way to spot a fake Disney pin is with a stick pin closure on the back. All official Disney pins will have at east one rubber, Mickey head-shaped backing. Then, there subtle nuances to spotting "scrapper" pins. Rough edges, too bright coloring, and mottled lettering are sure signs of a dupe. Yes, that's a lot to look for, so if you have any doubts, don't trade.
Last, look for smaller posts on the sides of the main post. They're there to keep official Disney pins from spinning when pinned and a lot of fakes won't have them simply to save cost of printing. While there are instances where the smaller posts are not present on official Disney pins, it's a good general rule to follow.
How Many Pins Can I Trade at a Time?
With Disney cast members, you may trade up to two per day. With Disney pin-trading guests, you may trade as many as you both wish. Please keep in mind that when trading with other guests, they don't have to trade with you if they don't wish. Pin traders with large collections are pretty passionate about their collections and like to trade for pins they don't have or rarer pins, so be prepared to not make a trade. We've visited Epcot when there were uber collectors and they were looking for very specific pins so my daughter didn't trade any at all. It's all about making both trading parties happy.
Read all our best Disney World tips and tricks.
Are There Different Types of Disney Pins?
There are many different types of Disney pins. The fewer made, the higher the price. Also, special event pins tend to be higher in price.
Open Edition – Pretty inexpensive and easy to find and trade, these are the ones you'll find in the Disney shops for sale.
Hidden Mickey – A fun thing to do in the Disney parks is to look for Hidden Mickeys, right? Hidden Mickey pins have a teeny Mickey head on them somewhere on the front. They're very easy to find and trade as they're plentiful.
Limited Edition – These are Disney pins made in smaller numbers, so they are rare to find and more expensive to purchase. Limited Editions range from pins made for festivals and holidays to D23 events and Disney anniversaries. Remember when Toy Story Land opened? There were pins made specifically for its opening. Those pins are Limited Edition.
Limited Release – Special pins that are easier to find than Limited Edition but harder than Open Edition.
How Do I Not Lose My Pins?
When you buy Disney pins, each will come with a rubber backing to hold the pin in place. They work okay, but my daughter has lost pins from her lanyard simply because they slipped from the rubber backing. If you want to keep your pins in place, purchase locking backs. They actually have a small, L-shaped key that locks and unlocks the backs to keep them secure. The locking pins backs are truly a worthy investment, especially for heavier pins that tend to loosen easily. You can buy them in the Disney park shops, but to save money look for locking pin back bundles online.