Toy Story Land is officially open at Disney's Hollywood Studios! This bright and cheerful land take guests into Andy's backyard and features all your favorite Toy Story pals. As expected, Disney has created an immersive land filled with incredible detail, down to the "cooties" near the restroom entrance. Even the ride queues are works of Pixar art! No doubt, Toy Story Land is sure to be an instant hit with families vacationing at Disney World. Here are 8 fun things we think you should do when you visit Toy Story Land.
1. Experience larger-than-life versions of your favorite Toy Story characters.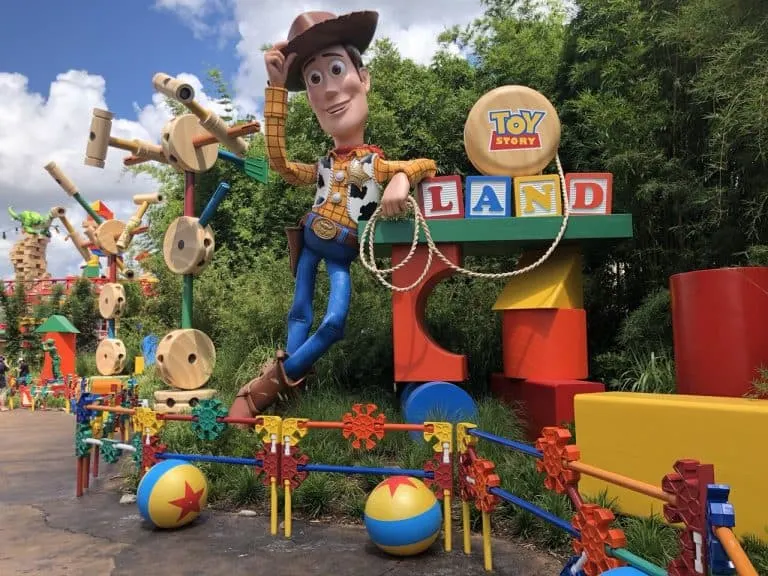 When guests enter Toy Story Land, they are seeing Andy's backyard from the perspective of a toy. Many of Toy Story's beloved characters are represented on a massive scale. Woody greets guests at the entrance to Toy Story Land, welcoming us all to the neighborhood. Buzz Lightyear stands 14-feet tall near Alien Swirling Saucers, ready to launch into "Infinity and Beyond"! Mr. Potato Head serves as "Boardwalk Barker" in the Toy Story Mania queue. Jessie and Rex the dinosaur can be spotted near Slinky Dog Dash coaster. Wheezy the penguin croons the film series' trademark song at ride's end.
2. Go for a spin on Alien Swirling Saucers.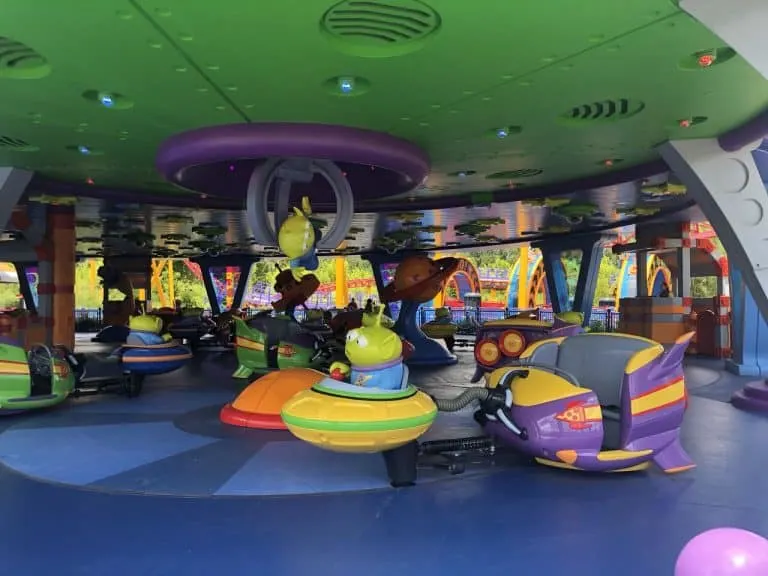 One of the two new rides in Toy Story Land is the Alien Swirling Saucers. Here, guests climb aboard Alien-piloted rocket ship saucers which move around to electronic space music. The Alien's favorite object, "The Claw", looms overhead. The rocket ships whirl and swirl, but they don't spin, making this ride less nausea-inducing than the Mad Hatter Teacups. The minimum height for this ride is 32 inches and FastPass+ is available.
3. Chow down on some Totchos.
Do you remember getting Fritos topped with chili and cheese at ballgames when you were growing up? We called them "Gut Busters" and they were a staple at my Little League snack bar. At Woody's Lunch Box, they are selling a play on this treat using tater tots. Yes, you read that right! Totchos are tater tots topped with corn chips, corn chips, chili and queso. It's a treat worth splurging on- you are on vacation, after all!
There are several other menu items at Woody's Lunch Box you won't want to miss. The S'more French Toast is basically dessert for breakfast. The sandwich features marshmallow-stuffed French toast, chocolate ganache, and is topped with graham cracker crumbles. The ooey gooey Grilled Three-Cheese Sandwich combines a sharp cheddar cream cheese spread, provolone, and more cheddar inside garlic butter-grilled French bread. The Lunch Box Tarts are Disney's interpretation of the Pop Tarts we all know and love. Their Raspberry Lunch Box Tart is topped with pink icing and dried fruit. The Chocolate-Hazelnut Lunch Box Tart is also iced and topped with caramelized bacon. Yum!
4. Immerse yourself in the new Toy Story Mania Queue.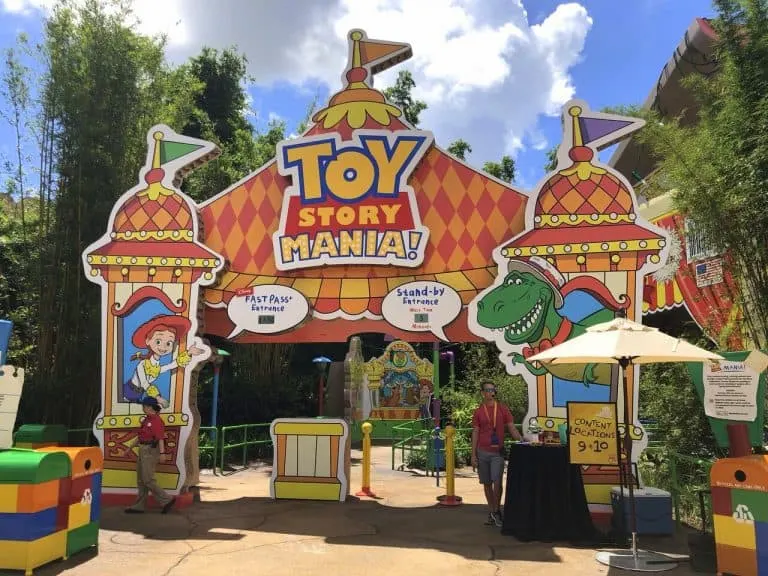 The imagineers at Disney World couldn't open Toy Story Land without giving a face lift to one of the most popular rides in Disney's Hollywood Studios, Toy Story Mania. Guests enter through the box that Andy's Toy Story Mania Midway Games playset came in, and feel like they have been magically shrunk down to Woody's size. From there, they walk past massive crayons, letter blocks, Tinkertoys, dominoes, game boards, toy wooden airplanes, and even an Etch A Sketch! An animatronic Mr. Potato Head invites guests to "step right up!" and try their hand at the 4-D games that await riders. This ride is sure bring out your competitive streak as you compete against the other members of your car for high score. There is no minimum height requirement and Fastpass+ is available.
5. Be on the lookout for the Green Army Patrol.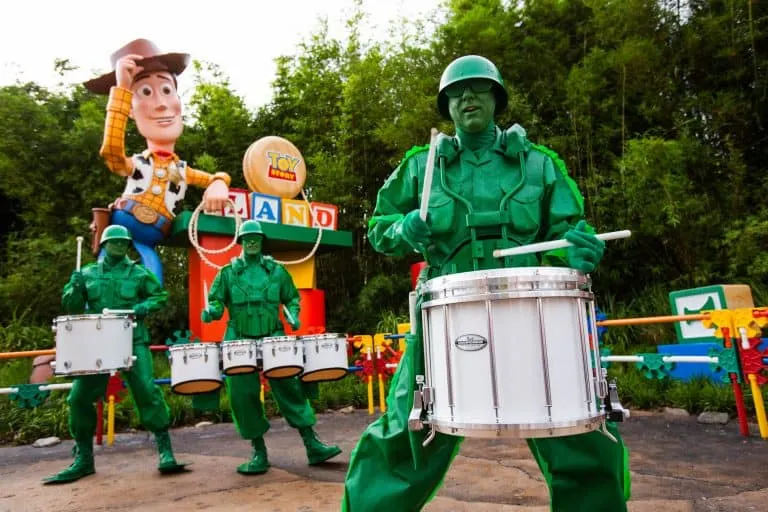 Photo by: Disney Parks
Disney couldn't have possibly opened a new land without bringing in some new entertainment. Since this is Toy Story Land, it makes sense that the Green Army Patrol would be part of the fun. This posse of green guys marches through Toy Story Land, stopping to play games with guests in their fun boot camp. Green Army Drum Corps can also be found marching around Toy Story Land. They play percussive music that is sure to get you moving.
6. Grab some fun Toy Story-themed gear.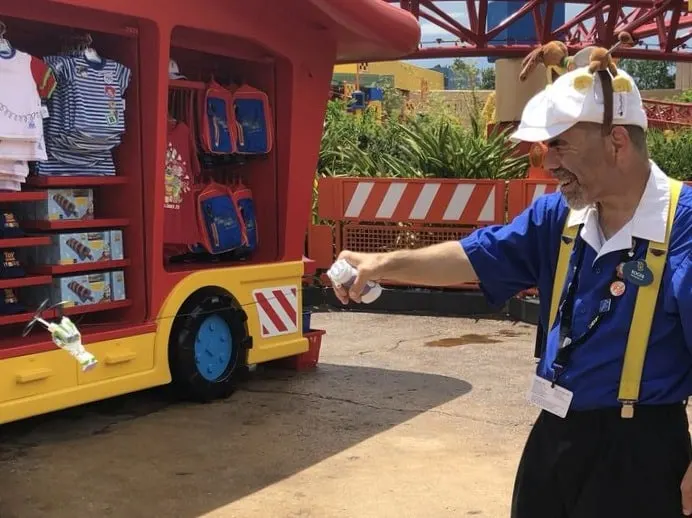 How can you resist a Slinky Dog headband? Or a light-up necklace filled with Aliens? There is so much fun new merchandise that kids will find it hard to decide which souvenir to select. Two of my favorite toys star Buzz Lightyear. The Buzz Lightyear Bubble Blower shoots bubbles out of his helmet and the bubble solution actually lasts a really time! Give that bad boy to your toddler in his stroller and he will be entertained for hours while delighting all those bubble-catching kiddos you pass by. The other toy I love is a Buzz Lightyear that uses fan power to fly through the air. It is fun to squeeze the trigger and watch him fly through the sky, plus his fan comes in handy when the days heat up.
7. Sit down a popsicle stick bench and cool down with something sweet.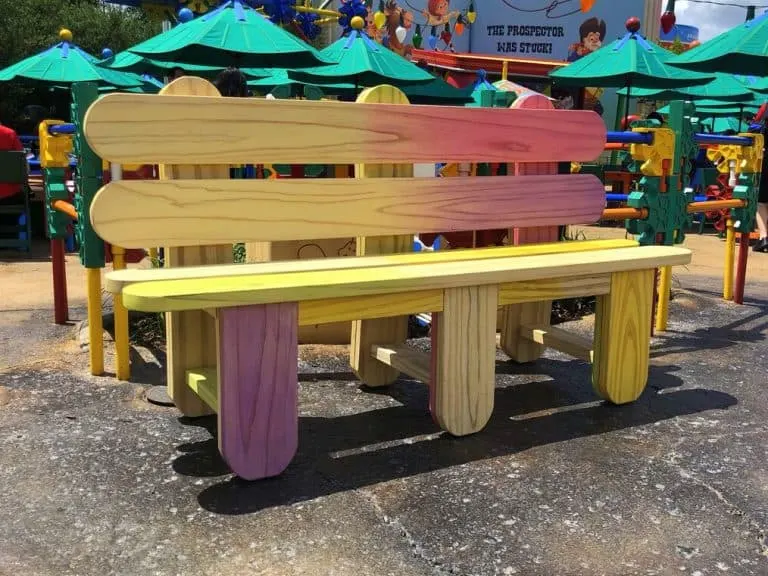 Why? Because you can! It gets hot in Orlando, so keeping cool is vital to an enjoyable day at the parks. At Woody's Lunch Box, they are serving up some fun beverages to keep things chill. Guests will find the classic root beer float, as well as some new beverages that are sure to make a splash. Children will get a kick out of Mystic Portal Punch which combines PowerAde Mountain Berry Blast with flavors of lemon-lime and tangerine. It can be purchased in a souvenir Alien sipper, complete with "The Claw" inside. Mom and Dad may want to opt for a Grown Up's Lemonade, made with cherry vodka, Odwalla Lemonade, and black cherry puree.
8. Zip around Toy Story Land on the Slinky Dog Dash roller coaster.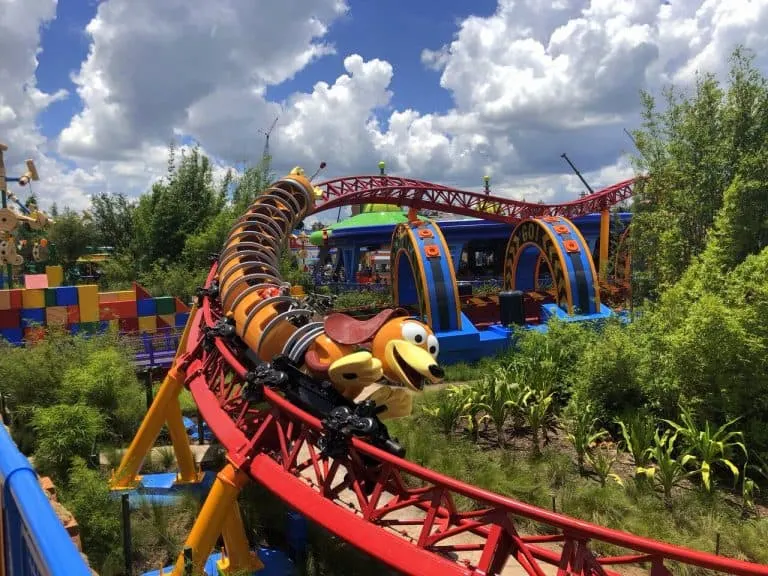 Of all the new attractions in Toy Story Land, Slinky Dog Dash is my favorite. This coaster is sprawling and colorful, bringing so much joy to the guests who ride it. Riders first head through a queue which shows Andy's crayon sketches of the ride. Coaster pieces (Tinkertoys), glue bottles, and crayons are strewn about, making it easy to believe we are stepping into the imagination of a little boy.
Riders then climb aboard cars inside Slinky Dog's coiling back, and are whisked into a thrilling-but-not-too-thrilling zip around the yard. What I love about this ride is that it is tame enough to be a "first coaster", but still plenty of fun for experienced roller coaster enthusiasts. Keep an eye out for Jessie trying to save Rex who has gotten himself into a bit of trouble atop a pile of Jenga blocks. The minimum height requirement is 38 inches and Fastpass+ is available.
Did you know? Toy Story Land may be the first of its kind in the United States, but there are also Toy Story Lands at Walt Disney Studios Paris, Hong Kong Disneyland, and Shanghai Disneyland.
Watch a Preview of the New Toy Story Land

But wait, there's more!
Disney's Hollywood Studios is in the midst of a multiyear expansion, or "reimagining" in Disney speak. The first Mickey-themed attraction in the history of Disney Parks is coming to DHS in 2019. Mickey & Minnie's Runaway Railway is being designed to bring riders into the fun and wacky world of a Mickey Mouse cartoon short. In late fall of 2019, one of the most anticipated lands in Disney history, Star Wars: Galaxy's Edge, is set to open.
All photos by Sharlene Earnshaw unless otherwise noted.
Disclosure: The author received complimentary entry to Toy Story Land for a media preview. All opinions are her own.