Can you find Slovakia on a map of Europe? No. Apparently you aren't alone; Americans traveling to Europe seemingly haven't discovered this hidden gem packed with national parks, towering mountain peaks, and quaint medieval villages. We found thousands of Americans touring Budapest, only a day's drive from Slovakia's Tatra Mountains, national parks and historic castles. However, we encountered just a few who were hiking in Slovakia and exploring its countryside. Slovakia is one of the cheapest European countries to visit for Americans. It is a budget-friendly, outdoor adventure destination in the heart of Europe. And apparently, Americans haven't found it — at least not yet.
Slovakia Tourism: Go hiking in Slovakia's Tatra Mountains with Your Family
Americans Haven't Discovered Slovakia – One of the Cheapest European Countries to Visit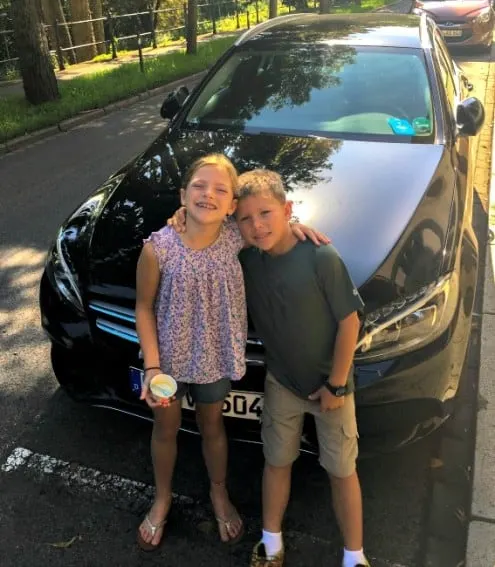 Possibly one reason that Americans haven't found Slovakia is that they are hesitant to rent a car and drive outside Europe's major cities. Yes, to explore Slovakia's charming medieval castles, rocky Tatra Mountains, and national parks with waterfalls above ground and caves below, it really is necessary to rent a car. However, we did find Slovakia to be very easy to navigate by car. Google Maps easily directed us where we wanted to go – just like at home.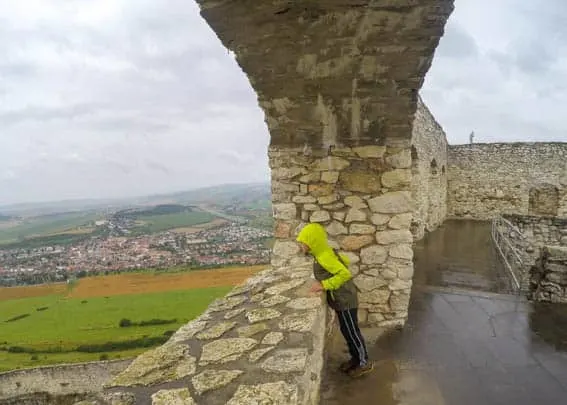 Or, maybe Americans still associate Slovakia with the Czechoslovakia of the Cold War era? Believe it or not, it has been over a quarter century since the fall of communism in eastern Europe. The small towns of Slovakia are marked more by crumbling medieval town walls and charming church steeples than Soviet apartment blocks and scars of the 20th century. As we traveled through Slovakia, I would often imagine what life might have been like in the 12th and 13th century castles that we visited. Fortunately, there were few reminders of the 1950s and 1960s.
Why Not Slovakia? It's Beautiful and One of the Cheapest European Countries to Visit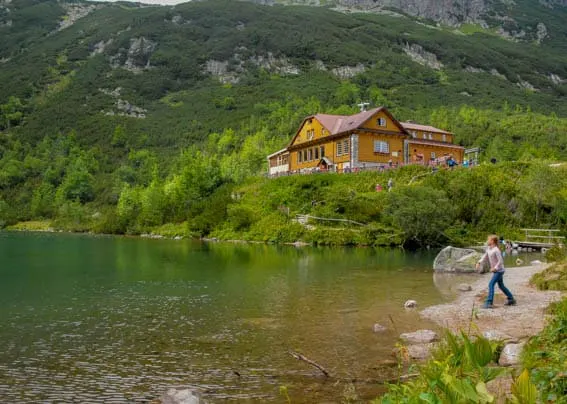 With fewer international tourists competing for hotel rooms, Slovakia is one of the cheapest European countries to visit. The country has a distinctly non-touristy, authentic feel about it. Slovakia's Tatra Mountains boast mountain huts (like the one at Zelene Pleso pictured above), cable cars extending to mountain peaks, and plenty of adventures for thrill seekers. The Slovakia's hiking trails and outdoor adventures are similar to those you'd expect to find in the Austrian and Swiss Alps. However, there are few, if any, large group tours from Asia and America to be found in Slovakia — only families from around Central Europe enjoying their holiday. Also, being one of the cheapest European countries to visit, Slovakia is much less expensive to visit than Switzerland.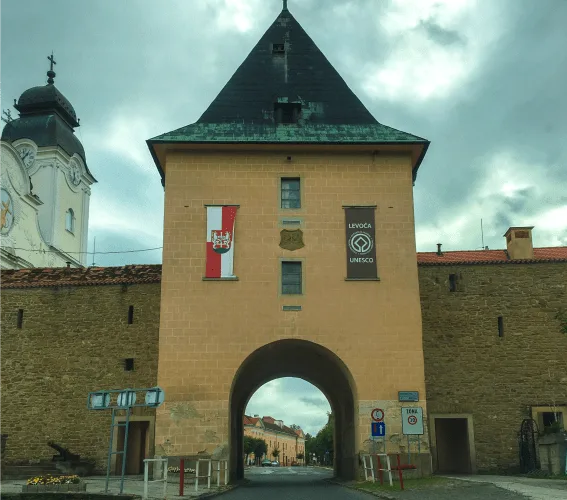 While the Swiss Alps can be a very expensive destination, Slovakia is one of the cheapest European countries to visit. Our huge family suite with a loft for our 7- and 8-year-old children at a bed and breakfast inside the historic city walls of Levoča (pictured above) averaged about 150 dollars a night in August. A full meal with drinks for our family of four at a restaurant nearby averaged 35-40 dollars a night. For those prices we ate well and slept well. Travelers really watching their budget could likely do even better.
Slovakia Tourism: Top Destinations for Families in Slovakia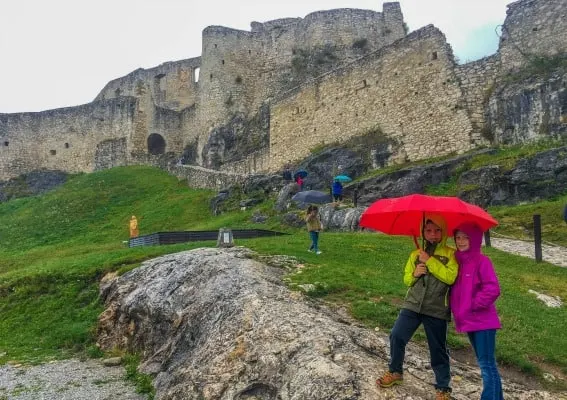 While Slovakia does have a couple of cities worth a visit, namely Košice and Bratislava, our family spent most of our time in Slovakia hiking and enjoying the more natural side of the country. Slovakia is a great destination for families that are more adventurous, love hiking, and look to enjoy a bit of the outdoors along with some history and culture. We only stayed in Slovakia three full days, one of which was spent visiting the hometown of a family friend. I'd love to go back to explore more someday, and I know my kids would jump at the chance to go back.
My recommendations are based on my experience and research of the Tatra Mountains, Slovak Paradise National Park, and the region around Levoča, the small town that we used as a home base during our stay.
Enjoy a Mountain Adventure in the High Tartas – Slovakia Hiking in the Tatra Mountains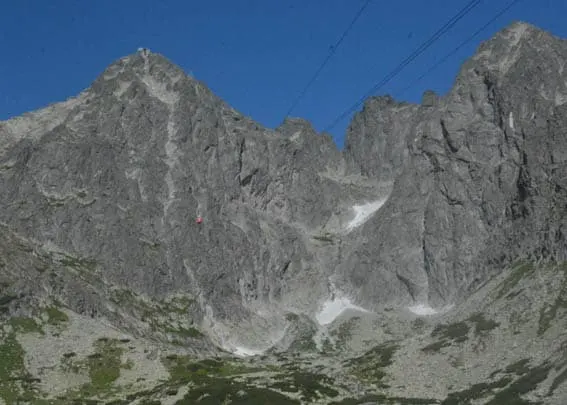 Admittedly, the Tatra Mountains, Tatry in Slovak and Polish, are not as substantial as the Rocky Mountains or the Alps. However, they do have a similar rugged, snow capped look to them. The Tatra Mountains sit on the border of Slovakia and Poland with the city of Zakopane in Poland being the most popular jumping off point for mountain adventure in the region. We visited both the Polish and the Slovakian side of the Tatra Mountain range.
We found the Slovakian side of the mountains to be just as beautiful and significantly less touristy. There are multiple cable cars on both sides of the border that reach to the highest peaks of the Tatra Mountains. Just like in the Alps, there are mountain huts that serve traditional, hearty mountain fare and provide accommodation for hikers staying the night in between challenging backcountry climbs. Like many mountainous areas, weather changes quickly in the Tatra Mountains; we came prepared with heavy jackets, but shed them as the clouds lifted over the course of the day.
Slovakia Hiking in the High Tatras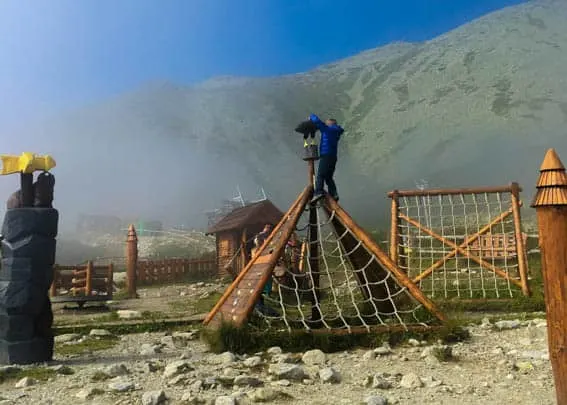 Vysoké Tatry (translated High Tatras) is the resort area servicing much of the Slovakian side of the Tatra mountains. (Parts of the resort area's website are available in English, which is very helpful for planning a visit.) The area is quite family-friendly offering mountaintop playgrounds both indoors and outdoors at Skalnaté Pleso, family boating opportunities on Štrbské Pleso, kid-friendly hikes guided by placards with mountain creatures guiding the way, a thrilling mountain coaster, mountain scooter/cart rental at the Start lift station above Tatranská Lomnica, and endless hiking opportunities for all ages.
Like in many parts of Europe, you'll see young children joining their parents on day hikes that many Americans would consider strenuous; if you have active children that thrive on adventure like mine, they'll be excited and challenged by all the families that they will encounter hiking in Slovakia.
Hiking Slovakia's Skalnaté Pleso to Zelené pleso via Veľká Svišťovka with return to Tatranská Lomnica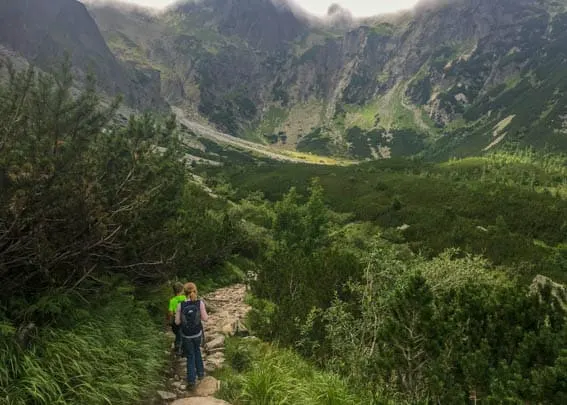 Needless to say, we didn't experience everything that the Tatra Mountains have to offer during our one day hiking in Slovakia's mountains! Instead, we opted for a truly epic full-day hike. I have yet to find the resources in English to calculate the exact mileage of our route, but my rough estimate is in the 8-10 mile range. We saw one or two other families along our route hiking with young kids ages 6 to 9, but it certainly wasn't an easy trek. However, it most certainly was worth it, and it was the most difficult challenge that we've completed as a family; I'm certain that my children will never forget hiking in Slovakia!
We began our day early in the Tatra Mountains, around 9AM. First wee took the cable car from the resort town of Tatranská Lomnica up to Skalnaté Pleso (literally translated as rocky lake). Skalnaté Pleso is quite the kid-friendly destination up high in the Tatra Mountains. It has a wooden Marmot country eco-mini-park playground right underneath the towering Lomnický Peak. There's even another small playground for tots indoors.
Slovakia Hiking – Hiking from Skalnaté Pleso
There are two options for continuing the journey upwards from Skalnaté Pleso via lift if you don't plan on hiking: a chair lift to Lomnické sedlo (the saddle) and an 8.5 minute cable car ride up to Lomnický štít (the peak), the second highest peak in the Tatras. However, we choose to continue upwards on foot to the nearby Veľká Svišťovka peak via the red trail.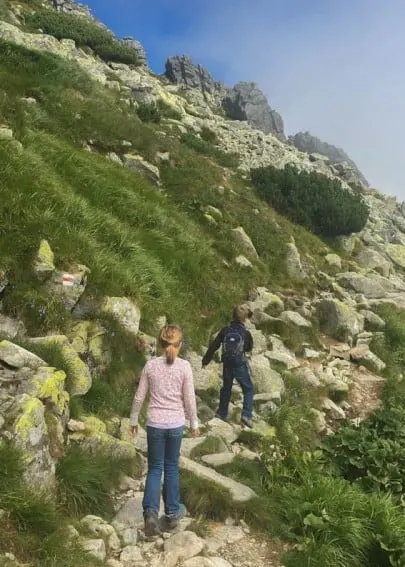 The first few hundred meters of the red trail was brutal for our family; the trail is rocky with a steep incline – steeper than pictured above. I pulled out more than one chocolate bar to motivate everyone up this first stretch of trail. The good news is that while the trail remains very rocky, the steep incline levels out a bit. My children enjoy rocky hikes, and this is as rocky as it gets without bouldering or significant uphill rock scrambles.
Slovakia Hiking – Hiking down from Veľká Svišťovka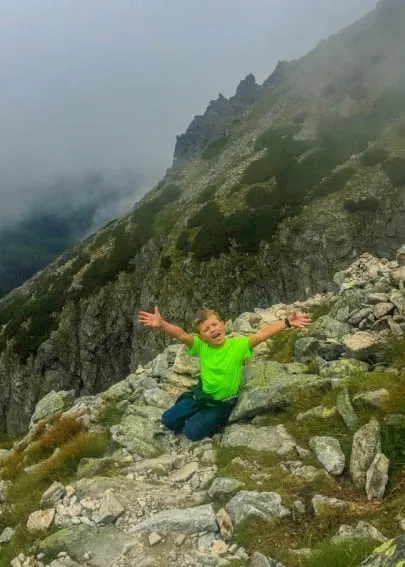 The hike down from Veľká Svišťovka to Zelené Pleso is even rockier and more challenging; my son, like a little mountain goat, flew down this stretch of trail while I struggled to keep up with him. There were some chains to help us along the way as we traversed a gravely stretch of trail by a waterfall. From there, it was all downhill to the mountain hut on the banks of Zelené pleso (translated green lake.)
Slovakia Hiking: Mountain Hut at Zelené Pleso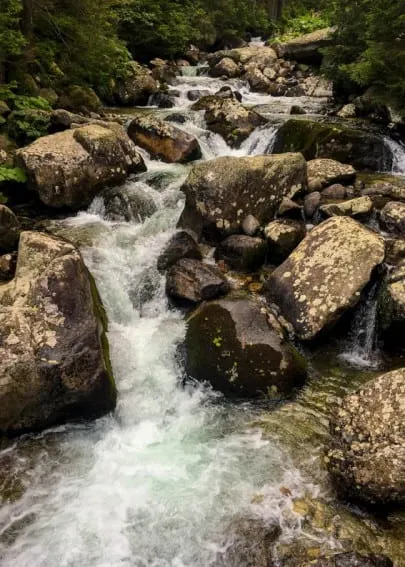 The mountain hut was buzzing with hikers of all ages. There are multiple options, many of them less strenuous, for reaching this scenic hut. We opted for some bratwurst and crepes. Those were the most readily identifiable things on the pictorial menu. Then we set out down the mountain on the yellow/blue trail to Tatranská Lomnica. The trail paralleled a rushing river with rapids and cascades most of the way back downhill. We stopped frequently to rest our tired feet and savor more European chocolate bars, the strawberry Milka bars being our family favorite.
Slovakia Hiking: Hike Over Waterfalls and Through Gorges in Slovak Paradise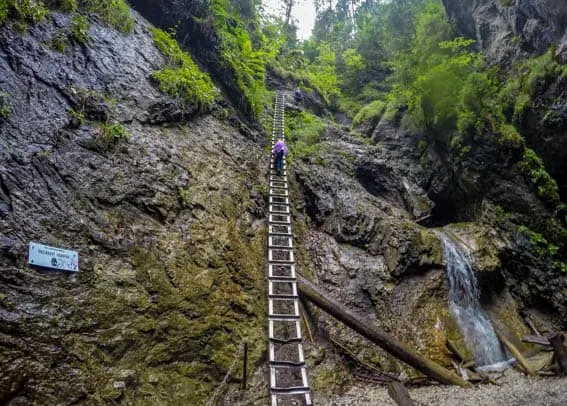 Even from a few miles away, Slovenský raj, Slovak Paradise, is not particularly impressive. It's quite flat compared to the peaks of the Tatra Mountains looming in the distance to the north. However, once you're out on a trail climbing through the region's gorges, a magnificent landscape opens up with waterfalls and streams and moss covered rocks. The most popular hikes in the region feature metal ladders that rise upwards with the rock walls of the gorge. A sense of adventure and good waterproof hiking boots are required for hiking in Slovakia. You will see families with children as young as 4 and 5 hiking many of these trails. The national park also encompasses one of Slovakia's famous cave systems, the Dobšinská Ice Cave.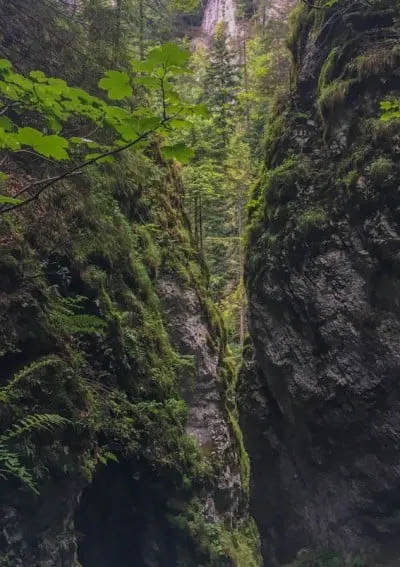 The most popular trails in the park include: the long Prielom Hornádu Canyon trail. It stretches the length of the the 16km canyon. The trail features several suspension bridges and is well connected to the park's entire network, including the Veľký Sokol gorge trail and the Suchá Belá gorge trail. Both gorge trails are about 4-5 km. They are one-way trails leading up a narrow canyon through which a stream flows creating beautiful waterfalls. We only had time to hike the more popular Suchá Belá Trail during our visit to Slovakia. My children proclaimed it "the best trail ever!"
Slovakia Hiking the Suchá Belá Gorge from the Hrabušice-Podlesok Parking Area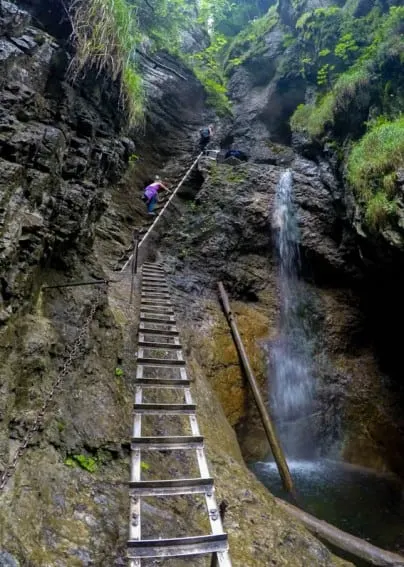 Our family began our Suchá Belá hike on the afternoon of a rainy day just as the clouds were beginning to clear. So, the green trail, which follows a creek bed, was quite wet and waterproof hiking boots were a necessity. Fortunately, the rain had kept others from exploring the trail. We only met a few other groups as we were hiking. While I worried about the metal ladders being slippery and dangerous due to the wet conditions, this was not a concern. Those ladders are much sturdier than they appear in pictures!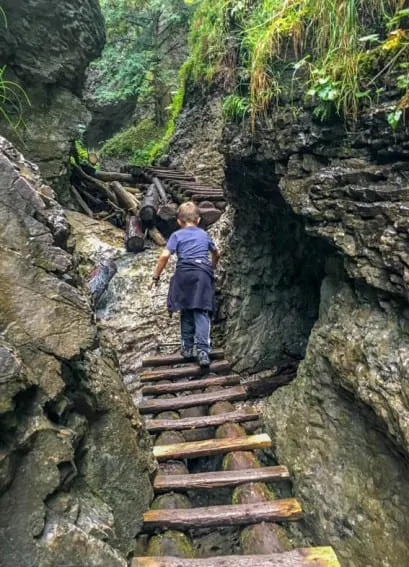 It took my family just about two and half hours to reach the top and about three and a half hours total round trip back to our car. We slowed down considerably once we were nearing the top of the mountain because the trail was no longer as interesting; without the ladders, platforms and chains, the last 30 minutes up to the top and the decent is a bit boring. The trails are well marked back down to Podlesok.
Hiking Slovakia with Children
Despite the dangerous footing and conditions, we saw plenty of other children on the trail; some appeared even younger than my 7 year old! Honestly, I think that my children were more secure and safe climbing the ladders and jumping from platform to platform than my husband and I. Of course, my children play on playgrounds and climb around every day. That is certainly not the case for us adults.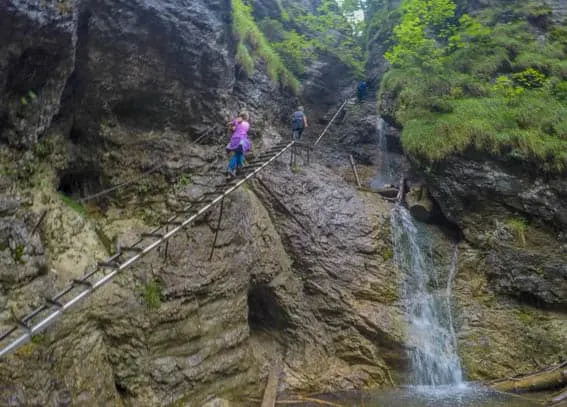 I look back at my pictures of Suchá Belá somewhat disappointed; they certainly do not do this hike justice. The greenery and the water are amazing, and the adventure dynamic of climbing through the gorge is unforgettable.
Slovakia Tourism: Spiš Castle – A Cultural Treasure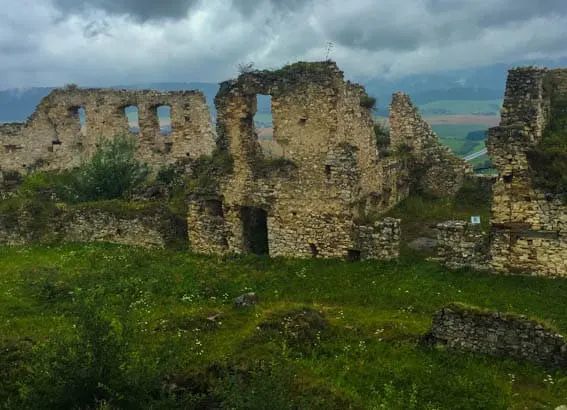 The tiny nation of Slovakia is home to several medieval castles dating to the 12th and 13th centuries. At that time this region was ruled by the Kingdom of Hungary. Most of these castles are perched atop a hill affording sweeping views of the valleys below. Small towns with charming church steeples and farmland are visible for as far as the eye can see. You'll be lucky to find much information in English on many of these castles. However, the experience of exploring the ruins and walking through the museum is worthwhile — even if you're simply left guessing about how the instruments of torture found in the museum were used or wondering what exactly was supposed to be cooking in the castle kitchen.
Spišský hrad (Spiš Castle) in the Rain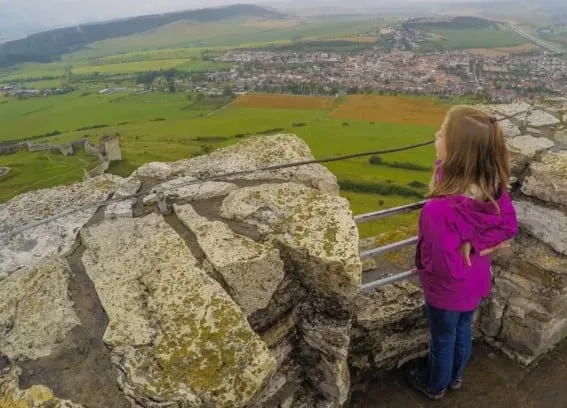 You can see from all my photos of Spiš Castle that the weather during our visit was wet and rainy. We chose to walk up the short path from behind the castle rather than hike up to the castle via the nearby village due to the wet weather; the walk from the parking lot to the entrance was a short 10-15 minutes. The walk up from the village would have taken at least a half hour. There are more castle ruins to explore on that path which we missed.
On a nice summer day, I imagine lively living history demonstrations inside the castle walls. Unfortunately, we only had the opportunity to observe a blacksmith in a tiny tent nestled close to the castle wall. A small map (in English) guided us around the castle complex as we discovered the ruins and imagined life there centuries ago.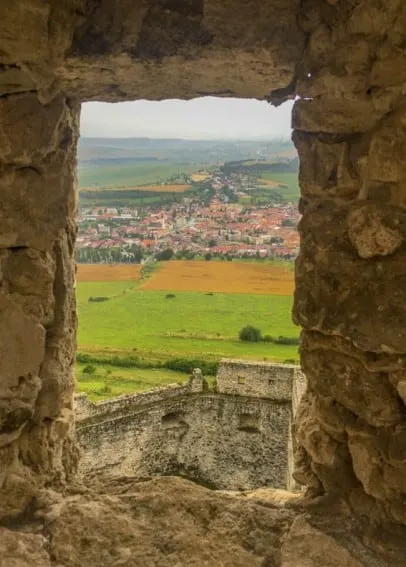 After fully exploring the ruins, taking in the view of the city below, and climbing to the very top of the tour, we spent 20 minutes or so indoors exploring the castle's museum. The museum has five to 10 rooms showing how the masters of the castle would have dressed and lived during the castle's period of greatest prominence.
Slovakia Tourism: Choose Levoča as a Home Base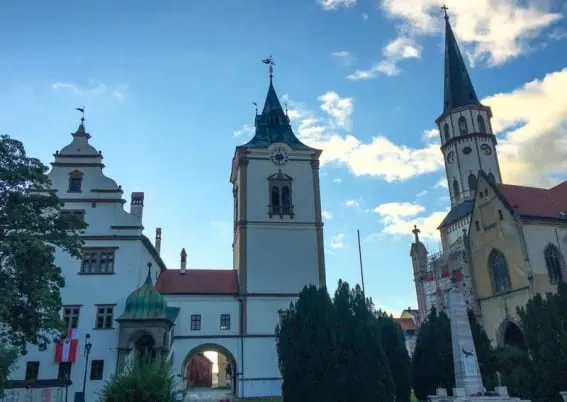 Slovakia is a relatively small country and many of it's national parks are within a couple hours drive of one another. My family based ourselves in the small town of Levoča for our three nights in Slovakia; it was an excellent choice. Our bed and breakfast style inn was less than an hour's drive from the Tatra Mountains, about 30 minutes from Slovak Paradise National Park, and only 20 minutes from Spiš Castle. It is a great home base while hiking Slovakia.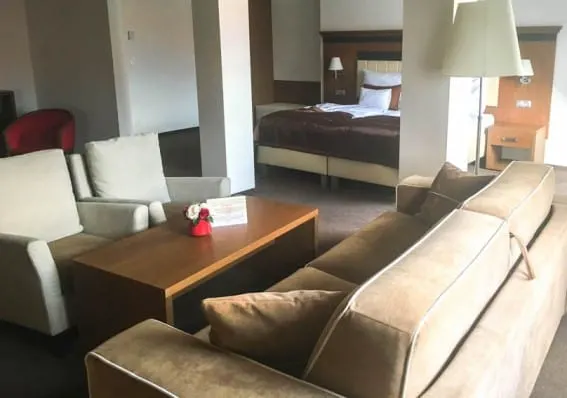 Penzion Kiska Levoča was our home base in Levoča. Our room had a large entryway, a huge living area with a king bed and a loft upstairs with two single beds for the kids. The hotel is located just inside historic city wall. We found the city of Levoča quiet. The municipal buildings and churches in the interior of the city are distinctive and beautiful. This was one of the most budget-friendly destinations of our entire trip to Europe. Slovakia is certainly one of the cheapest European cities to visit with the family.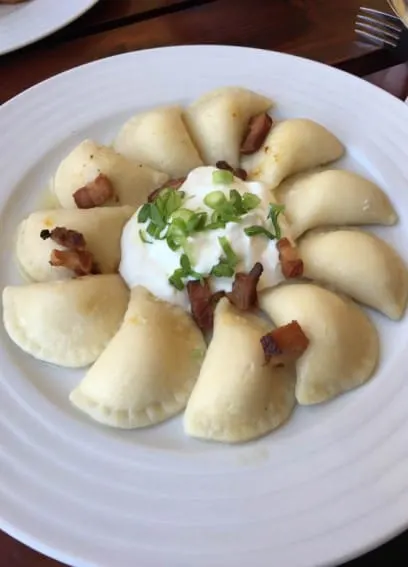 On our first night in Levoča, we found the restaurant, Reštaurácia Kupecká Bašta; it is nestled in the old city wall with excellent food, a children's menu, a small swing set playground, and outdoor seating. We always found out meals there to be very budget-friendly and super yummy. That's one of the reasons why Slovakia is one of the cheapest European cities to visit. There is good food at excellent prices.
Traveling to Europe? Don't miss these tips to Italy.
Just Over the Border in Poland in the Tatra Mountains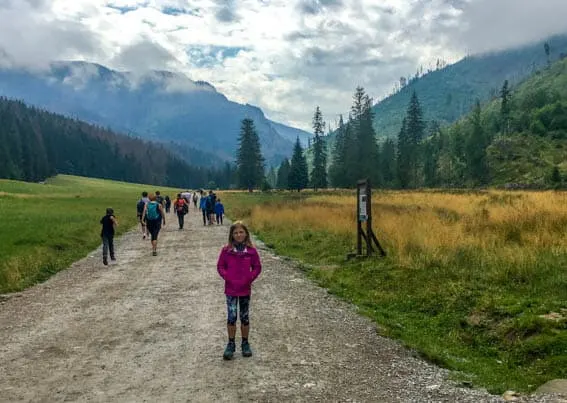 Our family's visit to Slovakia was part of a two-week road trip across the region. Before arriving in Levoča we spent a weekend in Krakow. After leaving Slovakia we spent a day in Budapest. It would be easy to take a day trip from Levoča to the Polish side of the Tatra Mountains near Zakopane. Poland is another one of the cheapest European countries to visit with kids.
Hiking the Kościeliska Valley in Poland's Tatra Mountains
The day that we drove from Krakow to Levoča, we stopped for a few hours to hike the Dolina Kościeliska (Kościeliska Valley.) It is a beautiful valley with a trail that runs along a stream through the mountains. Tired from exploring Krakow and the Wieliczka Salt Mine the previous day, we only hiked about halfway up the valley.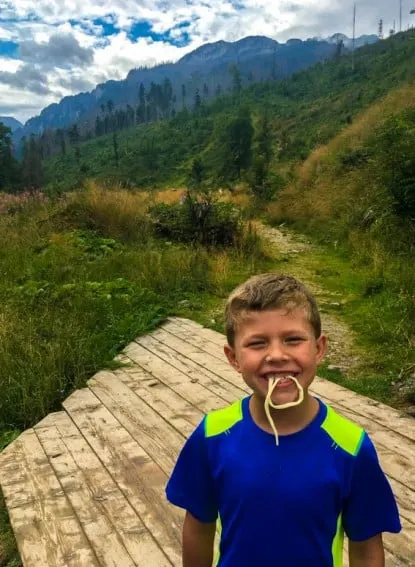 Along the way we enjoyed eating the traditional oscypek sheep's cheese which was for sale right by the parking lot and trailhead. There are both smoked and not smoked varieties. My husband was the only one in the family who enjoyed the smoked cheese. My son and I enjoyed the long strings of fresh cheese that had not been smoked. However, my daughter thought it was all absolutely disgusting!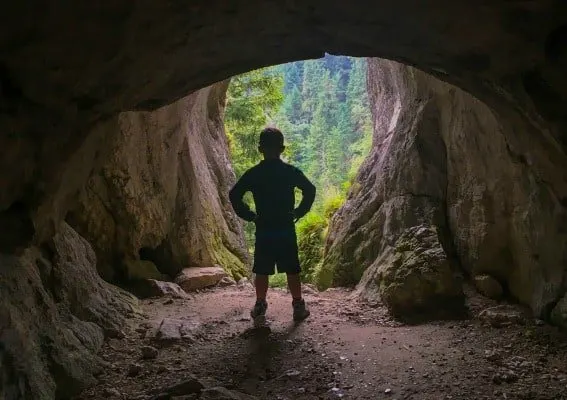 We did take some time to explore two of the caves in the area that are open to tourists. Be forewarned that these caves are relatively undeveloped and do not offer guided tours. We only ventured a couple hundred feet into the Mylna Cave (pictured above) using our headlamps. Fortunately, that was enough to satisfy my adventurous son. On our way back down the canyon we also walked through the more popular Mroźna Cave. It has a small entrance fee, but is lighted throughout.
All photos by Melissa Moore unless otherwise credited.
Looking for another one of the cheapest European countries to visit? For more budget-friendly options exploring the Mediterranean, visit Cyprus.