I have always been a fan of the great outdoors. Hiking to magnificent vistas, discovering natural flora and fauna, finding a refreshing stream or lake, and breathing in the fresh air of every season are all magical experiences we have also taught our children to seek. The best way to position yourself to discover all of these nuances of the outdoors is to experience camping.
This is where my love for the outdoors finds a snag. While I really do love camping: the campfires, chilly nights, communing with nature, and cooking on a camp stove, there is one thing I truly hate about camping. Preparation and packing are overwhelming. You need EVERYTHING and there is so much gear! Compounded with the 'stuff' of 3 kids and honestly our minivan looks like it belongs on an episode of Hoarders. Once it is all packed then of course we have to find places for it at the site and this is especially cumbersome when we are only going camping for the weekend. Enter Glamping.

I have casually read materials about glamping before but never really understood the significance until recently. In my mind I imagined it to be "glamourous" like those wispy well-appointed safari tents you may have seen pictures of while searching travel options. We recently spent the weekend in the newly opened Huttopia facility in the White Mountains of New Hampshire and learned about a style of glamping that has my attention.
Look for current hotel deals in New Hampshire
Huttopia: Glamping in the White Mountains of New Hampshire
Huttopia is a French company with many well-loved and well-used campgrounds sprinkled around France and parts of Europe. Recently they have moved their brand of camping into Canada and this June migrated into the US into New Hampshire. Here, I discovered a brand of camping that matches my idea of what glamping should be.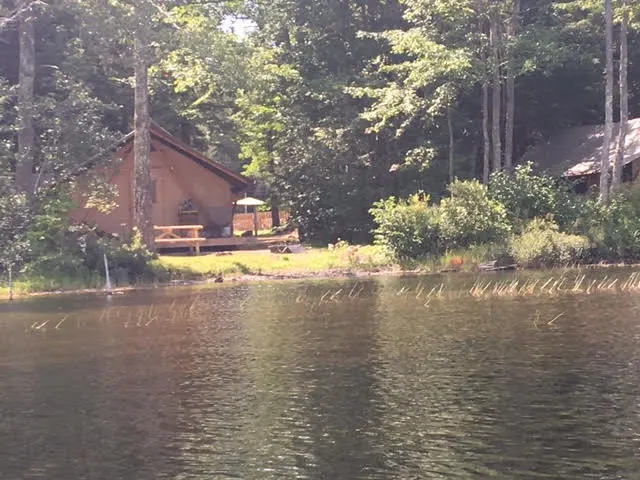 The Campground at Huttopia
Huttopia has refurbished an existing campground on a lake in Albany, New Hampshire on the eastern end of the White Mountains nearby Conway, New Hampshire. The campground is close enough to the hustle and bustle of the happening towns of Conway and North Conway for those looking for a slice of cosmopolitan New Hampshire, but far enough away to feel a bit remote. Huttopia is set up for tent site campers, cabin lovers, and glamping tenters.
On site there is a brand new heated pool with comfy loungers, a reception area stocked with natural and organic camping necessities along with a few bags of chips and soda, brochures about the area, campfire wood, and some excellent adult beverages including French wine.
From the reception area and its accompanying French music you enter onto the patio which overlooks the pool and a great kids playground with direct access to the food truck that serves quick French style croissants and crepes for breakfast and made to order gourmet pizzas for dinner, just in case you don't feel like cooking. On the patio there may be entertainment at night. We saw a kid-friendly magic show and listened to a local Irish inspired three-piece-band play some toe-tapping tunes.
Check for hotel availability in New Hampshire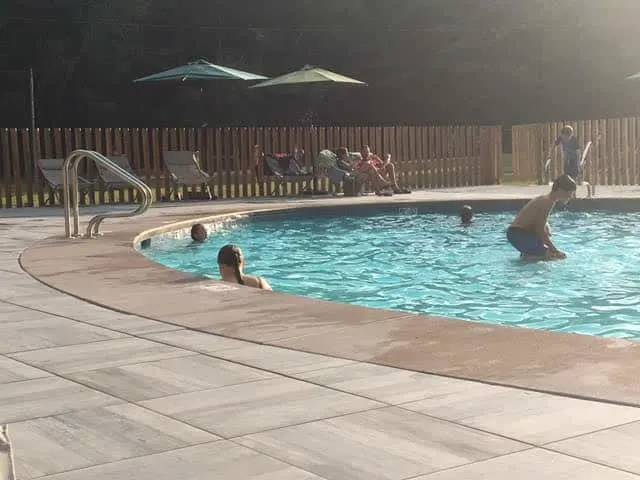 Activities at Huttopia
In addition to evening shows, Huttopia holds kid's activities in the morning for the 5-12 year-old groups. Kids were invited to go on a scavenger hunt or make crafts. While our children had aged out of these activities we made use of others at the camp and took a ride to nearby activities. Canoes and stand-up paddleboards are located on the beach of the lake and are rented by the hour. At first I thought an hour in the canoe would not be enough time but it was plenty to get across the lake, check out the beaver dams, watch the loons, and soak up the sun a clear New Hampshire morning. There are also several hiking trails on the property.
Off property we got refreshed with a cooling visit to nearby Diana's Baths. This is a local hotspot with plenty of watering holes with weather eroded rocks, rushing streams, and natural slides. We had been there more than 10 years ago and were surprised by the crowds. My teens had fun getting wet and found the 'bottomless hole.'
Look for the best hotel prices in New Hampshire

Our Tent at Huttopia
We stayed in a Trappeur Tent situated on the lake so the first thing we saw in the morning was the sun reflecting off the lake; at night the last thing we saw was steam rising from the warm waters on a chilly evening. The kids had fun looking for critters, fishing, and skimming rocks right from the site. The tent itself was located a two-minute walk from the pool and reception building and in an area where no cars are allowed (a bonus for those with small children and bikes). Other similarly styled tents are located near brooks or in the woods.
Glamping in the Trappeur tent was the best of both worlds. We were camping in a tent, albeit a large one on a platform, with a kitchenette, bathroom and shower, towels, a table with enough room for 5, a rack to hang our clothing, 2 sleeping areas with cozy bedding (a double on one side, a bunk with a double on the other separated by the bath), outlets for lighting and charging, all cookware, glassware and dishes, as well as a French press to make coffee. Outside the tent were a propane stove, lanterns, a picnic table, campfire ring, and chairs. It was heaven. We didn't have to pack a THING!
The kitchenette holds a small refrigerator (no need for that cooler) and a basin to wash your dishes. The bathroom, while not at all glamorous, is a tiny room with a toilet, ever-so-tiny shower, and even tinier wash basin. Brushing teeth requires a bit of contortion but no need to leave the tent to find a bathroom or shower in the middle of the night. It was so convenient.
The next time we go I will not pack anything except clothing and toiletries, with the exception of the few extra blankets. Our mini-van will be so roomy!
Know before you go:
You cannot park your car near your Trappeur tent. Parking for the Trappeur tents is a bit of a walk. Carrying your gear can be a bit of a chore but Huttopia does provide wagons to tote the "stuff." My tip: don't bring it!

When it is busy there can be a bit of a wait for food at the food truck. Take turns waiting or go early.

There are baby wash areas in the tent only areas.

Trappeur tents are located near the water. It is a good idea to keep this in mind if you have toddlers.

Trappeur tents are very close to each other. This was very difficult for my loud teenagers to understand, especially at night.

Glamping in the Trappeur tent is not for those looking to save money by camping. You are paying for the convenience and experience. The price of our tent during our stay was $195/night.

There is a drying rack available to dry wet articles but not many hooks inside the tent. I am a hook snob.

Thankfully it did not rain on our excursion. I do not know how these tents respond to getting wet.

You should definitely try glamping at Huttopia!
Disclosure: We were hosted as guests of Huttopia USA, however all opinions are my own and I was not required to provide any particular view. All opinions are my own.
Images by Michelle Brennan.
Lead Image by Shutterstock