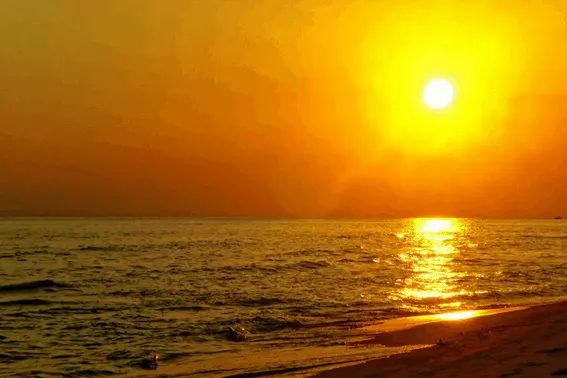 Look for current hotel deals in Panama City Beach
I like adventure. I like to explore. But sometimes, my family just wants to relax. That can be hard for me when I'm in a new and exciting place, especially while having to take care of five kids, but I just found a place that lets me unwind and take a break. Panama City Beach makes relaxing easy with its endless stretches of white sand beaches and the gentle hum of lapping waves.
Photo by Sheriff08
Finding the Perfect Place to Stay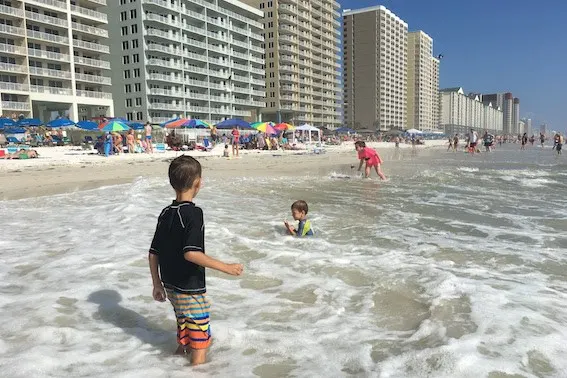 Photo by Tiffany Vaughn
There are lots of options to fit every budget and family size when staying in Panama City Beach. Actually, there are so many that it can be overwhelming when trying to find a place. To keep the stress from starting before the vacation has even begun, check out Royal American Beach Getaways. They represent a variety of condos in over 20 different properties. Just put in your condo needs on their website search tool and you'll see options for beach front resorts to fit every type of budget. We stayed in a beautiful three-bedroom condo at the Majestic Beach Resort. The room was clean, cute, and perfect for our family of seven.
Read my full review of Majestic Beach Resort to see if it's the right fit for your family.
Where to Eat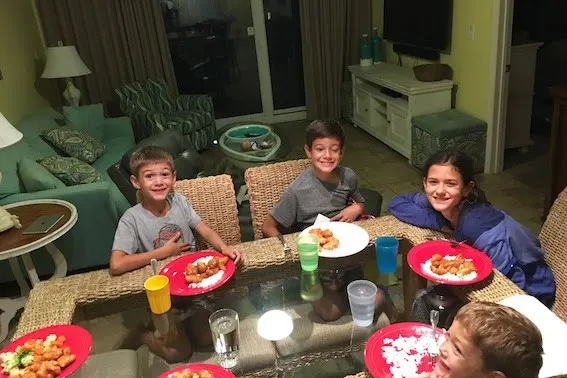 Photo by Tiffany Vaughn
Sometimes, wrangling the kids in a restaurant can be more of a pain than preparing meals. That's why staying in a condo is so great! The fully-stocked kitchen made cooking in the room a breeze. A full oven, dishes and utensils for cooking and eating, even a blender! We just picked up some easy, pop-in-the-oven type meals from the Super Walmart less than a mile down the road, and we were set for the week.
Check for hotel availability in Panama City Beach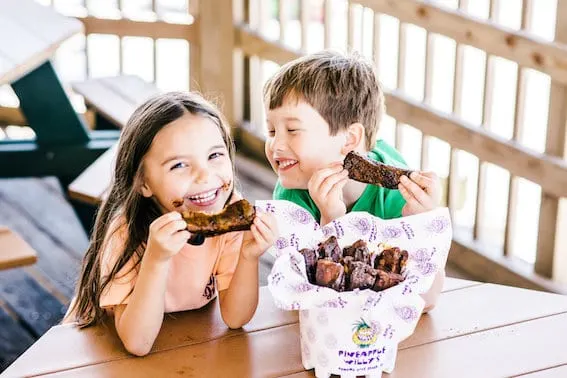 Photo courtesy of Pineapple Willy's Restaurant
If your kids are calm enough that eating out is a breeze, check out Pineapple Willy's. This popular seafood restaurant has great food and an even better location right on the beach. Come around sunset and you can watch the sun disappear over the horizon as you dine al fresco.
Need more food? Jessica from Suitcases and Sippy Cups has more suggestions in her article Beach Eats: 5 Family-Friendly Restaurants in PCB
Choosing Activities…or Not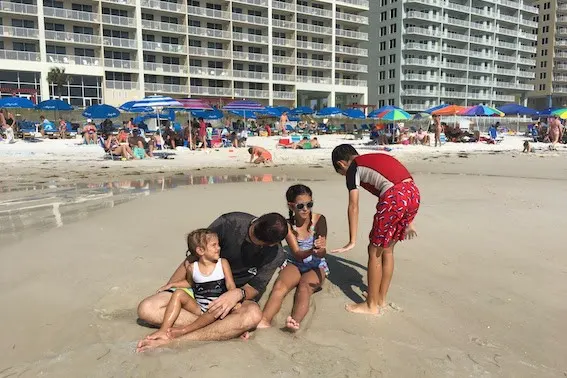 Photo by Tiffany Vaughn
Waterparks, aquariums, museums…you've got your pick of them all in Panama City Beach. You can easily load your day with activities around the town. OR, you can take a break. Bring a picnic lunch and head out to the sand for a day of surf and sandcastles. The sugar-white sand on these beaches is unreal and perfect for building sand sculptures. Most of the year, the Gulf waters stay pretty warm, with the average temperature around 82 degrees in the summer months. Your family will love splashing and swimming in the surf. The Gulf also regulates the air temperature keeping it cooler in the summer and warmer in the winter so it's comfortable whether you are in the water or out of it.
Rainy day? Staying indoors can be relaxing if your condo is as spacious as ours. We brought some games from home, checked out some movies from the lobby, and snacked on popcorn until the rain subsided and we could once again bask in the sunshine.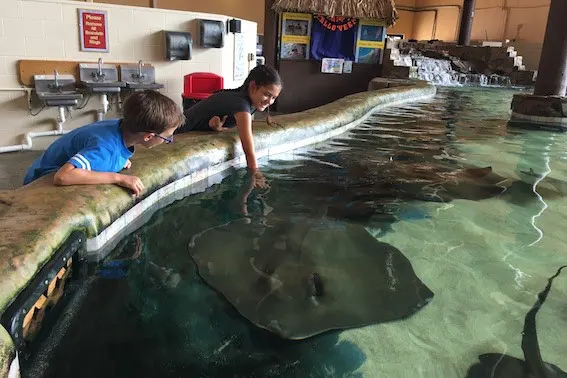 Photo by Tiffany Vaughn
When you do get a little restless to explore, check out Gulf World. This marine park offers animal encounters, including swimming with dolphins. But if you are looking to keep it low key, this is a great place to sit back and watch some amazing animal shows. The grounds are pretty small so you won't be overwhelmed trying to see everything.
Look for the best hotel prices in Panama City Beach
Photo by Tiffany Vaughn
A fun place to get some evening energy out is Rock'it Lanes. The arcade has giant versions of classic games like Pac-Man and Space Invaders that were a blast to play with the kids. They also have a roller rink, bowling, and snack bar.
See what Trekaroo families love to do in Panama City Beach.
Featured photo by: Shutterstock