I'm proud to announce that we did it! Our family returned from the beautiful country of Cambodia with our 3 kids (8, 5 and 3 months). While grand images of Angkor Wat, a UNESCO World Heritage Site, have long captured our imaginations, Brennan and I certainly had apprehensions about whether a trip to Cambodia would be best attempted when our kids were a little older.
Like many of our friends who gasped with surprise at the idea of taking three young kids to this developing country, we were under the impression that Cambodia was more of a destination for foolhardy adventure travelers.
---
November to March is the best time to visit Cambodia.
…Avoid crowds between May to October. From one mom to another, we could not have pulled off such an amazing trip without the help of Wild Frontiers.
Talk to a Southeast Asia Travel Expert
---
Prior to having children, Brennan and I would definitely have categorized ourselves as independent and adventurous travelers. We were likely to jump on a plane with our Lonely Planet guidebook and not much of a plan. However, as we all know children change many things, including how we travel. Since we now pick our destinations more carefully, how did Cambodia make our list of spots to take our young kids? Well, first of all, we picked Siem Reap, Cambodia because it is home to Angkor Wat, a place we have been eager to visit. We wanted to see it bad enough that we were willing to put up with quite a bit with the kids. Surprisingly, after a few hours of poking around on the web, we got the sense that tourism in the town of Siem Reap had developed considerably in recent years. There was a good range of accommodation from $10-15/night dives to a couple of $400/night 5 star hotels. With a 3-month-old, it was important for us to have a comfortable place to retire to after a long day of exploring in the heat.
Check the best deals on Family Friendly Hotels in Cambodia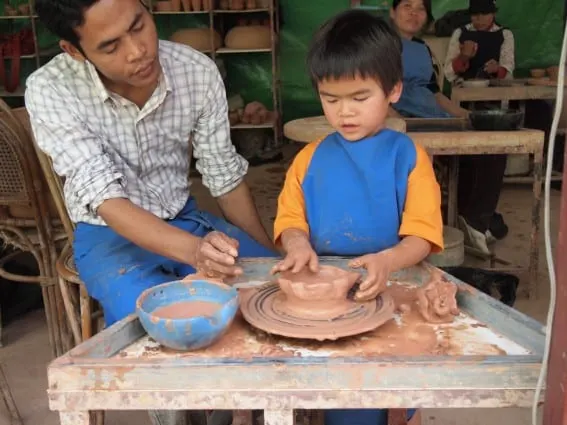 We also came across other activities that looked interesting to young kids – visiting floating villages, ceramics classes, cooking classes, tuk-tuk rides, elephant rides and more. We also found out that December to February is the best time of the year to visit Siem Reap which worked perfectly with our schedule. While hotels are more expensive and attractions are generally more crowded during high season, being able to travel when the weather is cool and dry seemed important when one has kids who aren't used to heat in tow. Mind you, they aren't the only ones who get grumpy when it's hot.
Wild Frontiers (formerly Journey's Within) plans custom tours for families looking to discover Cambodia, Vietnam, Laos, and Thailand. Right from the get-go, Andrea was a wealth of suggestions for kid-friendly things to do around Siem Reap. It's no wonder that she knew exactly what we would find interesting. Being Americans themselves they totally understood what would be intriguing and what would be challenging for a family coming from the west. At the same time having lived in Cambodia for the past 8 years with their young kids, they really had the inside scoop on what's kid-friendly. After just a few email exchanges, we had a wonderful itinerary planned, packed with lots of adventures beyond the temples. I would probably not have considered many of the adventures for lack of information about whether they were kid-friendly or not.
Look for the best prices on Family Friendly Hotels in Siem Reap, Cambodia
I couldn't have possibly anticipated how much it would reduce my stress as the default trip planner in our family to have Wild Frontiers take care of all the logistics. I think it was worth every extra penny we paid even before we stepped foot on the plane. We started each day being greeted by our smiling driver and English speaking guide, Santu, ready to show us their wonderful country. Andrea had handpicked our guide because other families had reported back that he was great with kids and indeed he was. Our usually shy boys quickly warmed up to him and loved listening to the stories he told. Since we were the only ones in our tour group (yes, it is a fully customized tour), it never mattered whether we were late to start the day. Instead of spending 45 minutes each morning figuring out the logistics of moving our family of 5 around for the day and arguing about the itinerary, we were able to focus on getting our kids ready for the day's adventures and immersing ourselves in the experiences of the day. I never realized how distracted I often am during our trips because I'm multitasking between attending to the needs of children and thinking about where we're heading to next.
Much to our delight, our well-planned itinerary allowed us to take in more experiences during our 5-day trip then what we could have planned for on our own. After we nailed down the list of activities we thought looked interesting to us, Andrea planned out the itinerary with thoughtful attention to our children's need for a few restful afternoons to kick back by the pool.
She also knew that visiting multiple temples a day would be rough on the kids, so the itinerary always included an activity the kids would find fun like a ride in a helium balloon. If you're thinking of visiting Southeast Asia, here are my BIG two thumbs up for getting Wild Frontiers to help plan your trip.
Much to our delight, another reason that Cambodia is such a great place to visit with kids is that the people of Cambodia have an extraordinary love for children. Not only were they incredibly patient with our kids, but we also found a slew of willing babysitters wherever we went. That meant that as parents we didn't have to do the usual tag teaming we've been accustomed to. Instead, we were both able to participate fully in each activity. Whether our hands were covered in clay at a ceramics class, or we were just settling down for a nice meal, the moment baby let out the smallest whimper, there was someone eager to entertain or hold her. We also stayed at family-friendly hotels that offered a kid's club or babysitting for a nominal fee of $5/hour. The babysitters we hired at our hotel spoke English very well and had been well trained to work with western families. We never felt uncomfortable leaving our baby with them because they had been trained and vetted by the hotel. This allowed us to enjoy a few dinners without kids in the evenings at a very reasonable cost.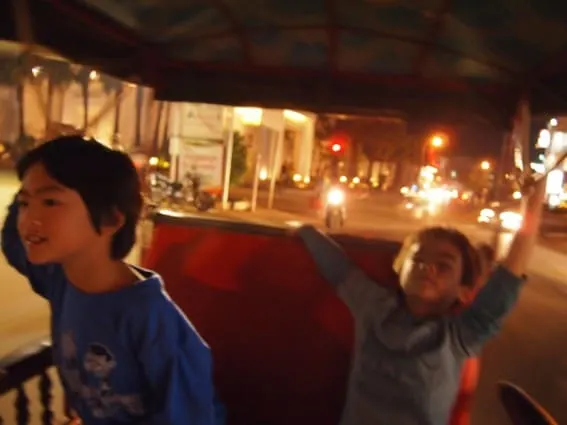 Our family's trip to Cambodia was not just wonderful because of what we got to see and do but because of the lovely people we met along the way. The graciousness of the Cambodian people and the care of the wonderful staff at Wild Frontiers who welcomed us to their country made for an unforgettable trip. Our 8-year-old will remember our pottery class with fondness, our 5-year-old beams into a smile at the memory of riding in a Tuk Tuk, while our 3-month-old was a champ and won the hearts of many. As for me, I will remember Cambodia for her lovely people and her tense but fascinating history. Thanks to Wild Frontiers, our trip planning was a breeze and our adventure a fascinating one for our whole family.
Featured photo by: Shutterstock