We're re-sharing this fabulous series, Cambodia with kids, originally posted on Trekaroo in 2012.
Since Cambodia re-opened itself to the world 10 years ago, tourism has exploded in the town of Siem Reap. When the civil war ceased, travelers were eager to rediscover the grand Angkor temples of the ancient Khmer Empire, but it is only in very recent years that 5 star hotels have started to move in.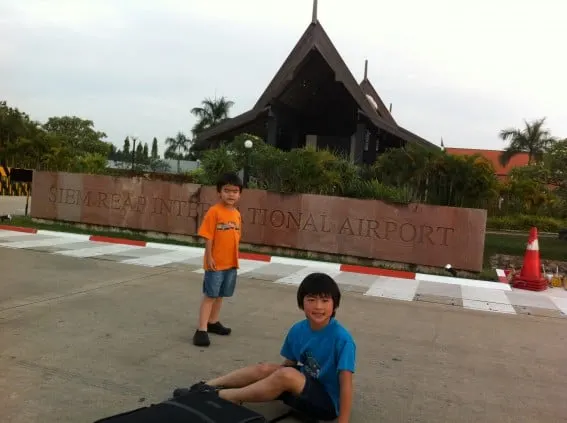 This is a town where you can still rough it in a room for $10/night, find an okay stay for $40-50/night, enjoy your creature comforts for $120-200/night, or have your every need catered to in the lap of luxury for $500/night. Yet, there are few hotels that cater well to the needs of families. Journey's Within Tour Company who has been specializing in family-friendly tours around Cambodia gave us the inside scoop on which hotels are best for families.
---
Feeling inspired to visit Southeast Asia? We're partnering with Journey's Within for our very first Trekaroo Trip.
Discover your family's summer adventure in Southeast Asia with Trekaroo and Journey's Within.
Trekaroo Trip: Cambodia & Thailand
---
In the luxury hotel category, they recommend the Victoria Hotel and Sofitel Angkor Phokeethra Golf and Spa Resort. In the mid-range boutique hotel category, we can attest to the fact that Journey's Within Boutique Hotel is perfect for families, and in the budget category, they recommend Angkor Home Hotel. At the very basic level, each of these properties offer adjoining rooms, a swimming pool, and in-house dining facilities. Some also can arrange for babysitting or offer a kid's club. We had the opportunity to stay at the Victoria Hotel and the Journey's Within Boutique Hotel. Here's the Trekaroo scoop.
Family Friendly Hotels in Siem Reap, Cambodia
Journey's Within Boutique Hotel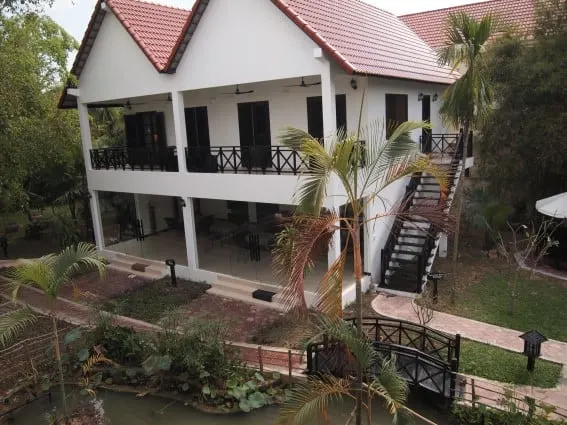 Journey's Within Boutique Hotel
Just thinking of the Journey's Within hotel brings a warm feeling to my heart. First of all, the staff was incredible. Even though the Journey's Within Boutique Hotel doesn't exude luxury, it feels like you're at a home away from home. The attentive staff know you by name. Their welcome is so personal and gracious, we felt like guests to their family home. This property offers that wonderful intimate hominess of a bed and breakfast inn, while the attentive service and little extras felt closer to what you'd expect of a 4 star boutique hotel.
Spacious Family Friendly Rooms
Spacious family rooms with adjorning rooms
There are several family villas that house rooms that can be booked together or separately. Some have one room at the top and one below. Some have two rooms at the top and two rooms below. The two top rooms are adjoining rooms and perfect for families who want a separate rooms for the kids and prefer not to have stairs for little feet to negotiate in the middle of the night. What we loved about the rooms were how spacious they were. The décor was simple but pleasant. Best of all, all the rooms are air-conditioned, not only a must for hot summer day, but also to keep bugs out. There are lots of bugs in Cambodia. While the rooms were very clean, the bugs seem to get in the moment they see a door or window open.
Our side by side adjoining rooms worked our perfectly for our family of 5 (kids 8, 5 and 3 months). The master bedroom had a comfy king-size bed while the double room had two double sized beds and a bay window area that could probably have slept another child. Each room had more then enough space to add a portable crib or a rollaway bed. Either can be added to your room at no additional charge – big thumbs up! Each room also had a coffee pot and a mini refrigerator stocked with drinking water and soft drinks all provided free of charge as well.
Families Will Love the Pool, Babysitting and More
Swimming Pool at Journey's Within Boutique Hotel
The small pool area, surrounded by tropical landscaping was perfect for an afternoon swim after a walking around in the hot sun all morning. Our boys spent a whole afternoon cooling off without a care in the world. The kids enjoyed the floaties provided in the pool area. There was also a small playground area that the kids enjoyed climbing on when they were waiting for mom and dad. The hotel also has a free kid's club where can leave your kids for a day or an afternoon in case your children are tired of temple hopping. The space wasn't particularly inviting, so our boys didn't want to be left there, although I applaud the idea. What I did like is that the childcare staff have been personally trained by Andrea and Brandon Ross, the dynamic American husband and wife team who run Journey's Within. One on one babysitting can also be arranged for $5/hour for anytime of the day. We took advantage of that one evening when we left our baby to sleep while we took our older boys out for dinner. The babysitter communicated very well in English and was super sweet and attentive. When you go out into town, the hotel gives you a cellphone to take with you so that if anything comes up you can be reached. You can also use it to call back to the hotel. Another nice extra is that the hotel offers free WIFI and even little notebook computers you can use in your room during your stay.
On-site Restaurant and Spa is Convenient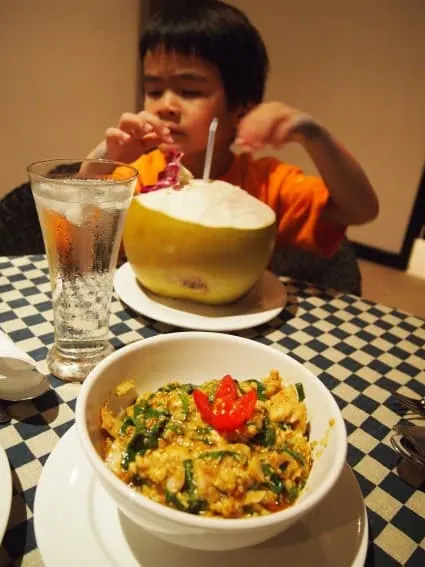 Restaurant serves traditional and American dishes
Everyone's stay at Journey's Within Boutique Hotel includes breakfast. There was a good selection of western and local breakfast options made to order. The food was decent, but nothing to rave about. Fortunately, there were many familiar kid-friendly options on the menu. Although, I have to say that the usual favorites weren't quite like we do it in America. Nonetheless, the staff was always willing to cater to our children's whims with their superb service. It was very convenient to have a restaurant onsite so that we could eat in when we were too tired to head out for a meal. Furthermore, because the property is small and the restaurant was 20 steps from our room, we felt comfortable leaving baby to sleep in the room while we dined. We just went up periodically to check on her.
The hotel also has a spa offering a limited menu of services available till 10pm in the evening. So, when the kids went to bed, we were able to slip out for a massage that costs just $25/hour. The traditional Khmer massage felt so good after a whole day of walking around.
Location a little further out, but not too bad
The Journey's Within Boutique Hotel is located in a residential neighborhood about 10 minutes by tuk tuk from the heart of town. We, however, didn't mind; it was an excuse to hop on a tuk tuk for a run ride into town…which by the way is provided free of charge if you're going to town for dinner.
All in all, we give the Journey's Within Boutique Hotel a hearty 5/5 stars. With rooms starting at just $110/night and just about everything included, we felt it was quite a deal.
Disclosure: I received a discounted rate for my stay at the Journey's Within Boutique Hotel to facilitate this review. However, as always my opinions are always entirely my own.

Victoria Angkor Resort and Spa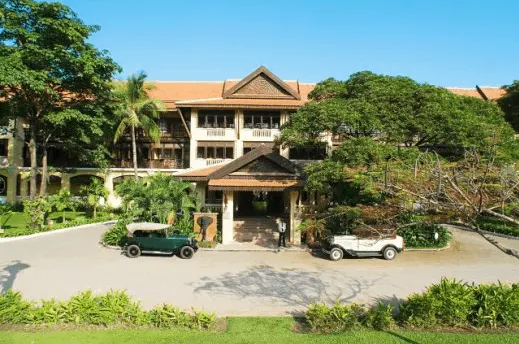 Victoria Angkor Resort and Spa – outside
The Victoria Angkor Resort and Spa Hotel might look like a colonial era hotel, but in reality, it's a new property that opened it doors as recently as 2009. This 4-star hotel is full of old world charm with a beautiful open-air lobby and verandas throughout the property. The landscaping is lush and beautiful. The rooms feel old world, but have all the modern amenities you'd want. Located walking distance on a cool evening from the hub bub of pub street and fronting the royal gardens, it's location is ideal.
Adjoining Rooms Work Well for Families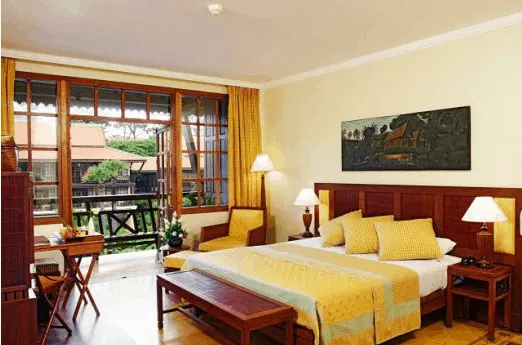 Regular room at the Victoria Angkor Resort and Spa
The Victoria Hotel has over 30 adjoining rooms that are great for families. You'll need an adjoining room if you have more than one child because there aren't any rooms here offering two queen beds. The adjoining rooms have one room with a queen bed and the other with two twin beds. The rooms are a little on the small side, but are able to accommodate a crib or a rollaway bed with a little squeeze. Cribs can be requested for free and are an actual crib complete with a mosquito net. Rollaway beds are $30 per night and includes their amazing buffet breakfast spread. Although the hotel provides mosquito repellents in the rooms, we didn't need it in our air-conditioned room. I'm afraid I couldn't say the same for the other open spaces through the hotel. In the dining areas and by the pool, the mosquitoes were out in full force as soon as soon as the sun began to set.
Beautiful Swimming Pools and Free Kid's Club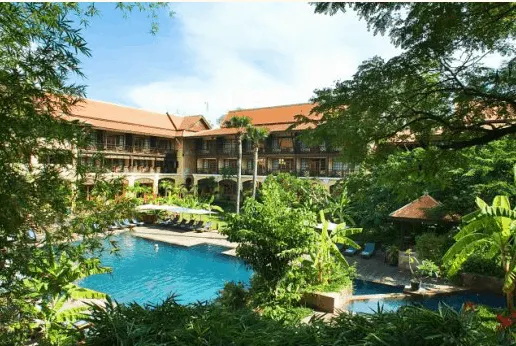 The swimming pool at the Victoria Hotel was beautiful. There were three pools, one of them was a shallow wading pool for little ones. Our kids had a great time splashing around and were begging for more time to enjoy it. Another nice service for families is the free kid's club. If your kids need a break from sightseeing or mom and dad want some time to enjoy the spa together, you can drop your kids off for few hours.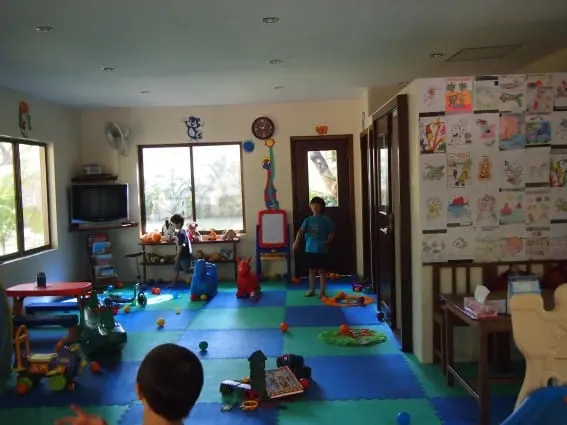 Kids Club at Victoria Angkor Resort and Spa
The kids club has a small but welcoming and cheerful room. There aren't structured activities planned, but there are lots of toys geared mainly towards the 7 and under crowd to amuse themselves with. Even if you don't drop your kids off, children are welcome to drop in to play. Our boys who are usually shy about going to kid's clubs, felt comfortable right away. The kid's club staff member was able to communicate well in English and was sweet as could be. I don't know if she would be able to keep a rowdy group of kids at bay, but she did seem incredibly patient. We did leave our 4 month old in their care for about 4 hours. Unfortunately, it was hard for baby to get a nap as there wasn't a quiet place for her to rest.
Later that evening, we had the same childcare staff babysit all three kids so we could go out for dinner. The cost was $5/hour for each child and included the kid's dinner. I was surprised by how quickly the boys took to their babysitter for the night and we were able to enjoy a wonderful evening out with some friends.
Memorable but expensive dining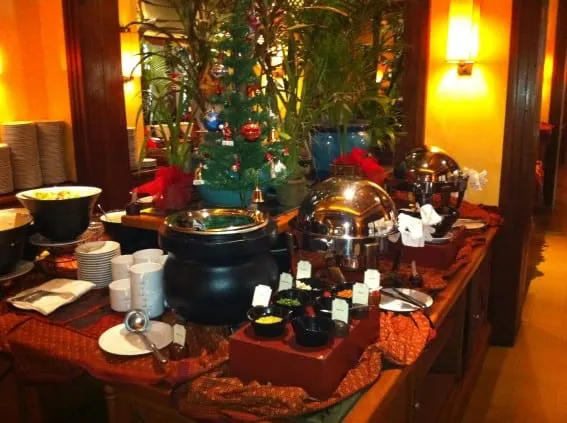 Fantastic breakfast spread at the Victoria Angkor Resort and Spa
The Victoria Hotel has three restaurants on site. We had dinner at L'Escale. The food was good and there was a kid's menu with typical kid-friendly options. However, be prepared to see American prices on menu. There were much cheaper eats in town that's for sure. However, our whole family was thrilled by the breakfast buffet spread. Kids under 12 get free breakfast with a paying adult and room packages often include breakfast. The spread was quite impressive with both traditional Khmer choices as well as European favorites, pastries, cereal, juices…you name it. Our boys get so excited about buffets….they were quite beside themselves with all the wonderfully displayed options to choose from.
Surprisingly, this 4 star experience starts as low as $155 per night. However, for families, you'll definitely have to tack on the added cost of a rollaway bed or extra room. I definitely give my thumbs up to the Victoria Hotel as a family-friendly hotel.
* Disclosure: I received a complimentary stay at the Victoria Angkor Resort & Spa to facilitate this review. However, as always my opinions are always entirely my own.
Check out the rest of our Cambodia with kids series