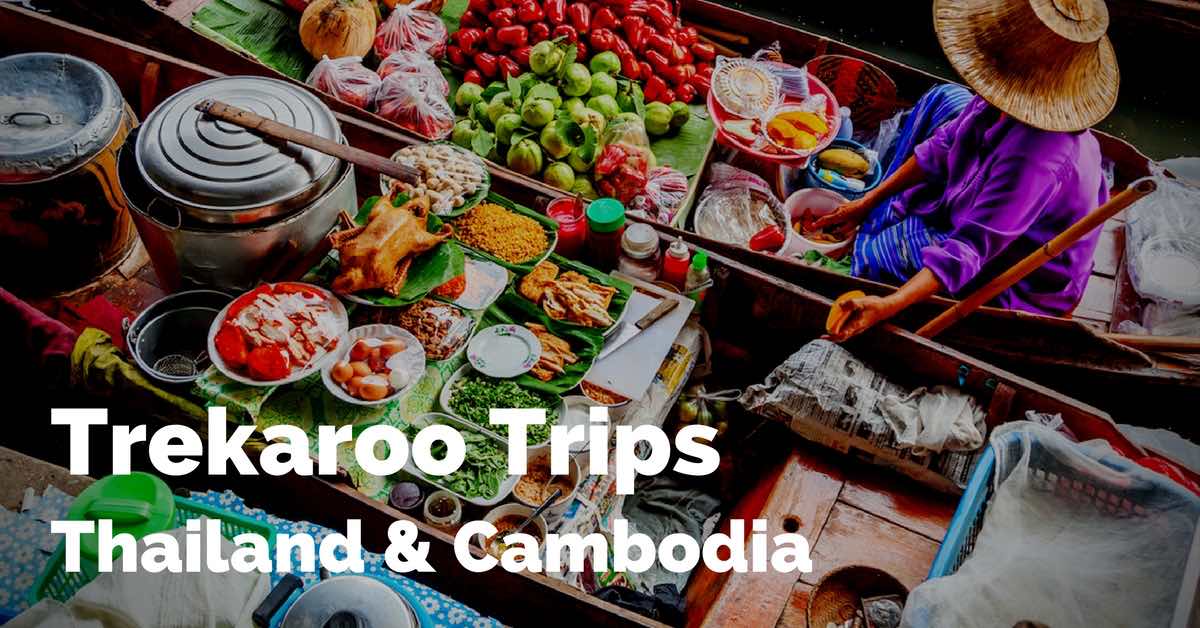 First Time to Southeast Asia for Families
Experience the best of Thailand and Cambodia with kids in 15 days
$3,125 per person*
(based on a family with 2 adults, 2 kids on this group tour)
Spots available for 5 families only
June 18-July 2, 2017 (15 Days)
Other dates available for private trip. 
*Inquire for rates for your family size and ages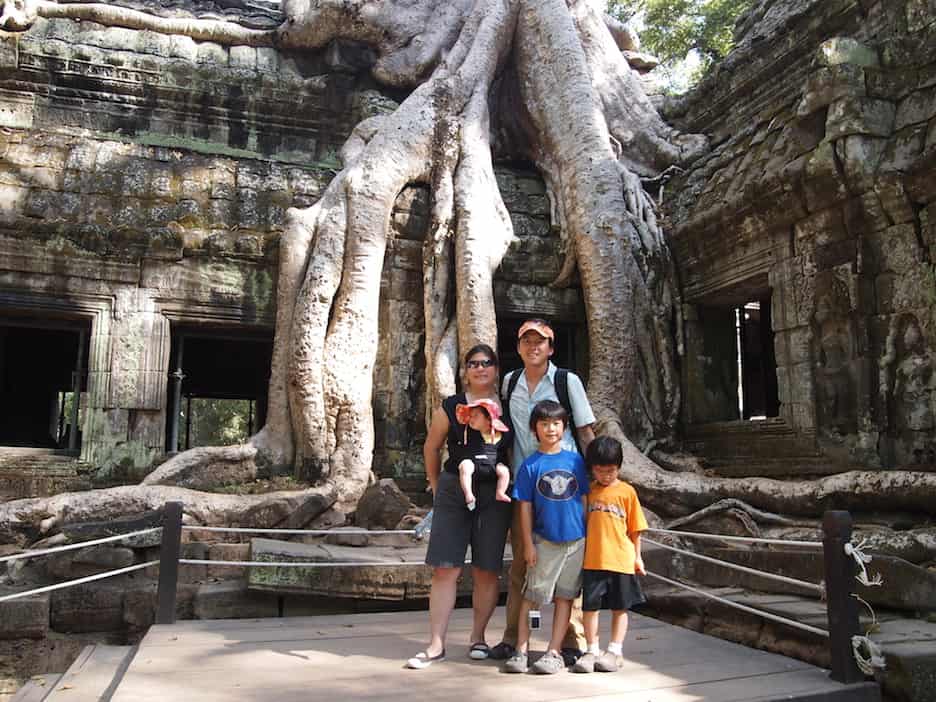 Colorful floating villages and markets.
Ancient temples filled with mythical stories.
Endless rice paddies and tropical islands.
People with the warmest smiles.
This is the Southeast Asia we invite your family to discover with us.
Five years ago, Brennan and I visited Cambodia with our then 8, 5 and 3-month old kids. We'd always wanted to visit the ancient temples of Angkor Wat, but we weren't sure we how to manage a family-friendly trip to Cambodia with young kids. Fortunately, we met Andrea Ross and her family, an American family living in Cambodia. Andrea and her children have explored every nook and cranny of Southeast Asia. They curated the most wonderful itinerary for our family. Her team at Journeys Within knew exactly what we needed as a family. Not only did we see the most exquisite sites, they also handcrafted unique experiences that allowed us to connect as a family with locals.  I don't think our kids will ever forget pounding rice with locals in a village near Siem Reap, or riding on elephants at Angkor Archeological Park.
We are excited to invite you to experience Southeast Asia with your family this summer. We've teamed up with Journeys Within to bring your this first ever Trekaroo Trip. Andrea Ross and her kids will personally guide 5 Trekaroo families to discover Thailand and Cambodia for the first time.
Together, we've handpicked the iconic experiences our families loved most along with unique opportunities for Trekaroo kids to make real connections with local kids. We hope you'll leave feeling that you've made friends halfway around the world and with other Trekaroo families.
---
Trip Leader & Journeys Within Family-friendly Trips
Andrea Ross (the founder and CEO of Journeys Within and our tour guide for this adventure) lived in Siem Reap, Cambodia for 10 years, raising her two children Callie and Couper there for the first five years of their lives. She knows the joys and the pain points of family travel, and will serve as our expert guide to the region on this group trip.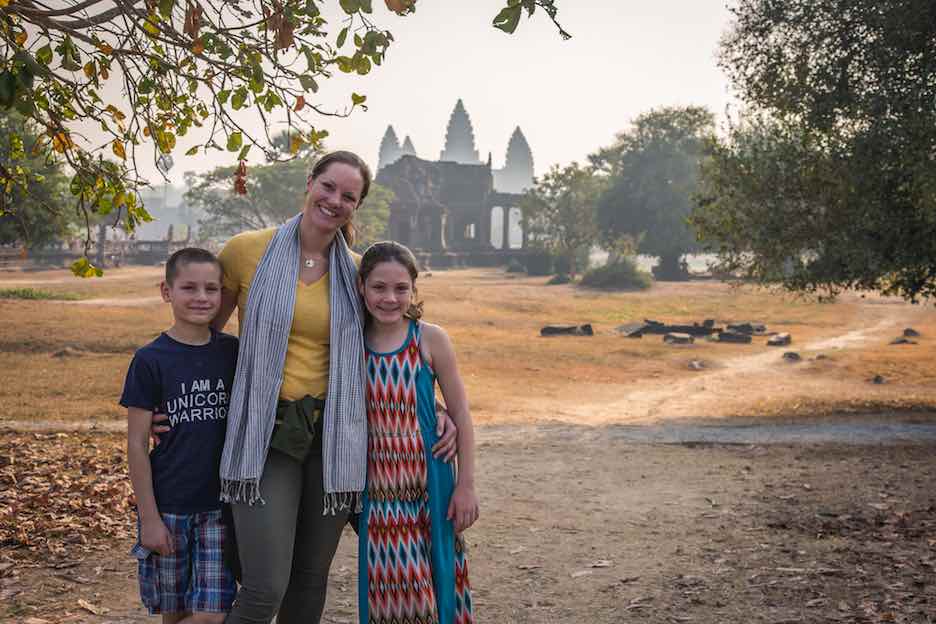 ---
Trip Highlights
For families who are new to Southeast Asia, or just looking for a great way to see the region with other like-minded families, Thailand and Cambodia are the perfect countries to visit. The Thai and Cambodian people welcome traveling families with open arms, and both countries offer culture, diversity, history and some of the best beaches in the world.
This tour begins in Bangkok, Thailand where families will explore the cultural highlights of the city. From there, a quick flight to Chiang Mai brings you to a full-day adventure with elephants and a zip-line tour of the jungle canopy that is sure to create lasting memories for parents and children alike.
Continuing on to Siem Reap, Cambodia – home of the famous Angkor Wat archeological park – families will experience the best of Khmer culture at the Phare Ponleu Selpak Circus before touring the Angkor Wat temple complex and exploring the outskirts of town via quad bike.
After three days in Siem Reap, the group continues on to the beaches of Koh Samui, Thailand where kids can play in the mellow waves lapping at the shores of this welcoming island paradise with no pre-planned activities for the final four days of the tour.
This group tour is limited to five families; however, individual tour options are available for families that wish to travel during different dates.
---
How to book this tour: 
Call the Journeys Within booking office at (877) 454-3672 and let us know you're interested in learning more about the Trekaroo Group Tour (or a customized independent version of it).
---
Why Southeast Asia with Trekaroo & Journeys Within
Andrea and I sit down together to discuss family travel to Southeast Asia on Facebook Live. We share about how we designed this Thailand and Cambodia trip to be an exceptional experience for parents and kids.
---
First-Time Southeast Asia Itinerary
June 18: Arrival
Arrive on your flight in Bangkok where you will be met by your guide and transferred to your hotel.
Meals Included: None
Overnight at Tenface
---
June 19 Bangkok: Late Start City Tour
Start the day enjoying delicious Thai cuisine at a local restaurant. After lunch, you will visit the Grand Palace, which houses the famous Emerald Buddha as well as the throne and coronation halls. You will also visit Wat Pho to see the impressive Reclining Buddha. Afterwards, you will be then given a 30-minute traditional Thai massage at the Wat Pho Massage School, then head to the renowned flower market.
Meals included: Breakfast, Lunch
Overnight at Tenface
---
June 20 Bangkok (Thailand): Floating Market Bike Ride
Starting in Bangkok, drive south to start your bicycle exploration of the Mae Klong Delta area, beginning at Damnoen Nam Saduak Floating Market, the biggest and most colorful in Thailand, and a must-see for any visitor. Continue on a longtail boat through local villages and plantations, catching a glimpse of the Thailand of old/
This 32km trip is suitable for all levels of riders and is an excellent trip for families.
Meals included: Breakfast, Lunch
Overnight at Tenface
---
June 21 Chiang Mai (Thailand): Arrival and Doi Suthep Temple and Home Industries
Depart Bangkok and arrive in Chang Mai by air. Drive up to visit Doi Suthep, the most important Wat in Chiang Mai. After lunch, explore the fascinating industrial world that feeds the ever-growing city of Chiang Mai. See how lacquer-ware, silk and traditional Thai umbrellas are made.
Meals included: Breakfast, Lunch
Overnight at Le Meridien Chiang Mai
---
June 22 Chiang Mai: Elephant Owner for a Day at Patara Elephant Farm
We'll visit Patara Elephant Farm, located not far from Chiang Mai which we've vetted or their humane elephant breeding and elephant care practices. You'll learn how to work with them and lead these gentle giants into the river for their morning bath, followed by a short ride to a local temple where you can learn about elephants in Buddhism and a visit to some lovely waterfalls
Meals included: Breakfast, Lunch
Overnight at Le Meridien Chiang Mai
---
June 23 Chiang Mai: Flight of the Gibbon
At Ban Mae Kampong we'll enjoy the "Flight of the Gibbon" – a 3 hour, 2km air trek high up in the rainforest canopy using zip lines and sky-bridges taking in the glory and majesty of old growth, high altitude pristine rainforest.
A traditional Thai lunch is served followed by a spectacular trek up beside the impressively Mae Kampong Falls.
Meals included: Breakfast, Lunch
Overnight at Le Meridien Chiang Mai
---
June 24 Siem Reap (Cambodia): Arrival and Phare Ponleu Selpak Circus
Depart from Chang Mai and arrive in Siem Reap. This evening we will enjoy a unique performance by the Cambodian Circus, also known as the hugely talented Phare Ponleu Selpak from VIP seats. The troup was founded by a group of young ex-refugees from Battambang Province.
Meals included: Breakfast
Overnight at Kralanh Petite Villa
---
June 25 Siem Reap: Angkor Wat and Visit JWOC Art Class
Explore the majestic Angkor Wat, a UNESCO world heritage site, during the cooler morning temperatures. Today you will explore this majestic temple in a unqiue and special way – joined by students from our non-profit's community classes, your family and theirs will have a hosted scavenger hunt through the temple. While parents are looking at the details of the temples, kids can find fun in temple exploring by searching for hidden symbols and learn about the library vs. the pools of the temples.
Sunday afternoons are special at JWOC. We hold our art class for local students at 2:30pm – a no-pressure class where children are invited to come, play games, sing songs and do a simple and rewarding art project. You will also have a chance to meet with our scholarship students and gain a greater understanding about the work we do within our community.
Meals included: Breakfast
Overnight at Kralanh Petite Villa
---
26 Jun Siem Reap: Banteay Srei, Butterfly Center and Other Temples
This morning set off with your guide to Banteay Srei, the intricately carved temple located just 30km beyond Angkor Wat. Stop at Banteay Srei Butterfly Center which opened its net quite recently, allowing visitors to interact with hundreds of free-flying native butterflies including some of the world's largest butterflies. This includes the Atlas Moth with a wing-span of 26cm (11in) and the exotic Birdwing butterfly, which resembles more of a delicate bird than an insect. Interacting with more than 30 of Cambodia's 400 species of butterflies, visitors will witness first-hand the complete lifecycle of the butterfly, from the tiny eggs to shocking caterpillars, mysterious pupae and finally the delicate adult butterfly. Enjoy lunch at the local restaurant. After lunch you will visit Banteay Kdei and Ta Prohm, two of the prettiest temples in the complex, before returning to your hotel late afternoon.
This evening enjoy a group dinner by the Kralanh Petite pool with Andrea's family and friends. This will be a special evening of fun and fellowship!
Meals included: Breakfast, Lunch
Overnight at Kralanh Petite Villa
---
27 Jun Siem Reap: Village Tour and ATV Sunset tour
Set out on the Journeys Within Village Tour with our guide who will take you to his village, showing you rice paddies and typical homes along the way. Once there enjoy a fresh coconut drink and meet his family and neighbors, and take some time to explore this beautiful area before returning to your hotel.
You will be met at your hotel at 4:30pm and taken to the quad bike base. Enjoy strikingly beautiful views of the rice fields and villages as the clear blue sky turns yellow and gold. After enjoying the sunset return to the base and you will be transferred by tuk-tuk back to your hotel.
Please note: Your guide & driver for this tour will be different than your temple guide
Meals included: Breakfast
Overnight at Kralanh Petite Villa
---
June 28 Koh Samui (Thailand): Arrival
Depart Siem Reap for the island oasis of Koh Samui where your family will kick back and enjoy the relaxed island culture and the freshes seafood.
The beachfront property of New Star Resort is ideal for families…
Meals included: Breakfast
Overnight at New Star Resort
---
June 29-July 1 Koh Samui: Leisurely Beach Days
After seeing so many wonderful sights, kick back for a few days this wonderful a beach front resort. This boutique resort offers is located on a beach with beautiful, soft sand. You can walk along the beach to the busier part of town if you want access to more restaurant and activity options.  A few free and easy days will be a glorious end to your trip, so take it easy or if you wish add in tours on a whim at the beach if you wish.
Meals included: Breakfast
Overnight at New Star Resort
---
July 02 Samui: Home sweet home
We'll have one last delicious breakfast together and transfer you to the airport to catch you flight home.
Meals included: Breakfast
---
Tour Rate:
$3,125.00 per person
based on a family of four (2 adults and 2 children ages 11 & 12) joining a group tour
*Inquire for rates for your family size and ages
Final pricing will vary based upon family size and children's ages.
PLEASE NOTE: This itinerary is currently in progress and does not reflect hotel room availability. The pricing is not final until the itinerary has been confirmed and booked.
BOOK NOW
Call the Journeys Within booking office at (877) 454-3672 and let us know you're interested in learning more about the Trekaroo Group Tour (or a customized independent version of it).
Price includes:
Air tickets Bangkok – Chiang Mai – Bangkok – Siem Reap – Samui – Bangkok
Boat tickets as specified above
Accommodation as specified above
Air-conditioned car/van with driver
Licensed English speaking guides
Tours and admission fees as mentioned above
Meals as specified in itinerary, including water
Price excludes:
Personal expenses
Visa fees
Airport tax
Drinks (except water) and meals not mentioned in itinerary
Tips
---
About Trekaroo Trips
At Trekaroo, we believe that travel with kids can be much more than seeing beautiful sights. Every trip is an opportunity for families to discover, learn, and grow together. We carefully handpick tour companies who are able to craft mindful and immersive travel experiences for families.  Together, we curate family-friendly experiences that encourage kids to connect and engage with destinations though rich storytelling, hands-on activites, and making personal connections with locals.