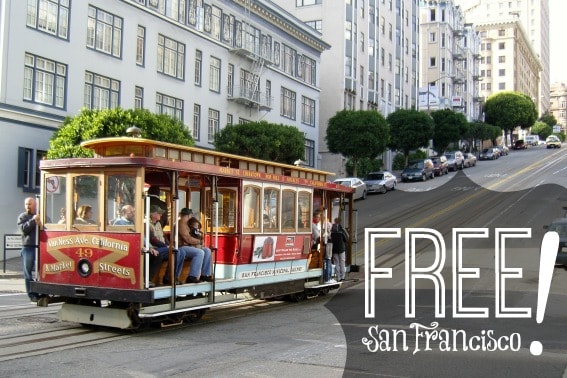 San Francisco is a city that offers plenty of free activities for families. I have all of them detailed in my book 'Your Guide to Visit San Francisco for Free' and it was a delight to pick ten activities that my own family enjoys doing and sharing them with you.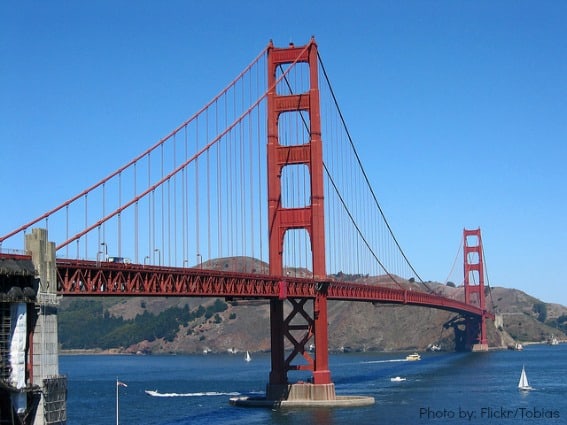 Download the free Golden Gate Bridge App: iPhone | Android

The Golden Gate Bridge is 1.7 miles long and was the longest suspension span in the world at the time of construction in 1937.  Crossing it is an amazing experience. If you do not want to cross it entirely, walk at least to the middle of the bridge. Note that the west side is only reserved for bicycles. From the east side, you will be treated to an unbeatable view of the Bay, San Francisco, and Alcatraz.  Dress warmly (even during the summer); we did the rookie mistake of riding our bikes across wearing only our sweaters in May and it was chilly!
The sidewalk is closed starting at 6:30 pm till 5 am the next day. From April to October (daylight savings time), the sidewalk closes at 9 pm.
Take some time to visit the new Visitor Center, located just before the bridge. Named the Bridge Pavilion, it has been remodeled and now hosts exhibits, offers information, and sells souvenirs. Chief Engineer Joseph Strauss' statue stands on the plaza along with a piece of thick steel cable from the bridge.
2. Go down Lombard Street (and at least another steep street)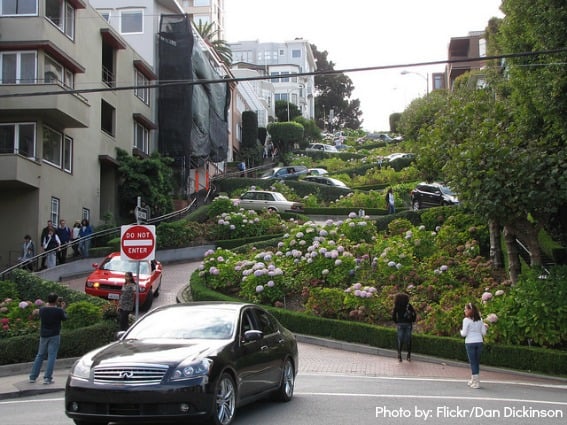 Lombard Street
Cable Car: Powell-Mason Line
Bus: 30 stop at North Beach and go uphill for a couple of blocks
Drive down Lombard Street, park your car at the bottom of the street and then take the time to walk up the stairs, admire the scene, and snap pictures of course. As you go down the stairs, you will see the little alleys on the side that lead to the beautiful homes.  The cable car Powell-Mason stops on top of the hill. Remember that if you get off the cable car, you will have to buy another ticket to get back on.
After you are done with Lombard Street, why stop now? Go down the steepest streets in San Francisco. Be prepared for a roller coaster ride, but in your own car!
Filbert between Leavenworth and Hyde (31.5% grade)
22nd between Church and Vicksburg (31.5% grade)
Jones between Union and Filbert (29% grade)
Duboce between Buena Vista and Alpine (27.9% grade)
Jones between Green and Union (26% grade)
Webster between Vallejo and Broadway (26% grade)
Duboce between Alpine and Divisadero (25% grade)
Jones between Pine and California (24.8 grade)
Fillmore between Vallejo and Broadway (24% grade)
Source: San Francisco Bureau Of Engineering.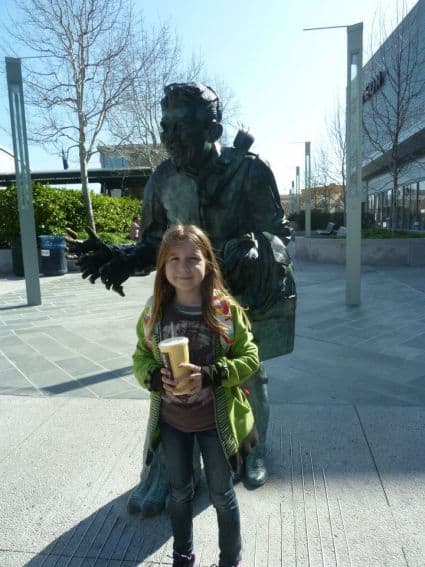 Bart: Powell and Montgomery
The Yerba Buena Gardens is a great place to enjoy a picnic on a sunny day.  Sit on a bench or in the grass and liste to the flow of the Martin Luther King Jr. Memorial fountain and waterfall.  Concerts at Yerba Buena Gardens are held from May through October:  Children's Garden Series (June to August), some dancing and theater, Latin jazz series, Thursday lunchtime concert, as well as weekend sessions.
Check the website for the schedule: www.ybgf.org, Facebook: Yerba Buena Gardens Festival, Twitter: @YBGF, Phone: (415) 543-1718.
Children of all ages will also enjoy the Children's Garden, a playground that has a mix of fun slides, xylophone, play structures, as a well as a small maze and a stream of water.  The gardens are full of interesting pieces of art that will fascinate the little ones.  Two favorites are the 'Shaking Man' sculpture (by Terry Allen) by the stairs on the right side of the Martin Luther King memorial and Urge (by Chico MacMurtrie). Sit on the bench located in front of the 'man' standing on a giant globe, stand up, sit down, and you will see the sculpture mimicking you. You need to be at least 130 pounds in order to activate the motion.
4. Attend a celebration mass at Glide on a Sunday morning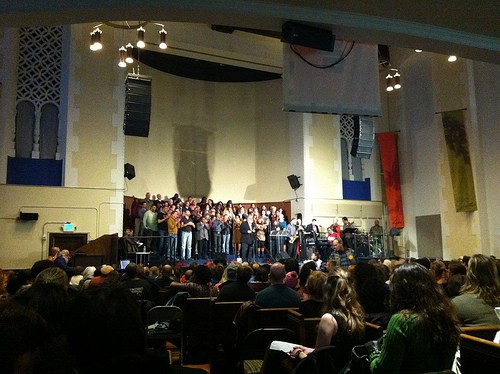 Photo by: Flickr/ kawanet
Bart: Powell
Celebration masses: every Sunday at 9 am and 11 am.
Glide is a San Francisco institution and comes here highly recommended by my daughter Olivia, 14. The two Sunday celebrations with a Gospel choir (the Glide Ensemble and the Change Band) are packed with tourists and locals. Show up at least thirty minutes early for the 9 am and 11 am celebrations. Glide is featured in the movie 'Pursuit of Happyness' with Will Smith.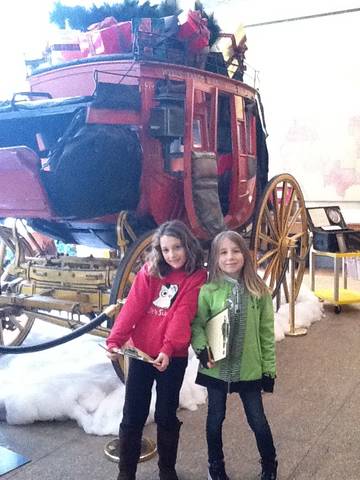 Bart: Montgomery
Open Monday through Friday, from 9 am to 5 pm. Closed on weekends and bank holidays.

Henry Wells (1805-1878) and William G. Fargo (1818-1881), the founders of the bank, actually first opened for business in 1852 in this exact location.
The museum offers free scavenger hunts for children with a small prize at the end. The two different questionnaires are fun and educational and will keep the children entertained and focused during the visit. Follow the horse shoe marks on the floor, they will take you all around the transportation, gold digging, and communications exhibits and artifacts. Morse transmitters are definitely fun to figure out: the transmitter and receiver are on two separate desks. Playing with them makes you realize how difficult it is to decipher the code.
You will have the opportunity to see two real stagecoaches: the Concord Coach, used in the 1860s, is by the window and can be seen from outside if the museum is closed. Another stagecoach, the Pescadora, can be found past the elevators, in the lobby of the functioning bank.  Once your children find the two play stagecoaches upstairs, they will never want to leave! This is my youngest daughter, Thais, favorite museum in the city.
6. Visit the chocolate and the fortune cookie factories



Photo by: Flickr/stevendepolo
TCHO factory
Bart: Embarcadero
Daily tours at 10:30 am and 2 pm
Free tours of the chocolate factory take place twice a day and reservations are required. You can always show up and see if there is a spot available, but do not bet on it. Visitors must be over eight to do the tour and can not wear open-toed shoes. You will have to wear shoe protection and hair nets before attending the tour.
First, you will be shown a movie and given a presentation on the history of the company that was started by Timothy Childs, a NASA space shuttle contractor, and Karl Bittong, a chocolate master. You will learn some interesting facts about their chocolate and then be off for a quick tour of the factory. The machinery will not operate on weekends but do not let that stop you. Cocoa pods and various products are handed to you so you get to learn the basic ingredients used to make the chocolate. The visit ends with the tasting. You get to try ALL the products TCHO makes.
Fortune Cookie Factory 
Chinatown

Fortune cookies are made by hand in a little hole in the wall.  The dough is poured into a mold, just in time to get dry and then it is rolled up by hand. Children will enjoy tasting some samples. Buy a bag and go on with your tour of Chinatown. You always get a couple of cookies for free and I am sure you will end up buying one or two bags. They make good snacks and they are usually devoured within a couple of hours!
7. Learn how cable cars operate at the Cable Car Museum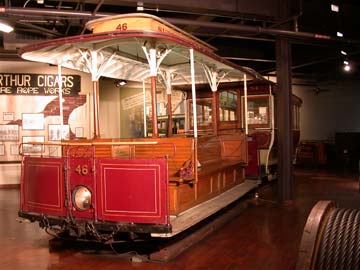 Photo Courtesy of Friends of the Cable Car Museum
Cable Car lines: California, Powell-Hyde, Powell-Mason
10 am to 6 pm – April 1 through September 30 
10 am to 5 pm – October 1 through March 31 
Open every day except New Year's day, Easter Sunday, Thanksgiving, and Christmas day.

This is a tourist favorite! The museum showcases the history and preservation of this San Francisco hallmark.  Downstairs, you can get a close-up look of the cables through a window. Upstairs, the exhibits focus on the history of cable cars, how they came to exist, how they almost disappeared, and how they were saved.  You will observe the rolling cables in action as they move cars up and down hills, by the cars "grabbing" onto the cables. The museum houses mechanical displays to help you understand the way the mechanism works, and hopefully make you feel a little safer when you ride up those steep hills in one of the cars! You will also find photographs of San Francisco before and after the 1906 earthquake.
As you exit, go up Washington Street to peek out at the barn where the cable cars stay at night or go for repair.
8. Have fun at Pier 39, drop some coins at the Musée Méchanique, and visit Hyde Street Pier Visitor's Center and Museum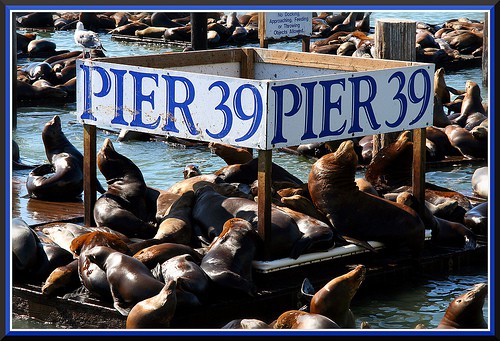 Photo by: Flickr/armigeress
Check out their free iPhone App
Cable Car line: Powell/Mason | Streetcar: F
Hours vary.

Pier 39 will delight children with its street performers and its sea lions laying down on the docks. Follow the smell and the 'barking' sounds after you finished admiring the view of Alcatraz and you will soon come face to face with them.
As you leave and follow Jefferson Street in direction of the Golden Gate Bridge, you will find the Fisherman's Wharf sign—a huge crab, symbol of the area, at the corner of Taylor Street. Turn right on Taylor Street to go to the Musée Mécanique.
Musée Méchanique
Open Monday through Friday – 10 a.m. to 7.p.m. (till 8 p.m. on Saturdays, Sundays and holidays).

I dare you to spend 10 minutes around all these mechanical games from centuries past and not spend 25 cents or more!  I believe this is the most fun you can get with four quarters. You can rock a horse, shoot at wooden animals, listen to music, see automated dolls, and get scared by Laughing Sal, rescued from 'Playland at the Beach'. New Arcade games are available but the fun is in the old stuff. No need to come with your wallet full of quarters! They have change machines.  A must do!
As you go back on Jefferson Street, children will like to stop at the Rainforest Café.  The restaurant and its store are decorated to resemble a rainforest and is kid- and family-friendly. Another must stop is the Boudin Bakery. The Boudin sourdough bread is a local specialty. From the street, you can watch the bakers prepare the loaves of bread in front of you behind a window. Spot the microphone and speak up, a baker will answer any question you have. Your little ones will beg you to buy the turtle, crocodile, and other critters shaped out of bread.
Visit the Hyde Street Visitor Center and Museum to learn about the maritime history of San Francisco.
Open from 9:30 am to 5:30 pm in June, July and August, and from 9:30 am to 5 pm the rest of the year. Closed on Thanksgiving, Christmas, and New Year's day.

A museum that is often overlooked, this is the place to learn about the Bay's first inhabitants:  The Native Americans tribe Yelamu and their now disappeared lifestyle; where the first home of San Francisco was built in 1837; and how the Gold Rush changed the city and the entire state. Being near water, San Francisco has a rich past as a city of sailors. The museum offers insight into the life of sailors with exhibits of artifacts from their everyday lives: a shipboard clock, a sailor's knife, an octant from the 19th century, and more.
As you exit the Museum, go up the hill if you want to take the Powell/Hyde cable car to Union Square in downtown San Francisco. Even if you don't want to board, it is always fun to see the MUNI employees turn the cable car manually at the end of the line.  Walk to the end of Jefferson Street and you will find a small, quiet beach with views of the Golden Gate Bridge on the right and the boats anchored at the pier on your left.

Photo by: Flickr/tinou bao
Open Thursday through Sunday 1:00 pm to 4:00 pm.
Call before going to make sure it is open as it is staffed by volunteers.
The museum tells the story of the San Francisco firefighters through exhibits, artifacts, and photos.  Several fire engines are on display: Engine 22 (pulled by horses), Engine 26 (a steam engine), Volunteer Engine 7 that was pushed and pulled by hand. Hop on a fire truck from 1929 and ring its bell! A pegboard tracking system showing where firefighters were dispatched is on display.  Learn about the fire alarm call box, still in use in the streets. I have seen them but I never thought they actually worked. Your children will receive a plastic helmet as a souvenir at the end of the visit.
10. Learn about California at the Randall Museum
Photo by: Flickr/mustafa.alami
Open Tuesday through Saturday from 10 am to 5 pm.
Closed on Sundays and Mondays. Closed on January 1st,July 4th, November 11th, Thanksgiving, and Christmas day.
This museum is really aimed at families with children. Their two big themes are earthquakes and animals that live in California.
You can see a replica of an earthquake refugee shack. These shelters were rented two dollars a month by those who had found themselves homeless in the aftermath of the earthquake and fire of 1906. You can also learn about the physics of an earthquake by building a tower out of legos on top of a platform, and then activating the platform to imitate an earthquake. See how long it takes for your lego building to collapse!
The museum is home to more than one hundred live animals. Some of them were found injured and were nursed back to health; however, they are no longer capable of surviving in nature. They are now ambassadors of the wild.  Domestic animals (chickens, rabbits, and guinea pigs) roam in a pen and children can get close and pet them.  Of the wild variety, a desert tortoise, snakes (king, garter, and gopher), an alligator lizard, a California quail, crows, darkling beetles and red legged frogs call the museum home. Other favorites are the wood roaches, the tarantula, water bugs, and termites.
From the garden, you have a beautiful view of San Francisco and the Bay. Follow the path that leads behind the museum and hike to Corona Heights for an even better view.  If you come on a Saturday, visit the Golden Gate Model Railroaders in the West Basement Wing of the Randall Museum  www.ggmrc.com.Watch the members of the club operate the trains through the mini landscape, complete with bridges and tunnels. Look carefully, you will discover so many details!  Kids can play with a model of a caboose and with the wooden trains on the side, and learn about the transcontinental railroad.
Looking for more FREE San Francisco activities? 
Snag a copy of Lydie's newest book, Your Guide to Visit San Francisco for Free.  Trekaroo readers can score $5 off by heading here and inputting discount code 8CR27XCZ.  You can also grab the kindle version for $9.99 (free to borrow with Amazon Prime membership).