Family Vacation at Turks and Caicos Resorts
The beautiful islands of Turks and Caicos and the Turks and Caicos resorts are open and just a short flight away from the Southeastern U.S. These Caribbean islands (yes, there's more than one. In fact, there are about 40 islands in all, with only about eight of them inhabited) are peaceful, scenic, and sunny. They get about 350 days of sunshine here, making the islands a great destination if sun, sand, and surf are on your agenda. I know they were on mine when I visited this tropical paradise!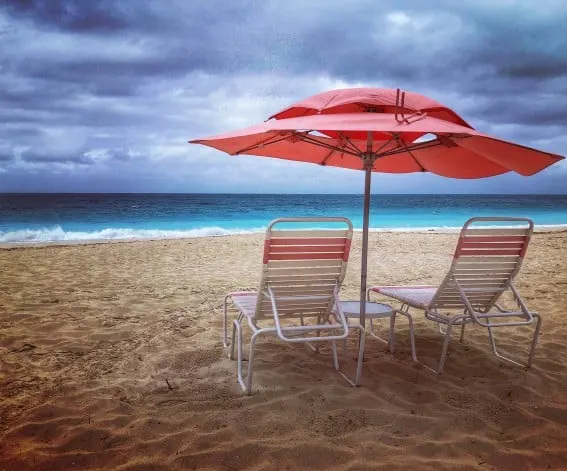 They're also not crowded as the island population is only estimated at about 35,000. Families using the United States dollar will also like the fact that this is the official currency here, although the island itself is under British rule. One of the best perks, however, is that it is just a mere 75-minute flight from Miami so you can be on the beach in no time, which is always a treat when you've got kids that just want to be there already. Once you land at the airport in Providenciales, grab a taxi or shuttle (like Virgil's Taxi & Tour Service) who will have you at your Turks and Caicos resort in a mere 20 minutes.
What do you do here, though? Where should you stay? What is so great about it? The fact that it is so beautiful on the elegant beaches of Grace Bay is one of the main reasons. This area has been repeatedly named one of the best beaches in the world, and with good reason. You won't find much better scenery than along this picturesque stretch.
Stay in Comfort and Roomy Caribbean Luxury
Situated right along lovely Grace Bay Beach is Ocean Club Resorts. Ocean Club consists of two facilities located less than a mile apart and within a fifteen-minute walk on the beach. When you stay here, you're able to use the facilities, amenities, and dining delights of both resorts, which is nice, and mixes things up a bit so no one gets bored. After all, when you go on vacation, you want the ability to simplify and relax, yet you don't want to get sick of things. It was not a big deal to take a leisurely stroll up the beach to check out the offerings at the other location, and it was quite nice to swim in a different pool or eat at one of the other restaurants. There's also a free shuttle service should you not want to walk in the sand.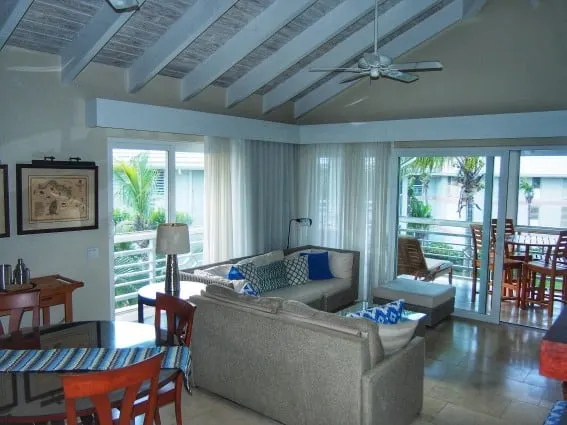 Also important when you're on vacation is the ability to spread out a bit, and not feel like your lodging quarters are too small to spend time in. At Ocean Club Resorts, space is one area where you won't come up short. The resorts offer a variety of accommodations from intimate studio suites to spacious three-bedroom condominium style apartments. All suites are beautifully appointed with stylish and updated Caribbean décor. All are fully equipped with the comforts of home and individually decorated so that you get a bit of personality in your suite. Visitors may get a screened in porch and balcony in their unit or an upstairs loft in others.
Your space depends on your needs and your budget so you can cater it to just what you desire. The spaces offer just the right amount of comforts of home (like a full kitchen, laundry facilities, several bathrooms, storage space, and WiFi) combined with the luxuries of spending time by the beach and reconnecting with those you're traveling with.
Airy, roomy, upscale, close to the pool, beach, dining and other facilities makes this an ideal lodging option for families of all shapes and sizes. I found that when I stayed here I had more than enough room and it was so pleasant to be able to go inside to cool off from the heat, but open the doors to get in some air (especially at night, thanks to the screened-in porch). It was also a treat to be able to eat on the porch and have a little bit of the outside, but not too much. I noticed quite a few families playing games or having drinks on their porches or patios, so it seemed like we all appreciated that extra little bit of space.
Dine-in Restaurants That Are Headed By Experienced, Creative Chefs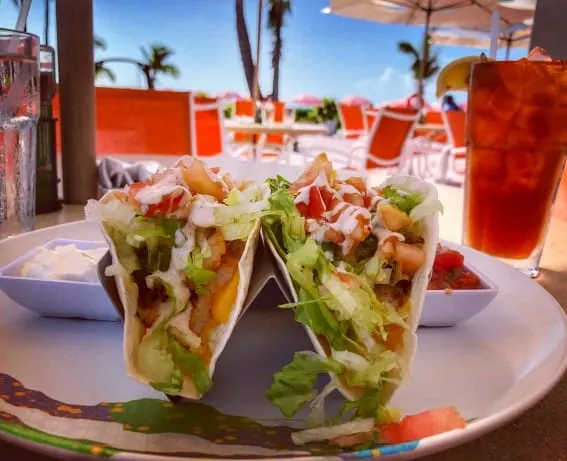 Ocean Club Resorts offers you the choice of dining at one of their three restaurants. These restaurants are not just places where food gets heated up and handed out. They are run by experienced chefs and the menus are developed and maintained by folks who are serious about food. It's such a treat to stay at a place that takes food seriously and where you have choices that add to your vacation experience rather than make you regret it both at the time and then when you step on the scale later on.
Here you have the choice of dining at Solana, located at Ocean Club West, which offers Asian-influenced dishes, and has an open-air, seaside setting that is casual, yet sophisticated. Cabana Bar & Grille and Opus are located at Ocean Club's other location and feature delicious food and a varied wine list. Both offer outside seating, with Opus boasting a lovely garden lounge and Cabana the place to be for spectacular sunsets. You can enjoy breakfast, lunch, and dinner at both Solana and Cabana, and lunch and dinner at Opus. The chefs are attuned to food allergies and special diets, so do let them know in advance should you have needs in these areas. In addition, since there are full kitchens in each suite, families are able to order food at any of these restaurants to eat in their suites, or take a quick jaunt to the local supermarket and get provisions for making a meal of their own.
I biked to the market when I was here, and it is quite close by should you need some supplies for the fridge or items for a picnic. Also, keep in mind that all of the restaurants you pass along the beach area do welcome you to come in and eat there, so never feel like you need to be a guest somewhere to dine there. The people of the island are welcoming and encourage you to dine out should you desire. It's nice to have options!
Take Part in Activities That Are Just Your Speed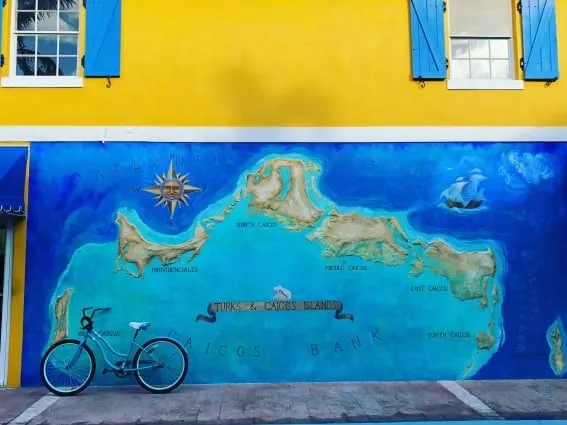 Ocean Club Resorts offers a host of entertaining activities to choose from. You can play golf or tennis, you can try your hand at a non-motorized watercraft, you can go swimming, or you can make an appointment at the spa. The resort also offers free bikes to ride if you'd like to go exploring a bit in the area. Should you want to take a walk on the beach, remember that Grace Bay is something like 12 miles long, so you should have plenty of space to walk (just don't forget your sunscreen).
You are also free to do what's most popular here – simply relaxing, as well. Do this on your screened-in porch, the beautiful grounds, the beach, the pool, or wherever your route takes you. The concierge here can also help set you up with great activities on the island that meet your needs. Take a guided fishing expedition, book a ride with Provo Ponies and horseback ride by the water (this was a really great activity, and perfect if you've never ridden a horse in the waters of the Caribbean), go on a scuba diving or snorkeling trip, or a scenic boat tour to see the "glow worms" of Turks and Caicos.
You can also visit puppies for adoption at Potcake Place in the Grace Bay shopping area, hit the stores here and bring home a few souvenirs, head out to Da Conch Shack for a fun meal or drinks by the water (I'd very much recommend this for a tasty outing), or head to your own private beach area for some seashell gathering and sunning. There's quite a bit to see and do in the area – or you're also free to grab a book and do nothing at all. The sunsets are gorgeous, so be sure to stick around to see at least one of those wherever you may end up.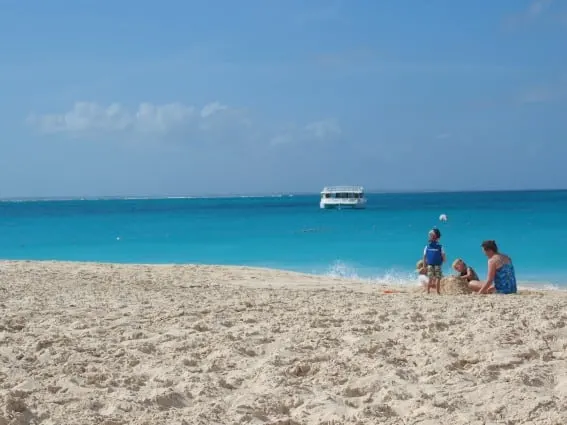 Vacationing at Ocean Club Resorts in Turks and Caicos is a wonderful way to get your relaxation on in a beautiful, serene tropical setting. Don't go here if you're looking for an action-packed adventure trip, but do consider it for a splurge for the times you want to feel like you've stepped into a lush, pretty place away from it all. The friendly and personable staff here will help you get just what you need to make your stay here the best it can be. And if you're like many of the guests here, you'll be back year after year after year.
Lead image by: Bigstock/rusty426
Disclosure: I visited Ocean Club Resorts and several other businesses on Turks and Caicos as part of a press trip in order to facilitate this review. The opinions stated herein, however, are honest, and my own.