When Walt Disney opened Disneyland in 1955, he told the world that this would be a park that is never completed. His vision was to have a park that was ever-evolving and the resort does seem to always have something new in the works. 2015 is no different. With the lasting popularity of Frozen and Disneyland turning the big 6-0 leading the way, Disneyland Resort has plenty of new fun to offer families in 2015.
Diamond Celebration
Expect to see a bit more sparkle in Disneyland this year as the park gets set to honor its 60th anniversary with a year-long  Diamond Celebration year beginning May 22nd, 2015. In addition to a sparkling makeover to Sleeping Beauty's Castle, one of the major highlights of the celebration will be the Paint the Night Parade which is already very popular at Hong Kong Disneyland. This will be the park's first all-LED parade which will be lit with over 1.5 million individually controlled lights. The parade is set to the story of artist Mickey Mouse mixing his imagination with Tinker Bell's pixie dust, creating a magical paint in the process which covers the vibrant costumes of classic characters such as Lightening McQueen, Ariel, Peter Pan, and the ever popular Norwegian sisters- Anna and Elsa. At Hong Kong Disneyland, guests are even able to change the colors of the character's costumes with magic paint brushes. Hopefully Disneyland will have a similar surprise in store for its guests!
The night lights up in new ways over at Disney California Adventure as well. The park will feature a new World of Color show in honor of the Diamond Celebration. Known as the "World of Color- Celebrate! The Wonderful World of Walt Disney," this water and projection show  will take guests on an intimate journey through the story of Walt Disney and his big dreams using music, lasers, fountains, and classic footage to tell the story.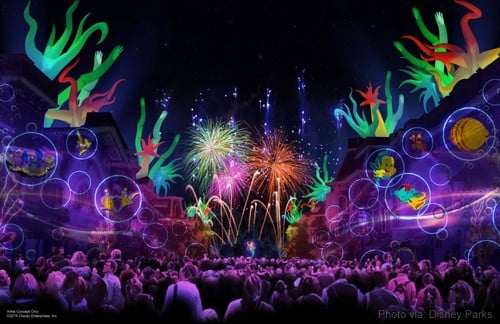 Finally, no big Disney celebration is complete without fireworks. "Disneyland Forever," the new firework display, will offer guests much more than colorful pyrotechnics exploding over the sky. This display is designed to be more immersive than any before, with projections covering  buildings on Main Street, Sleeping Beauty's Castle, and even the Matterhorn which will transport guests into the stories of Peter Pan, Tangled, Jungle Book, and more. Once again, Disney is sure to succeed in bringing storytelling to a whole new level.
Check out a sneak peak of of Disney's new projection technology lighting up Main Street!
In celebration of the park's 60th anniversary, Disneyland Resort guests will have the opportunity to win big during the Disneyland Diamond Days sweepstakes. Daily and weekly prizes will be awarded. Daily prize packages feature an individualized tour of the park, preferred access to attractions, dining, and VIP viewing of nighttime entertainment. Weekly prizes include a crystal Cinderella slipper adorned with a diamond-and-topaz pendant, a private party in Fantasyland, a romantic cruise on the Mark Twain Riverboat, tailgate party in Cars Land, special one or two carat Disney diamonds, and a stay in the Disney Dream Suite above Pirates of the Caribbean.
Check out Trekaroo's firsthand look at the Disneyland Dream Suite.
Frozen Fun in Disney California Adventure
You may have noticed that a little flick about two sisters living in Scandinavia has been a bit popular with the kids over the past year or so. Disney has noticed Frozen's success in a big way, bringing a entire Frozen Fun themed area to Disney California Adventure's Hollywood Land. The Muppet's have been kicked out of the theater to make room for Arrendelle's historians which tell the tale of Frozen with plenty of humor, fun, and opportunities to belt out your favorite songs from the movie at the top of your lungs. Anna, Elsa, and Kristoff all make appearances in this live show dubbed "For the First Time in Forever- A Frozen Sing-Along Celebration."
Who says you can't build a snow man when it is 80 degrees outside? Disney isn't about to let the Orange County weather keep your kids from sledding or building their very own Olaf. Stage 17, which sits near the Monster's Inc. ride is one big refrigerator full of snow. Visitors to Olaf's Snow Fest will also be able to give Olaf a warm hug and listen to musical performances by The Froclicking Fjords and The Tubadors. Closes April 30, 2015.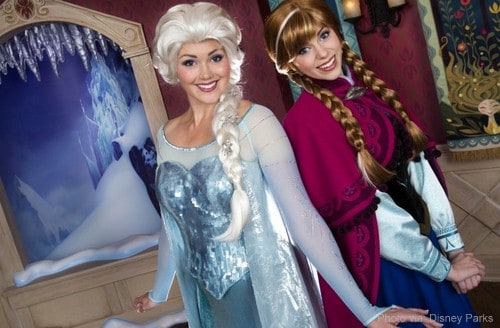 The true highlight for any lover of Anna and Elsa is Anna and Elsa's Royal Welcome which is located inside the Disney Animation attraction. This is the place to meet Anna and Elsa, score coveted autographs, and take pictures with your favorite Disney princesses. As you can imagine, the wait for this attraction can be quite long, so grabbing a Fast Pass first thing in the morning is highly recommended.
When nightfall settles in, Freeze the Night! A Family Dance Party takes over Hollywood Land. This high energy dance party includes live performers, plenty of dance music, and even an ice carver who transforms blocks of ice into Frozen characters.
Still want more Frozen-themed fun? Be sure to ride the classic Storybook  Land Canal Boats in Disneyland to see a miniature version of Arendelle, Wandering Oaken's Trading Post, Elsa's mountaintop ice palace, and Anna and Elsa's castle.
Comments
comments