When most people visit Disney theme parks with their kids, their biggest worry is the 3PM meltdown due to the lack of nap. For those of us who have children with special needs, approaching any family vacation takes a bit more planning and consideration.  My son is on the autism spectrum and I credit many of his advances to the incredible early intervention therapy he has received as well as our family's commitment to travel.  Travel allows children to take a step outside of their normally scheduled programming (aka: the happy place for most autistic kids), helping them learn to adapt to a variety of situations outside the norm.  It also allows these children to experience the same things that typical children get to experience, with those same ear to ear smiles of pure joy.  I have never been a fan of keeping a special needs child from experiencing life just because the logistics might be more difficult. Visiting a place like Disneyland may be harder with a special needs kid (I promise it does get easier with each visit) but the rewards can be incredible. Many children have breakthroughs while experiencing the Happiest Place on Earth and many parents realize that their kids are capable of so much more than they imagined. Here are some tips to get you ready for your first Disney trip with your beautiful, huggable, perfect-the-way-God-made-him special needs child.
 Sponsored by our friends at Get Away Today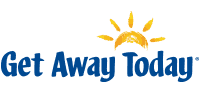 As Southern California specialists, Get Away Today can get you the best deals on hotels and theme park tickets and be your go-to travel provider for your Disneyland vacation. They offer exclusive specials like 5 days for the price of 4, Adults-at-kids'-prices Disneyland tickets, free night hotel specials, and reduced hotel rates. Their Best Price, Best Service Guarantee has helped over 4 million guests take affordable vacations to over 1,900 destinations worldwide.
Head over to getawaytoday.com or call 855-GET-AWAY to make your vacation dreams come true.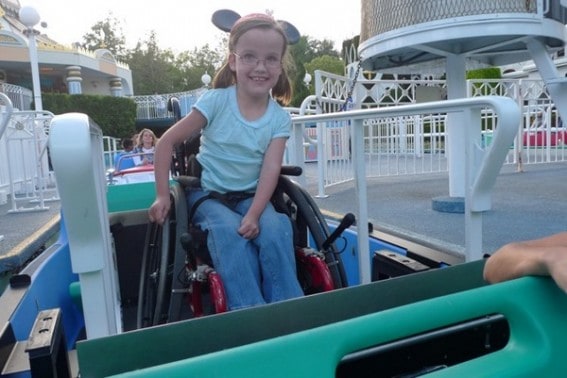 Read about all the fun Rachel's adorable daughter had at Disneyland.
Before you go
Pack a copy of your child's diagnosis in the bag you will be taking to the Disney parks. Disney cannot legally ask you for proof of diagnosis but I believe it can only make life easier when speaking with Cast Members at Guest Services.
Bring a recent picture of your child with you. Nobody ever plans to have a child wander away but it does happen.
Don't over plan your day. It is better to go into the parks expecting to take it slow with plenty of breaks and then be pleasantly surprised when your child is up for more fun.
Pack things that will comfort your child. Special blankets or lovies can help calm a child in the event of over stimulation, familiar snacks will placate the picky eater, and games or toys can entertain a child while in line.
Food allergies: Those with food allergies or intolerances are allowed to bring food items into any Disney theme park. If you are questioned at the bag check area (I have never been) then simply inform the Cast Member of your child's issue and they will be happy to let you pass. Most table service restaurants within the parks that accept reservations are able to accommodate food allergy issues. Friends who have visited the parks with a child with severe food allergies have been pleasantly surprised by how many food options their child had. Trekaroo also has a great guide to traveling with food allergies.
When you arrive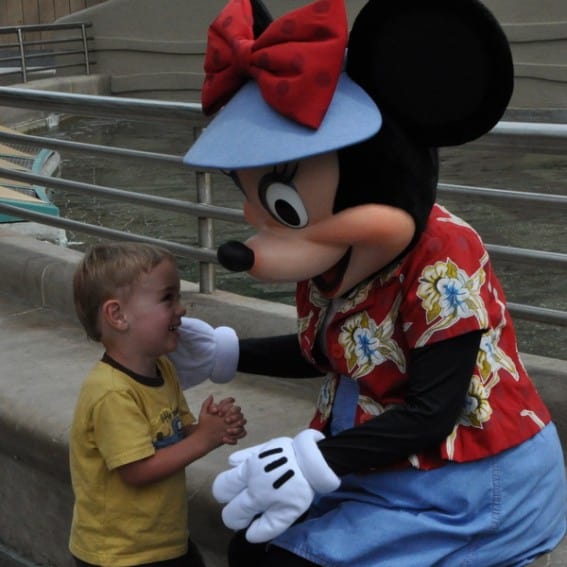 Head to Guest Services first. This is where you will able to pick up your child's Disney Disabled Pass Access Service Card. Be sure to bring your child to Guest Relations with you because you will need to prove he or she actually exists (again, another side effect due to those who have tried to scam the system in the past). Ultimately, the key to a successful trip to a Disney park with your special needs child is communication. Disney is less interested in what your child's specific diagnoses might be and more interested in which specific concerns you might have while visiting the park. If your child has issues regulating body temperature and can't tolerate waiting in the heat or can simply only spend a limited amount of time in the park per day, let the cast member at Guest Services know. If your autistic son only wants to ride Pirates of the Caribbean three times followed by Buzz Lightyear Astro Blasters two times because he is prone to ritualistic behavior, share this information and it is likely Disney can make the necessary accommodations. If you use your child's stroller as a wheelchair or as a safe zone to keep her comfortable when she is prone to sensory overload, explain it to the employees so that they can give you a special sticker which allows you to push the stroller through all ADA accessible queues. Communication is ultimately the key to making sure your child's needs are met so be sure to clearly communicate what specific restrictions your child may have to better help Disney appropriately accommodate your child's level of disability. If you have a service animal, it will be allowed in the park and special guidelines will be given. If you would like a sign language interpreter, one can be provided with two week's notice.
Under the new system, if the wait for a ride is longer than 10 minutes and you do not want to wait in line with your child, DAS card holders must go to one of the various Disability Services kiosks located within the park to be given a return time for the attraction your child wishes to ride. In order to be given a new time for a new ride, you must return to a kiosk to be given a new time. All of this will be explained to you at Guest Services, along with a map highlighting kiosk locations. Note: if your child has a physical disability and only needs ADA access, you will not be using the kiosks. You will simply be going through the ADA entrances to rides that are not accessible. Also note that FastPass may be used in combination with the DAS system.
Head to the area of the park your child is most excited about first. If your child loves Buzz Lightyear, take him to the Astroblasters. If your daughter loves music, let her sing along with dolls from around the globe in It's a Small World.  Something familiar and beloved will help ease any apprehension your child might have about this new experience.
If sensory overload should occur, ask a Cast Member for the nearest quiet location. A meal in a quiet corner of park or a ride on the monorail may be great places to slow down and reload.
Have fun! Expect the unexpected and enjoy the moment. If things get difficult, take a deep breath, address the situation, and then get back to experiencing all the Disney magic. Oh- and take lots of pictures. They are only little once!
Do you have an upcoming trip to Disneyland planned with your special needs child and still have concerns whether or not Disney will be able to accommodate his/her needs? Send an email with your specific concerns to disability.services@disneyparks.com and include your phone number and the best time to reach you. A Disney employee with be happy to return your call and address those concerns. Disney also recently put a wonderful Disneyland Resource Guide for Guests with Cognitive Disabilities on their website which is definitely worth a read. 
Have tips for visiting a Disney park with a special needs child? Please share  your wisdom in the comments section.
Explore our ultimate guides to Disneyland and Walt Disney World!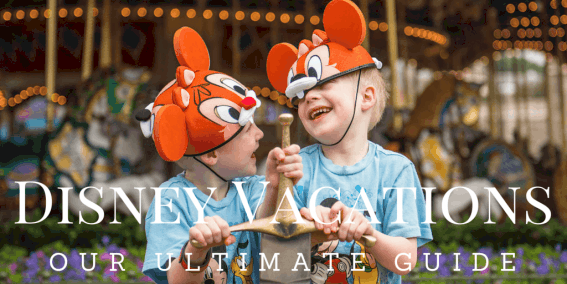 Our Ultimate Disney Guide is our go-to-resource for everything you need to know when planning the perfect family-friendly vacation. Explore our ultimate guides to the Disneyland California Resort, Walt Disney World, and other Disney properties, resorts, destination vacations, and cruises.
Lead Image by BigStock/FamilyFotographer