I used to think that finding a great meal at a theme park was as easy as following your nose to what you could afford. That was before my beautiful daughter's life-threatening food allergies. Now, planning what to eat at a theme park can be a stressful and overwhelming experience. As a now four-year-pro at reading food labels, understanding cross-contamination, and carrying around life saving medications and injectors, I know well the frustration of going anywhere with fear of no access to safe, kid-friendly food. And this is what I love about Disney parks. Having food allergies at Disney is actually one the best places to be. No matter what your child's allergy, intolerance, or dietary restrictions, Disney parks, cruise lines, and resorts can help you enjoy a magical and safe vacation, including some very yummy meals.
For general tips on Disney Dining, visit our Disney Dining Article. 
Note: Although Disney pays close attention to sourcing, preparation, and handling of its food, and is truly leading the industry in its response and handling of food allergies and dietary restrictions, it is ultimately your responsibility to keep your child safe. Although extreme caution will be used in preparing meals for your child, there is no guarantee for completely allergy free food.
Food Allergies at Disney – Know Before You Go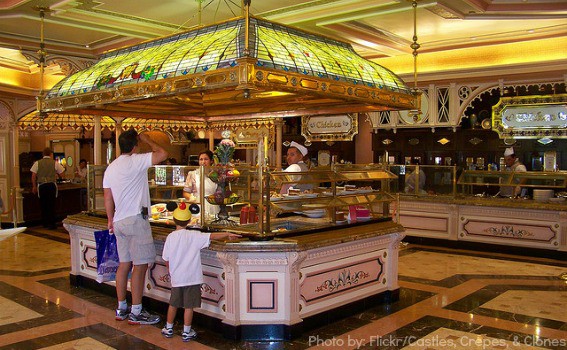 Disney helps take a bit of the guesswork out of planning a theme park, cruise, or resort vacation before you even arrive. For guests with single allergies to common ingredients such as gluten or wheat, lactose or dairy, peanuts, tree nuts, shellfish, soy, fish, eggs, or corn, managers and chefs will work with your group to accommodate meals for you at nearly every table-service restaurant that provides reservations. Be sure to mention your allergies when making your reservation and they will alert the chef in advance, saving you some stress and time on the day of your arrival.
If you suffer from multiple food allergies, have an allergy to an item not listed in Disney's common allergen list (see above), have a metabolic disorder, Phenylketonuria, or are part of a group where more than one person suffers from food allergies, be sure to contact Disney at least 14 days in advance so they can accommodate your needs. This especially holds true for Disney cruises where you need to notify them in advance so your reservation can be flagged for allergies.
Note: Kosher meals are available at many restaurants, and you can request Kosher meals in advance.
Food Allergies at Disney – What to Pack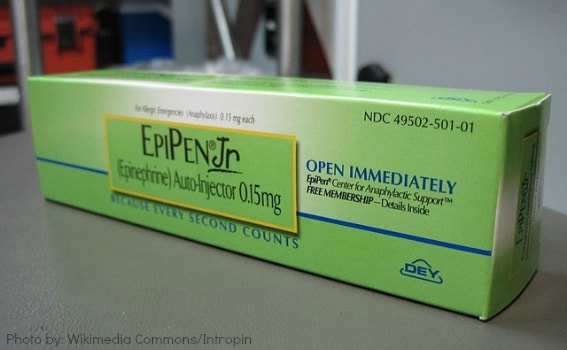 Heading out for a Disney day with food allergies doesn't have to be all that complicated. We always pack some favorite allergy free snacks just in case we can't find or aren't near a safe food service option when snacking and hunger pains strike. Although Disney does have a "no outside food" policy for most guests, families with dietary restrictions can bring food into the park with ease – simply tell the cast member your child suffers from food allergies and you will be allowed to bring any outside food into the park. All necessary medications are also allowed through security, including EpiPens. Although emergency first aid stations can connect you with life saving medications and hospitals, be sure to pack all possible medications including antihistamines, epinephrine, inhalers, and more. Pack EpiPens  in insulated bags to keep them from getting too hot in the summer months.
Note: Cast members cannot store, refrigerate, heat up, or prepare any outside food. Consider booking an on-site hotel room with mini fridge (or suite with kitchen or kitchenette!) to store your necessary food items.
Food Allergies at Disney – What To Do when You Arrive
Depending on the type of food you are looking for, here are some tips for dining at Disney parks & resorts: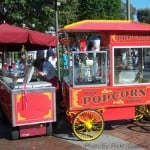 Quick Service Snack Carts: Every item sold at quick service carts throughout Disney parks has an ingredient list either printed on the package or in a booklet. Most of the time, cast members are aware of it and can find it quickly, and often times it is even posted somewhere for reference. Rarely, a cast member is not sure where to find the ingredients, and we have to move on without a purchase. (This is where the packed snacks come in handy.)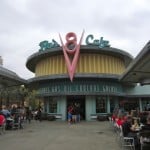 Quick Service Restaurants: Head to quick service restaurants at least 30 minutes before your kids start to get hungry. Identify yourself to the host, greeter, or first person you encounter as someone with food allergies and they will alert the chef (or sometimes manager) on duty to your allergy. This is where a bit of patience is necessary. Depending on the time of day, busyness of the restaurant, and other factors, it could take the chef a while to return to your attention. I've had this happen anywhere from 1-15 minutes from my initial contact.
The chef has a binder of every ingredient in his kitchen, with all common allergens listed. The chefs also typically boast a ton of food safety knowledge and will work together to get your child a safe, kid-friendly meal, prepared in separate bowls from the rest of the prepared food (although they likely will not have a dedicated fryer). Again, because of this special attention to detail, the food might take a bit more time to arrive in your hands. Better safe than sorry is my motto in this realm and I appreciate the care Disney cast members take to ensure my child's safety.
Note: Gluten-free options are readily available throughout the park including buns, pizza dough, and even sweet treats at numerous locations! Although they are not typically advertised on menu boards, nearly every restaurant features gluten free options for you to enjoy- just ask to speak to the chef.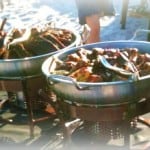 Buffets:  Depending on your allergies, buffets can certainly provide a wide variety of options. If choosing a buffet, alert the chef to your allergy when making your reservation. The chef will walk you through the buffet and note any items that your child may or may not eat. They can likely make some modifications to a small number of food items in the back (ie. gluten free), but often they are limited to how the recipe is already prepared.
Note: Due to guest interaction at buffets, Disney can't guarantee that food served in the buffet has not been contaminated by allergens from other dishes.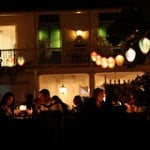 Table Service Restaurants: If you have made an advance reservation and noted your allergy, the chef at most table service restaurants has already prepared the way for your arrival. Even if you haven't, you can still enjoy a great meal nearly everywhere for most allergies. Alert the host upon your arrival and they will make sure that the chef comes to speak with you as soon as you are seated. Although they might not have a substitute for every menu item for your allergy, they actually come really close.
Thank you to Disney Days sponsors Undercover Tourist, Anaheim/Orange County Visitor and Convention Bureau, Caribe Royale Orlando,Howard Johnson Anaheim Hotel and Water Park, and Earl of Sandwich.