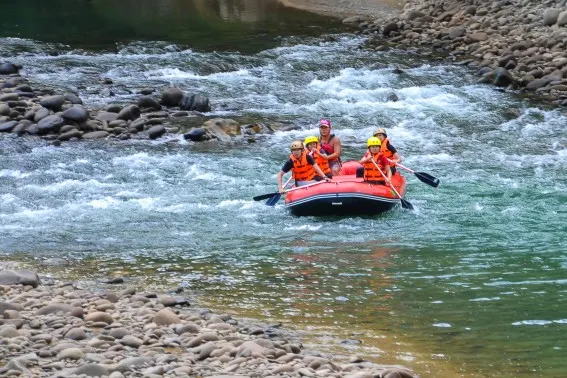 White Water Rafting with Kids
If you want to go white water rafting this summer in Northern California, there is a river to fit every budget and skill level. Here are five of the most popular spots to get you floating down the beautiful waters Northern California has to offer.
Lead photo by Bigstock/Zulkiffle Mohd Kassim
Truckee River (Level Easy)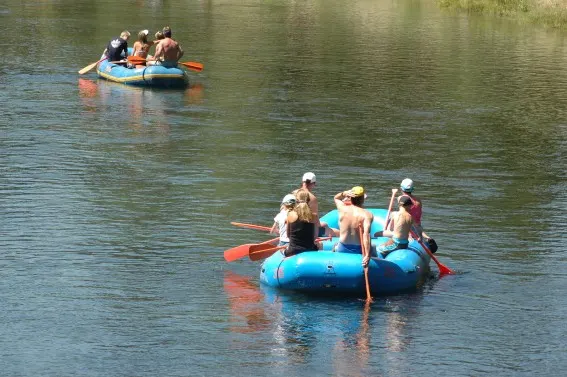 Photo Courtesy of BigStock/Jason Montiel
The Truckee River
is an easy river to float down without a guide (or a paddle). The water flow is controlled by a dam on the edge of Lake Tahoe and at times moves so slowly that you may have to get out and walk. Bring an inexpensive raft or tube from home or rent a raft from the
Truckee River Raft Company
($40 ages 13 to adult, $35 ages 6-12, tots 2-5 are free). Rafts are available in 2, 4, 6, 8, or 10-person and the company provides a shuttle back after the day's excursion if booked with them.
Begin just after the dam in Tahoe City on Hwy 89 and float for 5 miles to River Ranch Restaurant (exiting just before River Ranch to avoid the rocky rapids). Rafters will need to arrange a pick up or walk five miles back up the river.
Yosemite Valley Merced River (Level Easy)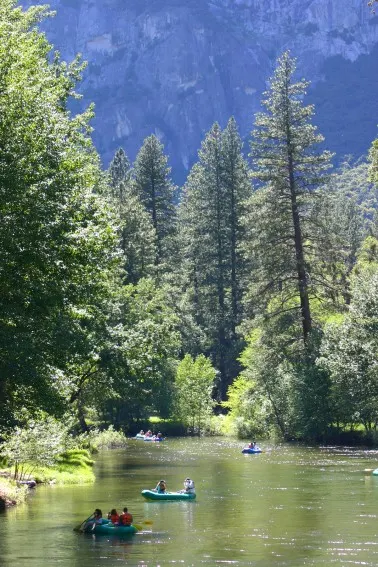 Photo Courtesy of BigStock/Pixelcarpenter
Meander down the Merced River in the
Yosemite Valley
this summer. The Merced River is fed by snow melt, so the rafting season only lasts as long as there is sufficient melting snow (usually from mid May to Late July). This is a very mild river and the 3-mile trip can easily last half a day. Bring your own raft and take the shuttle bus back to Half Dome Village (along with your deflated raft) for $5.50 a person. (Remember that life jackets are required for anyone under 13.)
Rentals are also available in
Yosemite Park
for $29.50 per person and can be found at the Yosemite Valley Lodge Tour Desk, Half Dome Village Tour and Activities Kiosk, Yosemite Village Tour and Activities Kiosk, and the Majestic Yosemite Hotel Concierge Desk. Reservations are recommended and can be made at the Half Dome Village Tour/Guest Recreation Kiosk. Two capable paddlers are required per raft, including at least one adult per boat, and children under 50 lbs. are not permitted in rental rafts.
South Fork American River (Class II and III Rapids)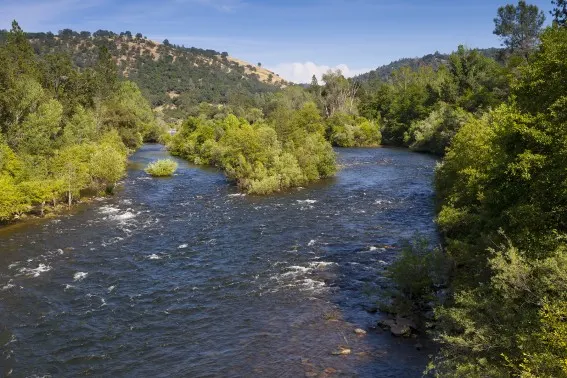 Photo Courtesy of BigStock/Neil Lockhart
The South Fork American River is a great trip for beginners! A full day guided tour will teach rafters the basics about rafting. The tour includes a good lunch and provides a return shuttle to your car. Prices vary between $109 – $199 with weekends being a little more pricey. Many of the trips begin in Coloma, off of Hwy 49 a few miles north of Placerville. There are several rafting companies near Coloma to choose from that offer trips on the South Fork, the Middle Fork, and the North Fork River.
The O.A.R.S. American River Outpost provides a 2-day South Fork American River rafting experience that starts in Lotus, CA (about an hour away from Sacramento) Tours begin at $279 for adults and $259 for youth (minimum age is 7, or 12 at high water) on Monday and Thursday and $319 for Saturdays. Explore 21-miles through the Gold Country and take in the majestic Sierra Nevada Foothills during this 2-day jam-packed experience.
Middle Fork American River (Class III and IV)
Day trips on the Middle Fork are full of excitement and often capsized rafts. This is an exciting trip for those who are looking for more whitewater and excitement than the South Fork provides. Because there is a higher chance of falling overboard on this river, all rafters are required to wear helmets. Prices include lunch, gear, and transportion from a meeting point (usually Quincy). Find places to raft the Middle Fork at Whitewater Excitement.
North Fork American River (Class IV and V)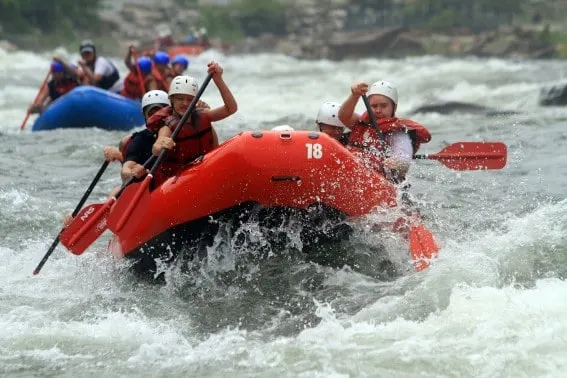 Photo Courtesy of BigStock/Ifistand
This is rafting at it's most extreme. Only experienced rafters are allowed to join trips on the North Fork. Because the river flow is based on snow melt and not controlled by dams, the rafting season begins early in the spring and ends early in summer. The Coloma area rafting companies can provide information on when the season will end and costs.
White Water Voyages has been white water rafting since 1975. Find out more information on all spots on the American River at White Water Connection.
Read more about white water rafting with kids on the American River.
by Dan Kelly
Featured photo by: Shutterstock