The first thing families visiting Whistler Blackcomb ski resort will notice upon unfolding a trail map is just how huge this place is. There's no way to experience all Whistler has to offer in a day, or even two, as we found out during our winter holiday trip. The good news: no matter where you are on either Whistler or Blackcomb peak, there's something for everyone. From every lift, there is beginner (green), intermediate (blue), and expert (black) terrain. Yes, every lift. Even from the Peak Express, I asked? Yes. Even from legendary 7th Heaven? You bet. This feature may have been no big deal to my two expert-level kids, but for my youngest, still an intermediate skier, it made his ski vacation: he could go on every lift his brothers did! It made the trip for my husband and me too: no need to split up or tag team with the kids. We could all stay together all day.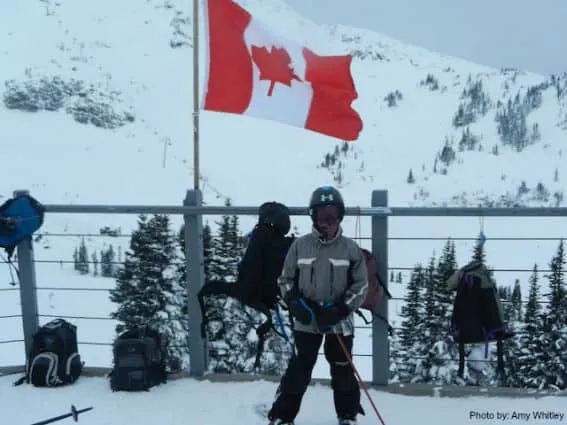 With just two full ski days at Whistler Blackcomb, we knew we couldn't possibly see it all, and we didn't even try. Instead, we concentrated our efforts on the Blackcomb side, with it's slightly less trafficked runs and less crowded base, taking field trips over to Whistler via the Peak 2 Peak Gondola. Staying at the Fairmont Chateau Whistler, it was easy to access Blackcomb with ski-in, ski-out access, and even return to the hotel for lunch to escape mountain lodge crowds. Whistler Blackcomb is way too big to list all the great runs, lifts, and features we enjoyed, so instead, I offer my top tips for skiing or riding as much of these two peaks as possible:
1. Take advantage of Whistler Kids Snow School or Mountain Host services.
Often, families avoid ski school because they all want to stay together. At Whistler, you can have both by signing up for family lessons. You'll enjoy front-of-line access all day, and your instructor can give you insider tips and a mountain overview as well. I recommend a family lesson on Day 1, which will better equip everyone for solo touring in subsequent days. If you're opting out of lessons, you can still meet up with a Mountain Host, who will give you a complimentary tour of the resort offerings. During our visit, the Mountain Host was available at 11:30 am at the top of Solar Express.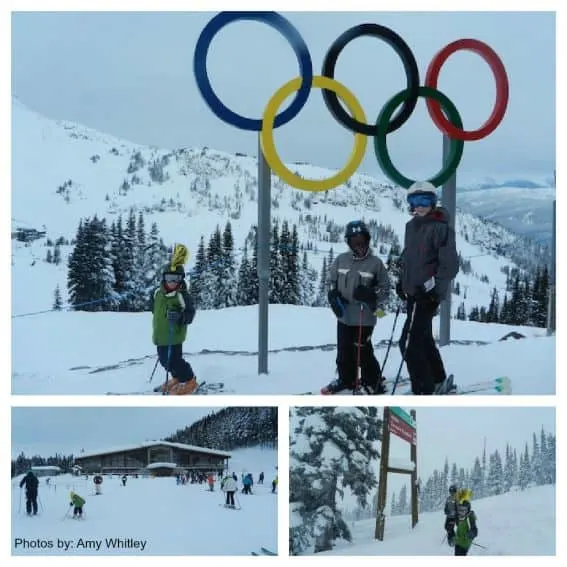 2. Don't waste time traversing the mountain.
Families could spend all day getting from Point A to Point B. Because all levels of terrain are offered from all lifts, there's no need to constantly 'travel' to another section. Though Whistler Blackcomb does a great job of managing crowded lift lines, there's no need to sit in them all day: settle at either a mid-mountain or peak level, and avoid skiing all the way to the base after every run. Our favorite place to hang out: just below the tree-line in the Jersey Cream and Glacier Express area of Blackcomb, where we could experience the steep mogul terrain I love, the glades my older two boys love, and the intermediate slopes and easy cat tracks my youngest likes.
3. Seek out Family Zones, play areas, and terrain parks.
Whistler Blackcomb does a great job of providing family fun in many areas of the resort. Right off of Roundhouse Lodge on Whistler is my kids' favorite Family Zone, with small terrain park elements, intermediate gladed skiing, and, further down, the Whistler TreeFort. All Whistler Blackcomb terrain parks feature S (small), M (medium), and L (large) elements, all clearly marked. We told our kids which 'level' each was ready for, ensuring they didn't tackle rails and jumps above their ability.
4. Look for Nintendo game stations within mountain lodges.
Imagine my boys' joy when they went in search of a bathroom and found a Nintendo gaming station instead? Located in the Rendezvous and lodges, these free stations allow kids to relax mid-ski day with the latest Nintendo Wii games and DS games. When we discovered one during the lunch rush, there were plenty of Nintendos open for play.
5. Ride the Peak 2 Peak.
Whistler Blackcomb's world-record breaking tram, spanning from Whistler and Blackcomb peaks, is more than just a mode of transportation between the mountains. It's a ride in itself. Best of all, your lift ticket includes it. The ride takes about 20 minutes, and is not only a great opportunity for views and photos, but a nice chance to warm up, eat a snack, or adjust helmets, gloves, and other outerwear.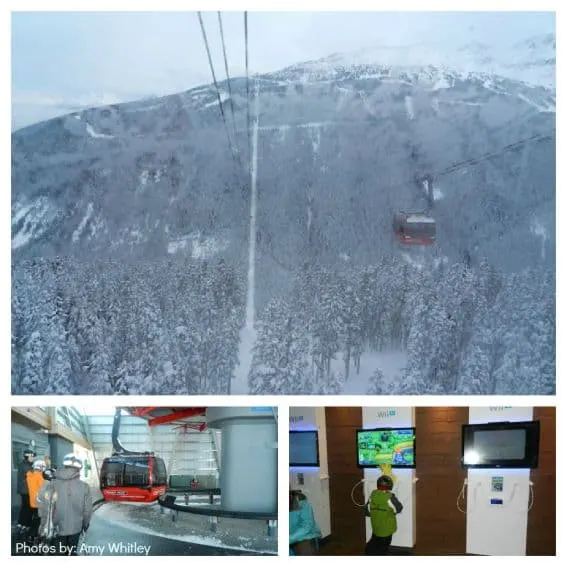 6. Seek out 'off the beaten path' dining options, and save money with kids meals.
We ate mid-mountain at the Rendezvous Lodge, and though this is one of the larger on-mountain lodges, we had no trouble finding table space. Since this is apparently the exception to the rule, families should seek out less frequented lodges such as Glacier or Crystal lodges on Blackcomb or the Chick Pea on Whistler. If your hotel has ski-in, ski-out access, you may save time skiing down to the base for a hotel meal or in-room dining. No matter where you dine on-mountain, we were advised by Whistler Blackcomb staff to order kids meals for all: with the inclusion of an entree, two healthy snacks, and a drink, this is the best value on the mountain at $8.99.
7. Don't be afraid to try the top peaks.
When open, the Peak Express on Whistler and Glacier or 7th Heaven Express on Blackcomb can look intimidating to families with varied ability levels, but because there's beginner and intermediate runs even from the highest elevations, everyone can experience them. If you have a beginner or two in your family, take the Green Line from the top of Glacier to the base for a run that will last up to 45 minutes! Be aware: the wind can be severe above the tree line: bundle up!
8. Enjoy family-friendly apres ski once the lifts close.
Part of the fun of any ski day is apres ski restaurant ambiance in which kids and parents can relax, have some snacks, and talk about the ski day. Our favorite locations: Earl's in the Whistler Village, and the Mallard Lounge in the Fairmont Chateau (off of Blackcomb in the Upper Village). Almost all restaurants in the village offer a family-friendly environment (at least until around 8 pm), and kids will love climbing on the many snow 'mountains' in the middle of the Village Stroll while they wait for hot chocolate or appetizers.
My family and I experienced Whistler Blackcomb as guests of the resort. While we appreciated this opportunity to share tips and advice with Trekaroo families, it not come with the expectation of a positive review.