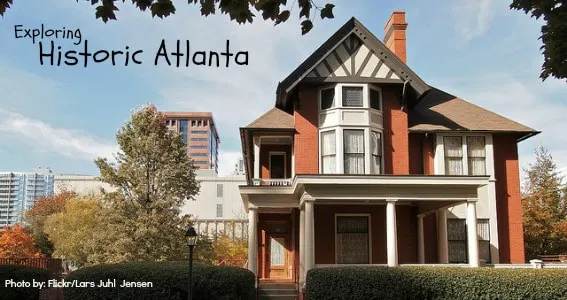 I don't want to hurt my high school history teacher's feelings, but reading the past from a textbook is boring. Experiencing history in real-life is much cooler! Don't believe me? Ask my kiddos. Together, we have walked through time at dozens of sites in and around Atlanta. We've 'met' Native Americans, English explorers, entrepreneurs, authors, and Olympians who have touched the lives of people in our city and around the world. Want to meet them, too? Take an adventure spanning millions of years, and experience some of our favorite historic Atlanta events and people.
Tellus Science Museum
Megalodon from 25 million years past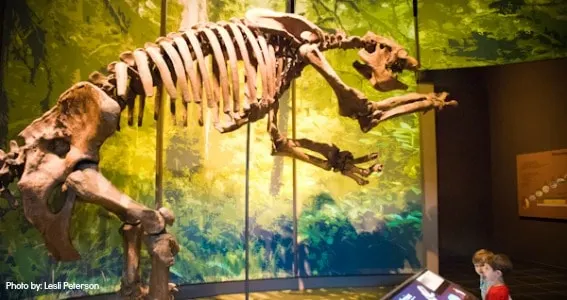 Begin your adventure through time with a dental discovery. Tellus Science Museum is home to the 9-foot wide jawbone of a Megalodon giant found in the waters that cover what is now Georgia. Dig up the dirt on 50 or so other dino fossils on display, including a T-Rex and several Georgia natives. While you're here, visit the space and transportation gallery, the mineral exhibit, and the hands-on children's area. Young kids will also enjoy the gem grubbing and fossil digging.
Etowah Indian Mounds
Mississippian Culture of 1000-1550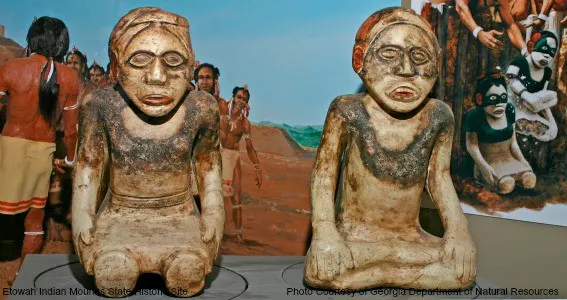 The Mississippian Culture was a large ancient Native American tribe living in the Southeast and Atlanta is home to the most intact site ever discovered. Visit Etowah Indian Mounds to explore six mounds, a plaza, and portions of the original village. There is a museum of artifacts, including depictions of how this ancient people decorated themselves for religious and political ceremonies. Follow the nature trail to see the ancient fishing traps, and learn how they used native trees for food and medicine.
Fernbank Museum of Natural History
Hernando de Soto's journey of the 1540's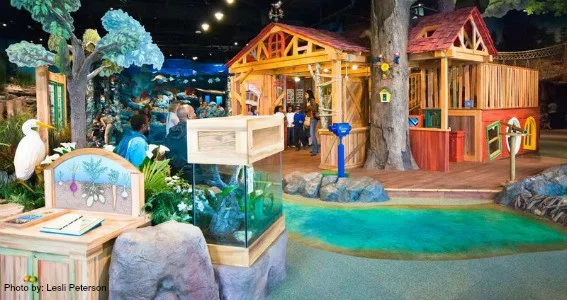 By the time de Soto arrived, the Mississippian Culture was in decline. However, there is no doubt that he trekked through what is now Telfair County during the 1540s, interacting with other Native American cultures. Glass beads and other pieces are on display at Fernbank Museum of Natural History, including more information about the archaeological dig site. A cool factoid: A student found the first artifact leading to this discovery. While you are there, tour the Walk Through Time in Georgia exhibit for more about historic Georgia.
Looking for a kid-friendly place to stay in Atlanta? Check out reviews from families who have been there.
The Southern Museum of Civil War and Locomotive History
The Western and Atlantic Railroad of 1836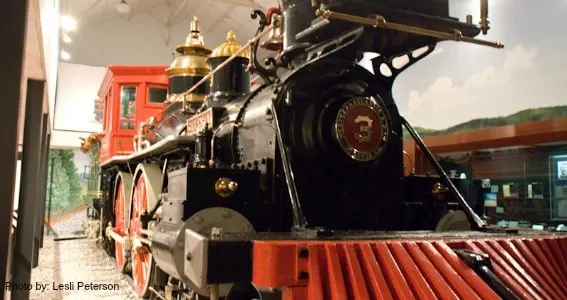 All aboard! The next stop in time is a visit with The General, the engine made famous during the Great Locomotive Chase of 1862. The raid occurred on the W&A railroad line, which terminated in Atlanta. Learn about the importance of this railroad during the Civil War, as well as the impact of rail travel on the war and economy while you visit The Southern Museum of Civil War and Locomotive History. Want more Civil War info? Right up the road is Kennesaw National Battlefield Park, with 17 miles of trails and a visitor center packed with artifacts and information.
Andersonville National Historic Site
Civil War POW Camp of 1864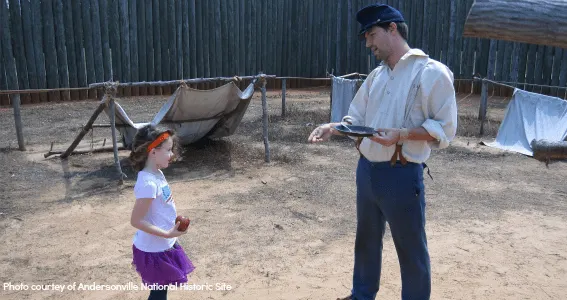 Andersonville National Historic Site is the site of the former Fort Sumter, one of the largest Confederate prisoner-of-war camps during the Civil War. Holding more than three times the number of prisoners than designed, it became a bastion of disease and hardship. Andersonville is now site to the National POW Museum. There are several hands-on activities for kids, including role-plays such as rifle drills with wooden rifles and bartering with prisoners for food. Kids will like the Andersonville Trading Cards and Park Passports Stamps, as well as the Junior Ranger badge program. A badge with Andersonville also puts kids on the path to the Junior Civil War Historian Badge.
World of Coca Cola
John Pemberton creates Coca Cola for headaches in 1886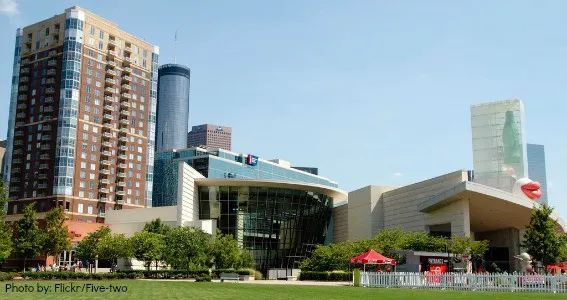 With the war behind us, we can move on to a new concoction, originally created by John Pemberton of Atlanta, Georgia to cure a headache. Coke ownership then passed hands through two other famous Atlanta families, the Candlers and Woodruffs. Learn more about the impressive business dealings at the World of Coca Cola. There is also a 4D movie, a photo op with the Coca-Cola polar bear, and the best part of all – a taste testing of Coca-Cola products from around the world.
Margaret Mitchell House
Margaret Mitchell publishes Gone With The Wind in 1936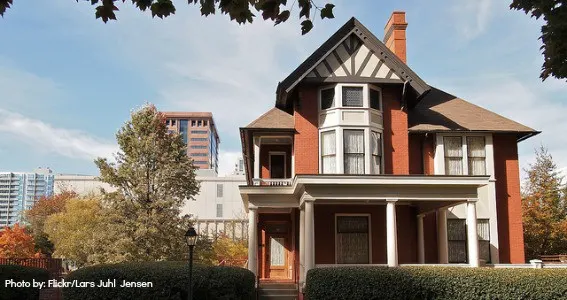 Did you know Margaret Mitchell originally denied the Gone With The Wind manuscript even existed? Hattie McDaniel, who played Mammie in the movie, was the first African American Oscar nominee – and she won! And during the release, Jim Crow laws were rampant; black supporting actors couldn't even sit with white actors at the premier. Clark Gable was so angry he almost boycotted the whole thing, until Hattie McDaniel took steps to ease tensions. Learn about this and more at the author's apartment-turned-museum, the Margaret Mitchell House. Fiddle-dee-dee.
Martin Luther King, Jr. National Historic Site
Martin Luther King, Jr.'s leaves a civil rights legacy in 1950s and 60s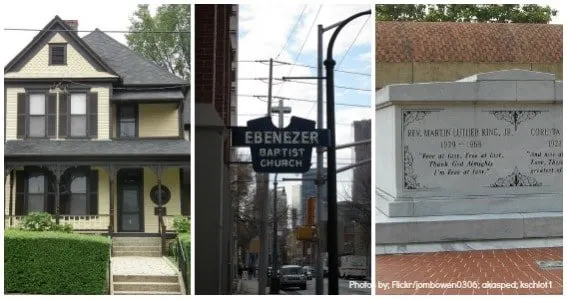 Martin Luther King, Jr, synonymous with the civil rights movement, called Atlanta his home. You can see his birth home, church, and grave in city blocks covering the Martin Luther King, Jr. National Historic Site. Don't forget a stop at the visitor center and "I Have A Dream" plaza, and learn about modern day civil rights heroes at the new International Civil Rights Walk of Fame. This park also includes a Jr Ranger Program that encourages kids to pledge Dr. King's six principles of nonviolence.
Explore more civil rights monuments, museums & important places: Teaching Your Kids about the Civil Rights Movement through Travel
Braves Museum and Hall of Fame
Hank Aaron beats Babe Ruth's home run record in 1974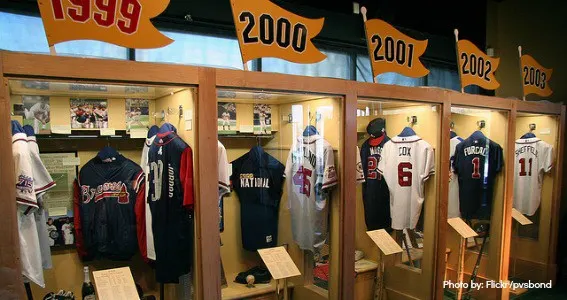 In 1974, Atlanta Brave Hank Aaron made history with his 715th home run, beating Babe Ruth's long standing record. See his home run bat and ball at the Braves Museum and Hall of Fame at Turner Field. You can learn about the history of the Braves (from Boston to Milwaukee to Atlanta), check the leaderboard, 'meet' famous throwback Braves, and more. Need an educational slant to justify this visit? There are Social Studies tours, Math tours, and History tours; a proverbial school of baseball!
Atlanta History Center
Summer Olympics of 1996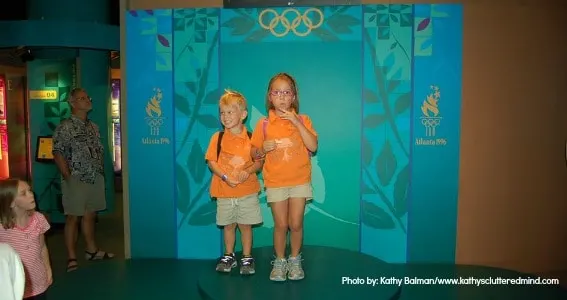 Atlanta's most recent encounter with international affairs was, of course, the Summer Olympics of 1996. The Atlanta History Center is home to the Centennial Olympics Museum. The museum captures information unique to the Atlanta games, but also highlights Olympic excitement from its inception is ancient Greece. Visitors can see the country's only complete collection of Olympic torches and medals. If you want more Atlanta Olympic fun, head downtown where you can see Olympic Tower, an over-sized replica of the 1996 torch large enough to be seen from the interstate.Drive a little further south to Centennial Olympic Park to play in the Fountain of Rings, the world's largest interactive fountain utilizing the interconnected ring symbol.
Atlanta is a hot bed of history where you can walk through the ages, from the Paleolithic period to modern day. Your family will enjoy learning about the past and hold on to that knowledge for a lifetime, having experienced together the walk back in time.