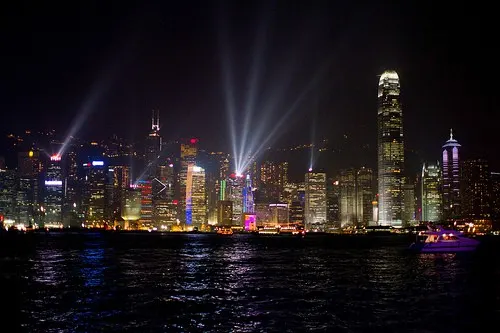 Photo by: Flickr/No Lands Too Foreign
Hong Kong is so much more than a business center and a shopping mecca. It's an extremely family-friendly destination that's also a convenient gateway to the rest of Asia. Spend some time in Hong Kong exploring Disneyland, enjoying local cuisine and, of course, shopping. Make it your only stop or hop to another nearby destination on your bucket list from one of the most efficient and pleasant airports on the planet. I spent my first few years of motherhood living in Hong Kong and I would recommend bringing your kids for a visit. Here's why, along with some other helpful travel tips.
About Hong Kong and When To Go
Is Hong Kong a city or a country? Technically, it's neither. Once a British colony, Hong Kong is now a special administrative region (SAR) of the People's Republic of China, located at the southern tip of the PRC and surrounded by the South China Sea. Unlike the PRC, U.S. and U.K. citizens can enter Hong Kong with just a tourist visa.
A visit any time during the year is better than none at all. If you have the option, choose fall or spring when the weather is mild. May through August is when the heat, humidity, and rain ramp up and the threat of typhoons looms. It can occasionally get uncomfortably cold in the winter, but nothing a New Yorker can't tolerate. Staying in Central where there are covered walkways and easy MTR train access will help eliminate weather concerns.
Getting Around Is Easy
Most visitors arrive via the Hong Kong International Airport, Chek Lap Kok. It's extremely clean, efficient, and not a terrible place to arrive early due to the massive amounts of eating, shopping, and spa that can be done while waiting for a flight. Ask your Concierge about an arrivals escort who can meet you at the gate and help you manage carry-on luggage, customs, baggage claims, and get you on the Airport Express train – an easy 24 minute ride into Central Hong Kong. You can do it all yourself, of course, but it might be to have a little help with kids and their gear in tow.
In the rare instance you might be arriving via Macau (China's only other SAR), ferries run all day long as does a helicopter service. Despite legalized gambling, Macau has become a more family-friendly place with Las Vegas-style luxury hotels. A day or overnight trip from Hong Kong is very doable via ferry, though you will need to clear customs in both directions.
Taxis are everywhere in Hong Kong, but make sure to keep the name of your hotel written in Chinese as not all of the drivers speak English fluently. Car seats are not required for kids or babies.
The MTR is a train system with perhaps the cleanest cars I've ever seen. It can take you pretty much anywhere, with the exception of the south side of Hong Kong Island. Ferries to Discovery Bay and other parts of Hong Kong depart from Central, including the famous Star Ferry which runs between Kowloon and Central. Kids love both and can use their own Octopus debit cards to enter ferries, trains, trams and busses. It makes a cool "beep" sound that they get a kick out of.
Hotels Galore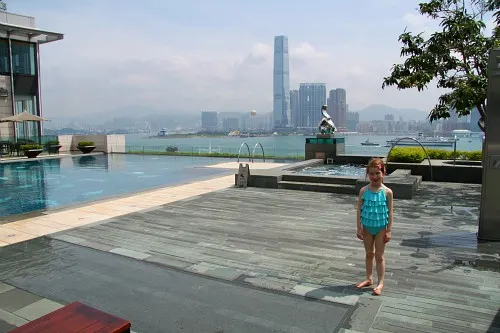 The sheer quantity of quality hotels in Hong Kong can make where to stay a difficult decision. Central and harbourside Kowloon are usually the most desirable locations and the further away you go, the less expensive hotels tend to be. Most of the big name hotels, boutique hotels, and serviced apartments are family-friendly.
When I return to Hong Kong for visits, for sentimental reasons, I split time between my former home, Four Seasons Hotel Hong Kong, and the Mandarin Oriental where I often dined and shopped. These hotels offer impeccable service, modern conveniences, and gorgeous rooms that the brands are known for. I would argue that they both take luxury to an entirely different level and can't recommend them highly enough. Both hotels (I suspect other luxury hotels do, as well) use a very reliable babysitting service of enrolled or registered nurses, should you want a night on the town or spa time. I've used this service multiple times and have been quite pleased.
For stays of a month or longer, consider a serviced apartment that has a kitchen or kitchenette along with almost-daily housekeeping. The rents are much more reasonably priced than an equivalent hotel room. These apartments are all over Hong Kong. Popular names include Shama, Hanlun Habitats, Four Seasons Place (the Four Seasons Hotel serviced apartments), and Pacific Place apartments. Some will offer shorter stays of one week.
Also, should your room have a view of Victoria Harbour, it's likely that you'll be able to view the Symphony of Lights, the nightly laser show (seen in the top post photo). Kids love it, and it's worth the upgrade. You may also view the laser show from other points in Hong Kong, such as the roof top of Harbour City, a popular shopping mall on the Kowloon-side near the Star Ferry.
Dim Sum For Kids? Sure!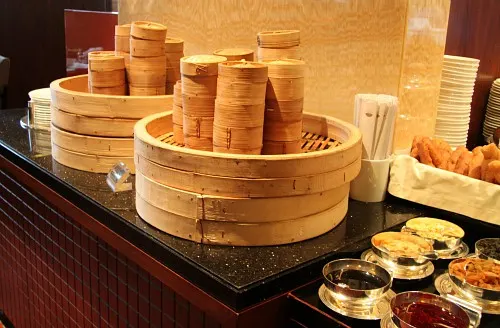 Most Chinese restaurants have such a buzz that no one will bat an eyelash at a squeal from baby. Yung Kee in Central is famous for roast goose and is a must-try. Dim sum and other local cuisine can be found at Lei Gardens, Tsui Wah, Tim Wan Ho, buffets (Mandarin Oriental Clipper Lounge buffet breakfast pictured above) and other casual restaurants. Picky kids can nibble on steamed rice, steamed buns, noodles, pastries, or cooked vegetables so do bring them along.
For international cuisine on The Peak, Café Deco (currently renovating) has a Sunday brunch with a kids play area, while The Peak Lookout next door has a nice large terrace for kids to run around. Both restaurants offer everything from burgers to curry. When we lived in Hong Kong, we took our daughter even to higher-end restaurants. If there's an age restriction, this information will be available on the restaurant's website.
If you're missing Starbucks, Subway, or McDonald's have no fear as these large chains are all over Hong Kong. Grocery stores like ThreeSixty, Great, and City Super have deli counters with excellent to-go items. Which brings me to another point; grocery stores in Hong Kong have plenty of organic food and brands (such as Earth's Best) that we're used to here in the U.S. Don't worry about what your kids will eat.
Disneyland And Beyond
Keep kids occupied outside the hotel by visiting Hong Kong's popular attractions. I've listed three below, however, there are also parks, beaches, indoor play gyms, small museums, and so much more. You can even check local schools, such as Mandarin for Munchkins, to see if there are any drop-in classes available to give your littles a taste of a foreign language, and you an extra hour for foot reflexology or shopping.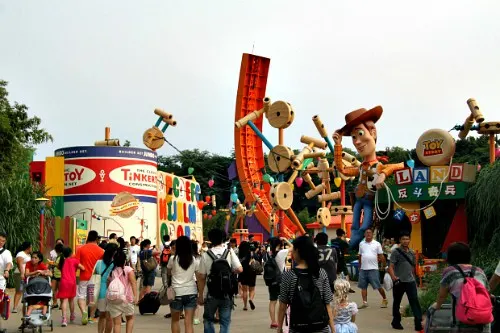 Hong Kong Disneyland: This park is easily a half-day experience if you're pressed for time as it's smaller, less hectic, and much less expensive than Orlando and Anaheim. Small World, Dumbo, Space Mountain, and other rides are here, however, Pirates of the Caribbean, Matterhorn, and Haunted House are not. Toy Storyland (pictured above) is a brand new area, unique to Hong Kong Disneyland, featuring characters and rides based on the movie. Travel time by MTR train from Central is about 20 minutes. The Disneyland Hotel (an easy shuttle ride from the park) offers the My Little Princess program should your kids want to deck out like Cinderella.
Photo by: Flickr/xiquinhosilva
Ocean Park: Located on Hong Kong Island this amusement park/research facility is a local favorite and one my husband and I had passes to before we were parents. There's a large aquarium, scenic cable car, roller coasters, and lots for young kids to enjoy. See pandas, sea lions, otters and more animals, too. You'll need to taxi or bus here.
The Peak : Take The Peak Tram to The Peak, Hong Kong's most popular attraction where a clear day offers up a stunning view of the skyscrapers lining Victoria Harbour. There's plenty of shopping and dining with a Madame Taussaud's wax museum and a path around The Peak for a post-lunch stroll. Kids can run around and burn off steam up here.
Other Random Thoughts
I personally find Central an easier place to stay as you can push your stroller out the door and into a mall or wherever you'd like to go nearby. Another common mistake Hong Kong visitors make is related to luggage. If you think that just a little space in your suitcase is enough for souvenirs, think again. My 5-year-old was treated so well by the hotels (and her mother) on our last trip, we had to visit the markets to buy another (inexpensive) suitcase.
You see, all ages love Hong Kong. Have you been? Do you have questions? I'm happy to answer them here.
---
Travel with kids to: CA |CO | DC| FL | HI | IL |MA | NC | NJ | NY | OR| PA| TN | TX | UT | VA | WA