The Home Ranch has been voted Trekaroo's 2013 Best Ranch for Foodies. Want to know about other ranches that made the cut? Check out our

2013 Family Dude Ranch Vacation Roundup

.
After a visit to The Home Ranch, Lisa-Marie Leihy is now a part-time cowgirl, fly fisherman, and full-time foodie. She enjoys all sorts of travels with her family and blogs about her adventures at Tampa Bay Parenting Magazine.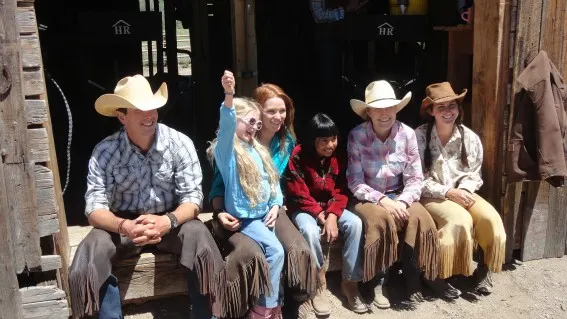 Out and About
When adventure calls, someone in my family is sure to answer. We heeded the call and headed west for a week-long stay at The Home Ranch in late June. This all-inclusive dude ranch in Northwest Colorado is ready to play host to any adventurer. From couch surfer to hard-core mountain hiker or fly fisherman to accomplished horseman, there really is something for everyone to discover and enjoy at The Home Ranch. We arrived on Sunday afternoon and were warmly greeted by our host and Home Ranch General Manager, Johnny Fisher. I knew that we were in good hands as soon as we met Johnny and his fabulous staff, but more about them later. We were ready to see our home for the week, a little cabin named Roo.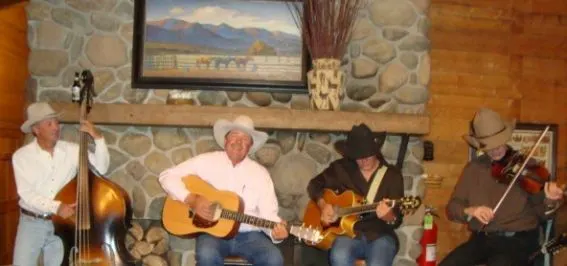 Roo With a View
The Roo cabin has a fabulous view of aspens, Hahn's Peak off in the distance, and the occasional deer. The loft and bottomless cookie jar were a hit with the kids and the locally-made soap was my favorite in-room treat. On many nights, we kicked back in our own private hot tub and watched as the stars twinkled in the sky. The room was very comfortable and quiet, especially since there are no TVs and telephones in the rooms. Rest assured, there is reliable cell phone coverage and WiFi throughout, but guests are encouraged to unplug. Give it a try!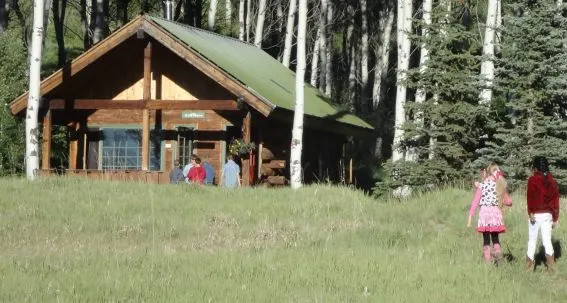 Haute Cuisine in the High Country
One of my favorite parts about this week-long adventure was seeing what was on the menu each day. Chef Clyde Nelson and his team made us re-think everything that Hollywood movies have told us about dude ranch dining. From grilled fish dished up for lunch on the front porch to the food and wine-paired plated dinner in the communal dining room, every detail was well thought out and delicious. They even made special accommodations for my gluten-free diet. After one meal at The Home Ranch, you'll know why it's earned the coveted Relais & Chateaux affiliation.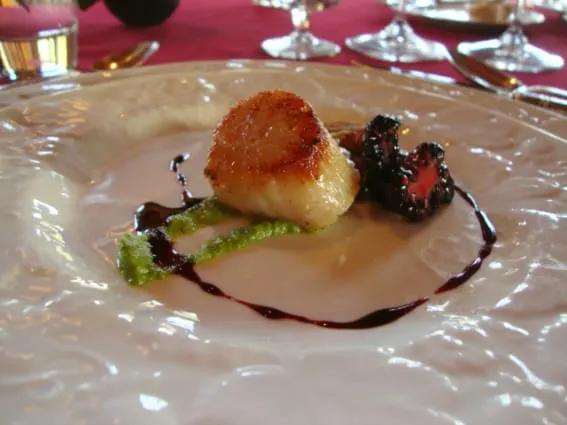 After we ate breakfast together, the kiddos ran off to play with their new friends while the grown-ups weighed the many recreational options available. We all met up again at lunchtime to share stories before setting off again on our separate, and sometimes combined, adventures. On most nights, the grown-ups were treated to dinner in the dining room while the kids enjoyed cookouts, picnics, and good old fashioned fun. The atmosphere is so relaxed that it was easy to find common interests with other guests.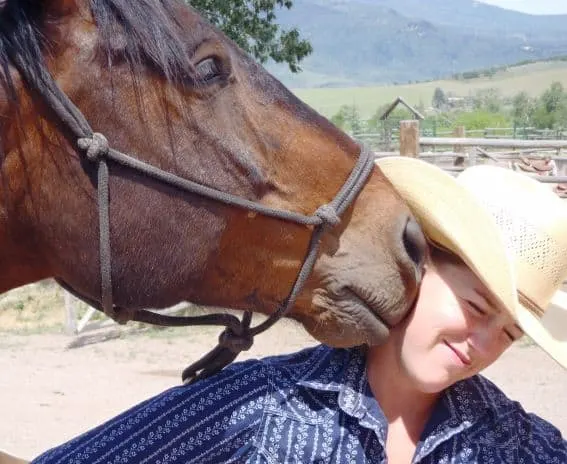 All that mealtime deliciousness along with the bottomless cookie jar, cheese, crackers, and trail mix, replenished daily in our cabin, had us ready to hit the trails on foot, on hoof, and in waders. We met with Head Wrangler, Kelly, at the barn. He's a real cowboy and grew up at his family's cattle ranch just up the road. Guests are paired with their own horse for the week but changes can be made if requested. Wranglers take guests on trail rides twice a day: once in the morning and again in the afternoon. Rides are matched with guest interests and abilities. The kids even learned how to corral cattle in the arena! Our daughter's four person "winning" team captured the prize for fastest corral time. Yes, there's a ribbon for that, which makes for a fabulous take home souvenir.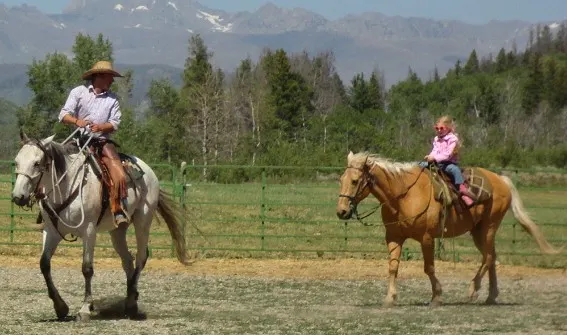 Tip: Wake up early to watch the horses being driven down from the pastures. Be sure to look for the donkey wandering among the geldings!
The Home Ranch is affiliated with Orvis and offers fly-fishing and hiking guides from Monday through Saturday. Remember, this is an all-inclusive resort so the gear, guide, and fun are all part of the package. Alex, the resident fishing guide, got us outfitted in waders for our in-river quest to catch a trout. It took a few tries but we learned to cast the line and carefully watched as the fish were rising. Nick earned the monster fisherman award, as well as bragging rights for the first trout caught on the river this season. We let the fish go but kept this photo for proof!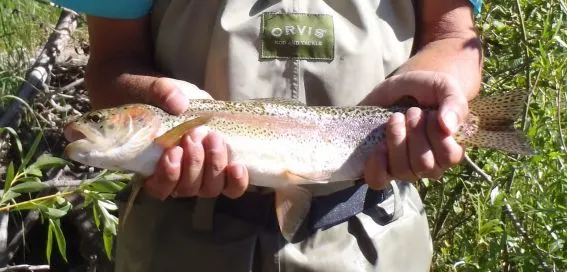 There are loads of breathtaking hiking trails surrounding The Home Ranch. Some of these trails take your breath away, because of the views, while others are just plain steep! Resident hiking guide, Nikki, helped map out twice-daily excursions to nearby summits and took great care to match each hiker's abilities and interests with the hike. She's got a working knowledge of local plants and animals, so her hikes are educational as well as scenic.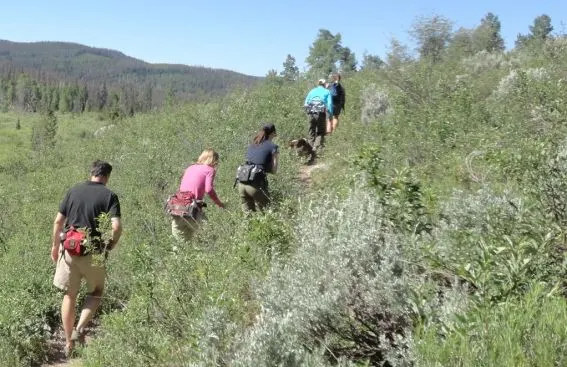 If you prefer a slower pace, yoga is offered once during the week as well as at week-long yoga retreats. A masseuse is available by appointment (extra fee applies for massage).
This all-inclusive resort is an ideal way to plan and budget for an amazing family vacation during any season. If you're still not sure if a visit to The Home Ranch is right for your family, here are a few points to consider: The Home Ranch sits at 7,200 feet so be prepared with sunscreen and drink plenty of water. The altitude can be challenging for some. The Home Ranch welcomes guests six and older. If your kids are younger than six, you can opt for a romantic couples week away or simply wait until the kids grow up a bit. The kid counselors are available from 8:30am-9:00pm from Monday through Saturday. This means that kids can embark on as many adventures with or without parents as they, or you, wish. Book your stay today and tell them Trekaroo sent you.
Disclaimer: Special thanks to The Home Ranch for hosting my family on this Colorado adventure. As always, the opinions expressed in this article are my own.
---
Travel with kids to: CA |CO | DC| FL | HI | IL |MA | NC | NJ | NY | OR| PA| TN | TX | UT | VA | WA