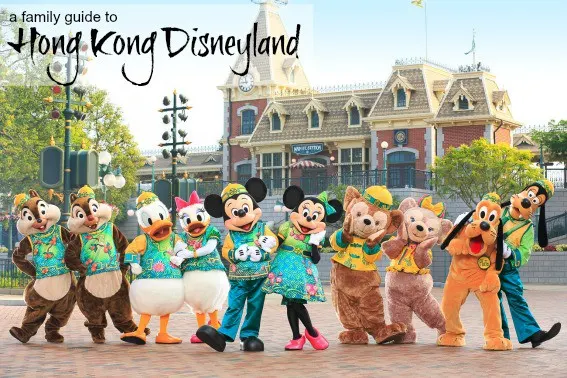 When trekarooing to Hong Kong, at visit to Hong Kong Disneyland Resort is a must. Recent additions to the park have drastically increased its overall size, and unless it's a holiday or the summer time, guests who are accustomed to other Disney parks around the world will find it less crowded and easy to navigate. The good news is that the relatively low price of admission makes the park doable for even just a half day, if you're pressed for time. Follow this guide to one of Hong Kong's celebrated amusement parks at Hong Kong Disneyland Resort.
Location and Tickets
Hong Kong Disneyland Resort is located on Penny's Bay, Lantau Island, which is on the same island as the airport. There is short-term baggage storage at Terminal 3 if you want to take a quick trip over to Disneyland during a long layover.
Most locals take the MTR (subway) and while visitors may take the MTR from the airport directly to the resort, I would recommend just hopping onto a taxi. It's much easier and was just over $100 HKD ($13 USD) the last time we did it. (Car seats are not required by law for children of any age in Hong Kong taxis, so you'll need to decide how you feel about this first.)
Tickets are available at a Disney booth in Central Station, online, or bundled with your Hong Kong Disneyland Resort hotel stay. Save time by purchasing tickets in advance. At the time of this writing, a one-day ticket to the park for an adult is $499 HKD ($64 USD), a child age 3-11 is $355 ($46USD), and seniors age 65 and older are just $100 ($13 USD). If you plan to attend more than one day, consider a Magic Access pass for discounts on dining and hotels.
About the Park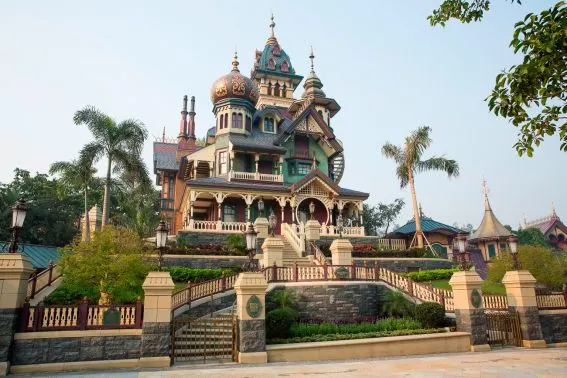 Hong Kong Disneyland is arranged much like Disneyland Park in Anaheim. There are seven lands in total: Main Street, U.S.A., Fantasyland, Adventureland, Tomorrowland, Grizzly Gulch, Mystic Point, and Toy Story Land. Most cast members speak English, Mandarin, and Cantonese.
Check the list of attractions before visiting to familiarize your kids with what is there. The real thrill rides include Space Mountain and RC Racer (a car that goes back and forth on a steep U-shaped track) as well as Big Grizzly Mountain Runaway Mine Cars. While Hong Kong Disneyland may not have favorites like the Haunted Mansion and the Matterhorn, they do have Jungle Cruise, Dumbo, and "It's a Small World."
The most popular section is Toy Story Land. I recommend going straight to the line up for the Toy Soldier Parachute Drop where guests sit in a parachute that launches straight up into the air and drops (somewhat gently) back down to the ground.
There are only two FastPass rides: Space Mountain and Winnie the Pooh.
A few Disney characters can be seen upon entering the park, with a handful walking around at various times. Most of the meet-and-greets happen in Fantasyland behind Cinderella's Carousel. Grab an autograph book on Main street and queue up for photo opps.
Visiting Tips for Hong Kong Disneyland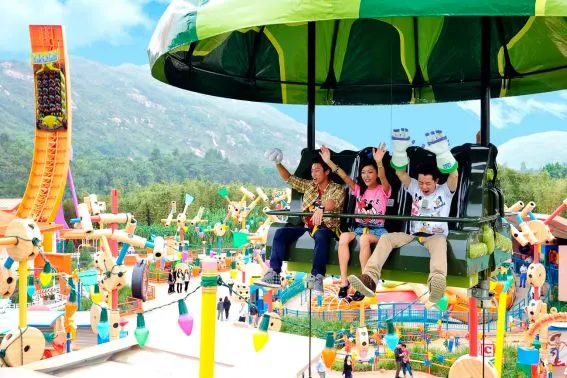 Seasonal Attractions & Weather
Always check the Hong Kong Disneyland Resort schedule of events to see what is on tap during your visit. The park is beautifully decorated both during Christmas and Chinese New Year with various themed events available for all ages. During our visit in April, a special Frozen afternoon tea at the Royal Banquet Hall was offered as well as an opportunity to catch the fireworks over Sleeping Beauty's Castle via VIP seating, part of the dinner package at the Plaza Inn.
Summer in Hong Kong is extremely hot, humid, and rainy. Unless meteorologists forecast black rain or a typhoon warning, expect the park to stay open, although some rides may close. Navigate the weather by arriving as soon as the park opens or come in the evening when the weather has cooled (although you won't be the only one with this idea).
Groups and Waiting in Line
Groups of up to 6 can cut the lines with a VIP tour guide. The cost is $4688 HKD ($605 USD), exclusive of tickets. And speaking of line cutting, be mindful that it happens at this park. My advice is to hold your ground to prevent this from happening, but when it does occur, try not to make a scene because nobody will care.
In general however, this Disneyland is much less chaotic than the other Disney parks and I would highly recommend it while on vacation to Hong Kong. It's easy access via MTR from any point in Hong Kong, and it doesn't have to be an all-day adventure, though you can certainly stay from morning until closing.
Dining
Dining at Hong Kong Disney reflects its local flavors including Chinese, Indian, Asian, and American cuisines. Be warned that a standard dish may taste slightly different from what might be expected at a theme park. Your burger at Starlite Diner in Tomorrowland, for instance, may have sliced fresh cucumbers instead of sliced pickles. Throughout the park, snack carts are stocked with iced green teas, water, fruit bowls, corn on the cob, and soy drumsticks as well as other popular Western items such popcorn, and banana dippers. Folks are raving about the new Explorer's Club Restaurant in Mystic Point which offers multiple cuisines.
Hong Kong Disneyland Resort Hotels
Currently, there are two hotels to choose from, but they just broke ground on a new Disney Explorers Resort scheduled to be completed in 2017. Character dining and princess dress-up come alive at the hotels as opposed to the park. The hotels aren't walkable to the park; shuttles leave from the hotels about every 10 minutes. There is also no early access to the park for hotel guests.
Disneyland Hotel
The Disneyland Hotel is the park's luxury option and similar in look to the Grand Floridian at Walt Disney World Resort. Kids love it! It's where the Bibbidi Bobbidi Boutique (princess dress-up) and Enchanted Garden character dining (dinner and breakfast) are located; it's also the site to the Disneyland-themed dim sum lunch. The hotel includes a pool with a small waterslide, room service, sea views in some rooms, and a fun labyrinth of hedges in the backyard. We've stayed here a few times and always enjoyed it. The rooms themselves are average considering alternatives around Hong Kong around the same price point, but it's only at Disneyland Hotel where guests receive the dreamy Disney experience.
Disney's Hollywood Hotel
The Hollywood Hotel combine art-deco architecture to a more casual feel, with eclectic, colorful decor that is designed to reflect a classic Hollywood vibe. It costs 30-50% less than the Disneyland Hotel, depending on the time of year.
For breakfast and dinner, guests experience character dining with an international buffet. It is a bustling hotel equipped with a piano-shaped pool, small play area, and character greetings at select times that keep kids entertained.
Note: Photos are courtesy of Hong Kong Disneyland Resort.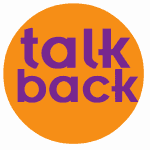 Any questions about Hong Kong Disneyland? Do ask!