New Englanders know that a Cape Cod family beach vacation offers the perfect family vacation experience. Each year thousands of families pack up their mini-vans with bathing suits, beach toys, and body boards to hit the famed Route 6 on the Cape ready to settle in for a great beach vacation.
About 60 miles from Boston, the Cape boasts more than 559 miles of shoreline and 115 beaches. That's enough beach for everyone to find their slice of sand and we found ours thanks to Red Jacket Resorts, sponsor of this blog post.
Cape Cod Primer
Being native New Englanders, we have stayed on the Cape a few times. Each time has been a fabulous experience: full of memories, fun, relaxation, and food.
It is important to decide where on the Cape you want to stay. There are a few points to consider: the Upper Cape, closest to the access bridges, is the easiest to get to and therefore the busiest; Mid-Cape, where Red Jacket Beach Resort is located, allows easy access to all parts of the Cape; the less busy Lower Cape boasts the Cape Cod National Seashore famous for its waves and beaches. The Outer Cape, located the farthest to the north, gets bragging rights for the famed artist colony of Provincetown.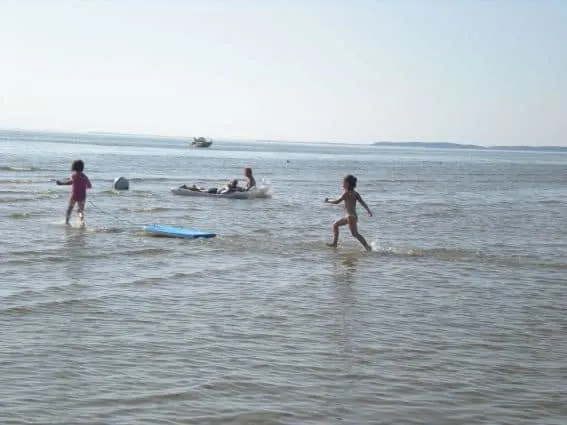 Family Fun on the Cape
Being on the Cape means you are never far from family fun. There are plenty of hiking and biking trails including the Cape Cod Canal biking trail, which runs 22 miles along the Cape and allows for boat watching, exercise, or exploration. It is perfect for kids of all ages. There are also plenty of lighthouses waiting to be explored. One of our favorites is Nauset light where you can even take a tour of the inside of the lighthouse.
The South Yarmouth Summer festival, which takes place in June, is a special treat. We were able to check out over 28 two-ton elaborate sand sculptures, and even got to watch some being fashioned. To cap off the festival we checked out a beach celebration at the Bass River Beach where oysters, clams, and chowder (and the less intimidating hot dogs and ice cream) were on the menu.
Heading north you can visit the artist enclave of Provincetown for shops, dune tours, and our favorite activity: whale watching. The Dolphin Fleet operates out of P-town and travels to the celebrated Stellwagen Bank for an almost guaranteed viewing of whales, usually Humpbacks. We may have spotted 14 during our trip including a calf and mother. The boat is staffed by naturalists who explain whale behavior and have samples of whale baleen and other exhibits to pass around. They held everyone's interest; it is a trip we would take again and again.
When the weather does not cooperate there are plenty of family diversions other than the beach. There are a multitude of mini-golf courses such as Pirates Cove, go-kart tracks, the Cape Cod Potato Chip Factory, bowling alleys, and movie theaters. Or, consider ZooQuarium, a family-owned and operated private zoo with a bird stadium, petting zoo, marine room and an area for rescued Massachusetts wildlife.
The beautiful offshore islands of Martha's Vineyard and Nantucket are easily accessible from Hyannis on the Mid-Cape, should you desire an island adventure. Hy-Line Cruises offers both traditional and high-speed ferry options to either idyllic spots. We took the Hy-Line high-speed to Nantucket in late June. In one hour, we were on Nantucket zipping around the island on rented bikes. There are plenty of return trips, making day trips an easy family activity.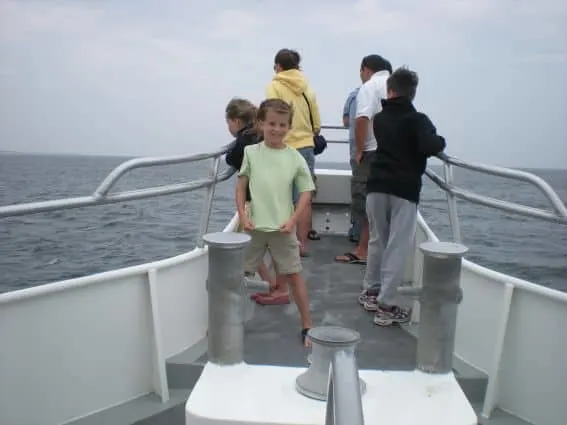 Family Friendly Food
Seafood is THE menu on Cape Cod. You can sample chowder, clams, oysters, and lobsters everywhere you go. Most all restaurants are child friendly and very relaxed. Many offer casual walk-up service. Getting a table can be difficult during high traffic periods, but little scouts often make the best table snatchers!!
We recently dined at two great restaurants in Hyannis. Cookes has been serving award winning seafood for over 35 years and the kids enjoyed some yummy fish and chips here. Baxters is located right on the water so you can watch the boats as they either drive up for service or sail on by. The outdoor seating offers great views, but you may have to battle the gulls for your food!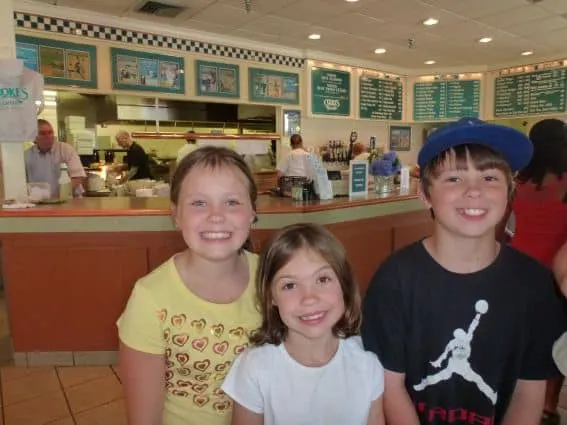 Visiting Cape Cod is a terrific family experience. The Cape provides a classic New England beach vacation and amazing family memories are made here!
More in exploring Cape Cod with Kids:
Special thanks to Red Jacket Resorts for sponsoring this article.
Red Jacket Resorts has five beach front properties in Cape Cod that are the ideal spot for families to have fun and enjoy all the wonderful family-friendly attractions at the Cape. Each year, Red Jacket Resorts on Cape Cod host a variety of family- and kid-friendly activities sure to entertain, amaze and amuse. From our always-popular Kids Klub to "Dive-In" movies, barbecues and live entertainment, we'll keep you as active as you want to be. Or, just relax and enjoy a fabulous Cape Cod summer!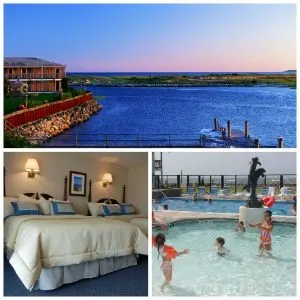 Read more about fun activities for kids on Cape Cod.
---
Travel with kids to: CA |CO | DC| FL | HI | IL |MA | NC | NJ | NY | OR| PA| TN | TX | UT | VA | WA