The thriving metropolis of Vancouver, British Columbia may not look like it offers much to kids at first glance, but turn a corner and you will be blown away by natural spaces, water fun, sky-high walks, and a world of new tastes the whole family can enjoy. This city is worth the trek across the border, and there is more than one reason why.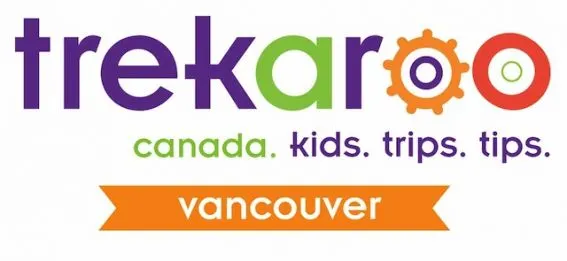 Top Vancouver BC Attractions for Families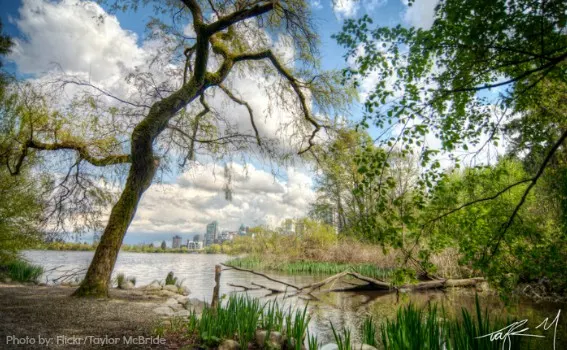 Stanley Park: Pack your swimsuit, a picnic, your hiking boots, and your camera to explore this vast green space taking up much of the north side of Vancouver. Walk along the seawall for majestic views, pop into the aquarium if it starts to drizzle, relax on the beach while your kids dig in the sand, or simply trek along the paths winding through the park. Just don't miss a ride on the Mini Train. Your kids will never forgive you if you do.
Read reviews from other Trekaroo families on Stanley Park
---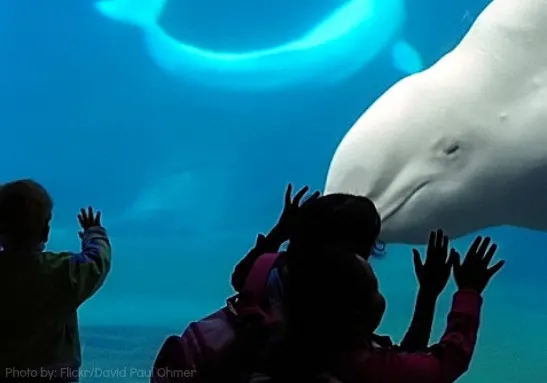 Vancouver Aquarium: Let your little oceanographer explore this impressive display of sea life from around the globe. Pacific Northwest and BC creatures are highlighted, but a few other friends like beluga whales, dolphins, sting rays, and sharks are there to round out the experience. The children's play area gets a little cramped but your kids won't mind. They will love playing veterinarian with a few stuffed animals, steering a boat, and watching the dolphins zip around their tanks in the underwater viewing area adjacent to the play zone.
Read reviews from other Trekaroo families on the Vancouver Aquarium

---
Bloedel Floral Conservatory: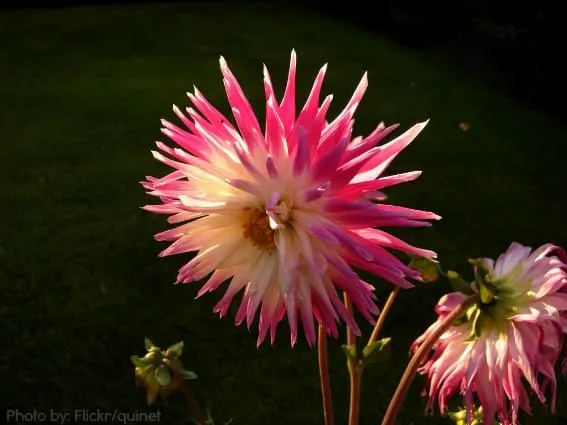 It's not always sunny in beautiful Vancouver, but that is no reason to stay away. Bloedel gives parents a place to let kids get back in touch with nature through 500 different exotic plants, 100 birds, koi fish, and a killer view of the city and mountains beyond. When the weather clears up head to the VanDusen Botanical Gardens to take a tour of plants from across the globe.
Read reviews from other Trekaroo families on Bloedel Floral Conservatory

---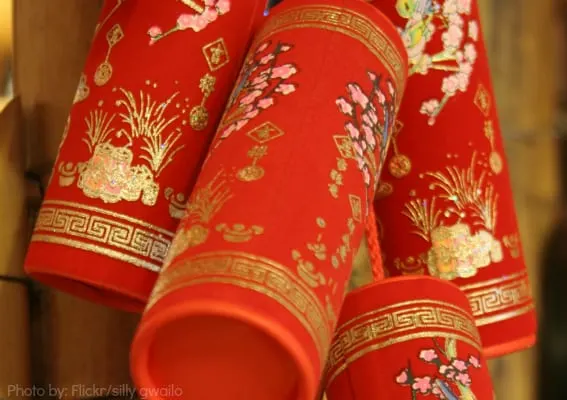 Chinatown: Tucked away in one of the world's largest Chinatowns you will find fabulous food, shopping, a shrine to Jimi Hendrix, and enough historical architecture and monuments to create your own scavenger hunt. Pop into the Dr. Sun Yat Sen Classical Chinese Garden if you need a little quiet, it is the first Ming Dynasty Scholars Garden built outside of China and worth a look.
Read reviews from other Trekaroo families on Chinatown

---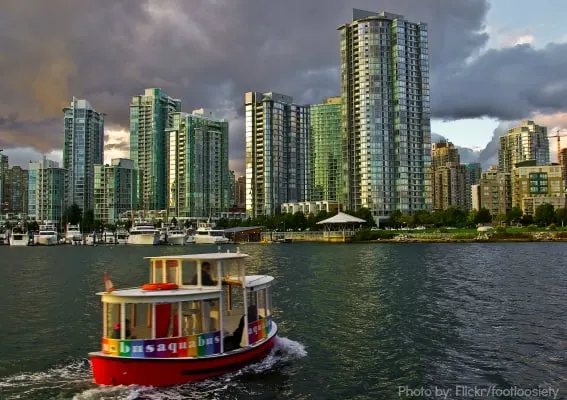 Ride the Aquabus: If you are going to tour around Vancouver you might as well do it in style. Your kids will love the colorful Aquabus that can take them around False Creek and over to Granville Island. You'll get great views of the city while your children squeal with glee at being in a boat on the water. All routes are wheelchair and stroller accessible.
Read reviews from other Trekaroo families on the Aquabus

---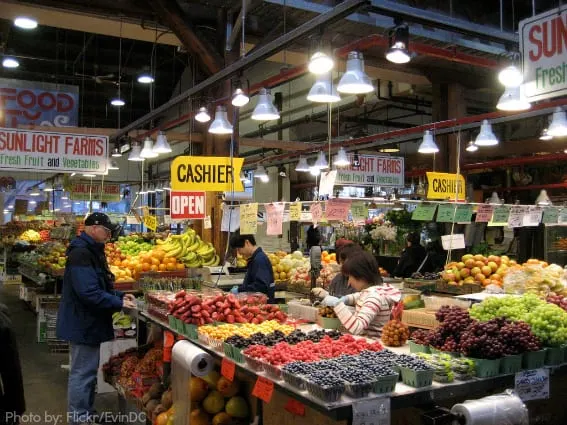 Granville Island Public Market and Kids Market: Load up on a few locally sourced goodies and freshly prepared food for an outdoor (or indoor) picnic at the Public Market. Your kids will salivate over all of the scrumptious desserts to choose from. Or maybe you have a fruit lover that won't be able to keep her hands off of the brightly colored baskets lining the tables. Either way don't over do it, you still have the Kids Market to explore. This wonderland of toys includes a huge play space (fee to enter) that your child will want to take up residence in and never leave.
Read reviews from other Trekaroo families on Granville Island

---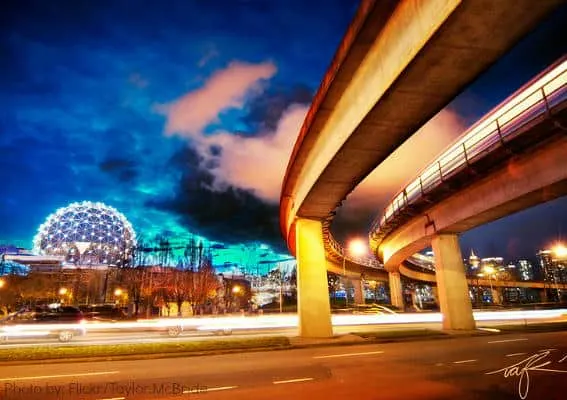 Scientists of all ages will find something to stimulate their brains in Science World at the Telus World of Science. Little ones can explore in Kidspace, while older siblings can dive into sustainability in the Our World Gallery, learn about city farmers in the outdoor Ken Spencer Science Park, and experiment through physics at the popular water table with launchable balls in the Eureka Gallery.
Read reviews from other Trekaroo families on Science World

---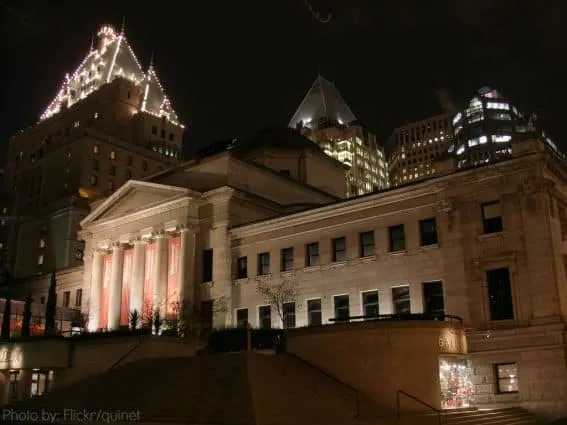 Vancouver Art Gallery: Who says a family can't enjoy an art museum together? The Vancouver Art Gallery makes it easy with their family-friendly weekend programs. Explore the museum with an "Art Agent," or hop on a tour with artists, educators, dancers, and musicians, all of whom help you learn about art in a different way. If you are looking for a little more hands on experience head to The Making Place, which offers the opportunity to create your own masterpiece twice a month.
Read reviews from other Trekaroo families on the Vancouver Art Gallery

---
Get an eagle eye view of a coastal rainforest as you cross over the suspension bridge, skirt granite cliffs, and wind your way through trees usually reserved just for squirrels. Looking down is highly encouraged as that is where some of the best views can be found. Kids will love finding all the answers to the Treetops Adventure challenge so that they can earn their own Rainforest Explorer's badge.
Read reviews from other Trekaroo families on Capilano Suspension Bridge

Been to any of these fabulous Vancouver destinations? Share your scoop with other Trekaroo families!
More from Vancouver week:
Attractions in Vancouver: Things to do in Vancouver BC with kids
Where to stay in Vancouver BC with kids
Weekend Getaways from Vancouver: where to go in BC with kids
Vancouver travel tips: insider ideas for visiting Vancouver with kids (coming Friday)
Explore Vancouver's kid friendly attractions | restaurants | hotels
Explore British Columbia's kid friendly attractions | restaurants | hotels